A trip to another nation is never complete without trying the local cuisine and snacks. Taking a cuisine tour allows you to learn about the country's culture and traditions, making your trip more authentic.
To make your trip to Dubai even more memorable, we have compiled a list of the most popular and delectable dishes to sample. Some are street snacks, while others are local cuisine found in restaurants across the UAE.
These local specialties can also be savored at home, as there are Arab restaurants all over the United States that offer them. Kobee Factory in California, Karam's in Florida, Oasis Falafel in Iowa, and Sarma in Massachusetts, among many others, are popular Arab restaurants across the country.
Since there are international markets in the states, we have included the ingredients and recipes so you can attempt making some of these delicacies. Most of them are quite easy to prepare. Ready to get a taste of the local life in Dubai?
19 Local Dishes And Dubai Steet Foods You Must Try
These are the most popular and mouthwatering delicacies you must have while in Dubai.
1. Vada Pav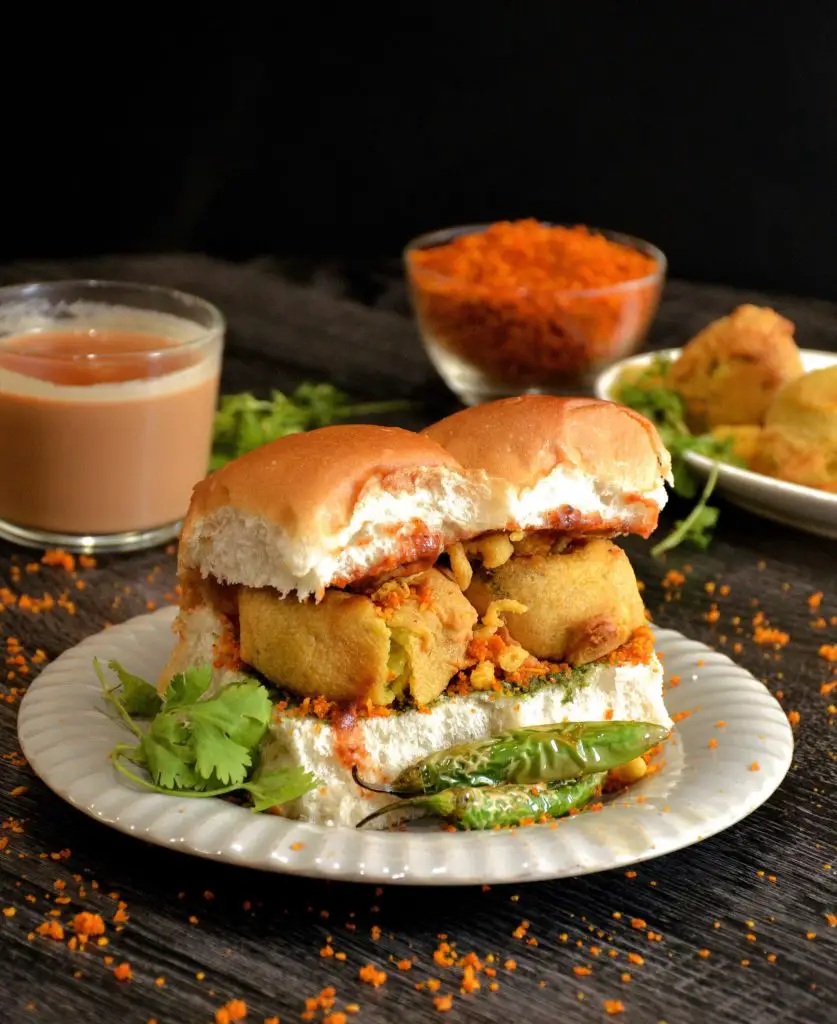 Vada pav is Dubai's most popular and cheapest street-made sandwich. It is also known as Vada pau.
Vada pav is a deep-fried, coated potato dumpling served between two bread buns with chutney or green chili. This local meal has a delectable flavor. Because it is a vegetable-based cuisine, vegans can also enjoy the wonderful Vada pav.
It's no surprise that travelers are advised not to miss this delicacy because a trip to Dubai isn't complete without Vada pav. Vada pav can be found on almost every local street in Dubai, and a dish of Vada pav costs less than a dollar.
2. Falafel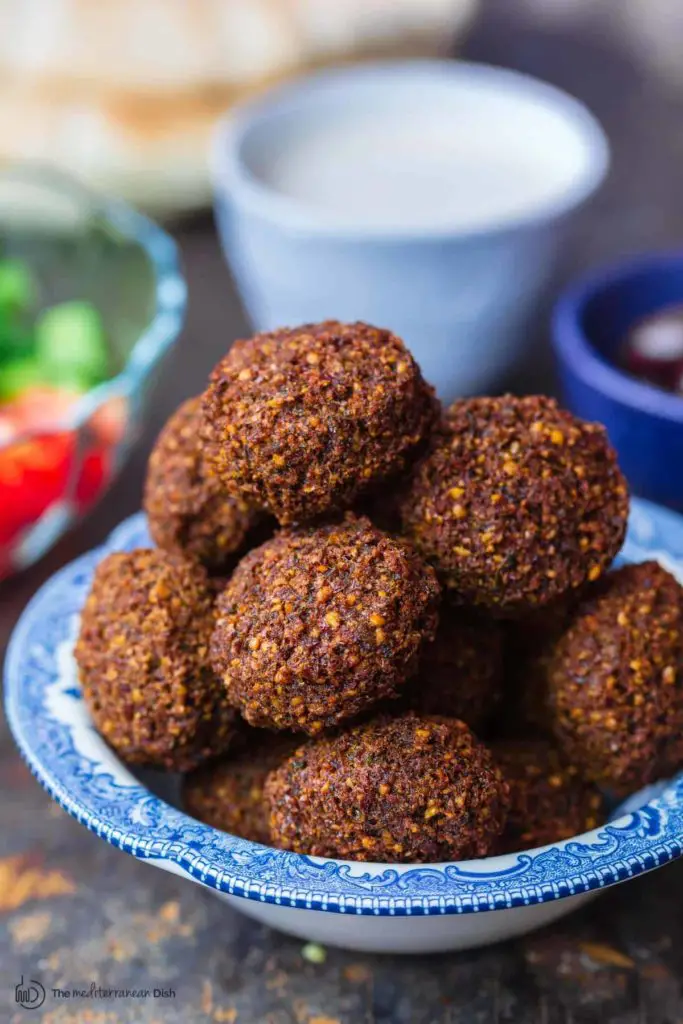 Another street never to be missed by a Dubai tourist is the popular falafel. Falafel is a deep-fried fritter made from ground chickpeas and broad beans.
Apart from being a popular snack in Dubai, it is also the national dish of Turkey and Israel. Soaked chickpeas, onion, parsley, cilantro, garlic, green chili pepper, cumin, chickpea flour, and baking soda are used to make falafel.
All of these ingredients are mixed into a coarse paste before being shaped into balls and fried or baked. Falafels that have been fried have a crispier texture than those that have been baked. This dish is completely vegan. Your Falafel can be served with yogurt or any cold beverage.
3. Balaleet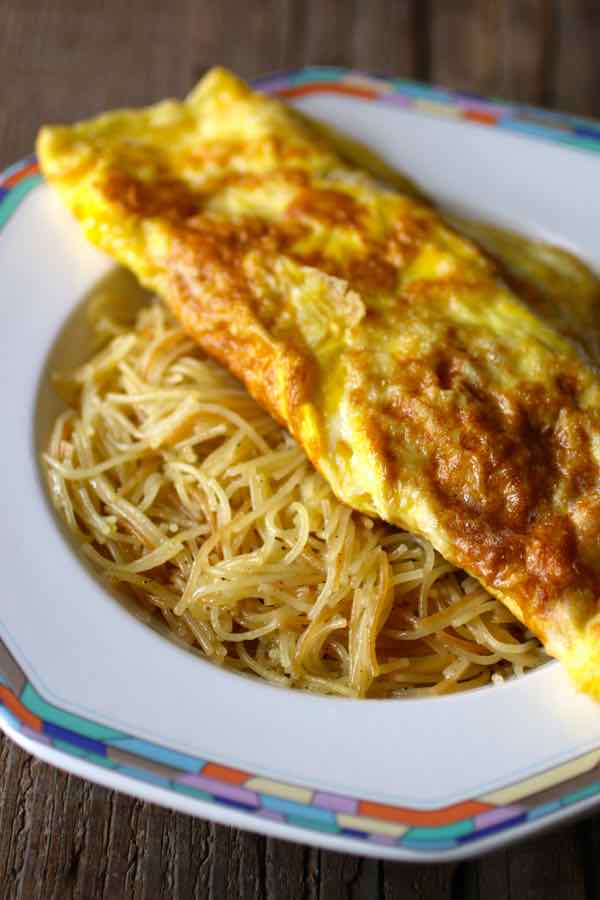 Balaleet is a popular breakfast dish in Dubai, known for its sweet flavor. Vermicelli, cardamom powder, black pepper, vegetable oil, turmeric powder, butter, sugar, rose water, saffron, and eggs make up Balaleet.
This combination of ingredients would result in sweetened and delicious vermicelli and omelet. Before boiling, the vermicelli is first cooked in butter.
After straining, sugar and other ingredients are added to the vermicelli, which is then fried on low heat. Balaleet is often served with either an omelet, scrambled eggs, or sautéed onions or potatoes. This meal can be served hot or cold. It takes roughly 40 minutes to prepare Balaleet.
4. Harees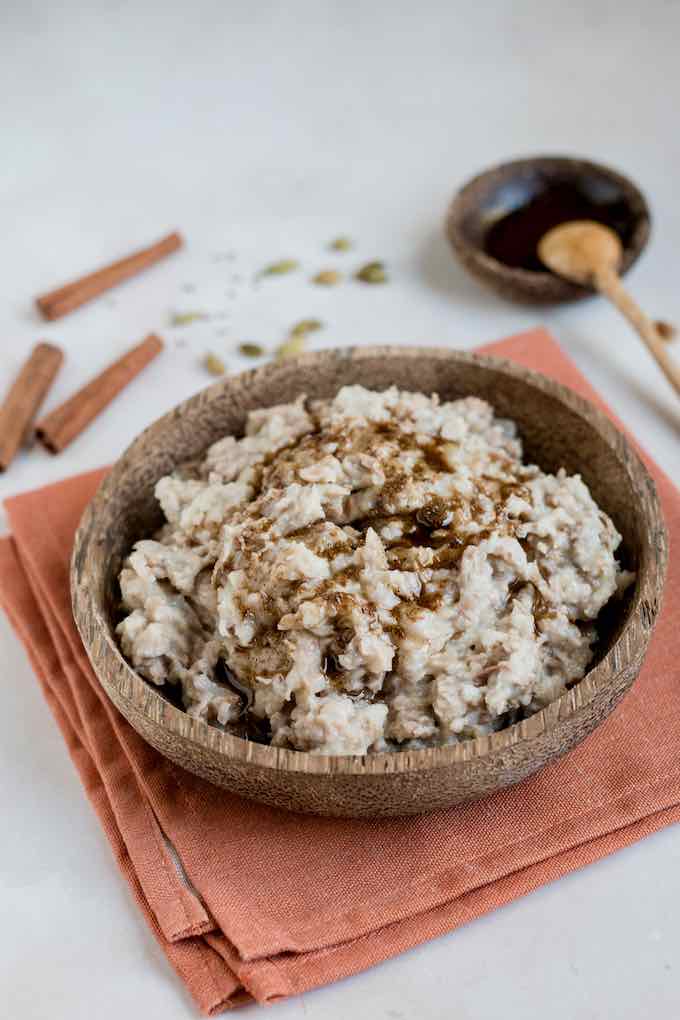 Harees is especially popular in Dubai during Ramadan. It's considered a Ramadan special meal by some.
Shredded chicken or lamb, wheat, barley, ginger-garlic paste, green chili paste, cumin seeds, fennel seeds, salt, chat masala, lemon juice, olive oil, vegetable oil, Haleem masala, barista, and coriander leaves are all used in this dish.
Harees, a dish of boiled, cracked wheat meal mixed with shredded beef, has a porridge-like appearance after cooking. This aromatic supper pairs well with Karak, Dubai's national drink. If you're in Dubai during Ramadan, treat yourself to a bowl of delectable Harees to mark the holy month.
5. Margoogah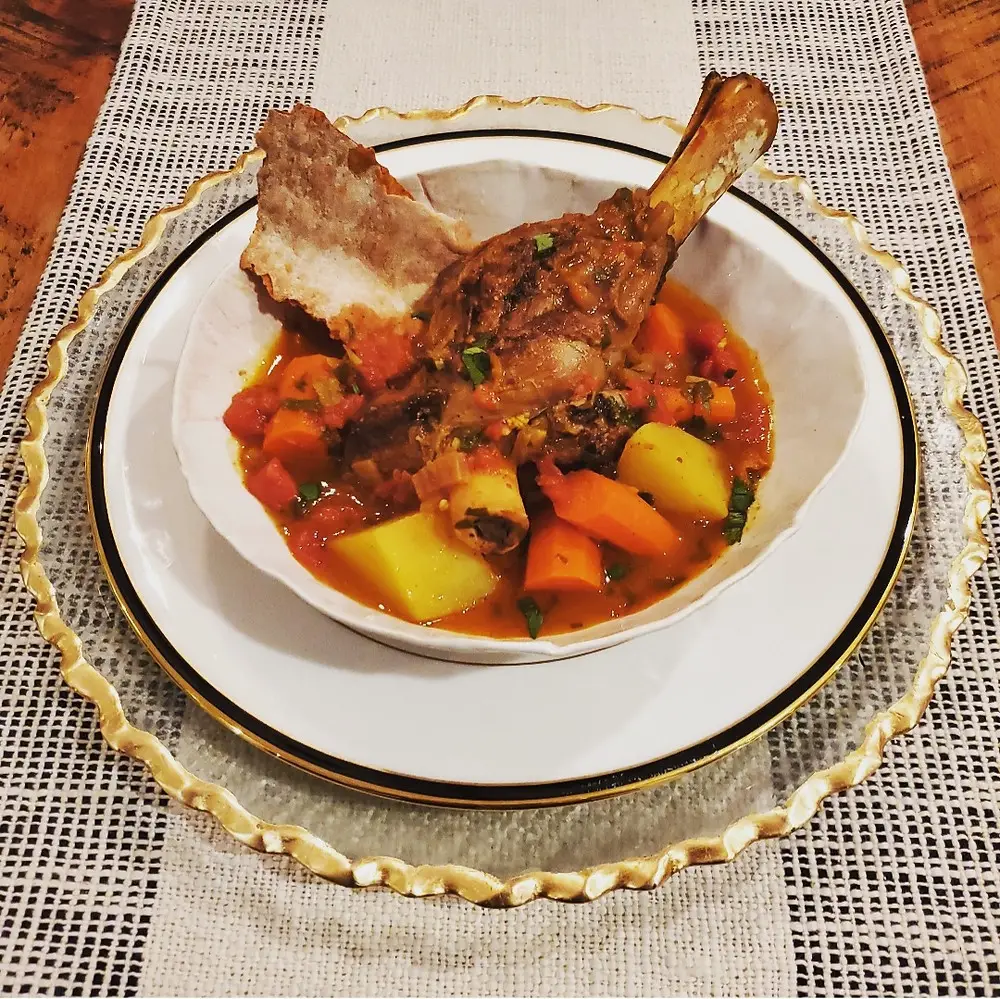 Margoogah is a popular dish in the United Arab Emirates. The Margoogah dish is known by several different names in the UAE and can be prepared in a variety of ways. Margoogah is a fragrant stew laced with spices in which the Arabian bread would be dipped.
Chopped mutton, cinnamon, bay leaf, garlic, onion, salt, pita, tomato puree, masala, dried lemon, chopped veggies, chili pepper, and coriander leaves are combined to make this delicacy.
Most local eateries in Dubai have this delicacy and is a must-try on your tour. This meal is best served with a cold beverage. If you have the ingredients, Margoogah is simple to make.
6. Lamb Thareed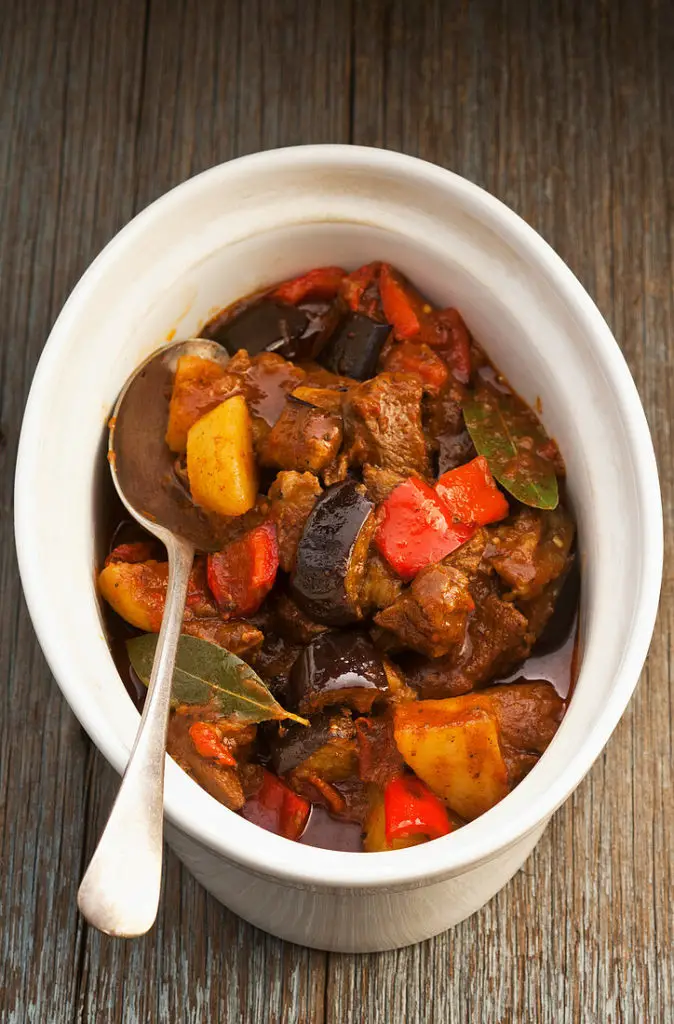 Lamb thareed is another popular Ramadan Dish; it is commonly eaten as an Iftar dish in Dubai. However, it can also be eaten during breakfast.
Lamb thareed is a soup meal prepared with lamb. This spicy delicacy is a combination of mutton, chopped tomato, cinnamon stick, garlic, onion, koosa(marrow), carrot, capsicum, coriander leaves, potato, spices, and dried lemon.
Some people like to enjoy their Lamb thareed with Raqaq or Pita. This meal can be eaten as a standalone meal and can also be eaten with rice. Lamb thareed is a family meal, so it's best enjoyed with loved ones. 
7. Salona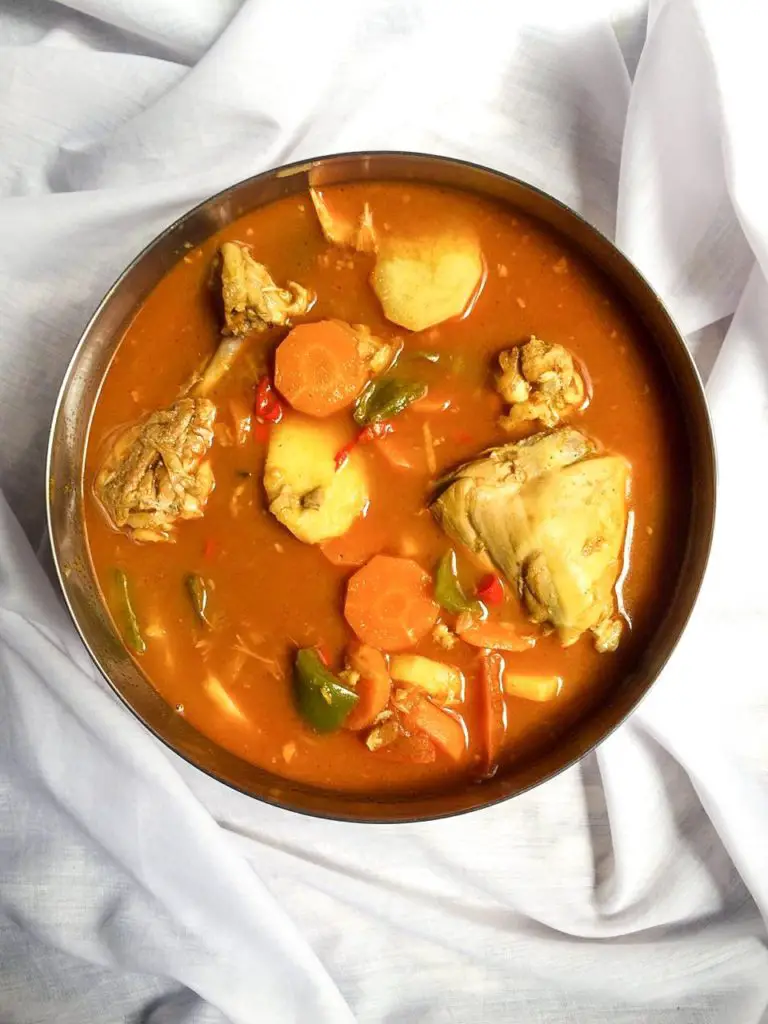 In most Arabian houses in Dubai, Salona is a staple dinner. Fresh tomato, potato, baby marrow, carrots, capsicum, green beans, onions, coriander, garlic, olive oil, salt, pepper, and ghee combine to make this nourishing stew.
Traditionally, this vegetable stew is served with bread, vermicelli, or basmati rice.
Salona can be made with any type of meat; vegetarians can also enjoy this dish without the meat. In most families, Salona is served for lunch and dinner. It is simple to prepare and takes little time. Warm yourself with a bowl of hot Salona if your trip falls during winter. Most local restaurants sell Salona.
8. Sambusa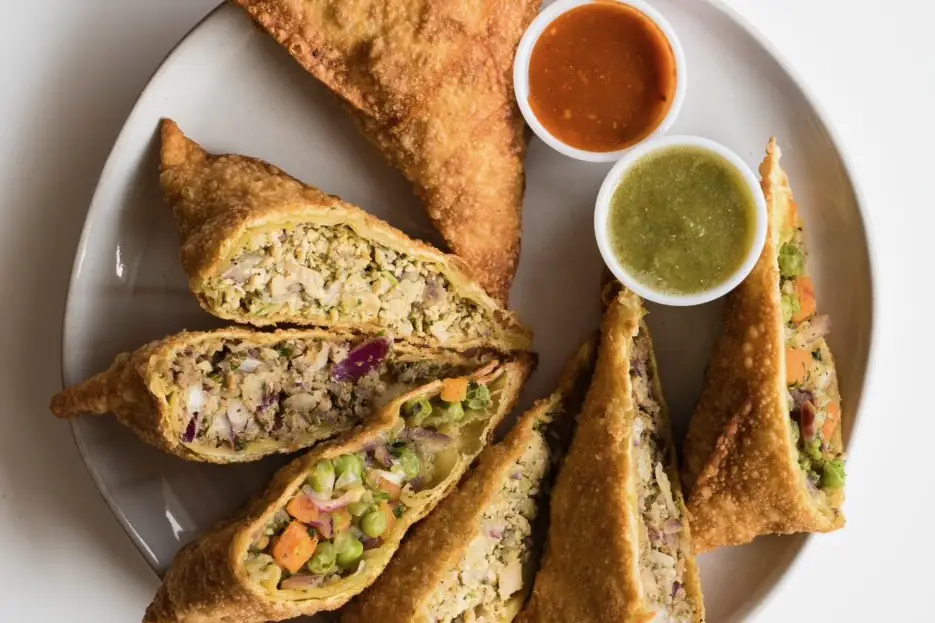 They are also offered as an appetizer during Ramadan and on special occasions. Sambusa is a spicy meat and vegetable-filled fried dough pastry. Ground beef, chopped leek, ground cumin and cardamom, salt, pepper, minced garlic, flour, and spring roll wrappers make up this delectable dish.
The flour is formed into a thin paste and folded into a cone shape before being filled with the meat mixture and sealed with flour at the top before being fried. Sambusa pairs well with Gahwa, a local coffee in Dubai. Sambusa can also be enjoyed with other local beverages such as Jallab (fruit syrup) or Laban (yogurt drink).
9. Madrooba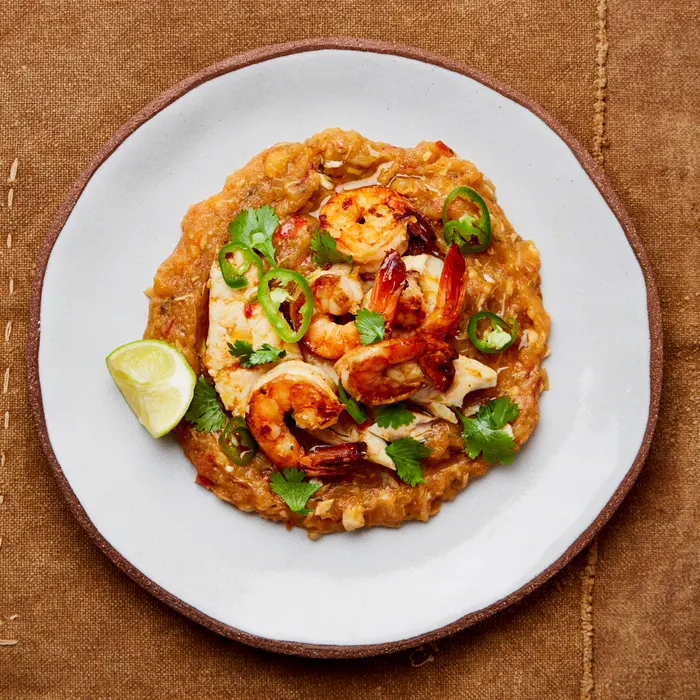 Madrooba is a rice meal enjoyed as a staple meal in Dubai. Classic Madrooba is prepared with a specific kind of fish called Mahel. However, other recipes use meat. Madrooba is a combination of fish, rice, onion, bell pepper, tomato, garlic, green and red chili, turmeric powder, black pepper, and salt. 
Madrooba is translated as beaten rice because the rice is left to simmer for long in spice till all the spices and seasoning blend into the rice. The rice then becomes easy to mash. Madrooba is usually garnished with cardamom, powder, and sautéed onions. this rice porridge can be enjoyed any time of the day. Check out this Madrooba recipe. 
10. Ghozi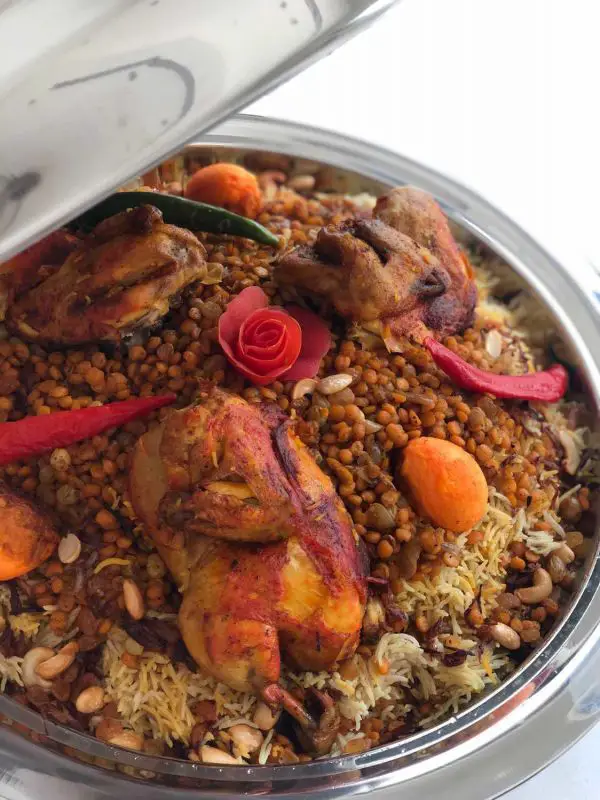 Ghozi is a delicacy served during special occasions, gatherings, and festivities in most families.
Ghozi is made up of basmati rice, mutton, salt, group pepper, ginger, garlic, saffron threads, yellow onions, and cardamom pods. Bay leaves, ghee, tomato puree, potatoes, orange juice, Dijon mustard, balsamic vinegar, arugula, dried currants, chopped pistachios, and clementines.
Ghozi is a dish consisting of well-seasoned tender lamb served over garnished rice. Salads, fruits, or yogurt can be served alongside Ghozi. If you are invited to a home in Dubai and you are welcomed with a plate of Ghozi, that's an indication you are held in high esteem as Ghozi is served to honor special guests.
11. Umm Ali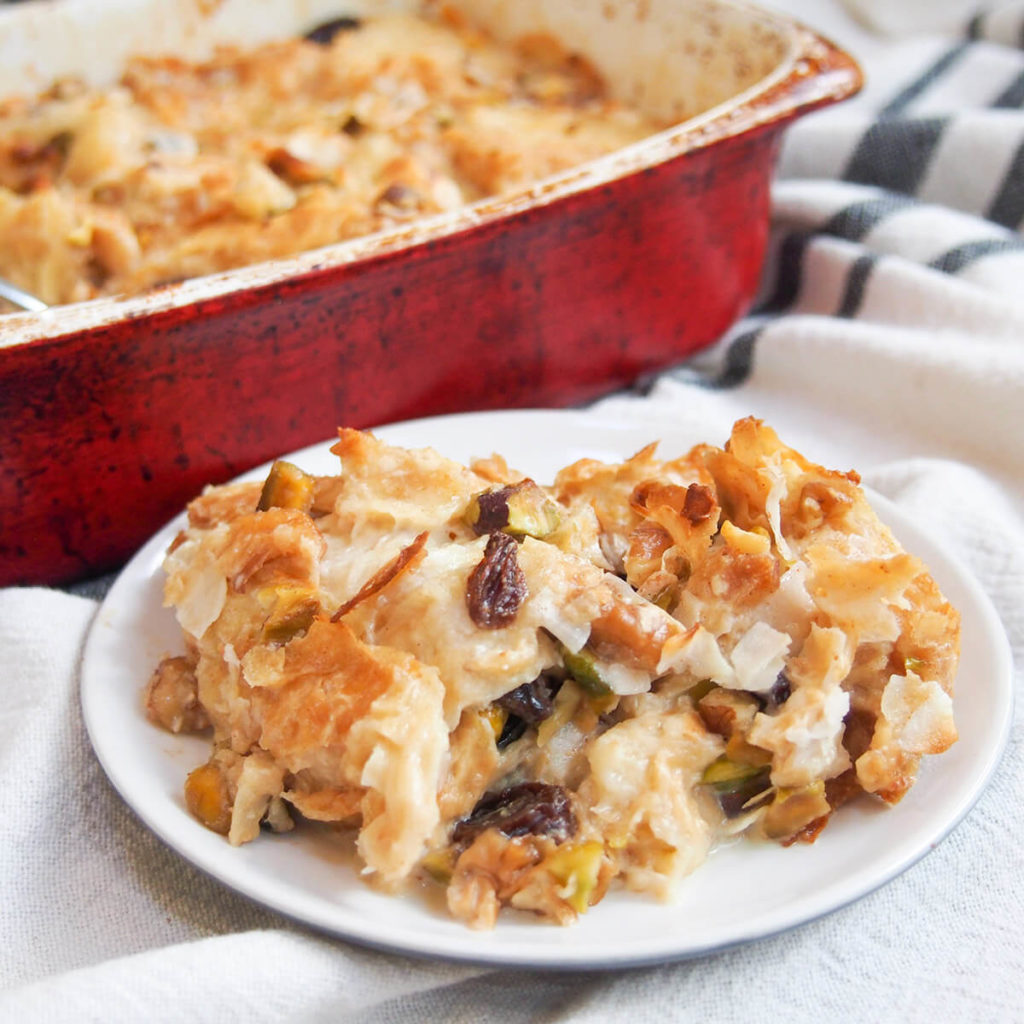 Umm Ali is a special delicacy usually served in the month of Ramadan. History has it that this meal was named after the wife of a heroic ruler in Ancient Egypt, who used to prepare the meal for her husband.
This creamy bread pudding is made up of flour, sugar, milk, raisins, nuts, and spices. It is usually served as dessert in homes and at social gatherings.
Umm Alli can be enjoyed with any hot or chilled beverage and can be served warm or cold. It can also be included in a night-out treat. This tasty is easy to prepare and doesn't consume time.
12. Tabbouleh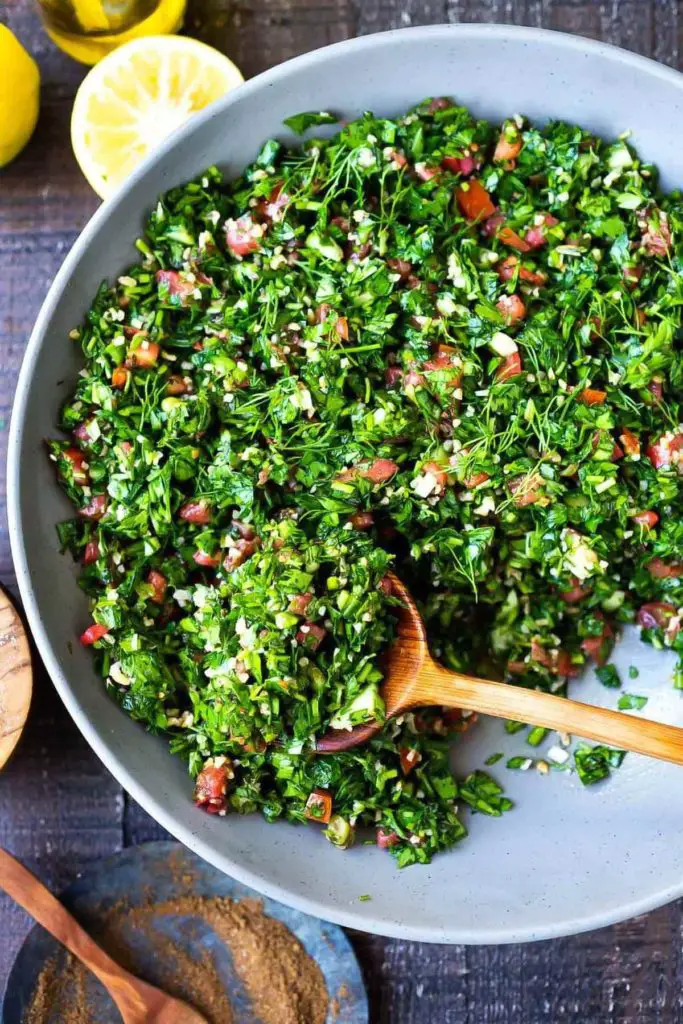 Tabbouleh is a traditional salad eaten as a side dish with many local dishes in Dubai.
Tabbouleh is made with parsley, tomatoes, cucumber, mint, onion, bulgur, olive oil, lemon juice, salt, and sweet pepper. This nutritious dish goes well with Dukkah, Fattoush, Tzatziki, Hummus, Baba Ganoush, Falafel, Feta, and other main dishes from Dubai.
Tabbouleh is a simple dish that can be found in restaurants and street vendors all across Dubai. It's safe to say that a trip to Dubai isn't complete without sampling this delectable dish. A chilled local drink would go well with your Tabbouleh meal. Tabbouleh's ingredients are easily accessible, and it has a simple recipe. 
13. Knafeh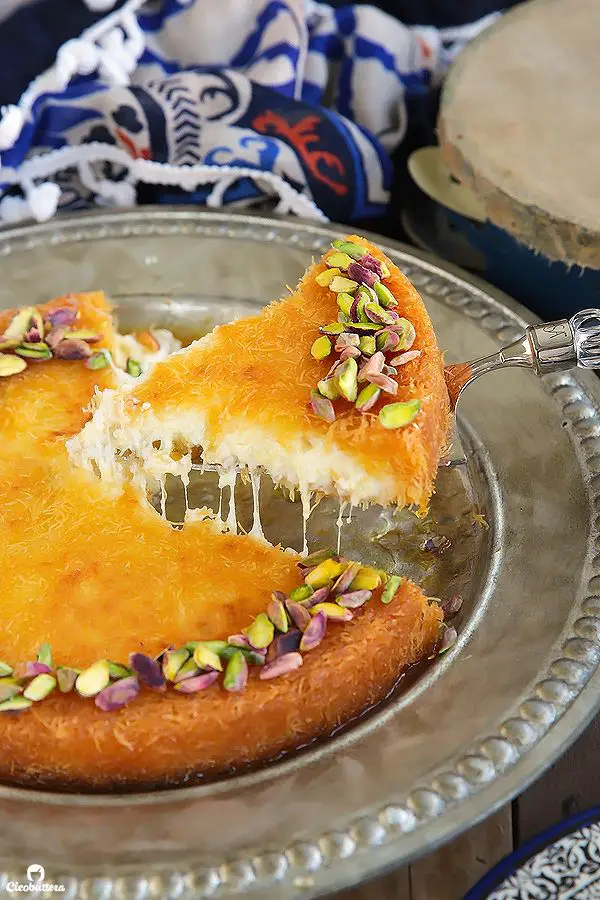 Knafeh is a delicious cheese meal served as dessert in most homes. This rich dessert is made from unripe cheese, baked in the shredded dough before being soaked in sweet syrup.
Knafeh combines shredded phyllo dough, grated cheese, melted butter, milk, and crushed pistachios to produce a mouthwatering dish.
The tastiest Knafeh are those eaten the day it is made. In Dubai, Knafeh is usually served in a round tray. Knafeh is best served hot or warm. If you have a sweet tooth, serve your Knafeh with a cool beverage, however, this is optional because it is an extremely sweet dessert.
14. Shawarma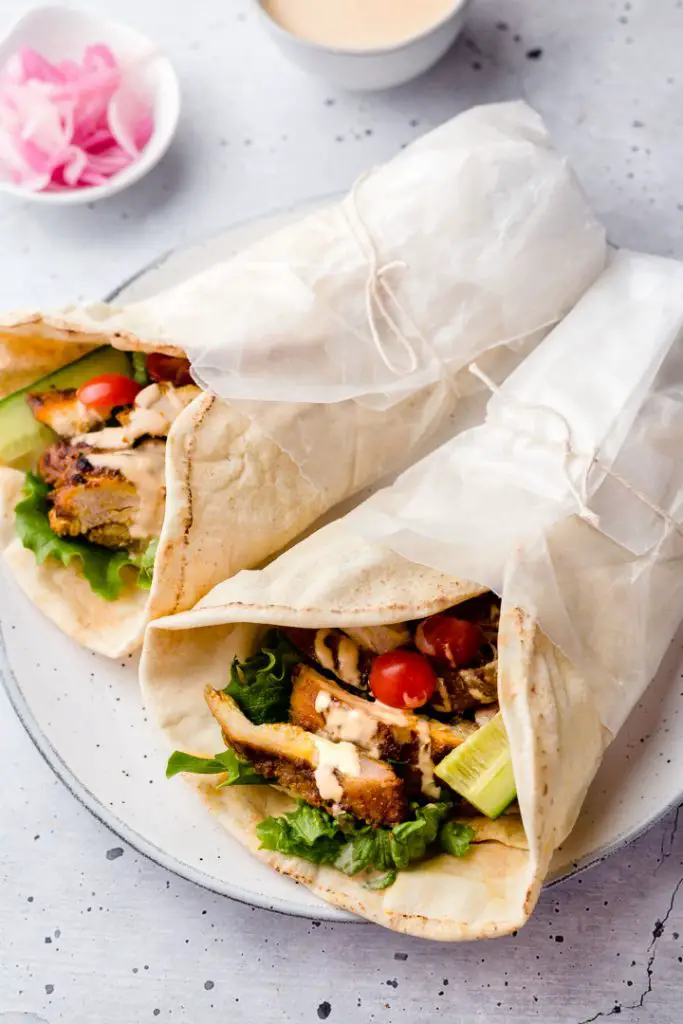 Although Shawarma is a snack meal served all over the world, it originated in Dubai, where it is offered as a popular street dish. Shawarma is a flavorful filling of grilled meat, yogurt, and salad wrapped in pita bread. Shawarma is usually eaten for lunch or during a night out.
While you may have tasted Shawarma made in your country, having a Dubai-made Shawarma is something you want to experience. Let us know which tastes better. Shawarma is quite easy to prepare since it is grilled meat and salad.
15. Manousheh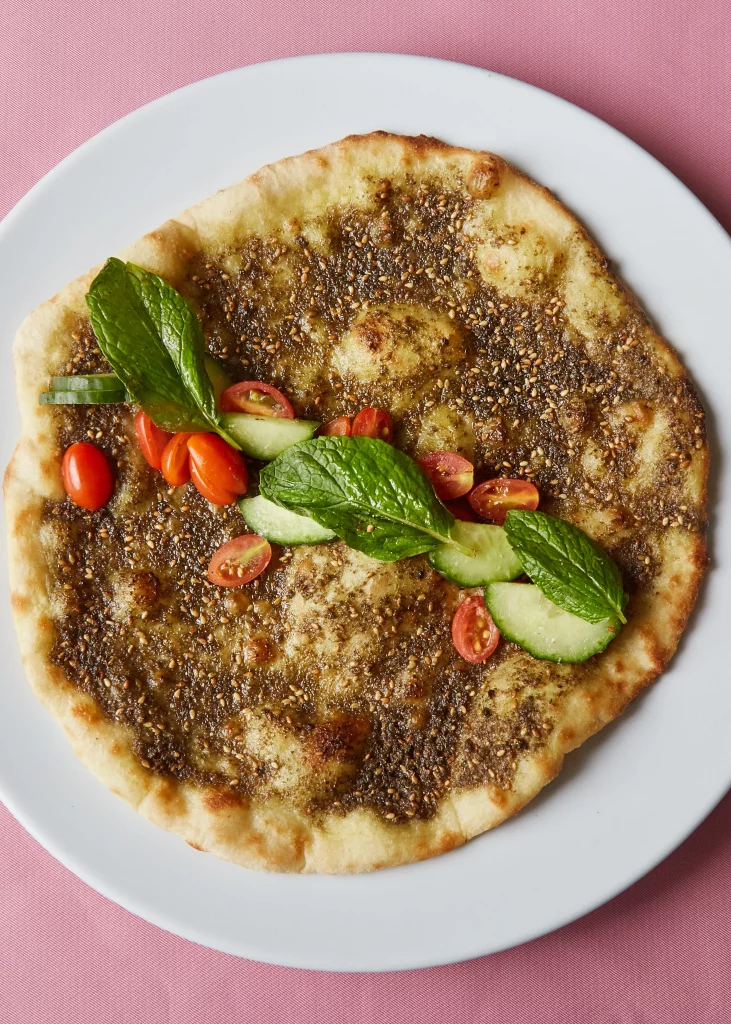 Manousheh is Dubai's home and street made usually eaten for breakfast.
Manousheh is regarded as the national pie in the UAE. Manousheh is made with flatbread topped with meat, cheese, Zaza'tar oil, cucumber, tomatoes, mint leaves, lemon juice, and ground pepper. This vegan dish is nutritious and is often a start meal.
No better way to start your day than with a plate of Manousheh. This dish is very easy to prepare and should be enjoyed with a hot cup of tea or coffee. On most street corners in Dubai, local bakeries sell this savory delicacy. 
16. Mehalabiya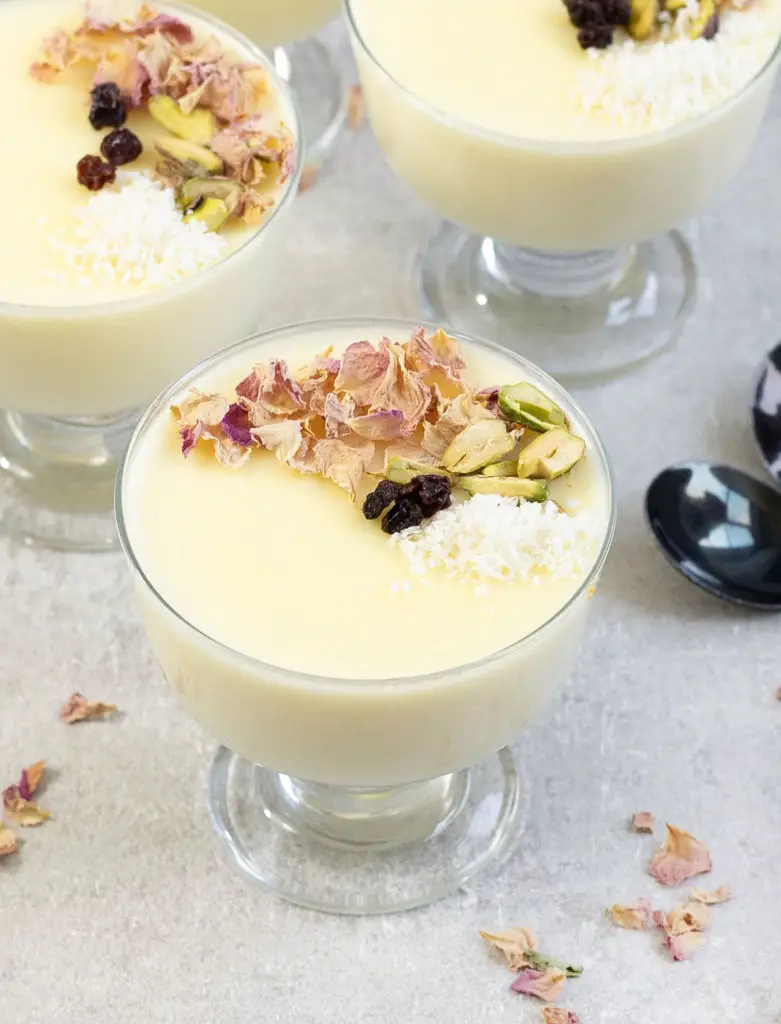 Mehalabiya is a creamy dessert enjoyed as a staple in most homes. It is a cornstarch meal cooked with milk, and sugar and flavored with rose water.
The cornstarch is dissolved in milk while the rest of the milk is left to boil. Thereafter, the cornstarch paste is poured into the hot milk and constantly stirred until thickened. The sweeteners are then added.
After cooling, the Mehalabiya is commonly topped with pistachios, walnuts, or kunafa dough. Some people use syrup or cinnamon on their Mehalabiya. This simple dessert can be enjoyed any time of the day.
17. Majboos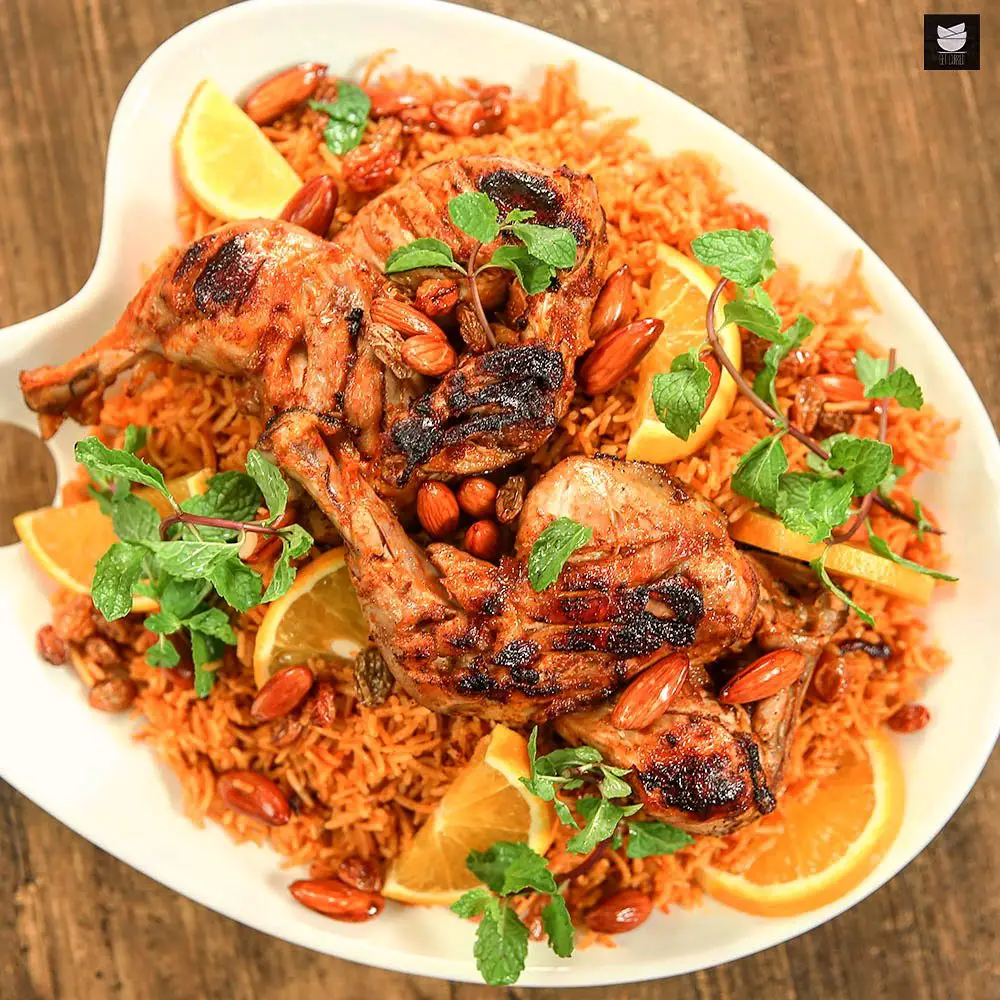 Majboos is a traditional Arabian dish consisting of rice, lamb, and tomato stew.
Lamb shoulder, onions, ghee, Baharat, turmeric, garlic, tomatoes, loomi, cassia bark, cardamom pods, salt, chopped coriander, and basmati rice are combined to make Majboos.
The savory flavor and aroma of Majboos are appetizing. They can be eaten at any time of day and are widely available in Dubai eateries. This delectable dish is usually served with salad and laban, a local yogurt.
18. Karak Chai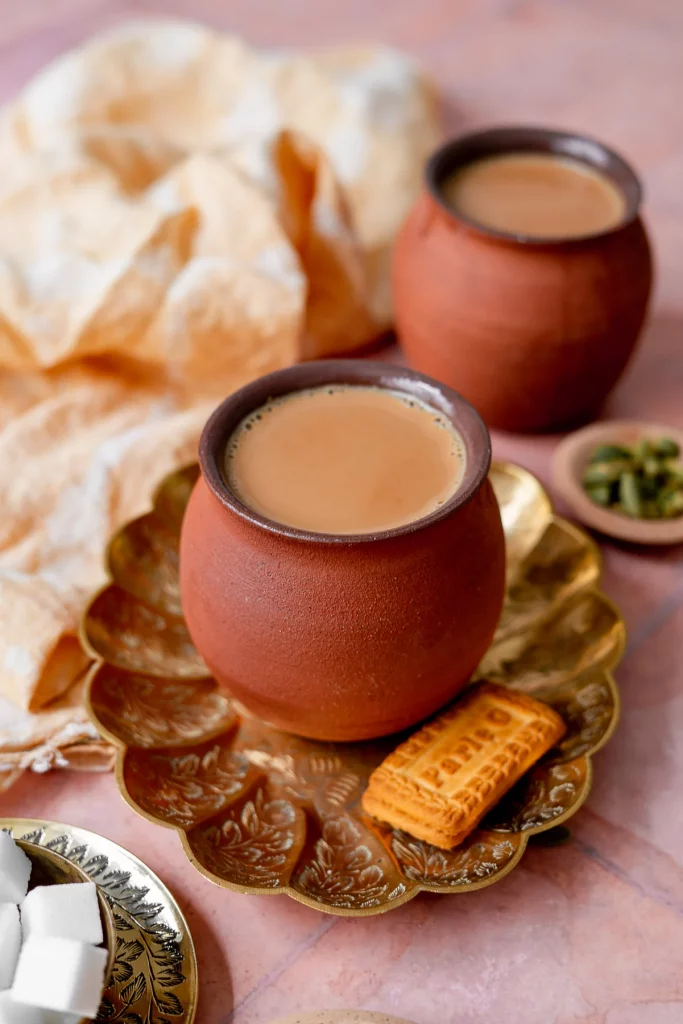 A cup of Karak Chai is served as a symbol of Arabian hospitality. The popular Karak chai may be found at coffee shops all over Dubai.
Karak chai is a blend of fermented black tea leaves, ginger, black pepper, cardamom, cinnamon, fennel, and cloves.
This fragrant and spicy tea can be enjoyed with breakfast meals or local snacks. You can always sweeten your Karak Chai to your liking. Karak chai is one of the healthiest local drinks in Dubai.
19. Jellab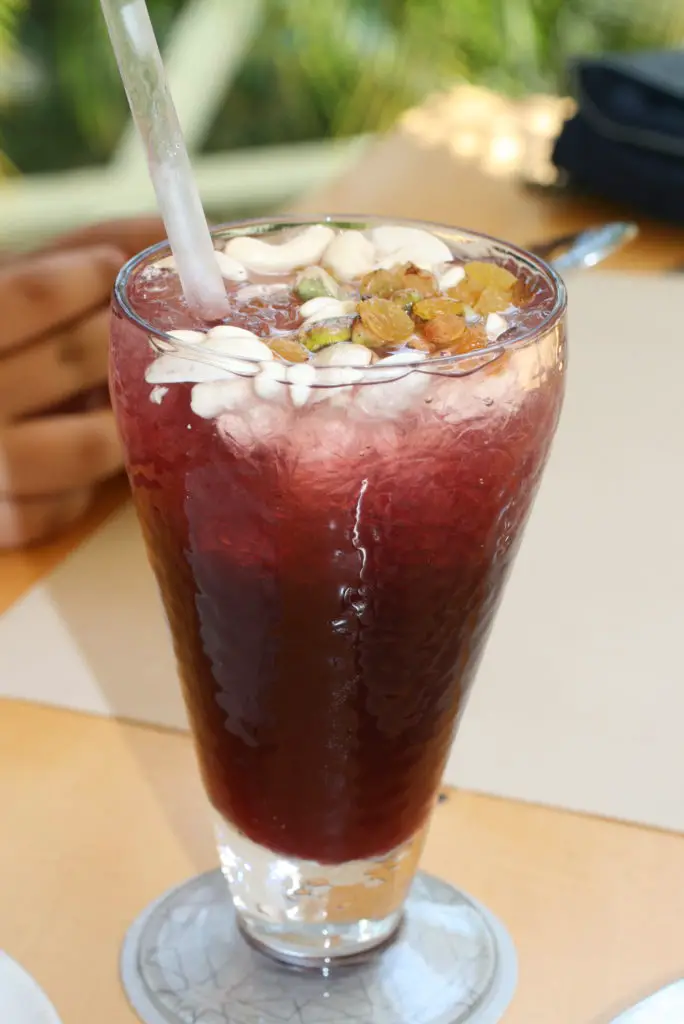 In Dubai, Jellab is a popular summer drink. It's made with grape molasses and rose, and it's usually garnished with pine nuts and raisins.
Try the Jellab with a savory dish like Shawarma on a hot summer night in Dubai for finger-licking pleasure. If you want to make your Jellab even sweeter, pour it with honey.
Final Note
We recommend that you create a food list using the list we provided just before your tour. As you attempt these dishes, kindly give us feedback on your experience.
You would enjoy your food tour if accompanied by some of the locals; they know the best places to enjoy these delicacies and they are familiar with the best prices to get them. Let us know the Dubai delicacy you enjoyed most.
More from travel foods:
We are sorry that this post was not useful for you!
Let us improve this post!
Tell us how we can improve this post?