If you grow bored with food easily, enjoy trying intercontinental cuisines or your next trip is to Honduras, this list is for you. We have created a list featuring some Honduran traditional dishes and snacks. Trust us to provide the most delicious cuisines.
Surprisingly, there are numerous Honduran restaurants around the United States where you can sample the cuisines we've listed. Costas in New York, Buena Vista in New York, Benitos in New York, El Catrachito in New York, and others are among them.
We have listed the ingredients and recipes for these dishes. If you can get your hands on the ingredients, you should attempt preparing them at home to get a taste of Honduras. These ingredients can be found at international and local markets all around the United States.
17 Honduras Foods List (Must Try Traditional & Local Cuisines)
Are you ready for a food adventure to Honduras? These are the 17 most popular local and traditional cuisines enjoyed by Hondurans. 
1. Carne asada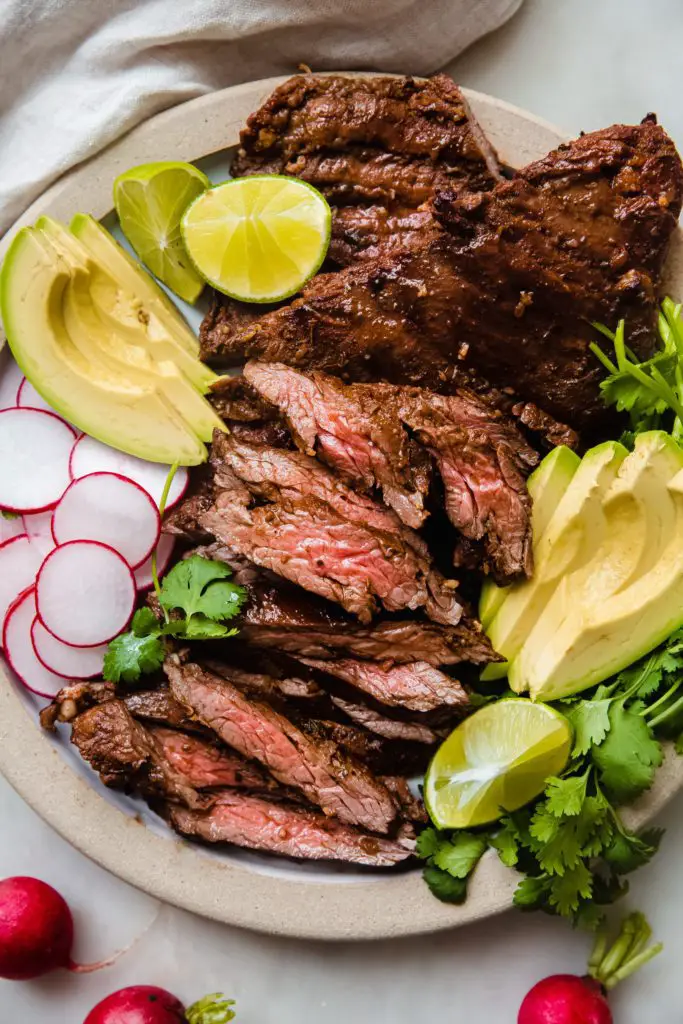 Carne asada is Honduras' street-made grilled meat. To give the meat a tasty flavor, it is marinated in seasonings before being grilled. Salt, pepper, cumin, oregano, onion and garlic powder, chili powder, paprika, and lime juice are used to season carne asada.
Note that your Carne asada should not be marinated for more than 4 hours to prevent the meat from breaking into bits.
It is usually served as part of a taco night spread. Serve alongside tortillas, avocados, and pico de gallo. Carne asada goes alongside main courses like rice and beans. Skirt steak adds the most flavor to carne asada, although flank steak, flap, or chunks of beef can also be used.
2. Baleadas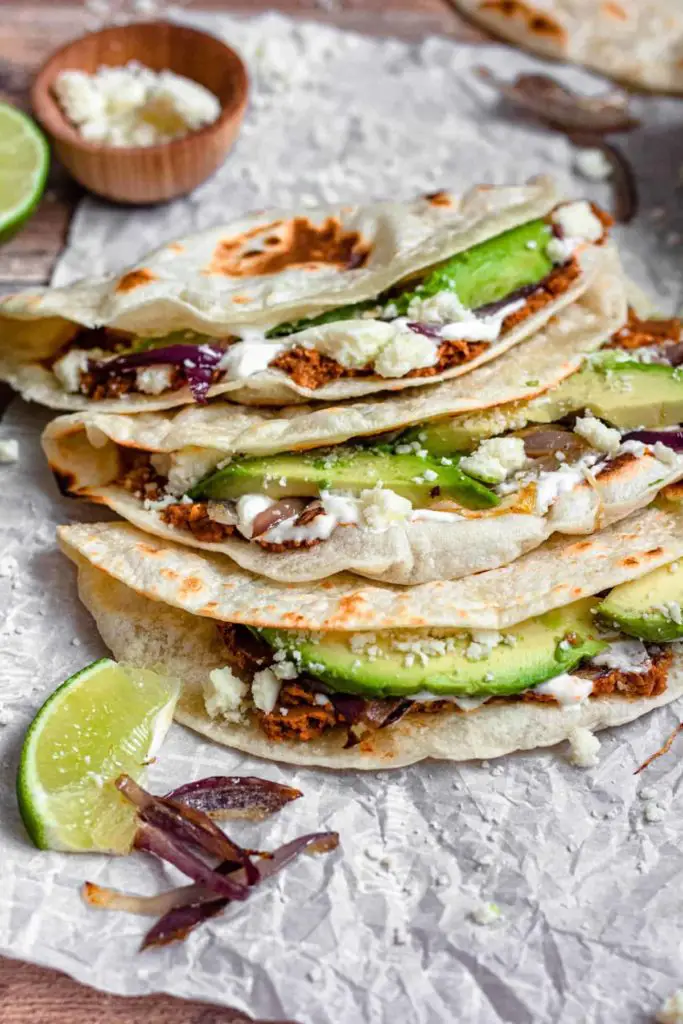 Baleadas is native to the northern coast of Honduras. History has it that the Baleadas meal can be traced to a young mother who had a food stand and sold Baleadas to railway workers.
A traditional Baleadas dish includes a thick and fluffy tortilla packed with refried red beans, matequilla rala, and crumbled cheese. The refried red beans from Honduras are an important component of this street food since they offer flavor.
Other kinds of beans can be used such as pinto, Salvadorian, and silk beans can be used but they wouldn't give off the Honduran classic flavor. Baleadas come in a variety of flavors. Baleadas can also be made with scrambled eggs, avocado, chorizo, or beef. The Baleadas are an absolute must-have on every Honduran visit.
3. Catrachas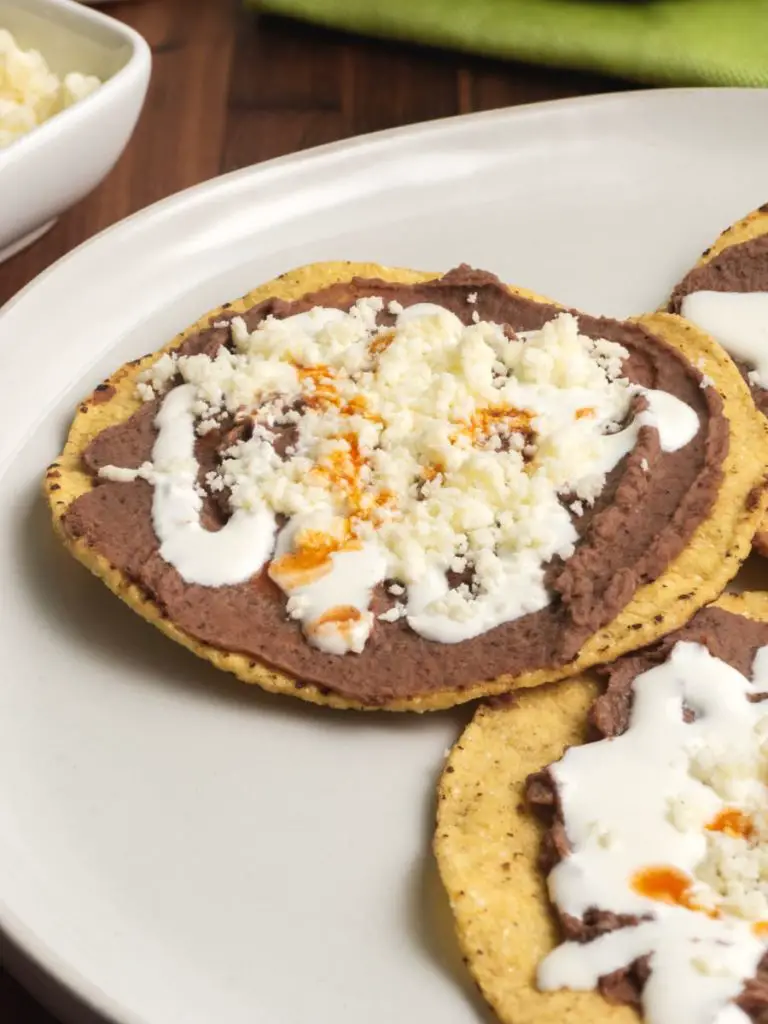 Catrachas is a Honduran delicacy that can be consumed at any time of day. Honduras Bean Tostados is another name for catrachas.
Fried corn tortillas are topped with refried beans, cream, and cheese in this delectable snack meal. Catrachas are typically eaten by hand. Some individuals like to top their Catrachas with spicy sauce, avocado, or whatever else they want to add flavor.
It takes about 8 minutes to prepare and is simple to make. Catrachas are typically consumed on busy weeknights. In Honduras, catrachas is a healthy snack meal that is a better alternative to junk food. You can enjoy your Catrachas with Pinol, the national drink of Honduras. 
4. Sopa De Caracol Soup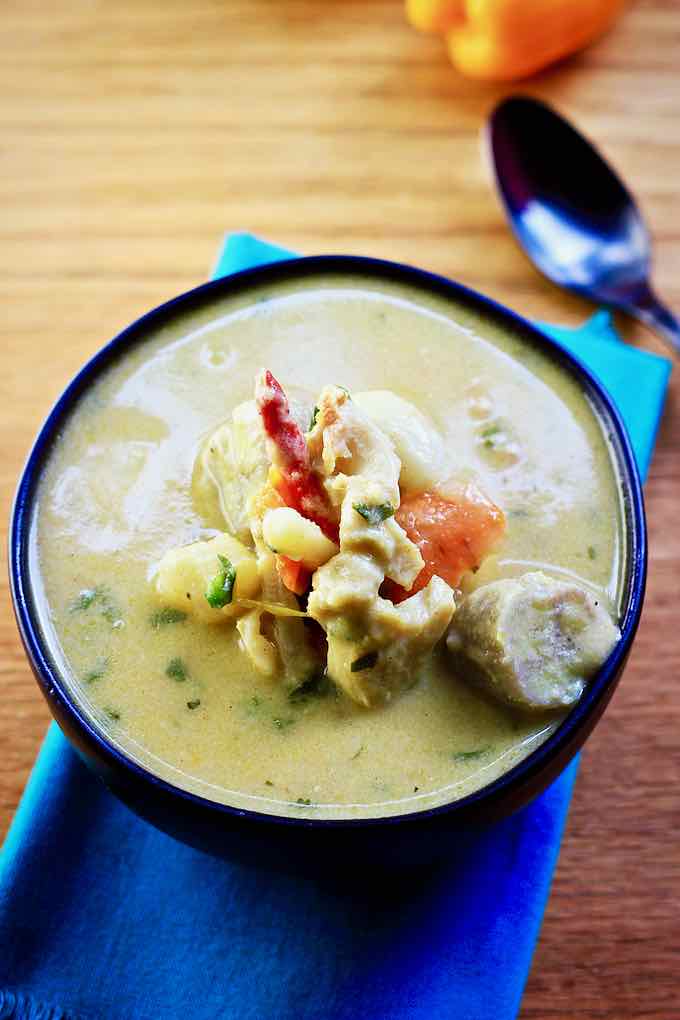 Sopa de caracol is one of Honduras' richest soup meals. This creamy soup meal is a combination of coconut milk, conch (snail) yuca (cassava), green bananas, garlic, onion, carrots, cilantro, black pepper, and other seasonings.
Due to the presence of sea snails, soup de caracol is commonly referred to as a sea soup. Clams can be used instead of sea snails in a Sopa de Caracol recipe.
This healthful soup dinner was enough to spawn a successful pop song in the 1990s. Sopa de caracol is usually served alone, but it can also be served with rice. If you can get your hands on the ingredients, give this recipe a shot.
5. Sopa De Frijoles (Bean soup)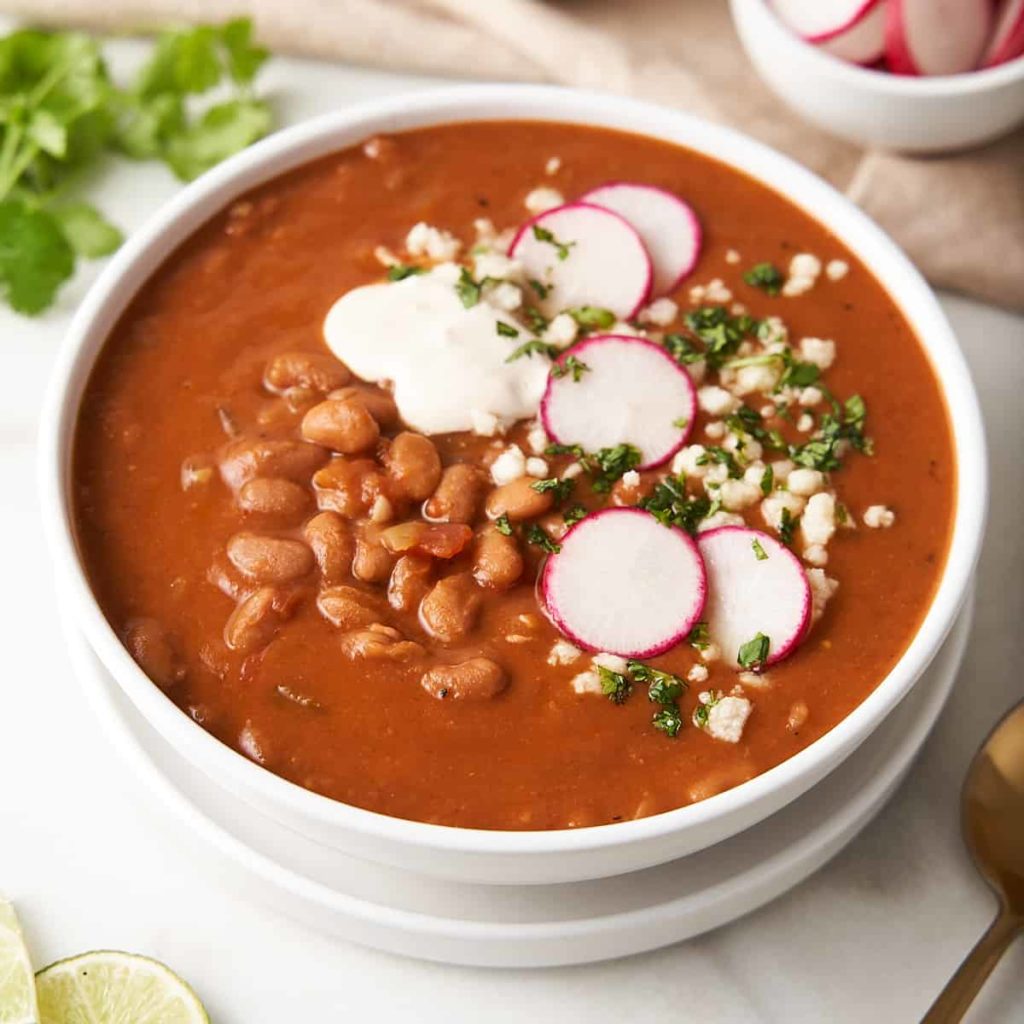 In most Honduran households, black bean soup is a staple. Central American beans, chicharron (pork rinds), baby short ribs, boneless beef stew, green bananas, hard-boiled eggs, tapioca, and onion make up the Sopa de Frijoles.
Cumin, red bell pepper, garlic, salt Avocado slices, pickled red onions, cilantro, tortillas, and other toppings as desired are commonly used.
This wonderful meal is strong in protein. If you use an instant pot or an electric cooker, you can make this popular bean soup in about 45 minutes. The Sopa de frijoles can be eaten as a standalone meal, but it can be served with tortillas, rice, or bread.
6. Chilaquiles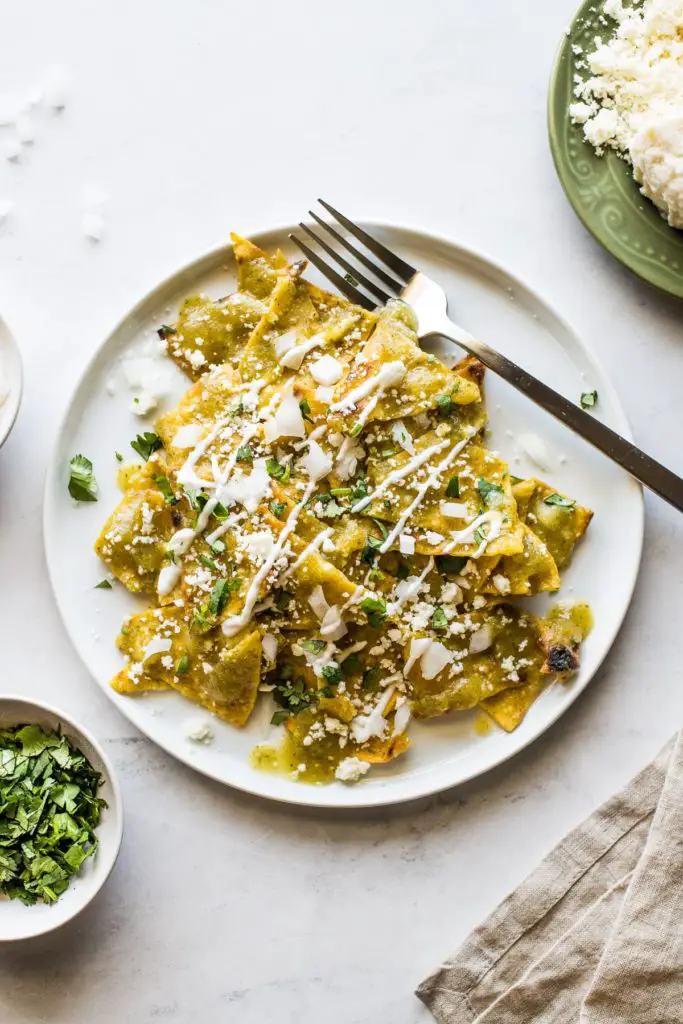 Chilaquiles is a popular breakfast meal for Hondurans but is also eaten during busy weeknights. It's a delicious blend of fried corn tortilla pieces cooked in salsa and topped with cheese. Before being fried, the tortillas are sliced into triangle shapes.
Fresh tomatoes, cilantro, jalapeño, onions, garlic, lime, cumin, sugar, chili powder, salt, and pepper are used to cook it.
Chilaquiles are one of the quickest and easiest Honduran dishes to prepare. Chilaquiles can be served with sliced onions, avocados, scrambled eggs, beans, or shredded chicken as a side dish.
7. Olanchano Tapado Soup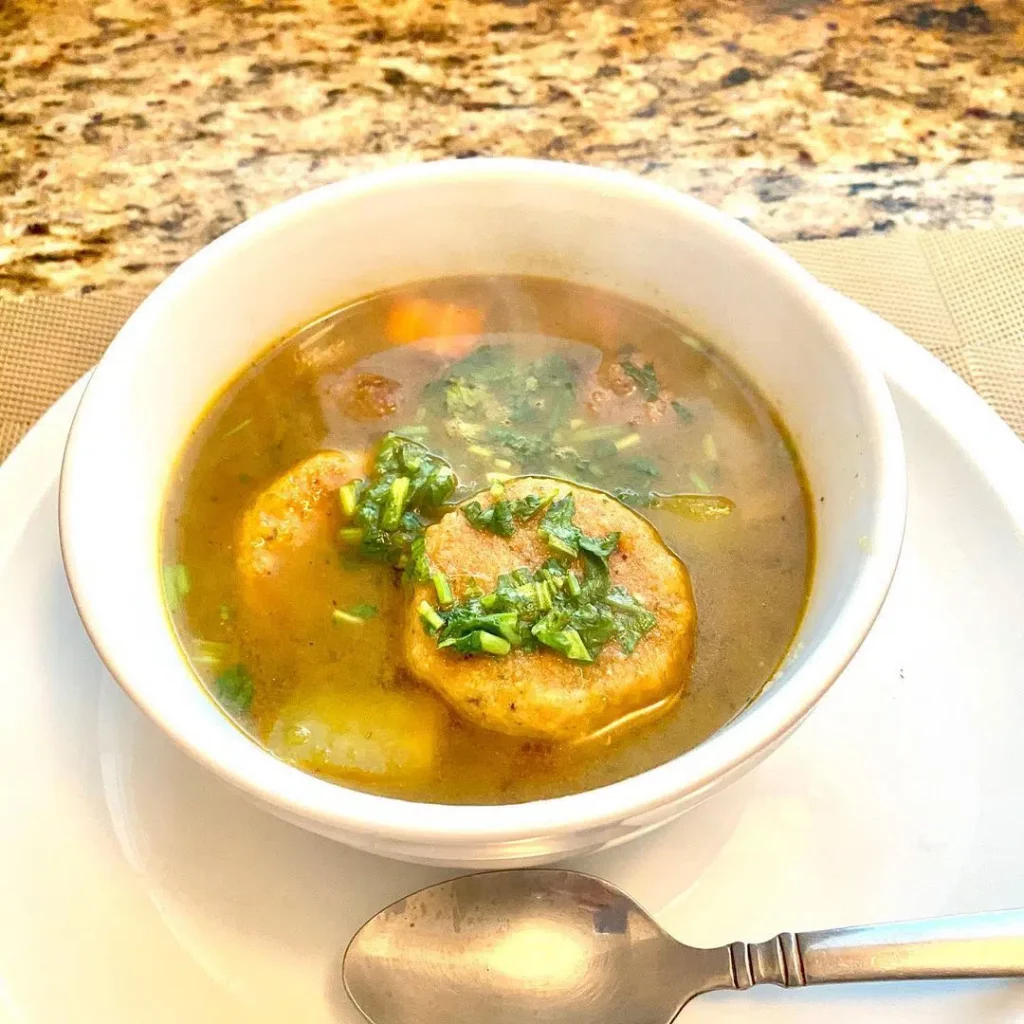 The Olanchano Tapado soup meal is a popular sea soup loved for its sweetness and creamy texture. History has it that this soup meal originated from a housewife trying to cull up a meal using several food items available. This sea soup is rich and tasty due to the addition of sweet fruits and vegetables.
The Olanchano Tapado soup is a combination of coconut milk, seafood stock, sweet potato and plantains, green banana, shrimp, lobster tails, ginger, red bell pepper, and other seasoning ingredients to complement the savory taste of the soup.
The darkest plantains are preferred for this soup supper since they provide the soup's signature sweetness. Trying the Olanchano Tapado should be on your Honduras trip list if you visit the country. 
8. Plato Tipico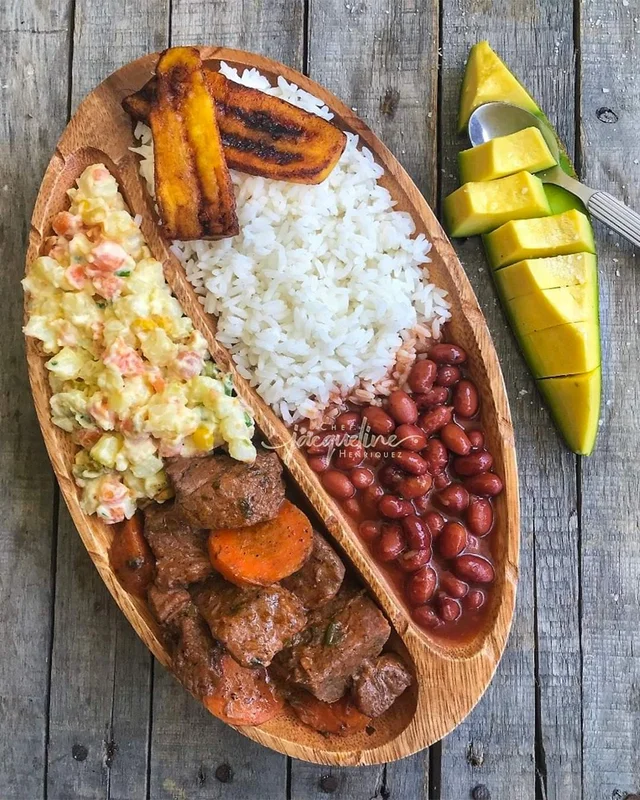 Popularly referred to as the national dish of Honduras, the Plato Tipico is quite a regular meal because it is not prepared as a single dish. The Plato Tipico is made up of different meals prepared separately to form a complete meal. Because it can be created from leftover meals in homes, it is one of Honduras' most popular dishes.
It is a combination of rice, stewed beans, fried plantain, grilled meat or pork sausages, and chismol.
The Plato Tipico is usually served with sour cream, cheese, avocado, and corn tortillas. If you have leftovers of these meals lying in your fridge, you can easily whip up a Plato Tipico meal. If not, you can prepare the delicious Plato Tipico easily. 
9. Pollo Chuco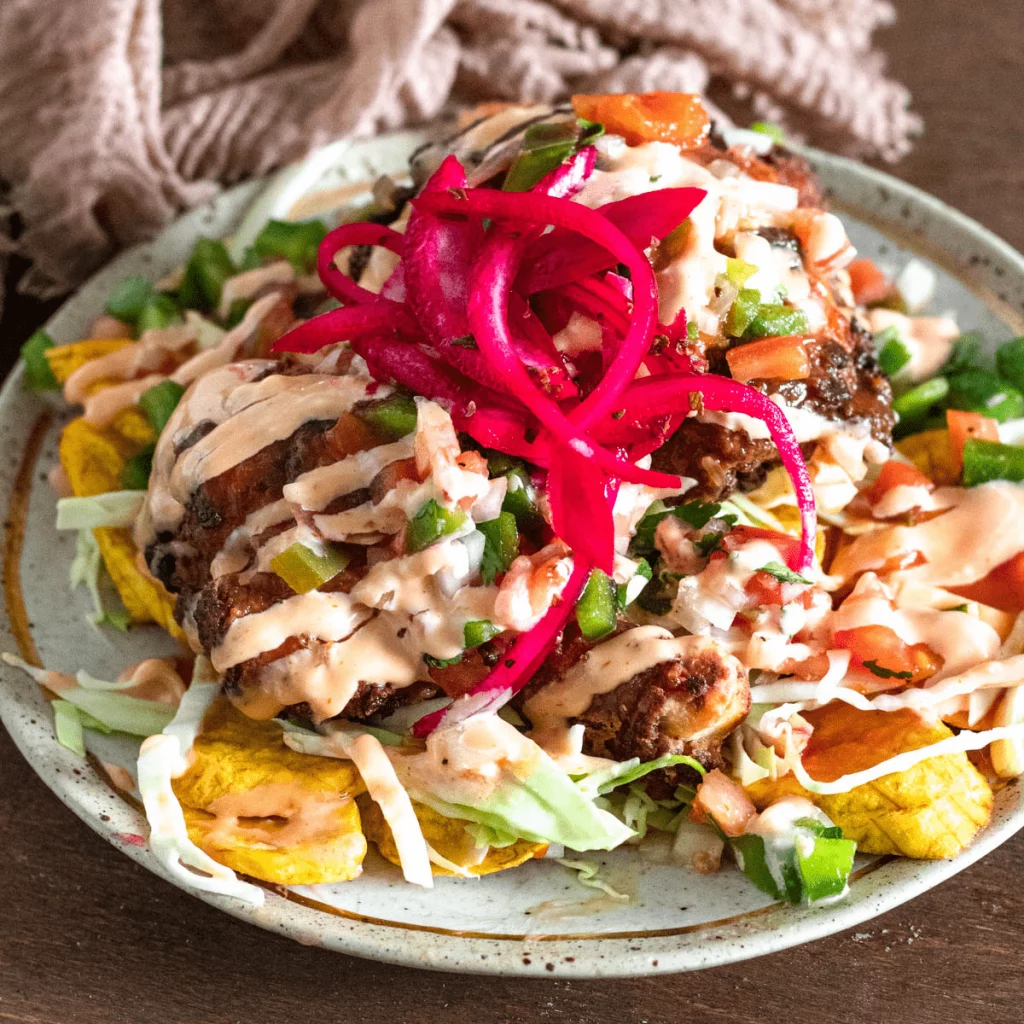 Pollo Chuco is one of Honduras' most popular street dishes, enjoyed by both locals and visitors alike. Fried green bananas, shredded cabbage, fried chicken, tomato sauce, chismo, pink sauce, and pickled veggies make up Pollo Chuco.
It's not often that a dish offers a unique combination of several foods. Because of the delicious balance of flavors, most Hondurans like this wonderful snack meal.
This snack meal takes a long time to make from scratch, but it's well worth the effort. On the other hand, it's simple to make if you have some ingredients on hand. In all honesty, a trip to Honduras is not complete without having a taste of Pollo Chuco.
10. Nacatamales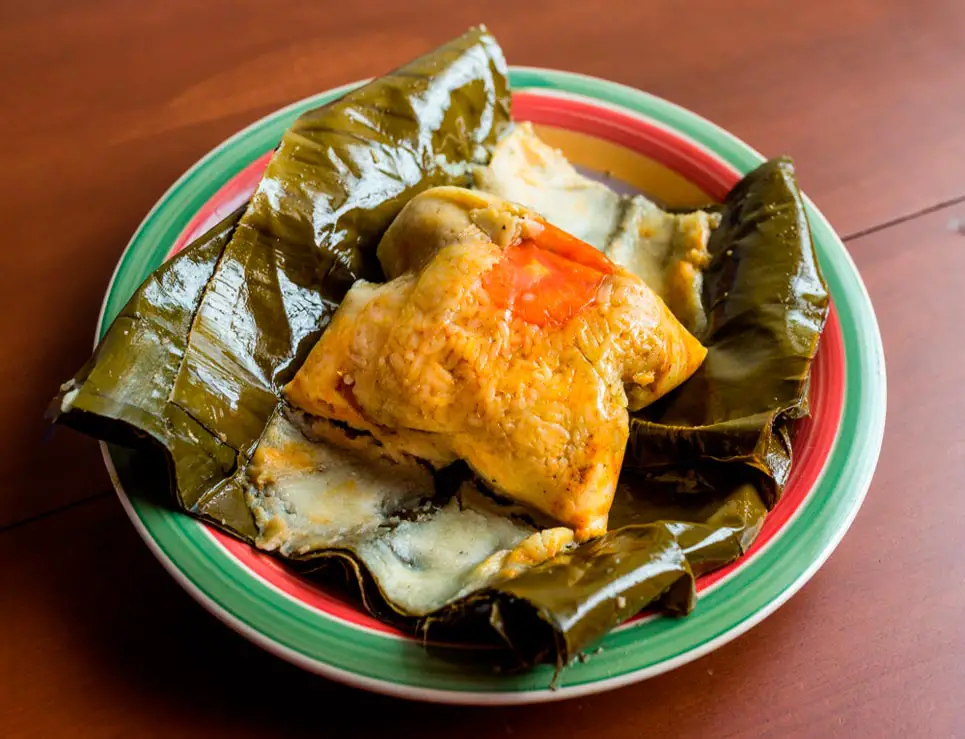 Nacatamales is a classic Honduran dessert that is liked by the majority of the population. This is one Honduran cuisine that takes a long time to prepare, but the result is well worth the effort.
The masa(dough), lard, stock, pork, rice, potatoes, tomatoes, prunes, green olives, onion, sour orange juice, salt, pepper, and other condiments and seasonings are used to make the Nacatamales.
This fragrant dish is wrapped in banana leaves after it has been prepared. Nacatamales is a special occasion meal that is offered at gatherings, weddings, and other special occasions. Some people eat them for breakfast on Sundays.
11. Torrejas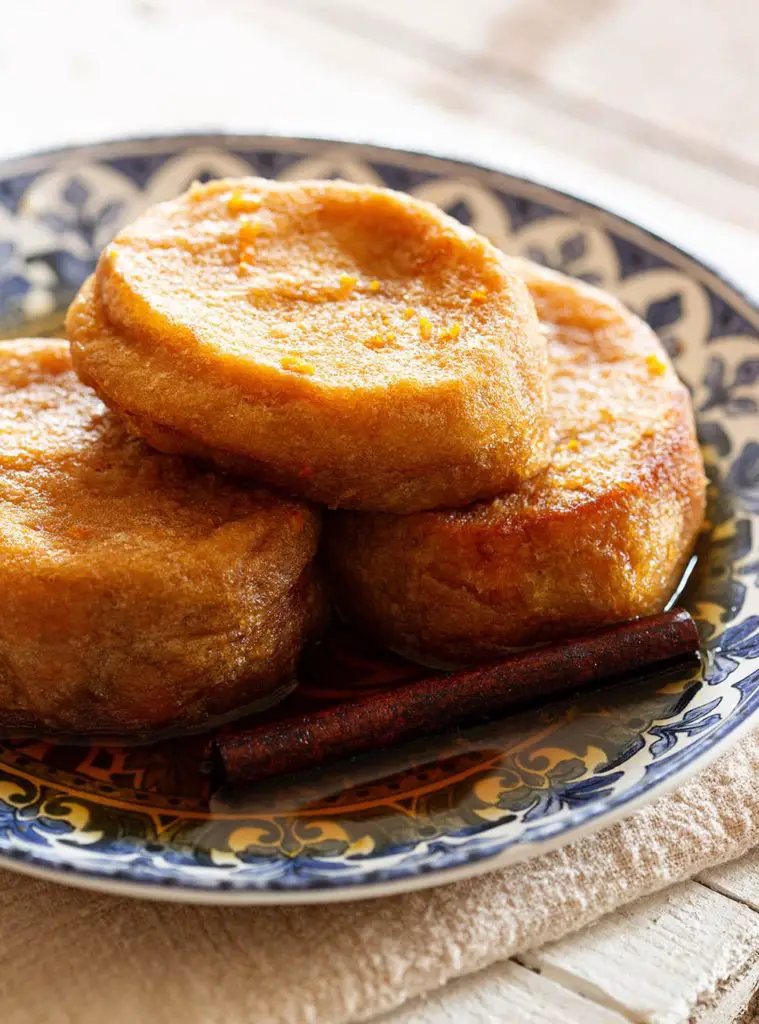 The Torrejas is the Honduran version of French toast. Torrejas is a combination of sliced bread, coated in eggs, crisply fried, and dipped in a sweet syrup. Torrejas are mostly eaten as breakfasts and are enjoyed by individuals with sweet teeth.
They are also popular treats eaten during celebrations, special occasions, carnivals, and fairs.
For Hondurans, this dish is renowned to bring back Easter memories. This local cuisine is very easy to prepare and can be enjoyed with a fruit salad or sausages. 
12. Pupusas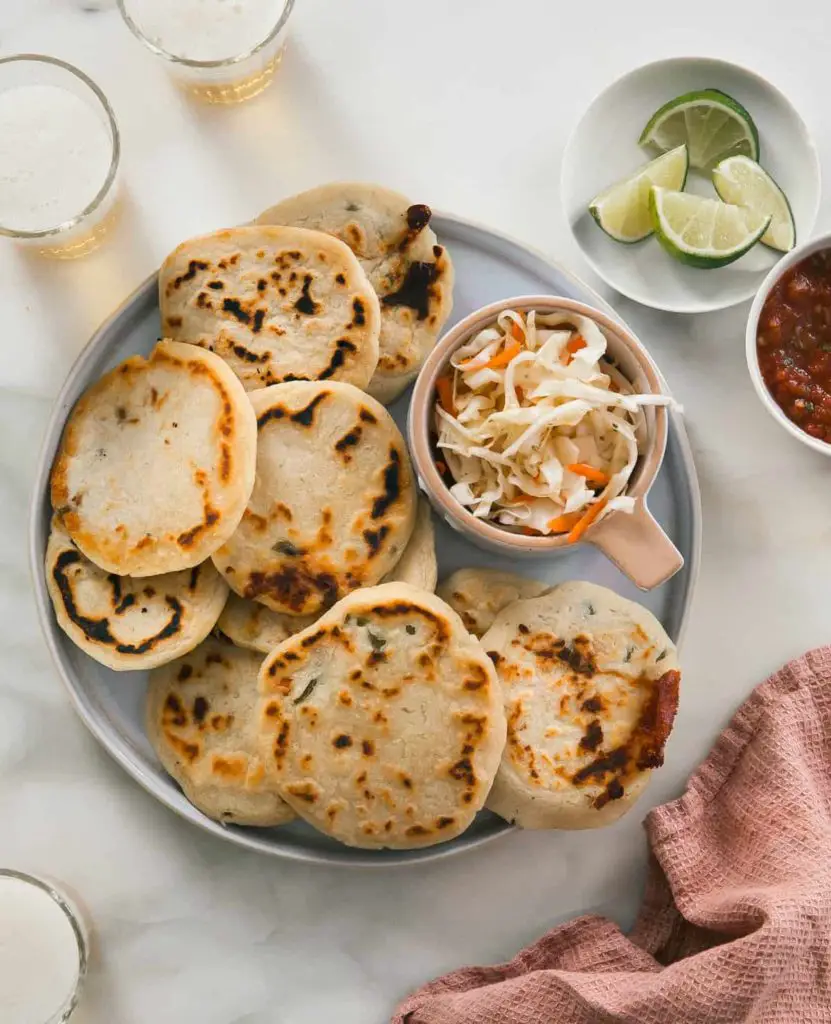 This is arguably the most popular snack meal in Honduras because it has a lot of history connected to it and is seen as a major contributor to the country's economy.
Pupusas are similar to pancakes, however, they are made using cornmeal or rice flour rather than all-purpose flour. Pupusas come in a variety of flavors and are consumed all around Honduras.
Pupusas are made up of corn or rice dough stuffed with cheese, chicharron (pork meat), beans, shrimp, and fish. They are mostly eaten with pickled cabbage, jalapenos, and tomato sauce as toppings. They are sold in tourist centers across Honduras.
13. Macheteadas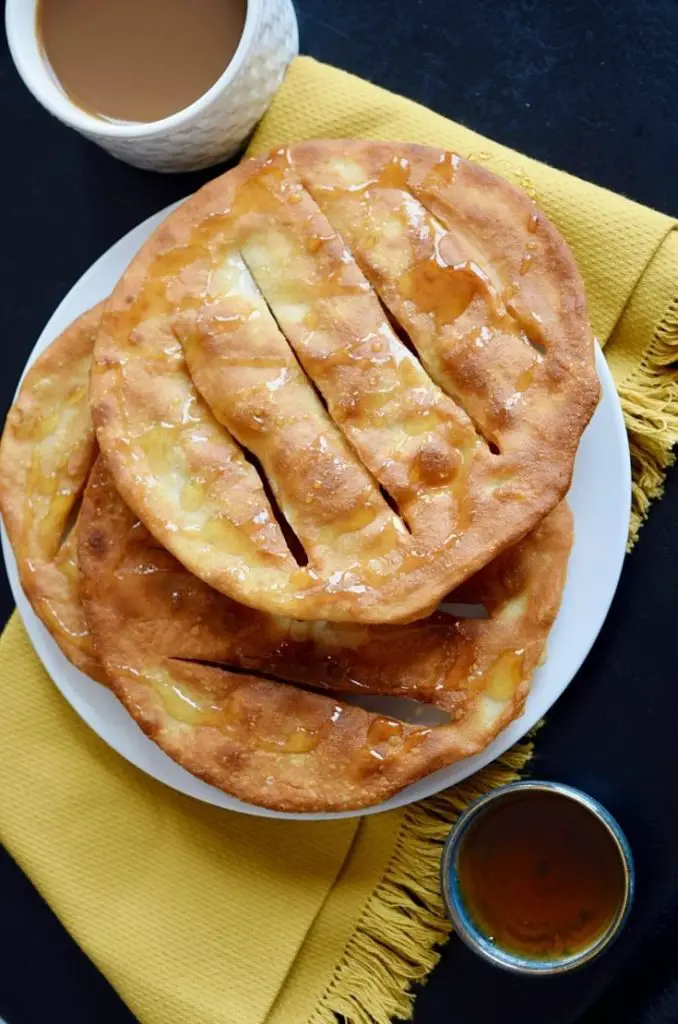 The Macheteadas is a popular traditional sweet snack made from leftover wheat flour. Macheteadas are a combination of flour, milk, water, coconut oil, baking powder, and eggs.
The dough is fried in oil till both sides are golden brown, and crispy.  Macheteadas that have been properly fried is usually slightly dense in the center.
This sweet meal is a typical Honduran breakfast. it can be drizzled with honey or ant syrup. It can be enjoyed with a hot or chilled beverage. 
14. Choripan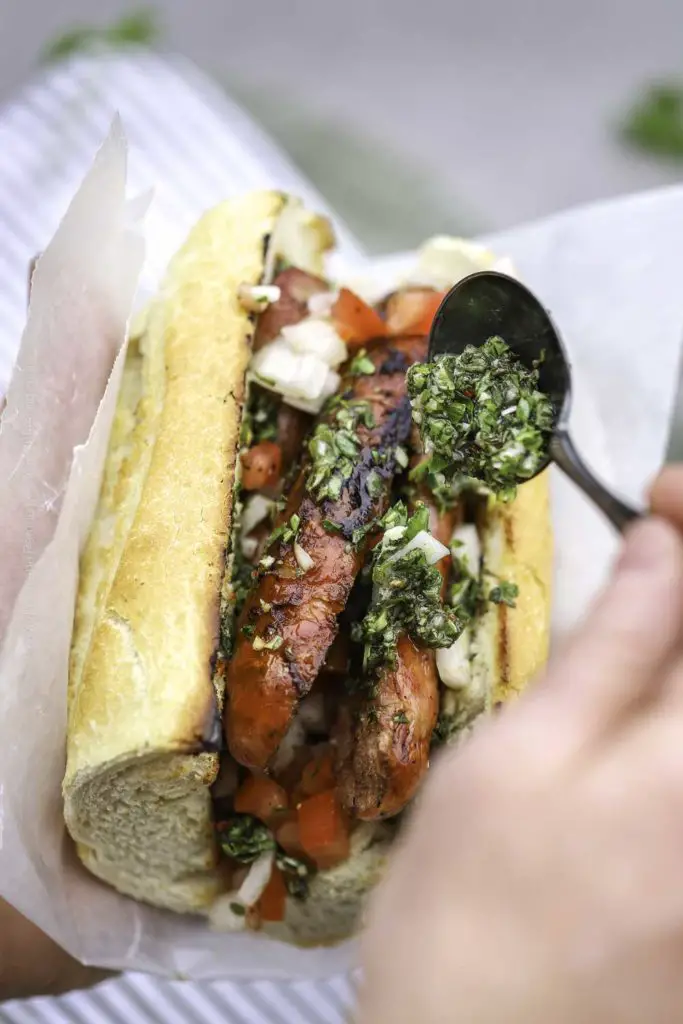 If you're looking for a popular street meal, Choripan is at the top of the list. This popular street food is Honduras sandwich; Choripan vendors may be found on nearly every street in Honduras.
Choripan ingredients are grouped into 3 components- crusty bread, chimichurri sauce, and salsa Criolla.
This spicy snack is a combination of chorizo sausages, olive oil, garlic, oregano leaves, parsley leaves, red chilies, baguettes, shallots, apple cider vinegar, and other seasonings. It is then grilled to produce a savory flavor.
This nutritious snack meal is rich in vitamin A, potassium, and calcium. Choripan is also fondly called Chori.
15. Arroz con Leche (Rice Pudding)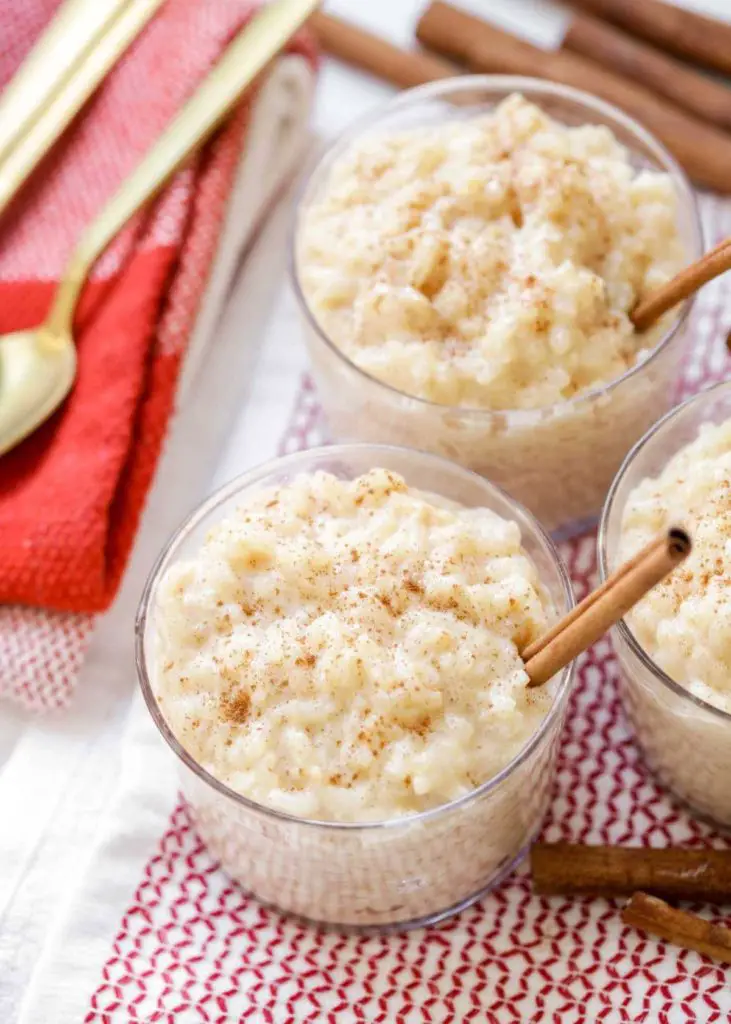 This rice pudding is a combination of cooked rice and milk, cinnamon sticks, lime zest, sugar, ground cinnamon, and raisins.
This creamy dessert is usually eaten for breakfast. The Arroz con Leche is one of Honduras fastest staples to prepare because the main ingredients are rice and milk, and these are readily available in homes. 
Individuals who prefer an aromatic meal can make use of jasmine long grain rice. You can add toppings to your Arroz con Leche; some popular ones are coconut shreds, dried fruits, or chocolate shards. 
16. Atol de elote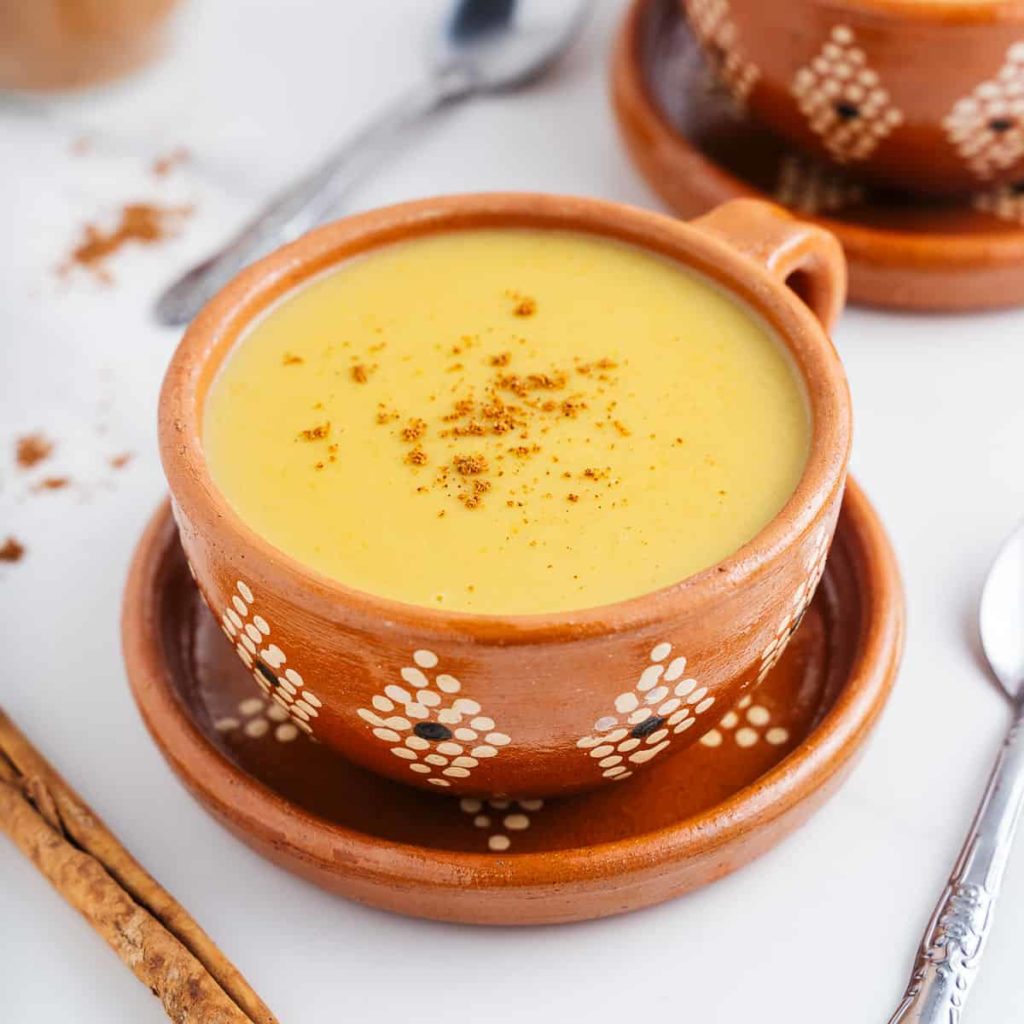 A creamy blend of fresh corn, sugar, and milk makes up this popular soup dish. Other ingredients are added to this meal to improve its flavor and richness.
It's generally served with tamales, although it can also be eaten on its own. In most Honduran households, Atol de elote is eaten for breakfast and as an afternoon snack.
Some individuals prefer their Atol de Elote thick, while others do not. The thickness depends on the amount of corn used. It is best enjoyed when hot, and it is usually served in a local clay cup known as Jarrito.
17. Sopa de mondongo (Tripe Soup)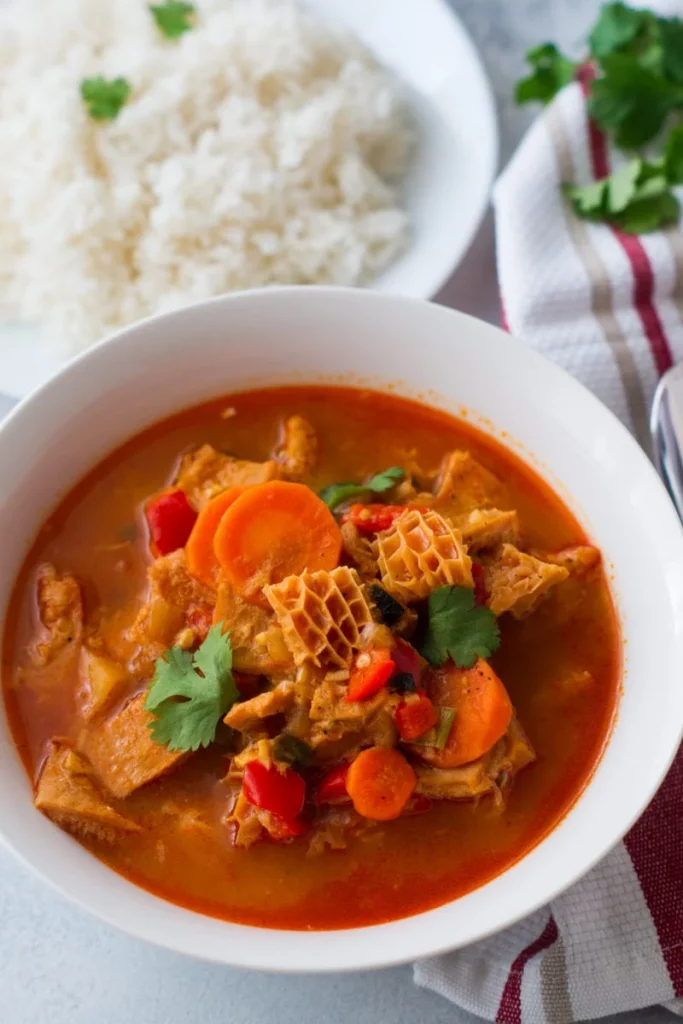 Sopa de mondongo is a typical Honduran meal served at weddings and other special occasions. Sopa de mondongo is made from well-clean beef tripes that are boiled and stewed with carrots, potatoes, garlic, onions, cilantro, and tomato sauce.
Sopa de mondongo can be served with rice or as a stand-alone dish. This delectable supper is simple to prepare if you have the necessary items at hand.
Final Note
If you are trying out new cuisines or you consider going on a tour to Honduras, go with this food list and ensure every item is ticked. Without sampling these delectable local delicacies, your trip would be incomplete.
Meanwhile, some of the ingredients used in making most of these dishes are available in international food markets across the states, get these ingredients and prepare the dish that has piqued your interest.
Read next:
We are sorry that this post was not useful for you!
Let us improve this post!
Tell us how we can improve this post?