Toaster Machines happen to be a small electric appliance that has stopped many from going to work hungry over the years. It has gotten to get better as many brands come up with different innovations and features every year.
Just as they are different bread for making different toasters, so also are different toasting machines with different results. Toasting can become quite an interesting activity if you are using the right toasting machine.
Toasters are not meant for bread alone, they can be for toasting foods like potato waffles or teacakes, but not all can do this. One way to find out what you can do with a toasting machine is to know the types out there.
So in this article, we have listed the common types of toasting machines.
Why Get A Toasting Machine?
A toaster machine is a small electrical kitchen appliance meant for cooking various floods, but the standard toasters are meant for bread alone. When it comes to household appliances, a toasting machine is one you can trust to make breakfast fast and interesting.
Here are some uses In case you are wondering why you need it in your kitchen.
Toasting machine is mainly used for lightly cooking slices of bread till it turns darker, crispier, and tastier
Grilled cheese sandwich
Toast cake
Garlic bread
Toast dried fruits
Panini
Leftover French fries
Veggie burgers.
The 4 Types Of Toasting Machines
Not everyone finds their kitchen appliances as friendly, especially when you choose the wrong one. Toaster machines can simplify your life, and before shopping for one, we have listed the types of toasting machines out there. Knowing this will help understand why this is a worthy appliance in your kitchen.
1. Standard Toasters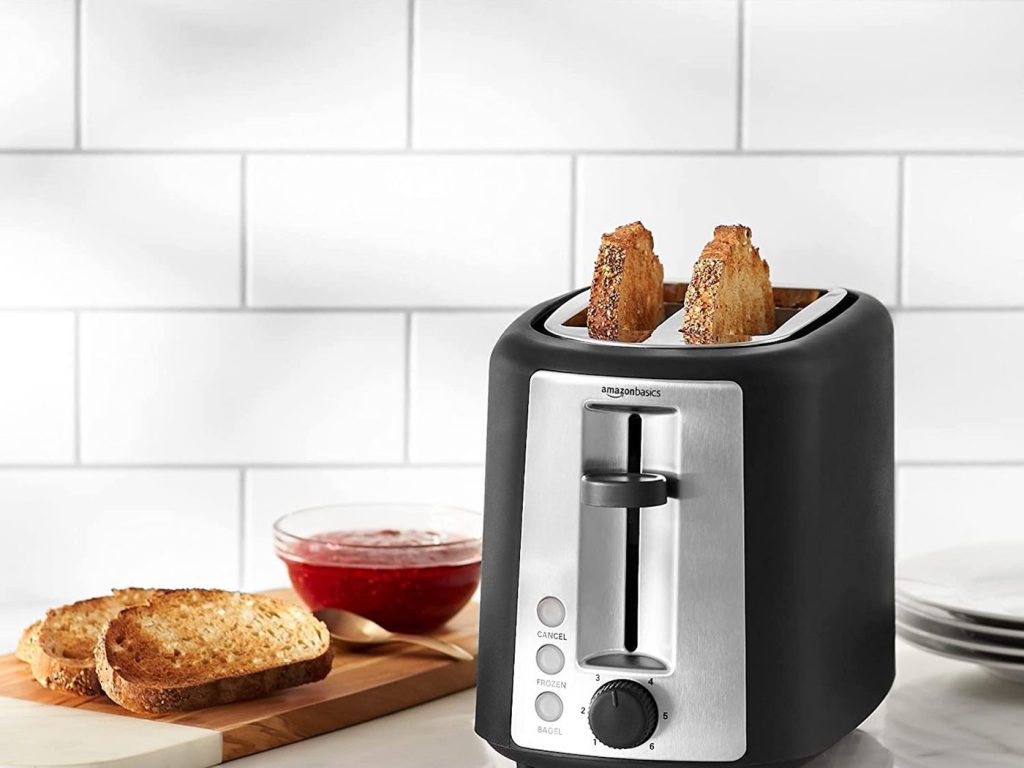 The standard toaster is also known as the regular toaster, and it can come in 2, 4, or 6 slice toasting space.
It's the type of toaster many people are familiar with. Your counter size is not important when choosing a standard toaster, although it comes in various sizes, they are not exactly large to take up too much space.
The wattage of a standard toaster varies according to its features and overall dimension, but it ranges from 750 to, 1250. Most standard toasters are made with stainless steel since they will be exposed to extreme heat.
Standard toasters are your go-to if you are using a toaster machine as a beginner, the features are simple, and It's easy to operate as well. Note that a standard oven is majorly for toasts and sandwiches. Although some are now made with slots for heating hot dogs, leftover fries, and many more.
Features Of Standard Toasters:
Simple to use and comes with an automatic shut off feature to prevent the burning of foods
Made with a timer to let you decide time for your cooking
Crumb tray
Lifts
Reheat settings
Slice capacity, you can choose 2 slice toasters for yourself, 4 slice toasters for a medium family, and 6 slices for a large family
Some are made with temperature settings to allow food to cook properly
Infrared heating element to cook food faster and thoroughly.
2. Convection Toaster Oven
A convection toaster oven is fast becoming a popular choice. This type of toaster is similar to the standard toaster machine, but this is mostly used by commercial entities like a restaurant. Convection toaster machines work by using a fan that circulates heat faster to cook food evenly.
This type of toaster produces more heat but also ensures your food is cooked more thoroughly. This also has more features than the standard toaster machine. It is larger than the regular toaster oven, which makes it preferable for small business owners.
Features Of Convection Toaster Oven:
You can cook two different foods at the same time and won't leave any area uncooked
It comes with a manual that is easy to understand
You don't have to cook your food at high temperature as you would do with a standard toaster oven
You can use aluminum and lining paper in it
It can be used in a variety of ways such as baking, cooking meats, or vegetables.
3. Toaster Ovens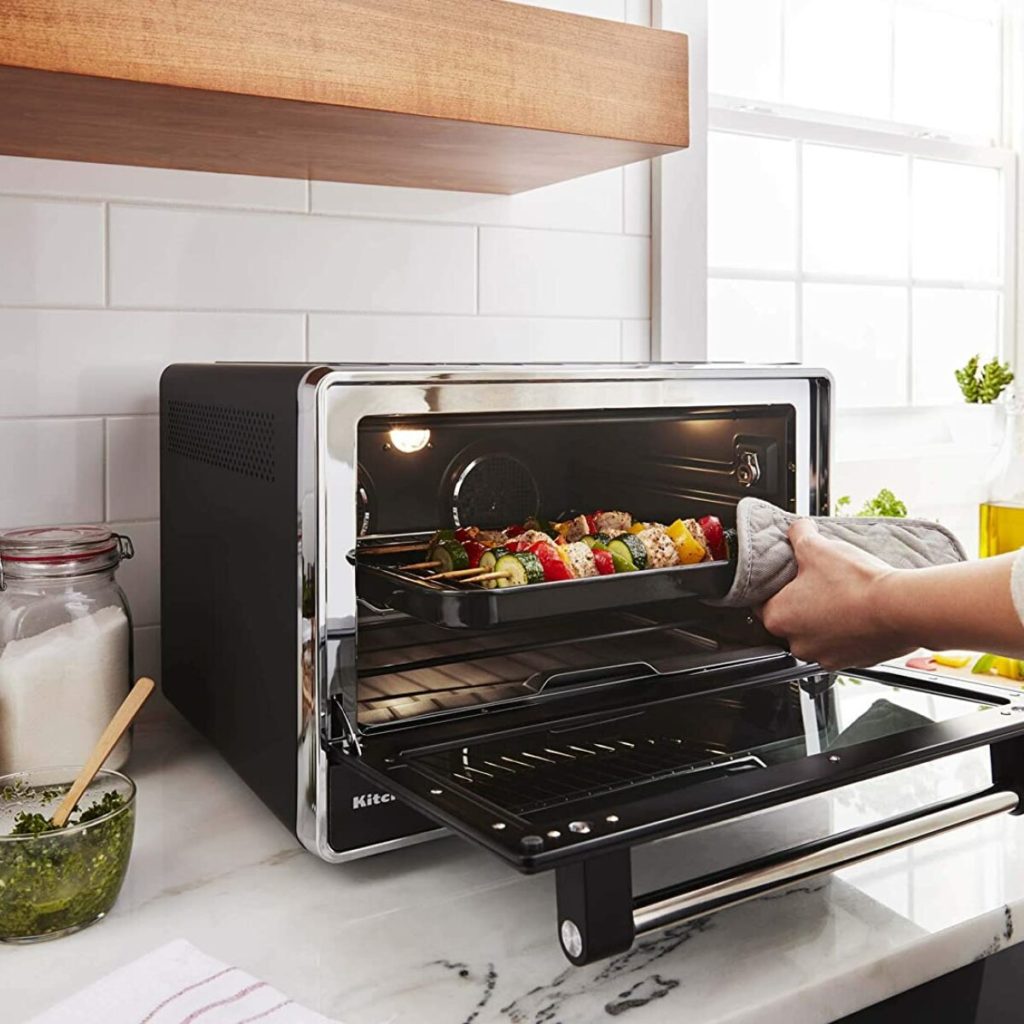 Toaster ovens have only been recently introduced, and some people are still unfamiliar with them. This type of toaster machine can be compared to an oven. This is a lot bigger than the standard toaster oven, and the slice capacity makes it a great option for many large households.
This is a convenient choice of a toaster oven, it can be used as an oven or a second one if you already have an oven. Its multifunctional capability is enough reason to consider it.
Features Of Toaster Oven:
This offers multiple cooking options
Automatic shut off
Temperature settings
Toast shade settings, so you can decide how brown you want your toasts
Basic cooking setting, just like an oven
Allows you to peak on the inside to check on the food.
4. Commercial Toasters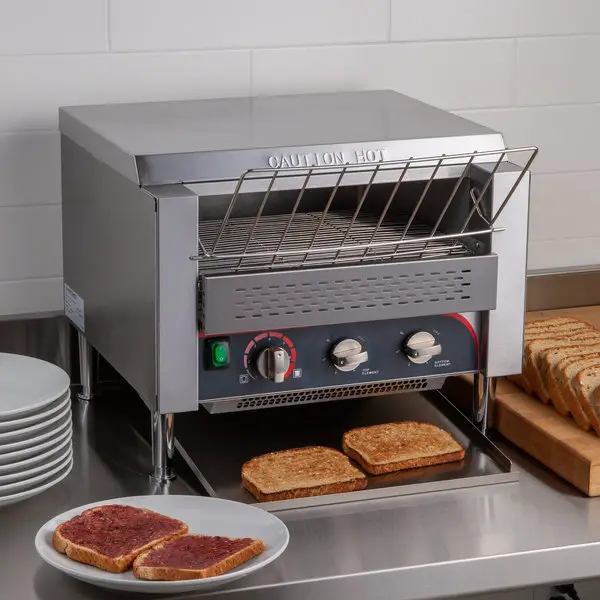 The last type of toaster machine in the market is the commercial toaster oven. This as the name implies is meant for commercial purposes. Keep in mind that this is just an oversized version of the standard toaster, but meant for making toasts in large batches.
This is designed to be stronger and sturdier than other types of toasters.
Commercial toasters are made with high-quality material since they will be used a lot. You need to consider what you are making before getting a commercial toaster, however, most are built to take care of any kind of breakfast cooking.
Features Of Commercial Toaster
Can handle regular bread sizes and English muffins
Heavy-duty toaster
Built to last longer than other types of toaster
High voltage ratings
Large slice capacity.
Is a toaster machine worth it?
Yes, choosing a standard toaster machine or commercial one for business purposes can help save money and time. It's a kitchen appliance that can come in handy for breakfast, and choosing a quality one can also get you perfectly toasted bread every time.
What bread makes the best toast?
There are no rules to the right kind of bread, but note that different slices of bread require a different kind of toasting. Tender pieces of bread can't take high heat, while denser, moister high grain slices of bread will. For making fine crustier toasts, slices of bread that are recommended are semolina bread, pain de Campagne, Challah, ciabatta, and rye bread.
Wrapping Up
Choosing the right type of toaster machine shouldn't be complicated anymore with this article to guide you.
You simply have to look at the features and find one that can take care of your breakfast efficiently. Your counter space is important to put into consideration, though, as you don't want an appliance that keeps getting in the way.
We are sorry that this post was not useful for you!
Let us improve this post!
Tell us how we can improve this post?