As an ice cream enthusiast in the city of Denver, it will be nice to know ice cream shops you can get the best ice cream. The satisfying and joyous feeling of cold flavors melting into your mouth is literally one of the best feelings in the world.
The city of Denver has a lot of amazing ice cream shops that make mind-blowing ice creams, and summertime is always the perfect time to explore the many options available to you.
You can always cool off with a few scoops of ecstatic creamy flavor.
We understand how important it is to satisfy your ice cream craving with a delightful cup of ice cream during picnic days. So let's take you down the road to the best innovative spots you can have a refreshing ice cream experience anywhere you are in Denver.
10 Must Try Ice Cream In Denver
Enjoying ice cream that is worth everything is a good feeling. During summertime, you would definitely appreciate a chilling and creamy treat from the ice cream shops in your city. But the question now is where can you find the best ice cream in Denver? Well, you are about to find out.
1. Little Man Ice Cream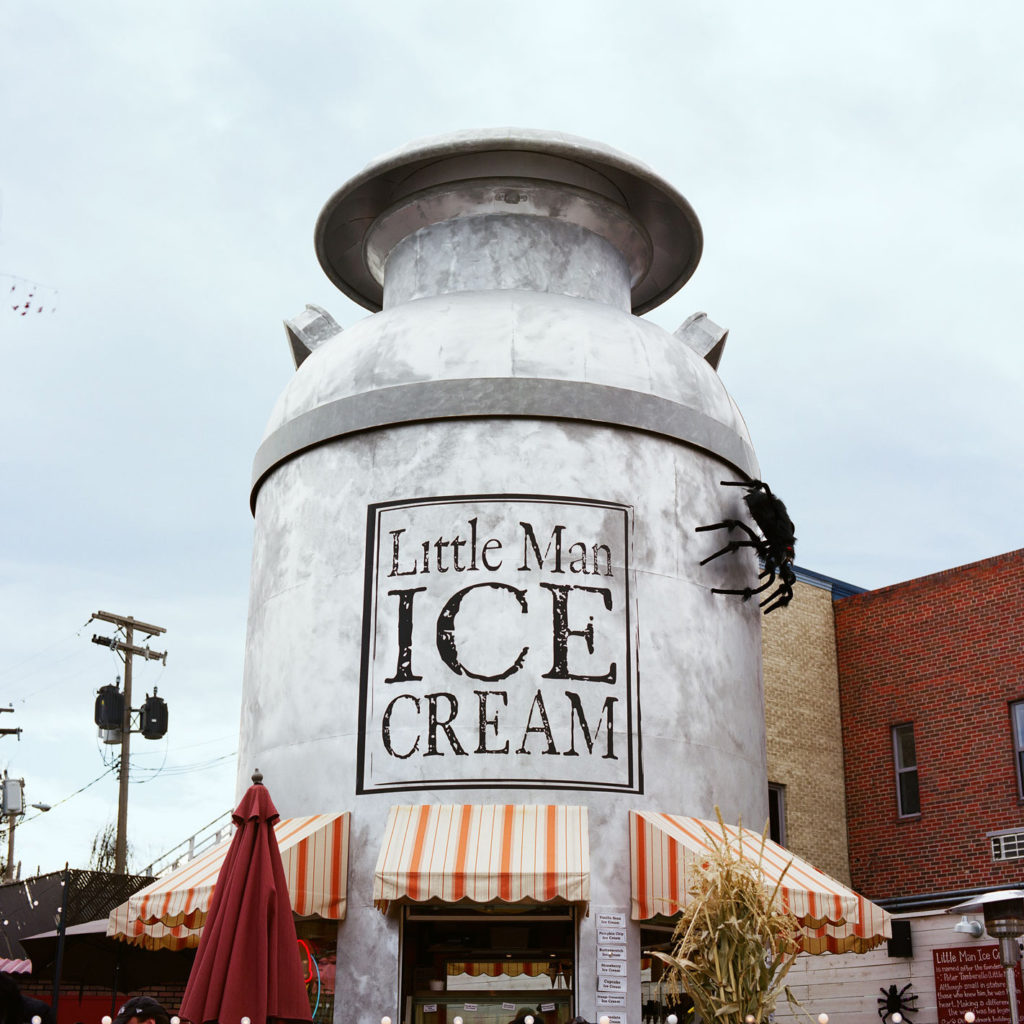 2620, 16th Street, Denver
Best Flavors: Space Junkie and Purple Cow
Little man ice cream is a must-try for anyone in Denver. This ice cream factory is one of the iconic places to get a memorable ice cream experience in Denver. The flavorful goodness is so heart-stirring that you would literally ask for more. There are tons of flavors that can be confusing to choose from because they are all just as good.
Little man ice cream includes the famous sammies, sorbet, homemade ice creams, and also vegan-friendly ice cream. The menu comes in 3 different sizes of cups and cones (small, medium, and large) as well as a long list of ice cream sundaes, toppings, and shakes.
2. Gelato Boy
535, 16th Street Mall, Denver
Recommended Flavor: Sweet Cream & Dark Chocolate
This ice cream is very satisfying and the fact that it is made with healthy ingredients just makes it great. If you want to enjoy a few scoops of ice cream, but you are worried about the fat content, you should definitely go for gelato boy. Unlike other ice creams, gelato boy contains half the fat thanks to the natural ingredients.
There are varieties of unique flavor options you can choose from, the shocking fact is you can never go wrong with any of these flavors.
3. Sweet Action Ice Cream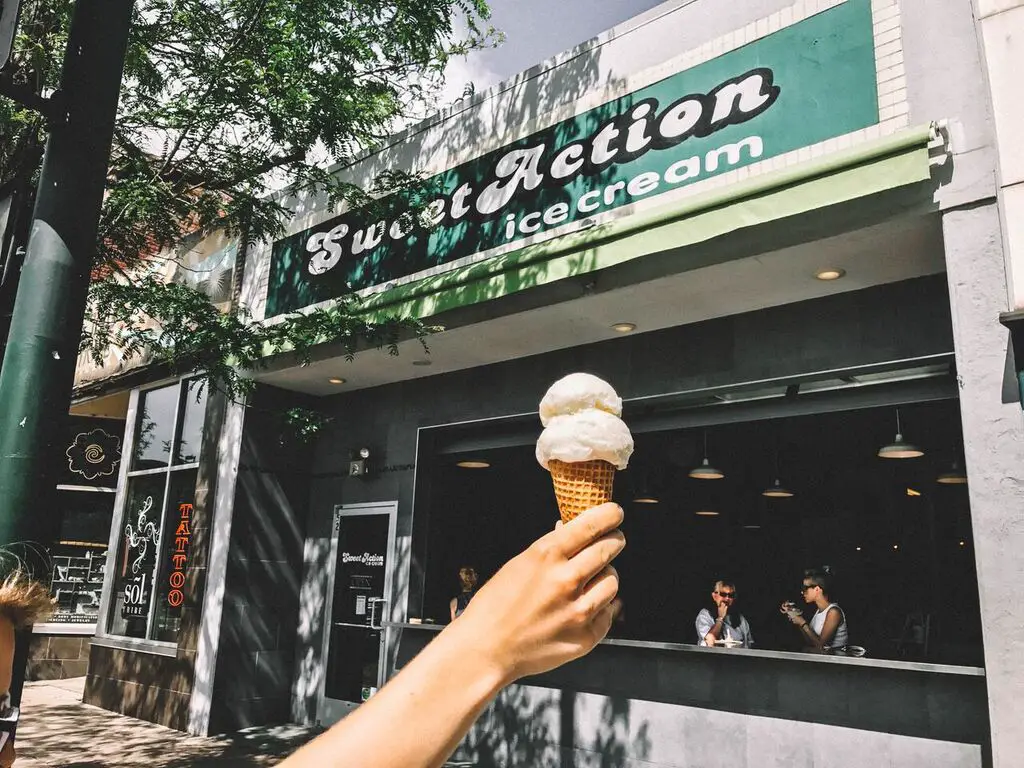 52 Broadway, Denver, CO 80203
530 E. 19th Ave., Denver, CO 80203
1061 S. Gaylord St., Denver, CO 80209
2851 W 25th Ave., Denver, CO 80211
Recommended Flavor: Chocolate Fudge Brownie
Sweet action ice cream is one of the best ice cream spots you should visit. It is made out of some of the freshest dairy products, and it also has vegan options for vegans. Sweet action is perfectly handcrafted, and it consists of a wide range of flavors.
The ice cream company has four locations only in Denver, these locations are categorized in Broadway, Uptown, Wash park, and Jeff park.
4. Sweet Cow Ice Cream
Best Flavors: Baileys Irish Cream, Adobo Chocolate, and Chocolate Chips
Sweet cow ice cream is located at the heart of highland square in Denver, sweet cow consists of 24 flavors of which 3 flavors are vegan options for people on a dairy-free diet. Most times you don't have to go to the sweet cow ice cream shop before you can have this chilling treat, a moo mobile is always on the move to bring sweet cow ice cream to your doorstep and office park.
5. Glacier Ice Cream And Gelato
 Suite 109, Denver, CO 80230
Recommendation: Coffee Caramel Crunch
Glacier ice cream and gelato spot is a very friendly environment to meet up with some old friends especially when you all are craving some delightful ice cream. High-quality ingredients are used to create these magical treats.
Ranging from the toppings, the floats, ice cream cakes, and sandwiches each recipe is definitely relishing. One flavor I find very memorable was the coffee caramel crunch, you should try it too anytime you visit.
6. Eiskaffee Ice Cream
Broadway & 11th Ave., Denver, CO
Recommended Flavor: Belgian Chocolate
Eiskaffee is one of the top spots to have a nice ice cream treat in Denver. The variety of flavors consists of gluten-free and vegan options. At Eiskaffee you can also try some of the latte and coffee on the menu as they are top-notch as well.
7. High Point Creamery
 215 S Holly St. Denver, CO 80246
Recommended Flavor: Brown Butter Pecan
High point creamery is definitely one of the ice cream spots you should consider visiting in the city of Denver. They have a wide list of amazing ice cream flavors that would make you scream ice cream! The taste of these flavors as they melt in your mouth is breathtaking and comforting at the same time.
The quality natural ingredients make them the best in Denver, High point creamery uses an organic cream base and one awesome fact is that the cookies and waffles are made in-house.
8. Yum Yum Ice Cream
2423 S Downing St. Denver, CO 80210.
Recommended Flavor: Walnut Ice Cream
All ice cream varieties at yum yum ice cream are hand-crafted and flavored with love. Some of the flavors on the menu are regular while some are custom-made. At yum yum ice cream shop you have a wide range of options you can try out and whatever choice you make you'd be delighted you did.
If you are in search of a chilling spot you can visit with a couple of friends this summer in Denver, yum yum is just right for you!
9. Ice Cream Riot
1238 E Colfax Ave. Denver
Recommended Flavor: Dirty Cookies and Creme, Cereal Milk Ice Cream.
You are allowed to try some insanely delicious flavors at ice cream riot. This Denver-based ice cream shop offers a wide range of ice cream flavors in small batches. Ice cream riot adopts the Philadelphia-style water ices, and they are all made in-house.
A lot of ice cream enthusiasts would definitely the services rendered at the Ice Cream Riot. You'd be pleased with the cheddar goldfish and the pop tart ice cream sandwich.
10. Nuggs Ice Cream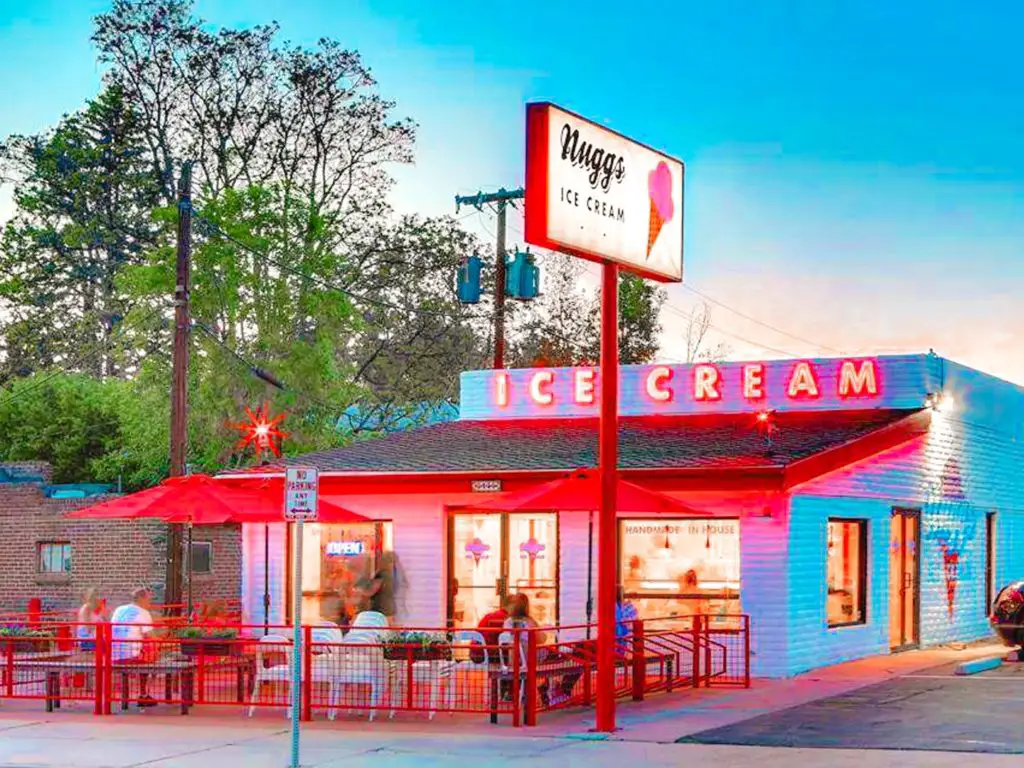 5135 E Colfax Ave., Denver
Recommended Flavor: Double-Stuffed Oreo and "Brother Finger"
Nuggs ice cream was awarded the best ice cream shop in the city of Denver in 2019, this family-owned business gets its reputation from the awesome and tangy flavor of ice cream they make. If you are in Denver you definitely want to try out the ice cream spot.
The scoopers are super friendly and are enthusiastic to attend to you. Nuggs ice cream is definitely the best place to hang out with some friends during summertime in Denver. You all will have a wide range of flavors to try and trust me it may be hard picking a flavor because of creamy and delightful they all are.
Conclusion
There are a lot of "must try" ice cream shops in Denver and during the summertime there's no better way to cool off than to visit some of the chilling ice cream spots we listed above. Truth is, you can not go wrong with any ice cream flavor you order from these spots as they are all top-notch and highly recommended ice cream shops in Denver.
We are sorry that this post was not useful for you!
Let us improve this post!
Tell us how we can improve this post?