Craving a sweet food like ice cream in Houston is not a problem until you are at the crossroad of deciding which ice cream shop to try out. Houston houses a great number of ice cream outlets, and I'm quite aware of how confusing it can be to pick one.
Traditionally, Houston gets hot and moggy during summer and there is no doubt ice cream shops will be sizzling and buzzing with lots of people. It is safe to be sure you are getting one of the best ice creams before going through the trouble of queuing and waiting your turn.
The question now is where can you get some of the best ice creams in the magical city of Houston?
Well, not to worry this article unveils all the awesome frozen spots that will provide the utmost satisfaction for your sweet tooth as well as cool you off when it is hot.
Top-Rated Ice Creams In Houston
Here are the best ice cream places to try in Houston today;
1. Dolce Neve Gelato
Houston Heights.
4721 N Main street, suite H. Houston, TX 77009.
Top Flavors: Chocolate 100%, Salted Caramel, and Vanilla from Madagascar.
Dolce Neve gelato is an incredible ice cream spot in Houston, it serves a wide range of very intricating flavors. Although it is a bit pricey, it is worth a try at any time of the day. Dolce Neve gelato has an extremely smooth consistency and texture, and it also has a very rich, and creamy taste.
If you are craving very good ice cream in Houston, you should definitely try dolce neve gelato, you can as well try out all the flavors. Dolce Neve gelato is worth a visit if you are in Houston.
2. Amy's Ice Cream
3816 Farnham St, Houston, TX 77098.
Best Flavor: Mexican Vanilla, White Chocolate Rum, and Zilker Mint Chip.
Searching for an ice cream shop to refresh yourself when it is hot in the city of Houston? Amy's ice cream is one of the places to visit. Rest assured that Amy's ice cream is family-friendly and deliciously good. You can never go wrong with any of the classic flavors.
Amys ice cream has a lot of amazing and interesting flavors, particularly Mexican vanilla is highly recommended for its unique taste. All the flavors offer the pleasure of homemade ice cream, they are all creamy and of smooth texture. There are vegan options as well for people with health concerns about animal-based protein.
3. Fat Cat Creamery
2201 Washington Avenue Houston, TX, 77007
1750 West Loop S., Houston, TX 77027
1611 Lamar Street, Houston, TX 77010
Recommended Flavor: Milk Chocolate Stout, and Salted Butter Caramel.
You are surely getting one of the best ice cream experiences ever at fat cat creamery. Fat cat creamery ice cream is made from scratch and carefully made with high quality and fresh locally sourced ingredients.
Its yummy and flavorful taste is worth every try, the seating area is very comfy and wonderful as well. Fat cat creamery is a pleasant place to sit and chat with friends and family. All the unique flavors are top tier and you can't go wrong with any of them. And If you are wondering if there are vegan options available at fat cat creamery, of course, there are.
4. Van Leeuwen Ice Cream
888 Westheimer Rd Suite 157, Houston, TX 77006
Top Flavor: Honeycomb, Rocky Road, and Mint Chip.
With the best quality ingredients, Van Leeuwen ice cream aims to offer nothing but the best ice cream. Its burst of flavors would make you scream ice cream, the staff and owners are customer friendly and are always ready to be of help to you.
Sometimes it can be pretty confusing on which flavors to go for, but trust me all flavors are worth the try, based on personal preference I'd recommend the Rocky road. The amazing blast of flavor is soothing and refreshing. You'd definitely love Van Leeuwen ice cream enough to keep coming back for more.
5.  Magnolia's Ice Cream
6421 Brady St, Houston, TX 77011.
Top Flavor: Choco Peanut Butter, Mango Ice Cream
Magnolias ice cream has one of the best ice creams in Houston, their great service makes it, all the same, very pleasant. The flavors at Magnolia's ice cream scoop shop are very unique and unusual. The great flavors are amazing and intricate, you can never go wrong with any of them.
However, if you are a chocolate fan, you'd definitely love Choco peanut butter, on the other hand, if you hope to try something new and exciting Mango ice cream will interest you. It
6.  Hey Mikey's Ice Cream
2120 Postoffice Street, Galveston, TX 77550
Top Flavors: German Chocolate Cake, Vanilla Fudge, and Caramel Crunch
Undeniably one of the scoop shops to visit in Houston, the ice cream flavors are very delicious as they are homemade and fresh. Hey, Mickey's ice cream is smooth and creamy, it is also kid-friendly and has a variety of dairy-free flavors for vegans. Perfect for birthdays, graduations, or picnics, hey mickey is sure to be very pleasant and satisfying for any occasion.
7. Brain Freeze
 2716 Preston Ave. Pasadena, TX 77503
Best Flavors: Crafted Caramel, and Hot N Hap.
Brain freeze has a wide variety of unique creations of flavors that are exciting, delicious, and interesting. Flavors are very rich and have a smooth texture, and this has made brain freeze ice cream a must-visit in Houston.
You can enjoy any flavor but particularly the Hot N Hap is a flavor to die for (depending on your preference). There is also a long list of tropical drinks ranging from pina colada, lemonade, mango, strawberry, and watermelon that can also keep you refreshed.
8. Red Circle Ice Cream
6838 Ranchester Dr., Houston, TX 77036
Best Flavors: Brown Bread, Go Shorty, Krack N Coconut.
Red circle ice cream has about 100 rotating ice cream flavors to keep customers curious and fascinated. Every flavor is grossly handcrafted and made with fresh and quality ingredients. There's actually no reason why you wouldn't love an ice cream treat at red circle ice cream scoop shop, the flavors are highly unique, extraordinary, and very refreshing.
9. Cool Cow Creamery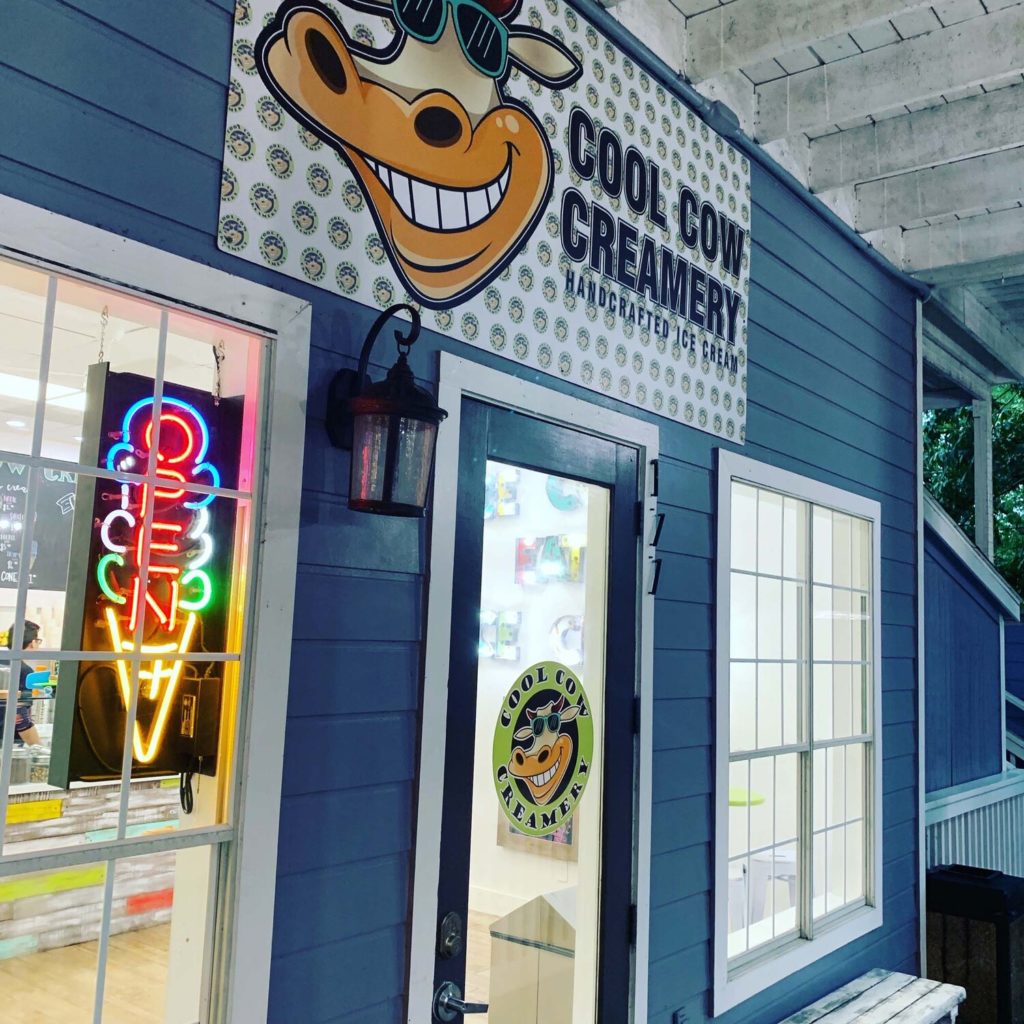 609 Bradford Ave Ste 111, Kemah, TX 77565.
Top 4 Flavors: Chocolate Coconut Caramel Delite, Lemon Blueberry Yum Yum, Mocha Almond Fudge, and The Bomb. 
At cool cow creamery, the ice cream experience is always top-notch, it offers premium-tasting ice cream flavors that a lot of people enjoy. Most flavors are rotated to ensure that people try out new flavors daily.
Cool cow creamery is considerate of vegans as there is a list of dairy-free ice cream flavors, and the ice cream flavors are easily accessible as there are Cool Cow Creamery trucks moving from street to street daily.
10. Jeni's Splendid Ice Cream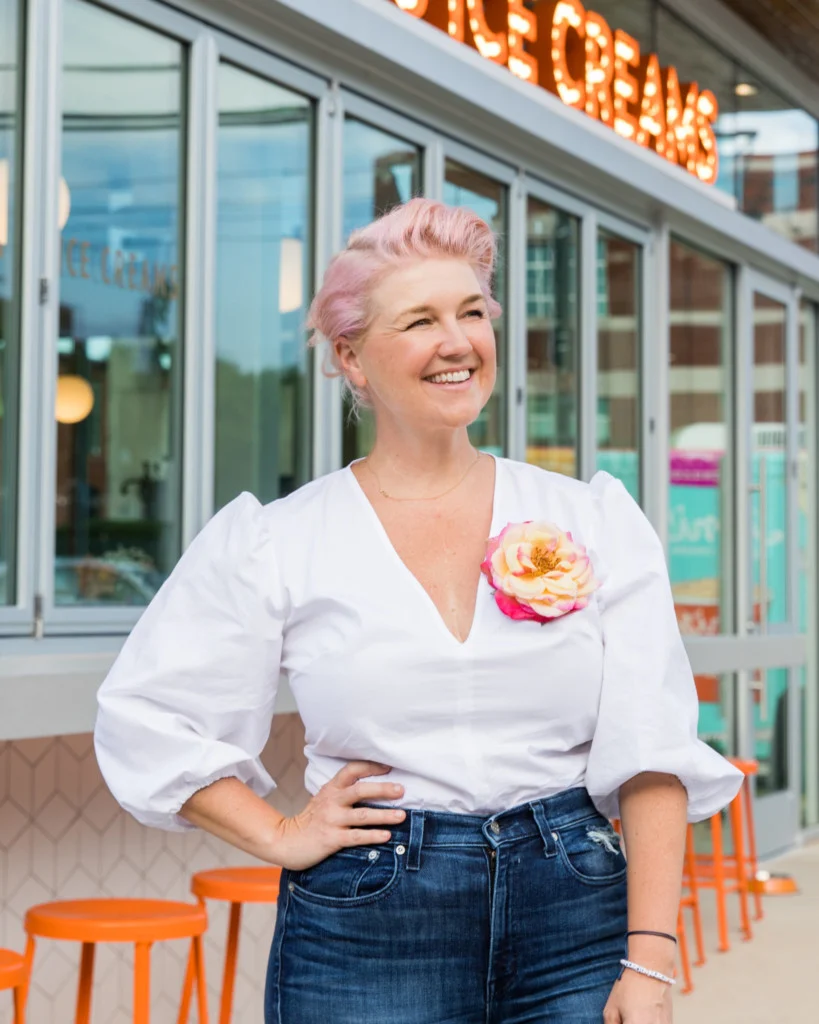 375 W 19th St. Houston, TX 77008
Best Flavors: Cookies in Cream, Salted Peanut Butter with Chocolate Flecks, and Goat Cheese
Jeni's splendid ice cream is quite popular for its extraordinarily wide range of flavors, and it is definitely a must-visit scoop shop in Houston. The ice cream flavor creations are all homemade and handcrafted with fresh, and quality ingredients. If you are a newbie in the city of Houston Jeni's splendid ice cream comes highly recommended for you.
Some flavors are vegan-friendly, and they also offer gluten-free ice cream flavors for those with gluten-related health issues. Whether you are going solo or hanging out with your friends or family rest assured that you will be getting a premium ice cream experience at Jeni's splendid ice cream.
Conclusion
Ice creams are lifesavers especially when it is hot, it is soothing and satisfying and comes in handy for any mood. Houston is definitely an exciting city, even more, interestingly it houses a lot of great ice cream scoop shops you can easily visit when you have a craving or just want a very refreshing treat.
This post contains a list of amazing ice cream shops in Houston, for a fact, you will definitely get the best ice cream experience with all of these ice creams mentioned.
We are sorry that this post was not useful for you!
Let us improve this post!
Tell us how we can improve this post?