People are often doubtful about the durability and safety of glass pots. One major thing they seek to know is if the glass pots are good for cooking. Many individuals are not used to using glass pots because metal pot has been popular cookware in households.
In short: Yes, glass pots are very good for cooking. Glassware has a very good-looking appearance because it makes the cooking process visible. It also is very easy to clean and does not retain odor. The lid, which is made of high borosilicate heat resistant glass has a steam vent that helps the steam to escape, hence reducing the risk of glass shattering while cooking.
Generally, a Glass pot is heavier and slower to heat than metal, but once it's hot, the heat is retained for much longer. Also, Glassware is non-toxic, easy to clean, and can produce better cooking results. If you're considering replacing your pans, consider making glass your first choice.
The glass pots are also non-reactive, which means that the glass doesn't leech into the food that comes in contact with it.
Glass pots are quite fragile, and they cannot be dropped without care. We should not neglect the fact that if not used properly or handled with care, the glassware can shatter. In contrast to metal pots, if the glassware falls to the ground, it has a very high chance of breaking. Also, if there is a sudden temperature change, it can lead to glass breaking. 
Some benefit of using glass cookware is that it responds well to cooking done in the oven mostly. Also, it does not react adversely to acidic foods. The glass pots safely store foods in them, and most importantly the glass cookware is healthy as there are no hostile side effects from cooking in it.
Shortcomings of using glass pots are that they are very costly, and they have to be handled with extra care. The glassware has to be cleaned often. And when used regularly, cleaning and maintenance can be very challenging.
Also, if you want to make a fast meal, glass pots may not be the best option, because they are slow conductors of heat, and this means that then food takes longer to get done, and the heat might not be equally circulated in the food.
When you properly take care of the glass cookware, it can last for as long as six to ten years. Using the dishwasher for a glass pot is extremely safe because they do not leak, and once the food is burned, it can be easily washed.
How To Clean Your Glass Pots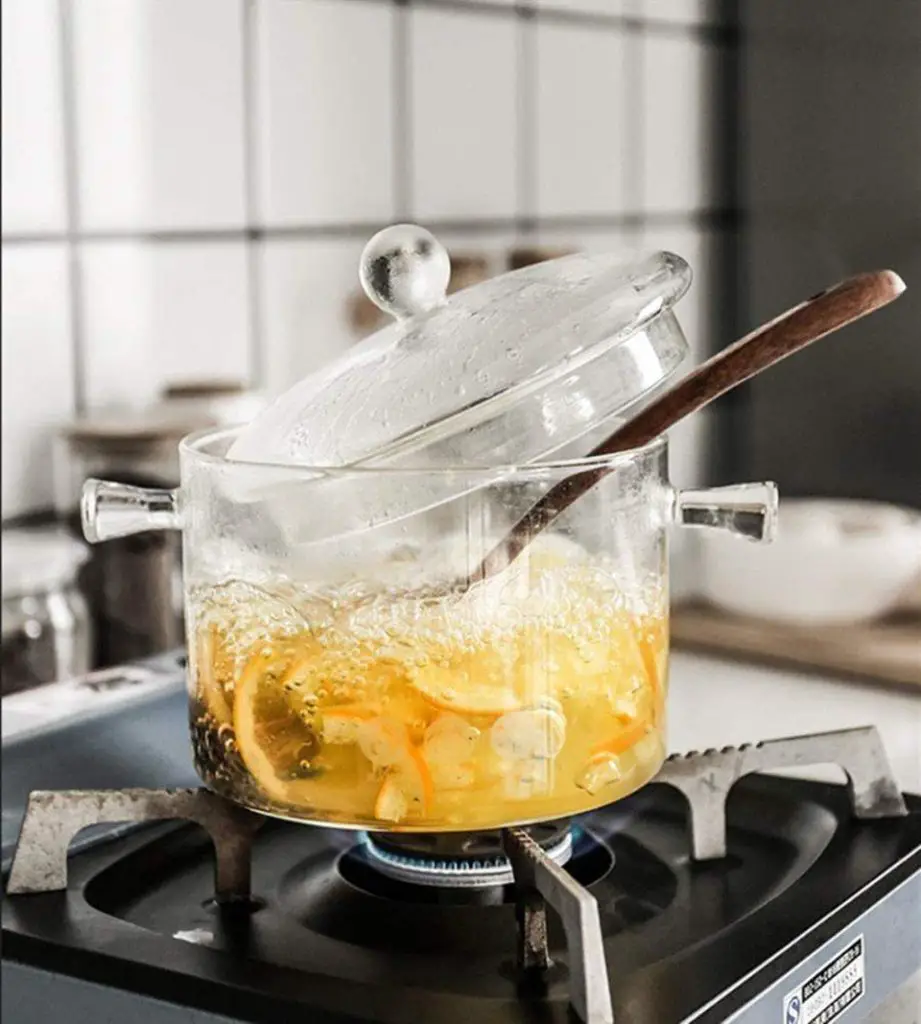 Cleaning the glass cookware is an extremely easy thing to do. This is because of the non-reaction of the pan/pots, and the fact that it is non-stick. If your food happens to get burnt while cooking, follow this guide to see your pot sparkling again.
Pour hot water into the pot and let it sit for a little while.
Add liquid soap into the water, and leave for about 30 minutes.
Be sure that the water temperature is cool, before taking it to the tap to avoid thermal shock.
Scrub with a soft sponge to prevent scratches on the glass. 
Rinse thoroughly and let it dry.
Imagine spending so long cooking your favorite dish, only for the pot to shatter, spilling out the contents. That feeling can be a horrible one, considering the time, energy, and money spent in making the delicious dish. This is why you will have to be extra careful when using glass dishware.
Check out some things to do and also avoid, when next you are considering using glass pots.
| What To Do When Using Glass Pots | What To Avoid When Using Glass Pots |
| --- | --- |
| When you are taking the glass, make it cool off slowly on a cooling rack, dish towel, or a dry potholder. | Avoid thermal shock, which is changing temperatures suddenly. |
|  Preheat the oven before placing the glass pan in it. | Do not use the pan under the broiler. |
| let the pot cool off before washing. | Do not place on a wet or cool surface. |
| When washing, do not use a coarse sponge to scrub, to prevent scratches. | Don't use a wet cloth to handle the hot pan/pot. |
Frequently Asked Questions
Is Glass Pot Better Than Metals?
Yes. Glass cookware is better than metals because, in contrast to metals, the glass pots do not have toxic chemicals that can leech into the food, it also makes cooking more enjoyable than using a metal pot, as you can see the contents of your food, without having to open the lid.
Is It Safe To Cook In Glass?
Absolutely! Cooking with glass pots is very safe, as you do not have to bother about toxic materials that cause adverse health issues. You however should take caution to avoid the glass shattering while cooking or baking.
What Can You Cook In Glass Cookware?
Glass cookware is best suited for dishes like casseroles, baked pasta, baked potatoes, bread puddings, pies, baked meat or fish dishes, quick bread, noodles, and pot pies. We advise against using glass cookware to broil foods.
Why Is Glass Good For Cooking?
Glass pots are very durable, and good for cooking because they can retain a higher amount of heat, and this helps to keep the food warm, even after removing from the stove or oven. Also, glass pots, in contrast to metals do not retain odor and stain after cooking, and it is easy to wash.  
Summary
Glass cookware is majorly used for baking or oven dishes. They are generally safe for cooking but are not recommended for broiling foods, because of the heat needed for such dishes.
You should beware of thermal shocks, which is a sudden change of temperature on the glassware to prevent it from shattering while baking or cooking. When you purchase the glass pots, be sure to read the user manual before using them.
We are sorry that this post was not useful for you!
Let us improve this post!
Tell us how we can improve this post?