There are quite a good number of dishes you can enjoy making on a Blackstone griddle.
But just like every other type of griddle, you want to make sure you are using it the right way. Using spray on your outdoor Blackstone griddle is something we all think we have an idea of however this requires more than just spraying your griddle and cooking.
Summary: Yes, you can use cooking spray on a Blackstone griddle. Blackstone can improve your cooking experience if it is sprayed correctly before it can be used. You need also to do proper seasoning before you can start cooking with your griddle.
Frankly, just cooking on your griddle will add some seasoning to it, but you first want to make sure, your griddle is going to be protected from scratch and won't burn your food either. Uneven cooking is what you are likely to get if the right seasoning method for the griddle is not applied.
There seem to be quite a lot of questions on a Blackstone griddle. If you have recently bought your Blackstone griddle or planning to re-season it then read on to find out if you can use a cooking spray and the tips you need to maintain it.
Using Cooking Oil Vs Cooking Spray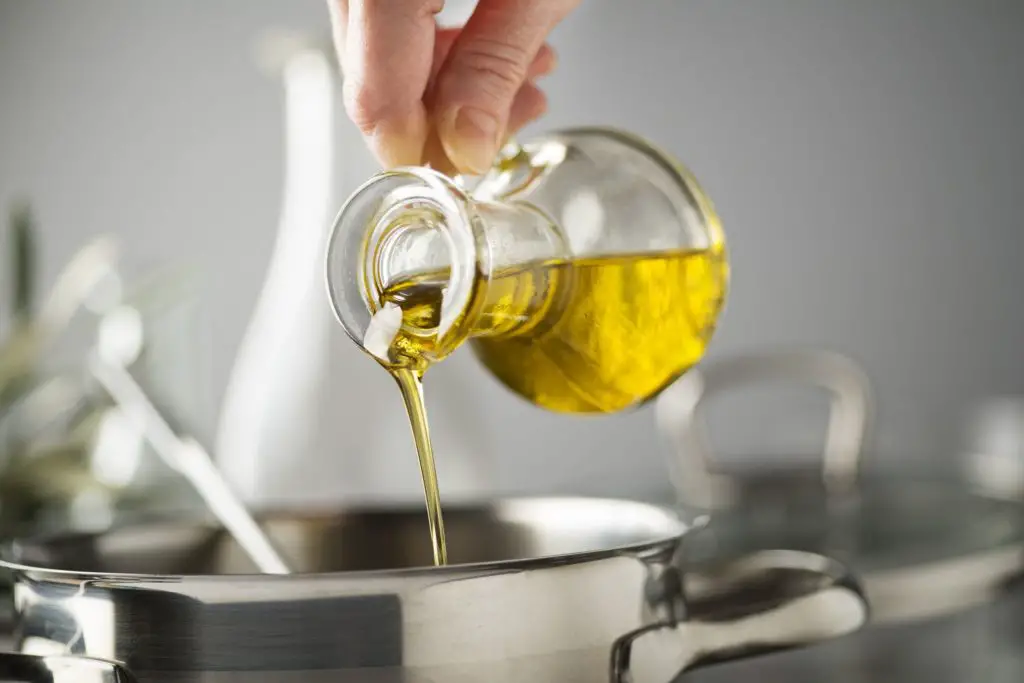 What is the difference between cooking oil and cooking spray? Cooking oils are almost the same as a cooking spray.
Cooking spray is a form of oil, but it also contains lecithin as an emulsifier and a propellant such as propane, food-grade alcohol, or carbon dioxide. While cooking oil is mainly vegetable oil, avocado oil, olive oil, and many more.
Cooking sprays have lesser calories than cooking oil however it requires more care. It contains highly flammable ingredients which are unlike cooking oil, which is safer and has a high smoke point.
Can You Use Cooking Spray On A Blackstone Griddle?
Blackstone griddle can improve your outdoor cooking experience if you use it the right way. You can use cooking spray on a black stone griddle, and it happens to be one of the best ways you can cook your food evenly without burning it.
Using cooking spray on the Blackstone griddle can prevent flare-ups and food burning.
You can use cooking spray on your griddle, however, you also need to know how to properly season your Blackstone griddle. There is a cooking spray specifically meant for Blackstone griddle, so you don't have to worry about the right cooking spray.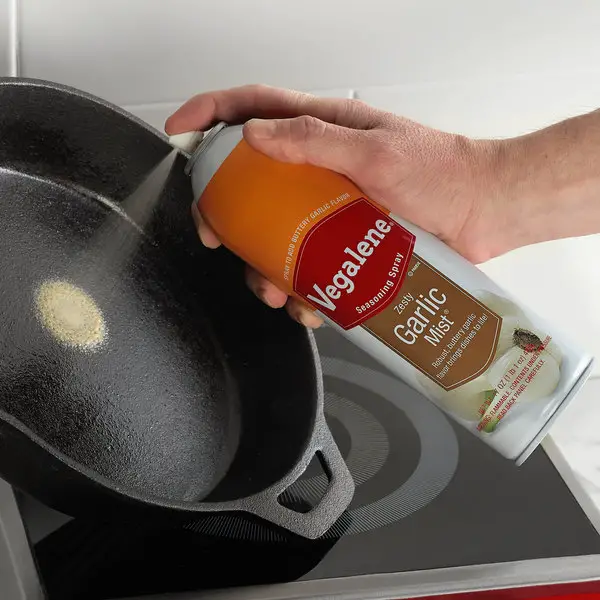 Using cooking spray on a black stone grill will cause the surface temperature to rise quickly. The seasoning griddle should come first before tossing cooking spray into it if your Blackstone griddle is new.
How To Properly Use Cooking Spray On Blackstone Griddle
You can use a cooking spray on your Blackstone griddle, but you have to ensure it is seasoned properly. Before using cooking spray on your new black stone, it is recommended that you season it properly, this is the way you can burn off any organic compounds before it is used in cooking.
One of the things you need to put into consideration before using cooking spray on your black stone griddle is the type of oil used in seasoning. The purpose of seasoning is to create a protective barrier to stop food from sticking to the surface and cooking spray alone can't help.
So, below are tips on how you can season and use cooking spray on the Blackstone griddle.
Scrub and wash your griddle to remove any food scraps and buildups
Let it sit in the open to dry out completely
Preheat your Blackstone griddle for 10 to 15 minutes
Next, bring out your cooking spray or seasoning oil, there are seasoning oil specifically made for Blackstone griddles however regular oil can work too
Choose non-stick cooking spray
Sprinkle lightly on your griddle and ensure it is evenly spread
Let it smoke for a few minutes.
You can season your Blackstone griddle first before using cooking spray on the specific area you want to prevent sticking.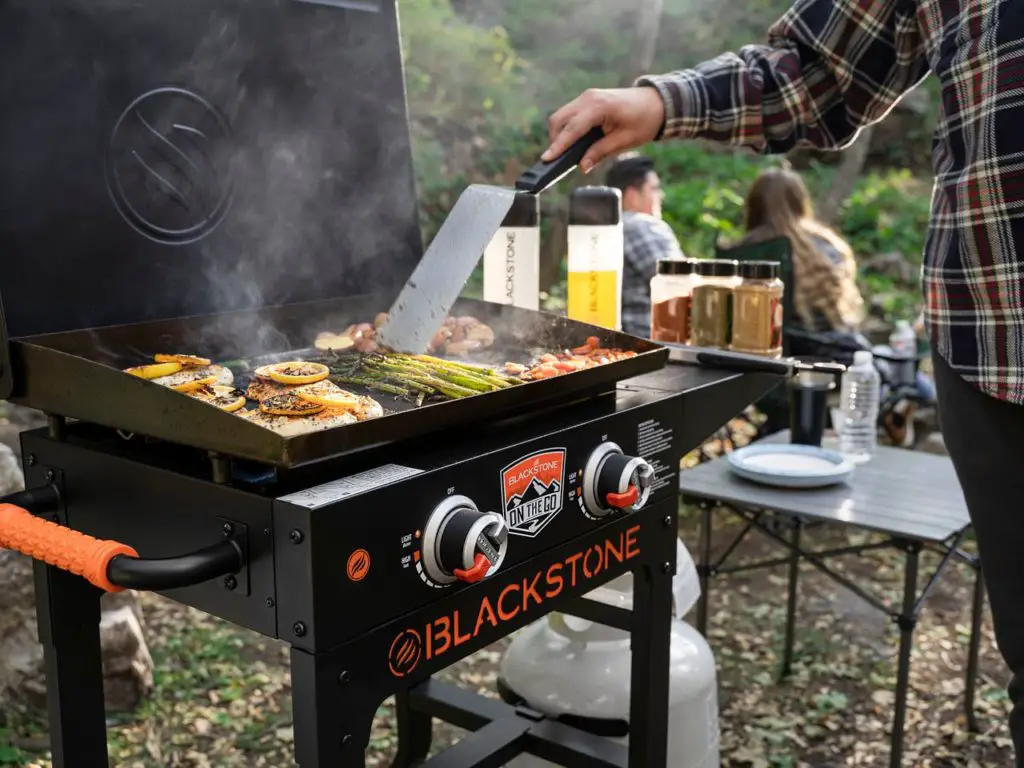 How to Season Blackstone Griddle
Seasoning your Blackstone griddle is not only meant to help you form a non-stick griddle but it helps create a flavor every time you season before cooking with it. Seasoning your Blackstone griddle is not necessary but it can help the surface of your non-stick pan last longer.
So, if you are seasoning your Blackstone griddle for the first time, below is how it should be done.
Wash your griddle with mild soap and water, damp with a paper towel or microfiber towel to get rid of the soap flavor
Put the burner on high heat and place your griddle on it. Leave for 10 minutes or till it starts to discolor
Next season with any oil that is recommended for first-time use on the griddle. Vegetable oil is a great option.
Apply a thin layer of oil to the side, edges, and corners of the griddle
Let the oil smoke for a few minutes. Your Blackstone griddle is ready to be used for cooking.
Read our complete guide on a list of oils to season Blackstone griddles.
Can You Use Pam On A Blackstone Griddle?
Yes, you can use Pam on a black stone griddle as it is 100% safe and effective.
However, you should consider seasoning your cooking spray with vegetable oil or any oil with a high smoke point before using Pam cooking spray on it. The name Pam is an acronym for Product of Arthur Meyerhof and if it is used correctly as instructed, it is very effective.
While high heat oils are recommended for the initial seasoning of your black stone griddle, Pam cooking spray can be used to prevent your food from sticking to the sides.
Best Cooking Sprays For Blackstone Griddle
Here are some of the best cooking sprays on the market to buy when cooking with your Blackstone Griddle.
PAM Non Stick Original Cooking Spray
Crisco Butter Flavor No-stick Cooking Spray
Vegalene Premium 3 Oil Blend Cooking Spray
Frequently Asked Questions
Can you use nonstick spray on a Blackstone griddle?
Yes, nonstick cooking spray can be used on a Blackstone griddle. This is ideal for just spraying your griddle instead of coating it with the seasoning oil. You can use the nonstick spray in between cooks to protect your Blackstone griddle.
Can I use butter on my Blackstone griddle?
Butter burns at a high temperature, but you can use it on your Blackstone griddle, you just have to be careful with it. Just don't pour it into your griddle and slosh around, add it to the surface carefully.
Is cooking spray better than Seasoning oil?
Both are great for Blackstone griddle but cooking oil is considered a safer option. Cooking spray requires care as it burns at high points, but oil is not as flammable or explosive as it is.
Can you season with cooking spray?
Yes, cooking spray can be used in seasoning your Blackstone griddle or pan just like any seasoning oil. Cooking oil, however, is more affordable and has a high smoke point.
Wrapping Up
Cooking spray is considered a healthier alternative to some seasoning oil. Although non-stick cooking spray can cause builds due to the lecithin which is one of the ingredients in it.
However, you should go for the cooking spray made for Blackstone griddles and if you can't get your hands on this, season your griddle with seasoning oil like olive oil.
We are sorry that this post was not useful for you!
Let us improve this post!
Tell us how we can improve this post?