Contrary to what their name suggests, French fries are a popular food across the entire continent and are produced everywhere. French fries are incredibly simple to prepare and can be served at any time of the day as a side dish or as a main course.
While many people are accustomed to the traditional technique of cooking their French fries, the development of new cooking equipment has allowed for a variety of additional ways to prepare them. A recent piece of equipment many cannot stop talking about is the Blackstone griddle.
While the Blackstone griddle is majorly known for roasting meat and cooking other types of food, there have been questions about its use for cooking French fries. Can you cook French fries on a Blackstone griddle? Here is what we found on this topic.
Yes, you can cook your French fries on a Blackstone griddle. Cooking French fries on a Blackstone griddle comes in two different methods, however, they're easy to make, even for a Blackstone griddle first-time user.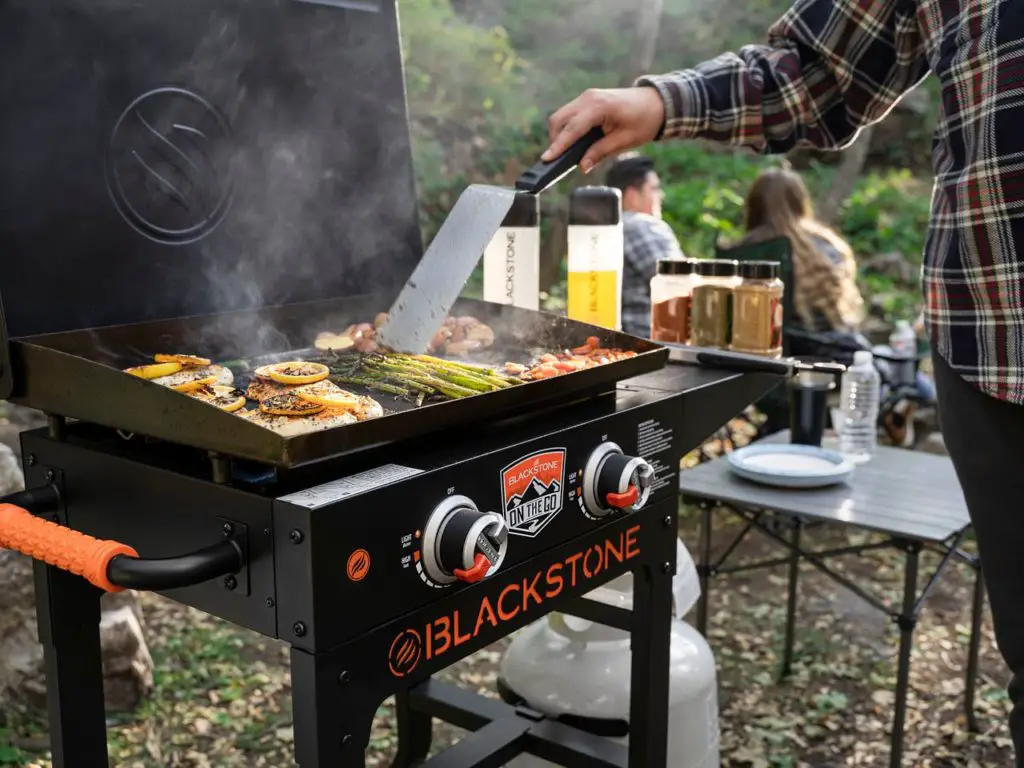 Griddle Cooking Explained
When heated, a griddle is a large, flat iron plate that is used for cooking. Despite being a piece of cooking equipment, it was created for outdoor use, which is why it resembles a grill quite a bit.
The smooth, shallow interior of a griddle, which is available in square or rectangular shapes, makes it simple to cook foods like pancakes, eggs, etc. Since the griddle entered the market, inquiries about what to cook with the griddle have been circulating, which is understandable.
A solid understanding of the purposes for which you should use your cooking equipment will help you take better care of it and prevent damage.
The traditional method of cooking French fries includes frying in a pot/pan of oil over a stove, however, with the griddle, there is a change in the method of cooking. Since the griddle comes in a rectangular/square shape, with a shallow smooth inside, it gives you the perfect space to cook your French fries.
How To Cook French Fries On Blackstone
There are two methods of cooking your French fries right on your griddle, you can choose to cook directly in the griddle, and deep fry your fries. Either way, you get the best type of fries. The following are details on how to fry your French fries.
Method 1
Put on your Blackstone griddle and let it preheat on low heat. allow it stays this way until it reaches about 350 degrees F.
Pour your oil into the griddle and spread it evenly to every part of the griddle. You can do this with the use of a spatula.
Place your uncooked/frozen fries into the griddle, and ensure they are in a single layer and not laying over one another. If your fries are frozen, we recommend that you do not pour in a lot of the fries as too many frozen foods on the griddle can make it warp.
Let the French fries cook for about 3 minutes, flip the fries to the other side and allow that to cook for another 3 minutes. Cook both sides until they turn golden brown.
Season the fries with salt and pepper according to your taste. Then serve with whatever you choose to.
Method 2
Preheat the Blackstone griddle on medium heat for a while, until it reaches 350 degrees F.
Get a foil pan and fill it halfway with frying oil and allow it to boil.
Pour the fries into the boiling oil and allow it to cook. We recommend that you fry in batches, this is so you do not overcrowd the oil and give the fries space to get done.
Allow the fries to fry until it is golden brown. When your fries begin to float, it is an indication that they are done.
Remove the fries from the oil with the use of a metal spoon.
Prepare a paper towel over a plate or pan and pour the fries in there. This will help drain the excess oil on the fries.
Variations
French Fries: Both methods of cooking work with all types of fries; curly or shoestring fries. You can use anyone you prefer. It also works with frozen French fries.
Seasoning: Seasoning can be added based on your preference. You can also add other seasonings such as shredded cheese, garlic, and more.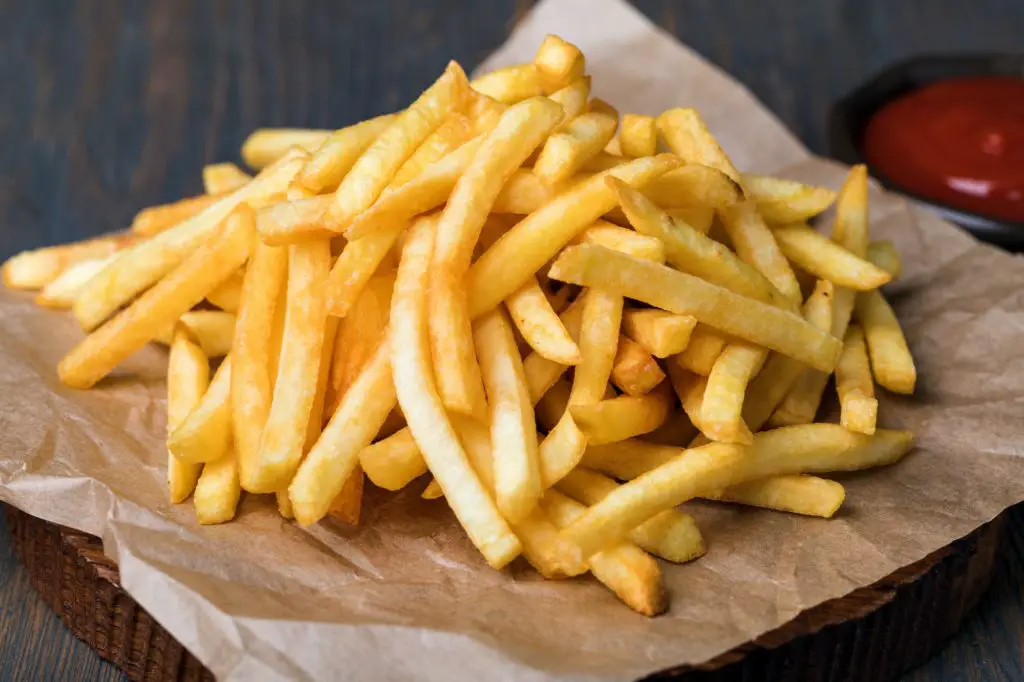 Can You Cook Frozen French Fries On A Blackstone Griddle? 
Similar to regular fries, you can cook frozen fries on your Blackstone griddle.
The cooking method on a griddle is similar to that of regular French fries, all you need to do is to ensure the ice is completely off the body of the fries, as this can cause your fries to become soggy.
Frozen fries can also spatter some oil all over the place, hence be careful while you cook them. 
Can You Cook Frozen Burgers On A Blackstone Griddle? 
Yes, you can cook frozen burgers on your Blackstone griddle. Blackstone griddle has enough room and a flat surface which helps your burger to get done evenly and on time.
It also has enough space that allows you to cook many foods at the same time. Hence you can make your burger on one side, while also making another food on the other side. however, it is advised that you defrost them first before you begin cooking.
It's also okay if you do not defrost them before cooking, however, the entire cooking process may take a while, and you may also experience some uneven cooking. defrosting first before you begin to cook helps you ascertain that all sides of your burger will be properly cooked. 
How To Cook Hamburgers On A Blackstone Griddle? 
The following are steps to cook your frozen burger on a Blackstone griddle; 
Put on your griddle and preheat on high heat for about five minutes, then reduce the heat to medium.
Pour some oil into your griddle, ensure the oil gets to every part of the cooking area, then allow it to heat up for a while. 
When the oil is warm enough, place your burgers on the oiled griddle. Create spaces between the burgers and add some seasonings to the top of the burgers, you can also turn the burgers around and add seasonings to the other side. 
Leave the burgers to cook for about 5 minutes, flip and cook the other side for another 5 minutes. 
Remember to adjust the temperatures so you do not end up with some burnt burgers. Ensure they cook evenly while you're flipping each side. 
(optional) Add cheese when they are done cooking and leave on low heat for them to melt properly. Remove the burgers and consume them with whatever condiments you desire. 
How To Store French Fries Made On A Griddle
While it is recommended that you only cook the size of French fries you can finish, there are tendencies that you may have some leftovers.
To preserve the taste and flavor of your French fries, you should keep them in an airtight bag and place them in the fridge.
This should only stay in the fridge for a maximum of 2 days. You can reheat your French fries on a Blackstone griddle, in a microwave, or in an oven when you are ready to eat.
Frequently Asked Questions
Why Are My Fries Soggy?
Sogginess often comes when you make use of the deep-frying method. It can be caused when you do not cook the fries for a long time, your fries can also turn out to be soggy if the oil wasn't hot enough before frying. Finally, sogginess can be a result of ice on the fries before they were fried. Ensure there is no ice on your fries before dipping them into the oil, also always keep the oil hot before throwing in the fries.
Can I Overlap Fries Ona Blackstone?
No, you must let your fries be in a single layer. Overlapping your fries over one another can result in an unevenly cooked fry.
What Is The Best Oil For Frying French Fries On A Griddle?
How Long Do I Need to Fry My French Fries?
Frying time is dependent on several variables, they include; the size of the French fries, how many French fries you are cooking, and the method of cooking. Generally, it is recommended that you cook until it is golden brown, which will take about 2 to 5 minutes.
How Long Do I Cook A Frozen Burger On A Blackstone Griddle? 
How long your burger cooks is dependent on the type of burger you are cooking, as well as if it is defrosted or not. if your burger is defrosted, you can cook it for a maximum of 30 minutes. 
At What Temperature Do I Cook My Frozen Burger On A Blackstone Griddle? 
The right temperature to cook your frozen burger on a Blackstone griddle is 350 degrees F, however, this is if you use an oven griddle. For the electric griddle, we recommend you cook at a 400 degrees F temperature.
Final Thoughts 
The Blackstone griddle is a multipurpose piece of kitchenware.
You may fry French fries on it in addition to cooking meat and eggs on it. It is advised that you clean the griddle as soon as you are finished cooking.
Your griddle will last longer if you maintain it properly and clean it frequently. To avoid many mistakes with your fries, we also advise that you pre-heat your griddle before adding the oil or the fries.
We are sorry that this post was not useful for you!
Let us improve this post!
Tell us how we can improve this post?