Chicken is one of the most cooked and eaten foods and the reason isn't far-fetched. If you love chicken then we are sure your first response to why you love chicken is that it is juicy, tender, and delicious either when it is eaten alone or combined with other food types.
Chicken can be cooked in different ways and with the creation of different kitchen appliances, cooking your chicken has taken a whole different turn.
Ever thought of cooking your chicken on a Blackstone griddle? We are convinced that chicken is one meal a lot of people can't wait to cook on the griddle now that the Blackstone griddle has been launched into the market.
Quick answer: You should cook chicken breast on a Blackstone griddle for about 20 minutes; that is 7 minutes for each side to get done or until you notice that both sides are properly cooked. This also includes the preparation time before the cooking starts.
It's crucial to know how and what to cook on your griddle so that you can get the most out of it. Do you have a question like the one we'll be addressing in today's article, "How long does it take to cook chicken breast on a Blackstone griddle"? Discover what we have in store for you on that. 
How Long To Cook Chicken Breast On A Blackstone Griddle?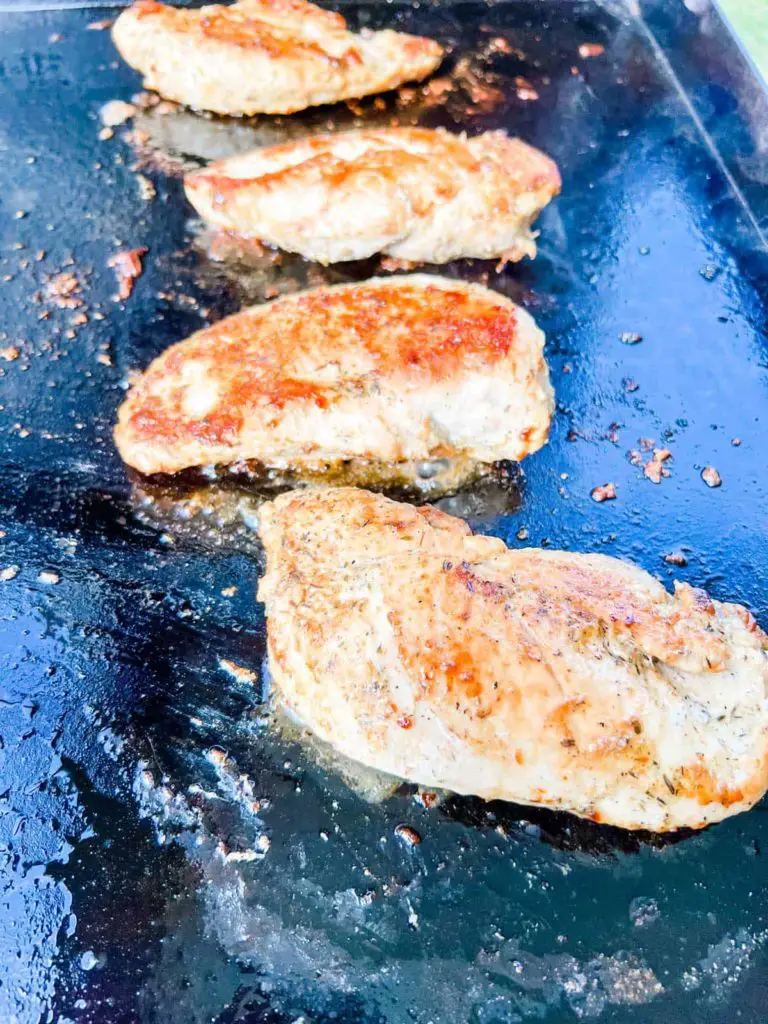 If you have ever thought of the possibility of cooking chicken breast on your griddle, then we are delighted to let you know that you can cook your chicken breast on a Blackstone griddle. The chicken breast is a favorite part of the chicken that many loves, this is probably because it is a no-bone zone of the chicken and because it is a very juicy part of the chicken's body.
If you own a Blackstone griddle, then you have another kitchen appliance to cook the chicken breast. We understand that every appliance comes with its method of use, concerning what type of food you are cooking, and the Blackstone griddle is no different.
Although the Blackstone griddle is an easy-to-use appliance, you only have to place your food on the flat surface and watch it get done. However, there are important things to pay attention to when cooking with the Blackstone griddle, such as; the temperature you're cooking on and how long to cook.
Unlike many other appliances, the Blackstone griddle cooks at a temperature above 500 degrees F, this is very high when compared with many other kitchen appliances. Due to the high temperature, your food will get done fast on the Blackstone griddle.
This means, the time of cooking will reduce, and you may have to keep a close eye on your food, or it'll burn. This rule also applies to cooking chicken breast on your Blackstone griddle, as a result of how fast the griddle cooks food, your cooking time will reduce, and you may need to watch it until it's done.
How To Cook Chicken Breast On A Blackstone Griddle
Blackstone griddle is an excellent piece of equipment to cook your chicken breast on. Not sure how to go about cooking chicken breast on your griddle? We will show you! Cooking chicken breast can be done in 2 or more ways; however, we will be showing you 2 methods by which you can cook your chicken breast on your Blackstone griddle. Enjoy!
Method 1
Things Needed
Chicken breast (as many as you need)
Garlic powder
Avocado oil
Seasoning (salt and pepper)
Steps To Cook
Turn on the Blackstone griddle and pre-heat on medium heat, this can be at 350 degrees F. pour some oil onto the griddle and ensure it is touching everywhere. You can make use of a spatula to spread the oil.
Place your chicken breast on the oily griddle and season them with some garlic powder, salt, and pepper (according to your preference).
Leave the chicken breast to cook for about 6 minutes or until it is golden brown, then turn the chicken to the other side and cook for another 6 minutes or until the part turn golden brown too.
Get the chicken off the griddle, let It cook for some minutes (below 5 minutes), serve, and enjoy!
Method 2
Thing Needed
Avocado oil
1 tbsp Dijon mustard
Soy sauce
Dried thyme
Ground black pepper
Chicken breast
Mayonnaise
Cayenne pepper
Steps To Cook
Get a bowl and mix the mayonnaise, avocado oil, Dijon mustard, soy sauce, salt, and pepper. Mix your chicken in this and place them in the refrigerator for about 3 hours, with the mix.
Get the chicken out after the stipulated time, if there is an excess marinade, you should discard them.
Preheat your griddle on medium heat of about 350 degrees F and add some oil to the flat surface. Ensure the oil touches every part of the chicken, you can spread it with your spatula.
Cook one side of the chicken for about 7 minutes or until it looks done and then turn the other side and do the same.
When the chicken is done, you should take it off the griddle, place it on a plate and let it rest for about 5 minutes before serving.
Where To Get The Chicken Breast?
You can your chicken breast from different grocery stores, especially local grocery stores.
However, we recommend that if you have a farmer close to you, you should get your chicken and chicken breast from there. These will serve you better than the ones purchased from grocery stores.
Cooking Variations
Seasoning: The seasonings stated above are not the only type of seasonings you can use with your chicken breast, you can make use of different seasonings, according to your preference and what you enjoy. You can use taco seasoning etc.
Oil: Although we love avocado oil, you can make use of other different oil that you love i.e., canola oil, peanut oil, vegetable oil, shortening, etc. all of these can serve the same purpose and add flavor to your chicken breast.
Frequently Asked Questions
How Can I Store Leftover Blackstone Chicken Breast?
It is recommended that you place the left-over chicken breast in a sealable storage bag and keep it in the fridge. Although this can only last for a maximum of 3 days. It can also be frozen.
How Do You Reheat Leftover Cooked Chicken Breast?
You can reheat your already cooked chicken breast in the microwave, however, ensure you wrap them first in a damp paper towel.
Can I Cut Chicken Breast On A Blackstone Griddle?
Yes, you can cut your chicken breast on your Blackstone griddle, this will not cause any damage to your griddle, however, it can dull your knife and may prompt you to re-season your griddle on time.
What Temperature Do I Cook Chicken Breast On A Blackstone Griddle?
To cook the chicken breast on a Blackstone griddle, you should set the griddle at a temperature of 400 degrees F. this will run through from pre-heating to seasoning and cooking.
Can I Cook Chicken Breast On A Stovetop?
Yes. If you do not have a Blackstone griddle or any griddle at all, you can make still cook your chicken breast on a stovetop. You should, however, make use of a cast iron skillet, this helps your chicken breast have a similar taste too when it is cooked on a griddle.
Final Thoughts
Chicken breast and Blackstone griddle go so well together. A griddle allows you to cook your chicken breast in less time than much other cooking equipment.
The recipe provided above will help you cook your chicken breast in less time.
We are sorry that this post was not useful for you!
Let us improve this post!
Tell us how we can improve this post?