The year 2020 turned so many of us into real hobbyists, and I was no exception. I hiked, gamed, learned to dye fabric, and handmade a whole suite of sustainable house cleaning products. 
My living room looked a bit like an eccentric artist had taken up residence there, but no hobby gave me as much reward as cooking. Every day I would tackle new and more complex recipes, and practice new techniques.
When the spring growing season took hold I decided that I had to grow my own vegetables to truly crown my dishes as the masterpieces they were. I tried tomatoes, peppers, and of course delicious green peas.
After a little research and a few weeks of wait, I had a healthy garden, with the sole exception of my poor, sad peas. I sunk myself into the preservation of these peas, but nothing I did matter. They would not climb the trellis the way I wanted, and my dreams were fully deflated. 
That is when I officially swore off fresh peas! From that day onward I have only used frozen peas, and I have had such great success.
Not only are frozen peas just as tasty and versatile as their fresh counterparts, but they are truly simple to work into recipes once you know how to handle them.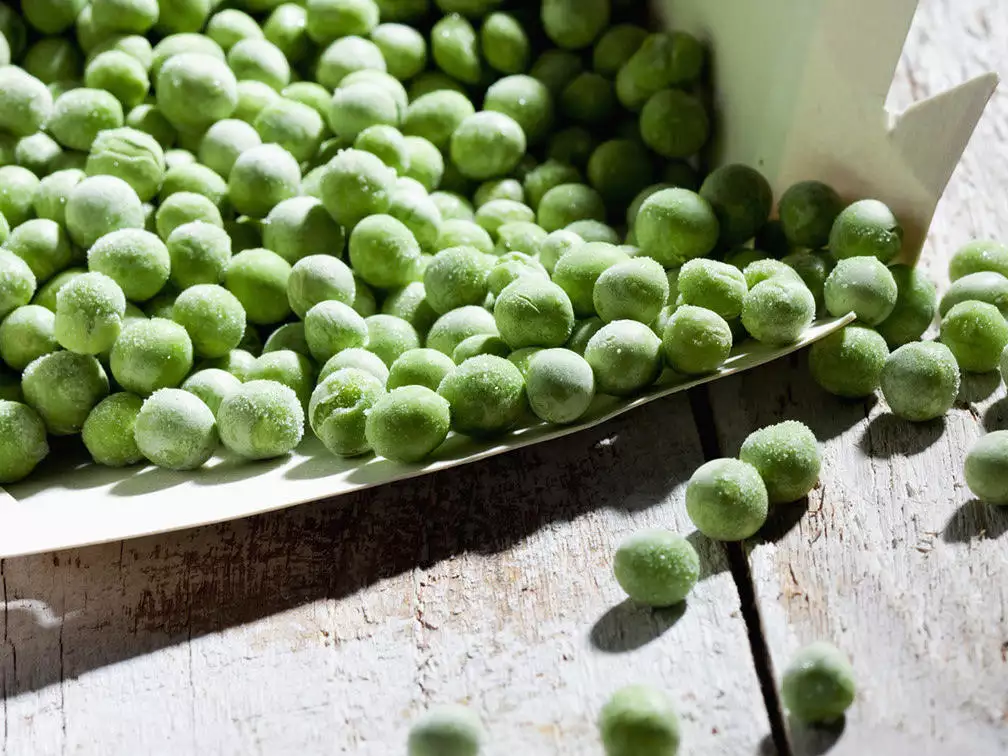 Why Use Frozen Peas?
Fresh peas are picked, washed, and flash frozen to make up the bags of yummy green pearls you find in the grocery's freezer section.
This process of taking the freshest vegetables from the field to the freezer in a short amount of time locks in their natural juices and flavor making for an exceptional product in taste and texture. There is no need to end up like me, crying in your garden over dead peas. Save yourself and use the frozen peas!
Not only are frozen peas a genuinely great product, but they will save the time and energy of using fresh peas which need to be cleaned from the shell and washed. Beautifully frozen peas are clean, and ready to thaw for use.
How to Use Frozen Peas
Since frozen peas have been washed and flash frozen at the peak of their freshness they are safe to eat straight out of the bag, and they taste like candy when they're still icy! That means frozen peas can be thawed and used in salads and other raw vegetable dishes as a one-to-one substitute for fresh peas.
Once thawed, the peas can be used for a traditional pea salad. This potluck favorite typically consists of yummy green peas, cheese, and ham in a coleslaw-like dressing. This salad is a favorite at summer gatherings. There are so many ways to mix up the classic pea salad, the possibilities are endless!
Try making a cold pea salad with cotija cheese, chili spice, sour cream, and a squeeze of lime for an elote-inspired twist on the classic.
Even a traditional butter lettuce salad with croutons and your favorite dressing can benefit from the sweet crunch of a fresh (frozen) pea, so try tossing them into your next salad!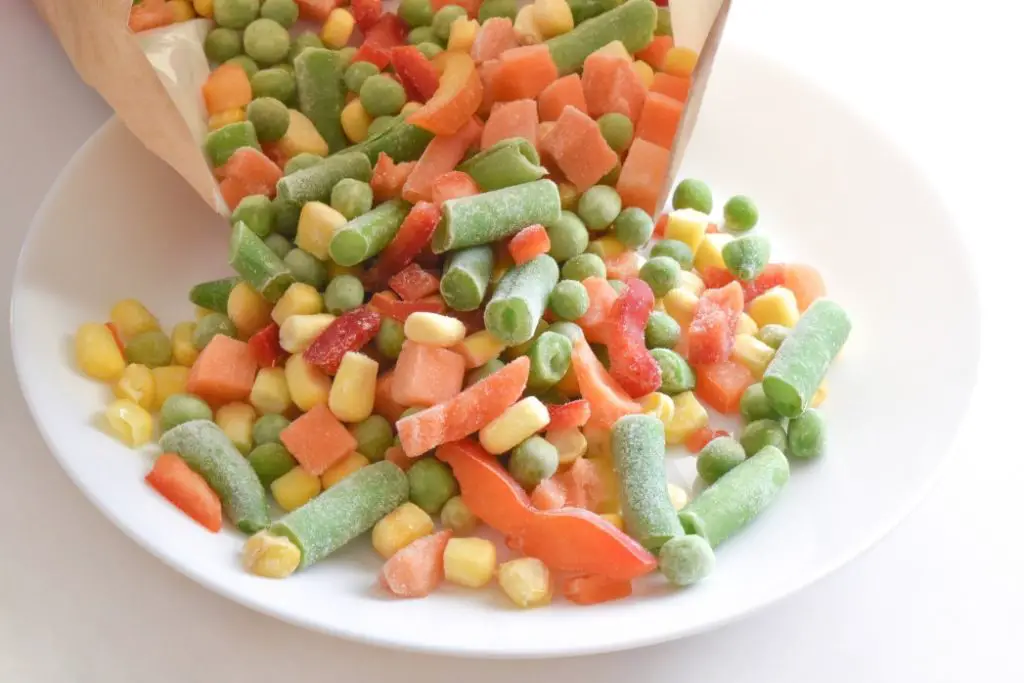 3 Safe Ways to Thaw Frozen Peas
The key to handling frozen peas well is in the thawing.  Below are safe and effective ways to thaw frozen peas that will have you ready to prepare a bright pea salad in no time!
1. Thawing Frozen Peas In Refrigerator
This is by far the best way to thaw out not just your frozen peas, but any frozen veggies. Not only is the refrigerator method the standard in thawing frozen foods, but this method is about as easy as it gets!
To thaw, simply put the whole bag of frozen peas, bag and all, in a bowl. Leave this bowl in the refrigerator for several hours, up to overnight, until they are fully defrosted. Peas may sweat or give off some condensation, that is why you should put the bag in a bowl.
You can also place towels under the bowls for added security.
2. Microwave Thawing Peas
The microwave can be an amazing tool, especially when you're in a rush. You can microwave frozen peas to thaw them, but this should be done with plenty of caution.
If your microwave is anything like mine, you probably have experience with hot spots in your reheating. This tendency toward uneven cooking is why microwave thawing needs to be done with some care.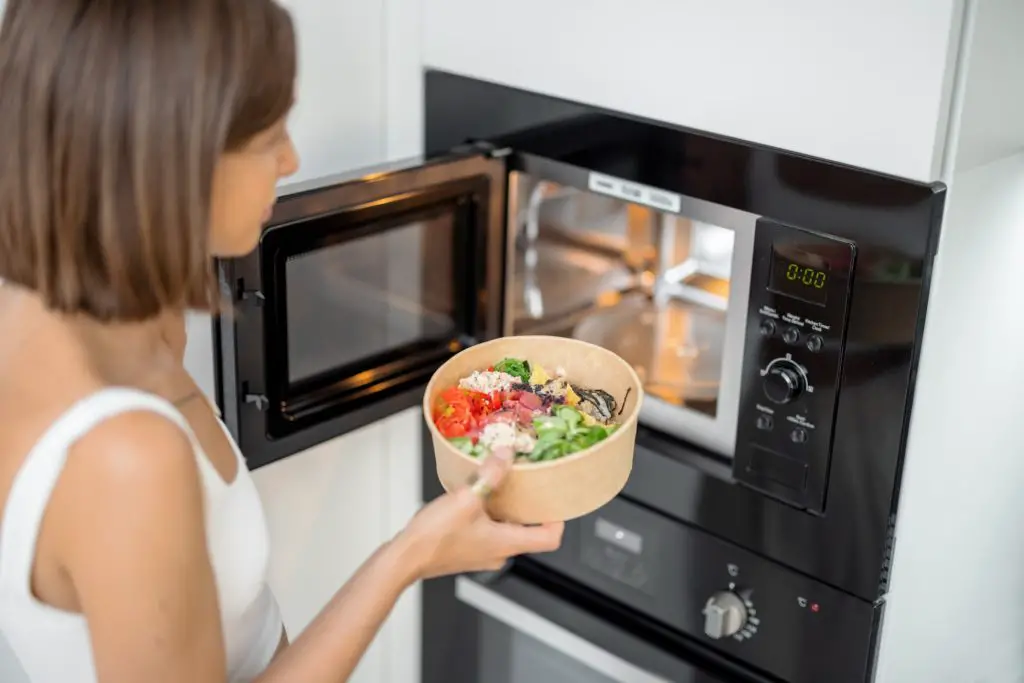 Microwave strengths and settings can vary wildly. Some microwaves do have a "defrost" setting, but this is not suggested for thawing frozen veggies. I myself have used this setting with disastrous results. 
Instead, try microwaving the peas on whatever your normal microwave heat setting is in short 30-second bursts. Check the peas' temperature and stir at each interval, until they're fully thawed, but not cooked!
This method allows you to check the peas regularly and stir them to avoid any hot spot overcooking.
3. Thawing Frozen Peas with Cooking
This method should be reserved for when you want cooked peas in your finished product.
This would not work as a defrosting method for raw pea dishes. Cooked peas won't work in your pea salad, but they are delicious in lots of other recipes!
Frozen peas can be pan-fried with a bit of olive or sesame oil for a stir fry. These flavorful bites can be tossed into a pot to simmer with other vegetables, like in soups or stews.
In Conclusion
Never thaw frozen food on the counter! Not just frozen peas, but all frozen foods have the potential to grow dangerous bacteria if they are left at the wrong temperatures for too long.
Both the freezer and refrigerator have enough cold to keep the peas safe, but the minute those temperatures start fluctuating there is potential for foodborne bacteria to take over. 
Please thaw with caution, and remember without controlled temperatures foods begin to lose their safety!
More like this:
We are sorry that this post was not useful for you!
Let us improve this post!
Tell us how we can improve this post?