Which bell pepper is best for cooking? If you are familiar with different types of bell pepper, this is a question you need answers to.
Bell peppers are also called sweet pepper, and they are great for cooking, there is a rule that says "the more colorful, the sweeter bell peppers are for eating raw". The same applies when choosing bell pepper for cooking.
Learning about bell peppers will save you some cooking mistakes and this is because bell peppers come in a variety of shapes and colors. Another thing about this better is that it does have the sweet variety and the bitter variety.
It is a fruit that belongs to the nightshade family and most gardens find it easy to care for especially with the right companion plants.
Not only are bell peppers a delicacy in cooking, but they are incredibly nutritious as well. All peppers are an excellent source of antioxidants, and you can choose to eat bell peppers raw or cooked. Bell peppers are also very low in calories hence they can be a great snack if you are on a diet.
The heat from bell pepper tends to vary depending on the variety hence if you can't handle the heat then you should go for something mild. Looking for the best pepper for cooking? This article contains a list of the best type of bell peppers for cooking and their benefits for your health.
Benefits Eating Of Bell Peppers
Bell peppers have been planted and consumed for centuries but not many are aware of their benefits. If you enjoy peppers, you can have them at every meal and some even include this in baking. Bell peppers are related to chili peppers, tomatoes, and breadfruit.
Listed below are some essential benefits of bell peppers and a reason to add them to your diet plan.
Bell peppers help boost hydration and vitamin C level
They are an excellent source of fiber for a healthy digestive system
Sweet bell peppers are loaded with potassium and vitamin A for maintaining healthy blood pressure
It is rich in various antioxidants
Contains carb for energy
Provides the body with iron and folate.
Healthline has in-depth info on why adding bell peppers to your diet is good for you.
The Best Bell Pepper Types For Cooking
Research has shown that bell peppers are quite nutritious and also there are lots of recipes that allow you to incorporate bell peppers into them.
Bell peppers are a whole plant food, and they have been linked to many health benefits as well. So if you need to load your food with healthy bell pepper options, here are some of the best types for cooking.
Yellow bell peppers
Mini sweet peppers.
1. Yellow Bell Peppers
Yellow bell peppers are quite delicious when cooked properly hence why they are often suggested as the best types of bell pepper to cook with. This type of bell pepper remains yellow even in maturity, and it's also an ideal go-to for its nutritional content. Yellow bell peppers have thick fleshy skin that makes them great for holding char grill flavor.
This type of bell pepper is also easy to grow. Just like other types of bell peppers, it is versatile, so it can work for roasting or grilling on the BBQ. Yellow bell peppers contain a dose of iron and folate too. It can be enjoyed fresh or layered into sandwiches, burgers, or chopped in salsa and also chopped and tossed into green salads.
2. Mini Sweet Peppers
Another nutritious type of bell pepper you will enjoy cooking with is mini-sweet bell peppers. This type of pepper is small and gardens claim planting them is easier compare to other types of peppers. Although there are small they are sweeter than regular peppers and are loaded with nutrients like vitamin C.
Mini sweet pepper is great if you don't like your food too spicy but keep in mind that their flavor is old and the color is bright. It can be used to add color and flavor to any meal just like tomatoes. Mini sweet peppers work for making sweet and savory tarts, and mini tacos and can be incorporated ins snacks like muffins and cookies.
3. Green Bell Peppers
Green bell peppers are popular types of bell peppers, and they do have a slightly bitter taste but are still a great option for cooking.
Green bell peppers don't stay fresh for long, so they are not appealing to eat raw, but they do have a nice crispy taste you can enjoy in cooking. They are considered to be the immature part of red bell pepper which also makes them perfect for baking, sautéing, and grilling.
Just like every type of bell pepper, green peppers are high in iron which makes to suitable for treating iron-deficient anemia. Green pepper is enjoyed with tomatoes in many recipes and both are excellent sources of vitamin C.
4. Red Bell Peppers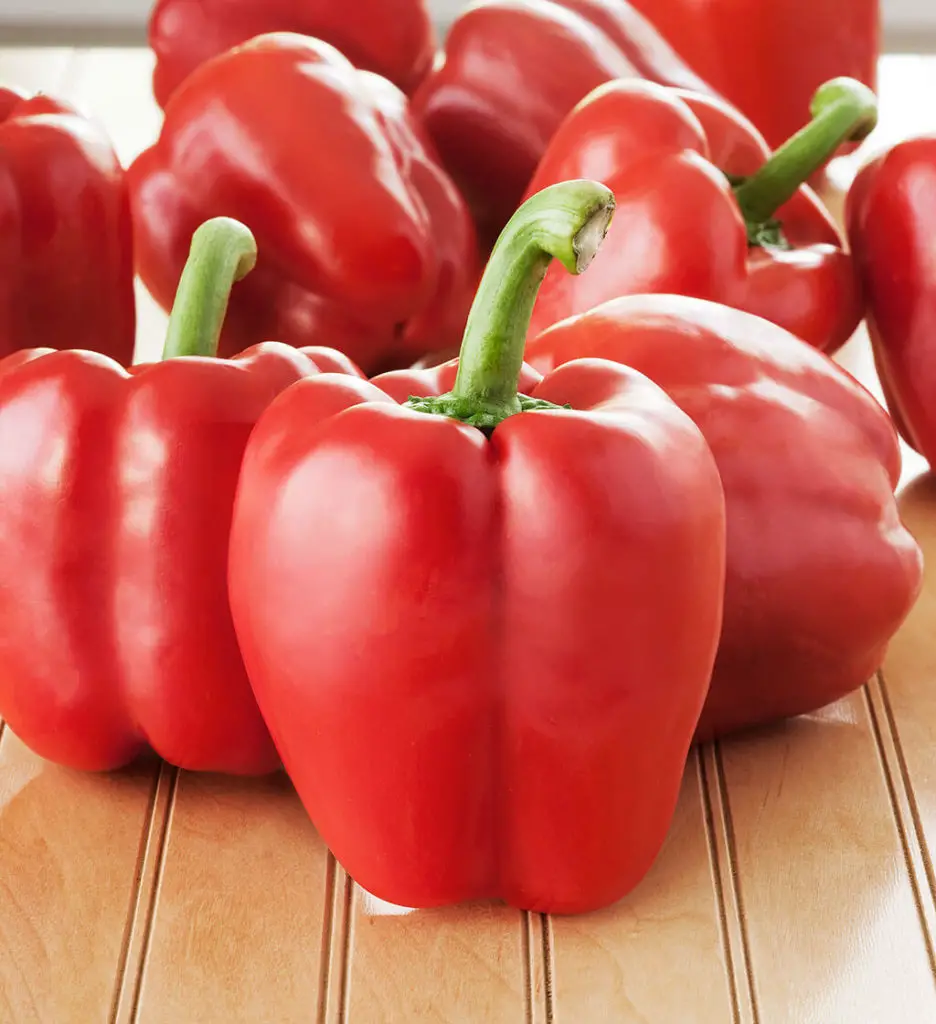 Red pepper is believed to be the mature part of green bell pepper and has been used in cooking for centuries. This type of bell pepper is also known as capsicum and sweet pepper, it has a mildly sweet yet earthy flavor hard not to like.
This is quite spicy though and filled with lots of health benefits.
Red bell peppers are loaded with essential nutrients like vitamin A, vitamin C, and potassium. The bright red color and sweet flavor is enough reason to toss it in your salad or enjoy it in marinara sauce.
5. Purple Bell Peppers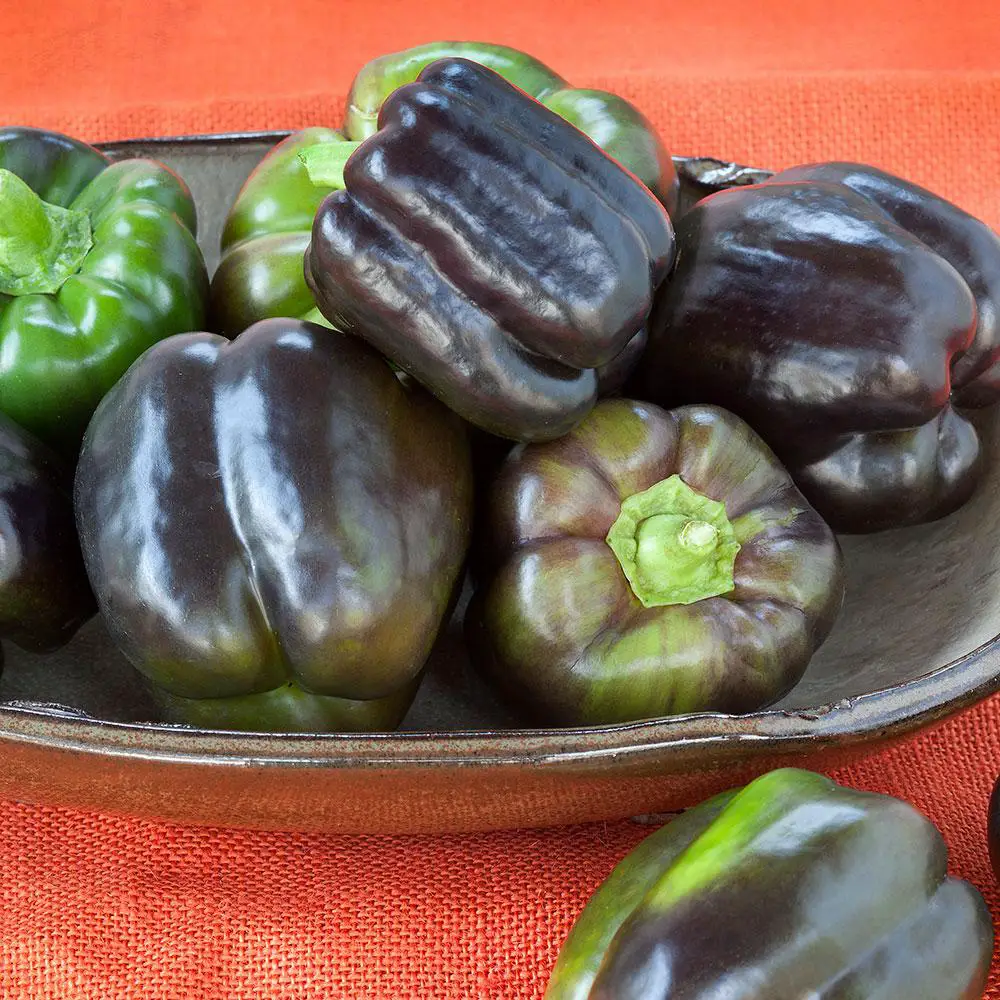 Surprisingly, there are lots of recipes that require purple bell peppers. This type of bell pepper is less sweet than the red, yellow, and orange ones, but they are ideal for cooking and loaded with essential nutrients as well.
It happens to make a great stuffing pepper and just like other types of bell peppers, you can use it in making any dish.
While the purple bell peppers are not that sweet, they are sweeter than the green ones and more recipe calls for it. Their color can be used to depth to salsa, salads, and sandwiches. They have a grassy fresh flavor with a rare burn and pack lots of amazing health nutrients.
6. Orange Bell Pepper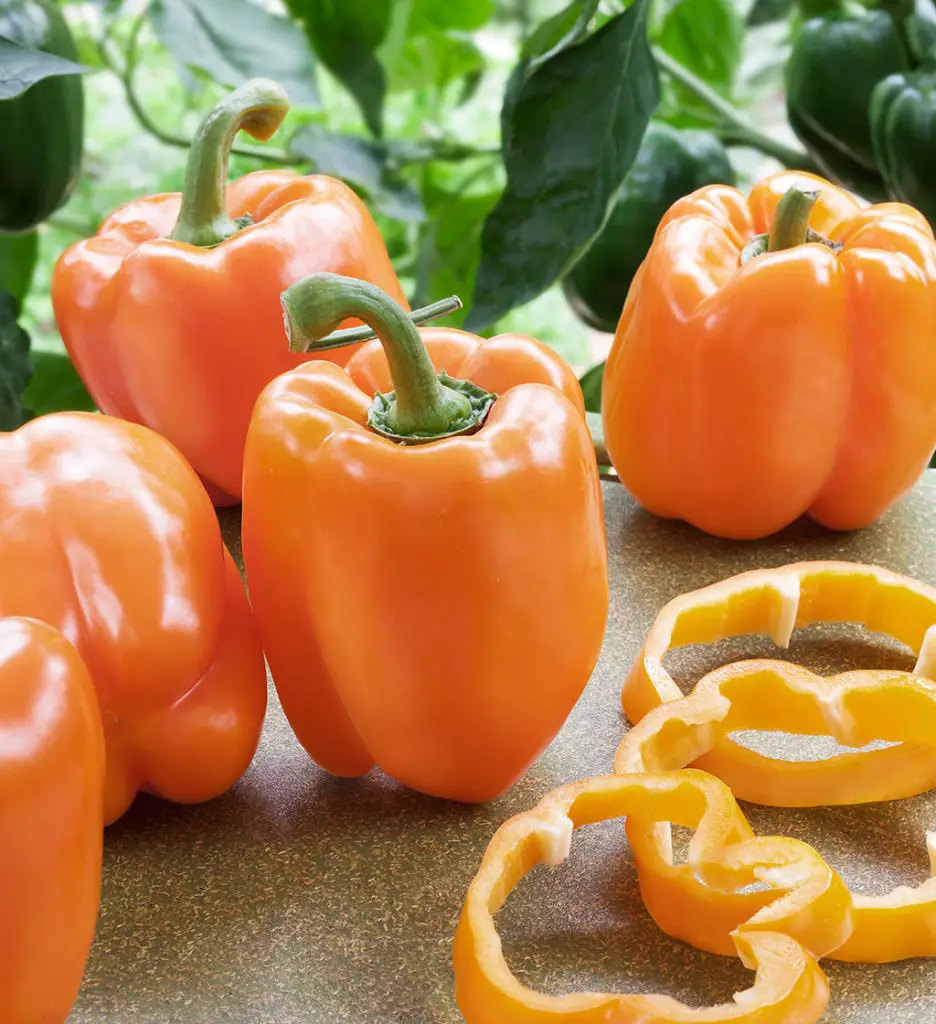 The sweeter the pepper, the more you can enjoy it in cooking which is why orange bell pepper is another great type of bell pepper for cooking.
There are lots of creative ways you can make use of orange bell peppers, and they can be enjoyed raw as well. The study found that this is higher in calories than the purple and green bell pepper.
Chefs all around the world tend to favor orange bell pepper for its sweet juicy flavor, and it happens to be a bit hot too. The crunchy texture is also another reason this is perfect for your cooking.
7. Cubanelle Pepper
This is another type of sweet bell pepper you are going to find great for cooking. The heat of this type of pepper can range from mild to moderate and to some, it's not exactly a hot type of pepper.
It comes in a thin long shape and its color ranges between green when it's not mature and red when it's ripened.
Cubanelle Pepper has mellow honey mixed with pepper taste and although the flesh is thinner than that of the red bell pepper it makes it more similar to Anaheim. This is also known as an Italian frying pepper, and it's growing in popularity due to its pretty color and rich flavor.
Frequently Asked Questions
What bell peppers are good for baking?
The red bell pepper happens to be the most popular type for cooking, and it works for making as well. However, if you want bell pepper to add some colors to your baking, the green pepper is ideal and works for its less sweet taste too. As a rule, the more colorful the bell pepper is, then the sweeter it will be for baking.
Which bell peppers are the best?
Red bell peppers are the best type of bell peppers for nutrients and taste. Red pepper simplifies that the pepper is completely mature and ripe, most importantly, it contains more nutrients than the other types of pepper. Yellow bell pepper is another great type of bell pepper that is low in calories and high in nutrition.
Which peppers do you cook with?
Any kind of pepper can be used in cooking depending on the flavor you are aiming for. However, once it is red and ripe, it is perfect for cooking as it becomes sweeter. Yellow, orange, and red pepper are often the perfect choice to go since they are specially bred to be sweet and gentle when cooked.
Do bell peppers have high sugar?
Not all types of bell peppers are high in sugar. The green bell pepper has more sugar content than the red one. Note that the stages of each bell pepper's growth determine the sugar content. Generally, red bell peppers have a maximum of 3.5 grams of sugar and some of this sugar is lost during the ripening stage.
What is the difference between red and green bell peppers?
There is no big difference between red and green bell peppers. The unripe part of the bell pepper is the green one while the rip mature one is the red pepper. The green pepper can be used in the same recipe as the red one and both have a similar flavor. However, green pepper tastes slightly bitter but contains the same nutrient as red bell peppers.
Wrapping Up
All type of bell peppers have their unique flavor and spiciness tend to differ as well. While a chili pepper can be really hot since it has capsaicin which is not found in bell peppers.
If you do enjoy pepper then belle papers are worth incorporating into your daily meal. Bell peppers are not known to have any side effects but best to eat them in moderation as they may trigger allergic reactions in some people.
More from Cooking FAQs:
We are sorry that this post was not useful for you!
Let us improve this post!
Tell us how we can improve this post?