Do you find the beeping sound your power XL air fryer makes a tad annoying? Buck up, they're are a lot more others just like you that get frustrated by this sound and would like to turn it off forever. Beeping sounds from air fryers are well known to get on people's nerves and even scare pets away.
Air fryers are very useful home appliances that provide convenience in the kitchen with their fast cooking abilities. Using air fryers to prepare meals is very advantageous as it is economical and ensures that meals are healthily cooked. But it doesn't change the fact the beeping sound can put you off.
As a first-time user or a seasonal user, it may be confusing and you might find it hard to turn off the sound of your power XL air fryer. And this would cause you to wonder how to go about silencing your air fryer.
The good news is that you can permanently mute the beeping sound from your power XL air fryer. The steps to doing this are straightforward but they might not be as easy as you would prefer.
There are so many air fryer models and different ways to disable their sound. For a particular model as a power XL air fryer you are about to learn the basics about turning off the sound, so let's get right into it.
About Power XL Air Fryers
Air fryers are a great kitchen appliance that is a must-have for everyone. And power XL air fryers are one of the best air fryers to own. They are very popular for their budget-friendly and highly durable attributes. Power XL air fryers can be conveniently used to prepare meals.
It cooks foods perfectly by giving them a crisp and delish taste. You can choose from a wide variety of power XL air fryers that suits you as there are a lot of models available in the market. One thing you should know is that it can be quite tricky to turn off the beep sound.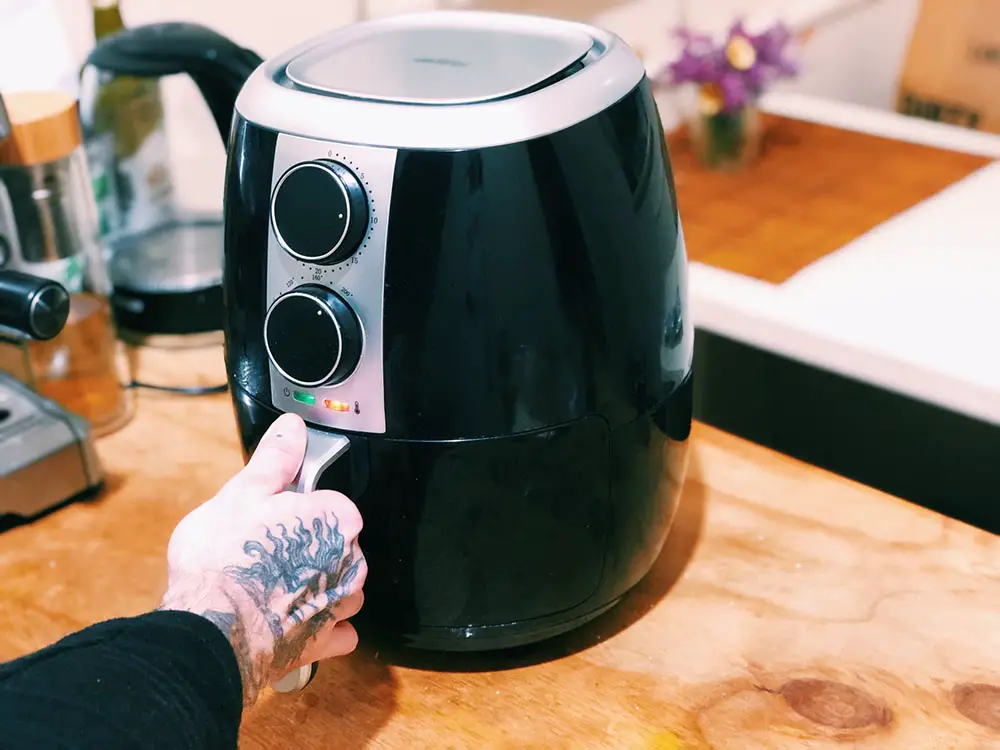 4 Basic Steps to Take Turn Off Power XL Air Fryer Beeping
The constant beep sound from Power XL air fryers can be outrageously loud and somewhat unbearable. It is no mystery that you'd want to shut the annoying sound off for good. Here is a way to turn off the beeping;
Step 1. Unplug It
You want to make the power XL air fryer disconnected or unplugged from the socket. As it is not safe to disable the sound while it is still powered.
Step 2. Open It Up
The next step is to open up the top of the air fryer as this is the only means to get to the speaker. You can use a small knife or a butter knife for this. Be sure to take this step cautiously as something could go wrong when care is not taken.
Step 3. Disconnect The Speaker
This is where it gets a little bit tricky. Inside the power XL air fryer, you'll find a black cylinder at the right corner of your air fryer. This encloses the power XL air fryer sound activator, and you might be needing a plier to snap it off. When this is removed there would be no connection to the speaker.
4. Cover It Back Up
Always fix the protective cover of your power XL air fryer back up.
Frequently Asked Questions
Are all air fryers so loud?
It is normal for air fryers to make a lot of noise while it is working as that is how they are programmed. They are one of the noisiest kitchen appliances. When air fryers are put to use the fan starts rotating, and it could sound like a working vacuum cleaner. But the sound could be loud if there is something wrong with the air fryer.
Why does my air fryer beep so much?
Your air fryer is apt at its job, the beep sound is to let you know that your food is ready. However, it will beep non-stop until you take the food out. Unless you want to get frustrated by the beep sounds, do not leave your food in the air fryer for too long after it is done.
Can you turn off the beep of an air fryer?
Of course, you can. Depending on the model of the air fryer, nearly all air fryers can be silenced. While some can be easily muted others can be quite tricky. Make sure to read your air fryer manual to help you get it done right.
Summary
We understand how frustrating the beeping of a power XL air fryer can be and why you feel the need to silence it for good. However, unlike some other types of air fryers, the power XL air fryer is a bit technical and tricky to turn off the sound.
There are basic steps on how to turn off the beeping sound of your power XL air fryer with ease and without complications. Make sure to use the useful tips provided in this article. Good luck!
We are sorry that this post was not useful for you!
Let us improve this post!
Tell us how we can improve this post?