Air fryers are the latest kitchen appliance now and we do not see why not. air fryers offer great benefits such as healthy cooking, the ability to make different types of food with one appliance, and many more.
A lot of people love that air fryers are small in size and do not take up a lot of space, making them ideal for every kitchen and everyone including college students. There have been many questions on the use of air fryers lately and one is the use of air fryers in a dorm room. Can you have an air fryer in a dorm room? If you are interested in finding out about this then you should read further.
No, this is because most schools do not permit the use of air fryers in the dorm room. However, you should inquire from your school authority and find out what is allowed in your school.
An air fryer is an amazing appliance, it is made to make food with little to no oil, which results in fewer fats and calories in your food, hence your food is healthy with an air fryer. It is often referred to as a smaller oven than an oven, however, the benefits that an air fryer has to offer to surpass that of an oven. This is because an air fryer gives you the option to roast, fry, bake, broil, warm, etc.
This is why an air fryer is a great option for a lot of people in recent times.
Using An Air Fryer As A College Student
As a college student, an air fryer seems like the best appliance for you, considering that it doesn't emit smoke, making it environmentally friendly, it also makes different food for you, sometimes at once, depending on the size it has.
Most importantly, unlike many other appliances, the air fryer is small in size and can fit into any kitchen or space size.
However, it has been discovered that most schools do not allow the use of air fryers in their dormitories, for several reasons.
This information is restricted to some schools, hence before making your decision on whether to purchase an air fryer or not, it is advised that you consult with your school management and make your decision based on the information you receive there.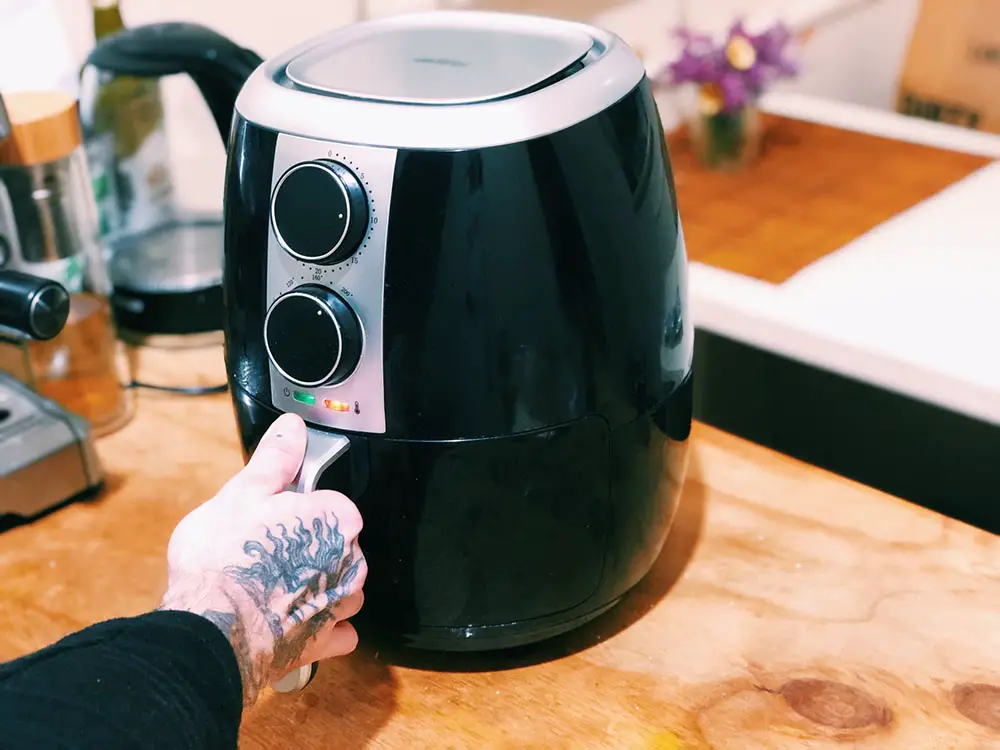 Why Is An Air Fryer Not Allowed In Dorm Rooms?
Before you hate your school, you must know most organizations such as schools make their decision based on certain reasons, and the decision not to use an air fryer also comes with its reasons. We gathered some information and here is what we discovered on that;
1. Space
The architectural design of most dorm rooms is quite small and not large. In most cases, there is only space for important items such as a table, bed, wardrobe, books, and a few other items. There are few dorms room that has in-room facilities such as a kitchen sink etc. due to the small space, the management of the school often restricts the loads that students can bring into the dorm rooms.
Most also provide canteens for eating and purchasing food, instead. You may also find some of the dorm rooms to have a large kitchen for everyone with a refrigerator, oven, microwave, etc. in place of letting you bring your equipment.
2. Food Smell
A dorm room will consist of more than 2 or 3 people. While you may enjoy the smell of your food everywhere, other people may not share the same thoughts. Making food with your air fryer can sometimes get the aroma of your food out and this will disturb other people who may not like it or are allergic to it.
3. Heating Element
In some dorms, cooking appliances with exposed heating elements are completely prohibited. The air fryer has an exposed heating element and is there numbered as prohibited. This rule is due to some beliefs that exposed heating elements can cause a fire outbreak.
4. Smoke
Although the air fryer doesn't bring out smoke, however, they sometimes occur due to some reasons. An example of this is if you cook food with fat and oil, it may cause smoke to come from the air fryer. This can affect the other students in the dorm or even alert the fire alarms and smoke detector
5. Power Outage
Air fryers have a high wattage output and since some schools only permit electronic appliances and devices that take up to 1000 watts, there may be no space for your air fryer. There are, however, some dorms that allow appliances of up to 1500 watts. Ensure you inquire about making a decision.
Air Fryers Suitable For Dorm Rooms
If your dorm accepts air fryers, we have made a list of air fryers that are suitable for dorms for you to choose from.
1. Elite Gourmet Personal 2.1 QT
The elite gourmet personal 2.1 QT is the right one for you in a dorm. The temperature of the air fryer is adjustable, letting you control your cooking. With this air fryer, you can perform more than one function. It comes with a 30 minute and automatically shuts off when your food is done.
This air fryer is giving the chance to make easy healthy food. You can enjoy veggie chips, chicken, and fish with the use of no oil. The handles are designed for the safe removal of food. It comes in accessories such as a removable drawer pan, removable pan, air fryer base, etc. you also get a 1-year warranty when you purchase this product.
2. Dash Compact Air Fryer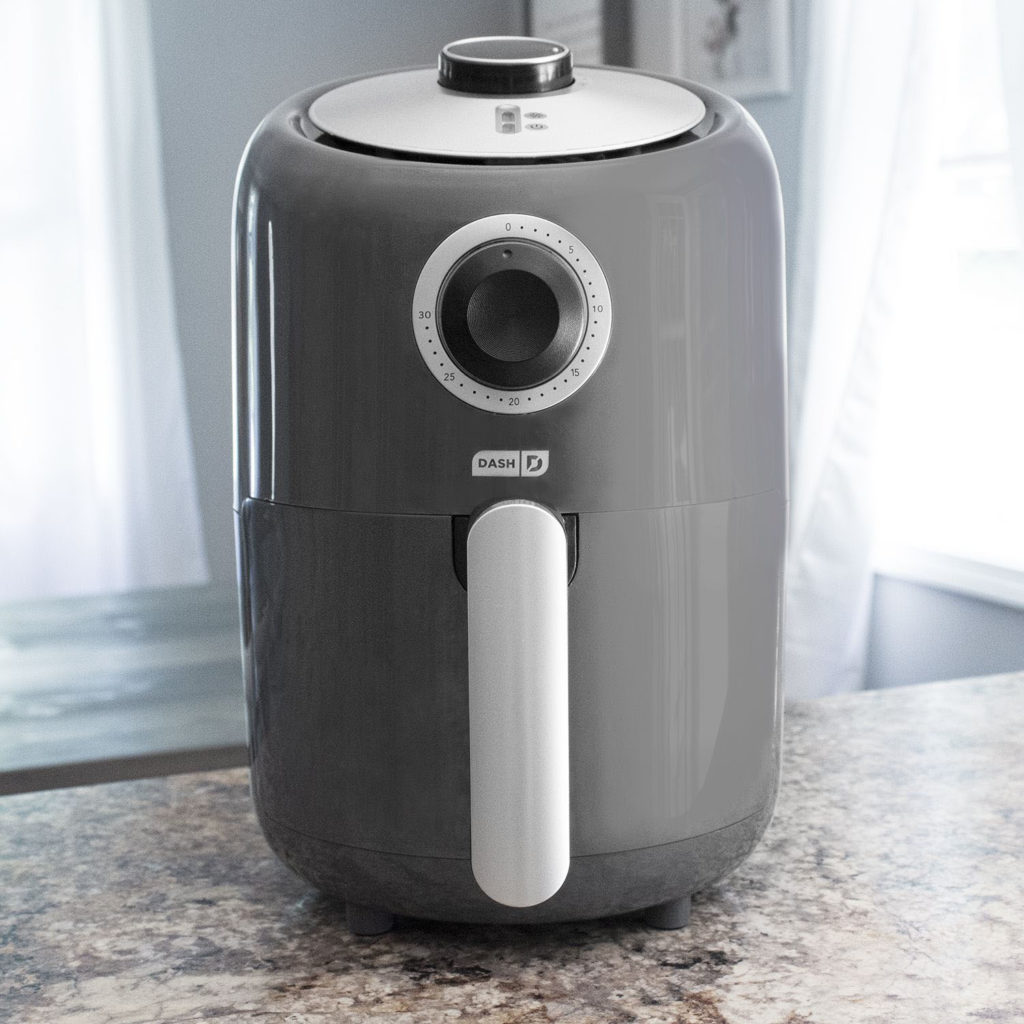 The DASH compact air fryer allows you to make food in less time! The qt sized air fryer allows you to set the temperature and time of your food and your food will be done in less time than the conventional methods of cooking.
It enables you to make healthy food with the use of little to no oil, thereby reducing the calories in your meal. It comes with an auto shut-off function, which goes off once you're cooking cycle is done.
3. Chefman Small, Compact Air Fryer
Looking for the perfect compact air fryer? The chefman has got one for you. This 2 QT-sized air fryer is small and lightweight, this makes it easy to move about. It is versatile and allows you the ability to control the temperature. It also has an integrated timer of 60 minutes.
Chefman small, compact air fryer gives you the chance to eat healthily, you only have to use little or no oil. It comes with an auto-timer, perfect for a student who forgets to check his food. Its basket is dishwasher safe and free of BPA. You also get one year warranty after purchase.
4. iRUNTEK Mini Small Air Fryer Oven Cooker
The iRUNTEK is indeed a mini small air fryer and the right one for you as you make preparations for college. It comes in 1.3 qt, making it suitable for one to two persons. Its accessories are non-stick, meaning they can be cleaned easily.
It comes in a beautiful aqua color, and what's more, it has an auto shut-off which ensures your food doesn't get over-cooked. The air fryer saves up to 85% of oil and fat when it is used for either frying or roasting. It comes with a complimentary cookbook, to help you in your choice of food to cook.
Safety Measures For Using An Air Fryer In A Dorm Room
Will you be using air fryers in the oven? Then you should know the following.
Ensure you are well informed on the air fryer you are using. This helps you to know how it works, what to cook with it and how to care for it. You can contact the instructional manual that comes with it or surf the internet for information on it.
It is advised that you only cook in rooms with proper ventilation. Hence if your room doesn't have a good ventilation system, do not use the air fryer there.
Always remove the cooked food when it is done and clean the accessories.
We recommend that you leave a gap between the wall and the back of the air fryer.
Do not leave the air fryer plugged in. it is recommended that you unplug the air fryer after use.
Clean your air fryer accessories with gentle cleaning agents. Also never clean your accessories or air fryer when it is plugged in.
Final Thoughts
Air fryers are quite useful in the kitchen. It is no surprise that a lot of people are purchasing them for their kitchen.
While most school dorms do not accept air fryers, we advise that you make a proper inquiry on the use of air fryers in your school. You should also adhere strictly to the information on how to care for your air fryer of choice.
We are sorry that this post was not useful for you!
Let us improve this post!
Tell us how we can improve this post?