The constant release of new kitchen appliances is no longer news or a surprise. We are grateful for the efforts of producers and manufacturers who have provided us with new and improved methods for making our culinary chores quick and simple.
The Air Fryer is a modern appliance that has sparked a lot of conversation ever since it hit the market. Every day we learn more about the Air Fryer's functions, how it operates, what goes in it, and what doesn't. We will learn about the air fryer and O'Brien frozen potatoes in this post.
Yes, you can cook frozen potatoes O'Brien in an air fryer, all you need to do is to follow the right instructions, and your potatoes O'Brien will be ready in no time. 
Cooking Frozen Potatoes O'Brien In Your Air Fryer?
Potatoes are a favorite food for a lot of people, this is not compared to the number of people who love potatoes, O'Brien. Not sure what the potatoes O'Brien is? This classic dish is a combination of red and green bell peppers, fried, diced potatoes, and seasonings.
This meal is often used as a side dish and dates back to the early 1900s. while it is common for potatoes O'Brien to be served as breakfast in many restaurants in the world, it fits in for meals at other times. Not only can you make your potatoes, but you can also buy them. A lot of people buy them in stores.
Store-bought potatoes O'Brien are usually pre-cooked, sometimes seasoned, and sometimes not. you should pay attention to the instructions on the pack to identify which one you're buying.
The invention of the air-fryer has made a lot of work easy for everyone in the kitchen, especially cooking duties that require frying. An air fryer is an appliance similar to the convection oven, performing similar duties, such as roasting, baking, and fries.
However, unlike the oven, it isn't big and can fit into smaller spaces. Its heating element is also different as it is located on the top and comes with a big and strong fan that helps the food get crispy in little to no time. Most importantly, the air fryer is loved for its ability to use lesser oil than the deep fryer or the oven.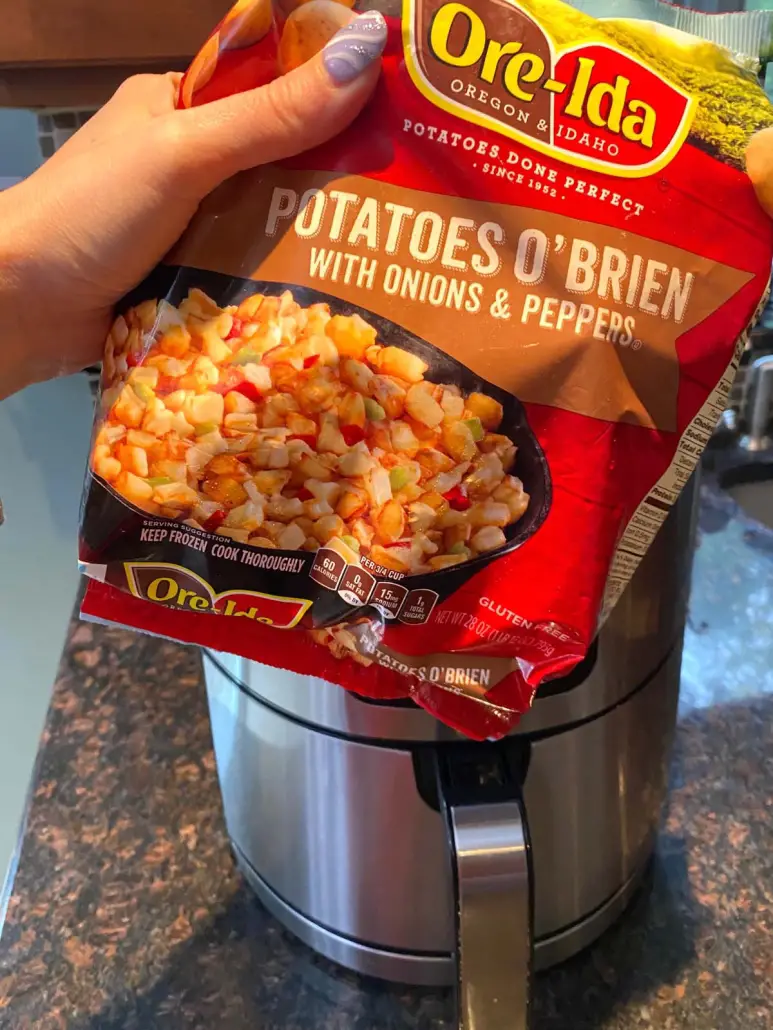 While a lot of people are familiar with using the air fryer for roasting and frying fish, chicken, beef, and turkey, what they do not know is that it can also be used to cook frozen potatoes, O'Brien. Cooking frozen potatoes in an air fryer, gets the potatoes done quickly.
It also requires little effort, so long you follow the instructions.
Before Cooking The Potatoes O'Brien In An Air Fryer
While cooking the potatoes O'Brien is easy, there is, however, important information you need to pay attention to. This will ensure your potatoes comes out successfully.
The main ingredients required for cooking are your bag of frozen potatoes and your air fryer. However, you might need to get some pepper and other seasonings. this is dependent on the type of frozen potatoes you purchase. Although all are pre-cooked, some are seasoned while some are not.
The air fryer temperature is an important aspect to pay attention to, it has to be pre-heated on 400 degrees before the frozen potatoes go in. if you use an air fryer that does not have the pre-heat feature, run the air fryer for about 5 minutes at 400 degrees F.
The brand of frozen potatoes you use can determine how long it cooks however, most brands will cook for 17 to 20 minutes together. You can also cook them until they're crisp enough to your taste.
How to Cook The Frozen Potatoes O'Brien In An Air Fryer
Here are some simple steps to follow below;
After your air fryer is preheated, remove the basket and pour in some of the frozen potatoes. Regardless of the sizes of the potatoes, you mustn't over-crowd the air fryer basket.
cook the potatoes for about 7 minutes, after which they must be defrosted. Take the basket out of the air fryer and turn the potatoes into a bowl. Add your seasoning such as salt, pepper, and oil(optional) to the potatoes. If your potatoes are pre-seasoned, then you can skip this process.
Shake the potatoes together, and turn them into the air fryer basket. Allow the potatoes to cook for another 5 minutes, take it out and shake the potatoes, the shaking process allows the potatoes to get evenly brown.
Return and let it cook for another 5 to 10 minutes. When it is done, get it out and serve.
Frequently Asked Questions
Are Air-Fried Potatoes Good For Weight Loss?
Yes, the use of an air fryer reduces fats, calories, and other harmful toxins that are present in locally fried foods. This is because the air fryer makes use of less oil in its process of cooking your food. This is not only limited to potatoes but other foods as well.
Can You Cook Frozen Diced Hash Brown In The Air Fryer?
Yes, you can cook frozen diced hash brown in the air fryer. Place the frozen hash brown on the air fryer trays, set the temperature to 400 degrees F, and cook for about 5 minutes. Pour the hash brown into a bowl, season it properly and return into the air fryer and cook for 10 minutes, after which you switch the sides of the potatoes and cook for another 10 minutes.
How Long Do You Cook Frozen O'Brien Potatoes?
Together, the time speculated for cooking the frozen O'Brien potatoes in the air fryer is 20 minutes. After this may be dependent on how crispy you want your potatoes.
How Long Can Leftover Air Fryer Frozen Potatoes Last?
Leftover air-fried potatoes can last for 3 to 4 days. However, ensure you store them in an air-tight bag or container and preserve them in the fridge.
Can You Reheat Frozen Potatoes In An Air Fryer?
Yes, you can reheat your frozen potatoes in the air fryer. All you should do is; pre-heat the air fryer, then place the leftover fried potatoes In an air fryer and cook for 2 minutes or until it is warm enough for you.
What Can I Serve The Potatoes, O'Brien With?
The potatoes O'Brien can be enjoyed alone, however, you can serve them with bacon and eggs for breakfast and are perfect for serving with pork, chicken, or beef for dinner.
Final Thoughts
The air fryer is an amazing appliance to own in the kitchen.
Apart from being useful for baking, roasting, and frying, it is also suitable for people with small spaces. The air fryer allows you to reduce calories, and fats, because it uses zero to little oil. The air fryer is a good place to cook your frozen potatoes, O'Brien. 
We are sorry that this post was not useful for you!
Let us improve this post!
Tell us how we can improve this post?