Freezing crab cream soup can be very dicey as most consumers have complained of losing the ideal flavor and texture of their crab cream soup after freezing for a period. This has led to doubts concerning this particular storage medium.
Yes, you can freeze crab cream soup. However, there are procedures and measures to be adopted when freezing your crab cream soup. Your crab cream soup can stay frozen for up to 3 months.
Consumers of crab cream soup are unaware that, while crab cream can be frozen, the major issue to be concerned about is how to defrost and reheat the crab cream soup without losing its natural flavor.
Just for you, we have provided everything you need to know about not freezing, defrosting, and reheating your crab cream soup.
Can You Freeze Cream Of Crab Soup?
Yes, you can freeze your crab cream soup. When frozen, your crab cream soup can be preserved for up to 3 months.
However, this applies only when it is frozen at an appropriate temperature over a period. Crab cream soup can last up to 24 hours unfrozen, but if only warmed at intervals. Freezing is the best storage medium for your crab cream soup.
Freezing Your Crab Cream Soup
You can freeze your crab cream soup, however, freezing your crab cream soup for a long period can cause changes in flavor and texture. Freezing over a period of time can cause your crab cream soup to become grainy which might not be pleasant enough to consume.
Follow these procedures when freezing your crab cream soup:
After cooking your crab cream soup, wait until it has cooled before freezing it; this will help your crab cream soup freeze faster.
Pour the soup into a freezer-safe plastic container or resealable plastic bags; for plastic containers, use airtight lids. Make sure that either option is airtight.
Leave an inch or two before sealing the plastic bag or container. This prevents cracks or ruptures when the soup freezes; when the soup freezes, it begins to expand, and when there is no space to accommodate the expansion, ruptures or cracks are bound to occur.
Squeeze out as much air as possible before sealing the plastic bags.
Label the plastic bags and contains; this helps gauge the use-by date for consumption.
Place the plastic container or bag at the base of the freezer where the temperature is most stable and lowest.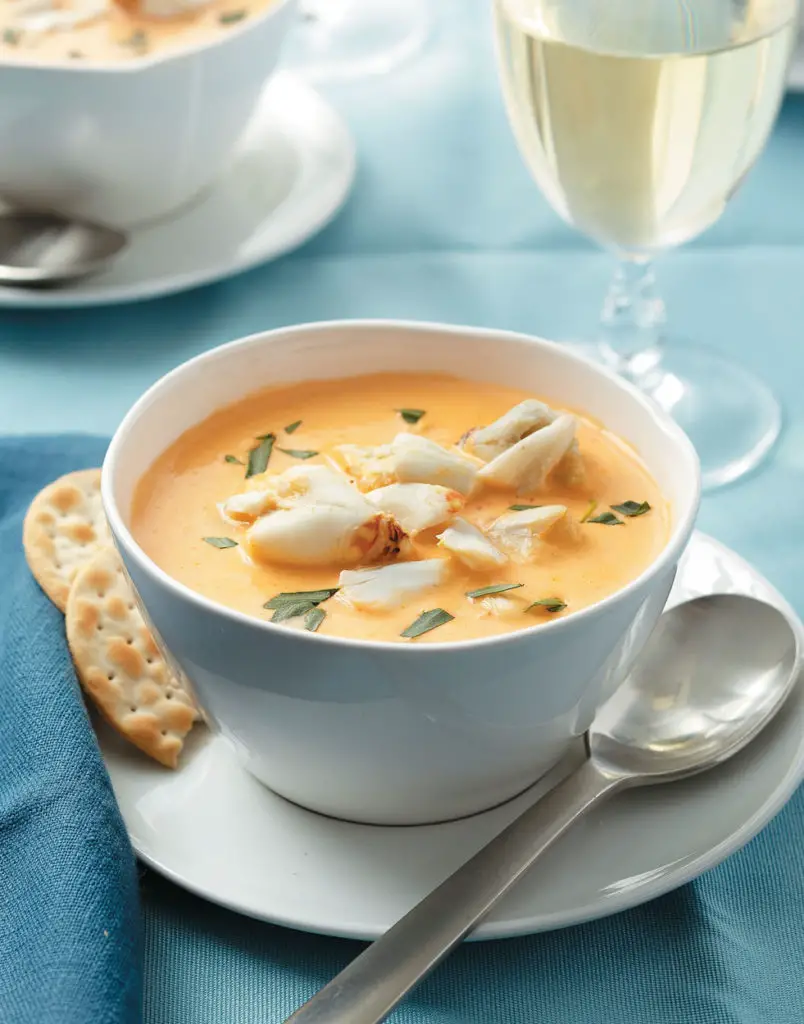 Defrosting and Reheating Your Crab Cream Soup
Defrosting and reheating your crab cream soup can be tricky because just one mistake can cause your crab cream soup to lose its pleasant flavor and texture.
We have provided the following procedures when defrosting and reheating your crab cream soup.
Determine when you want to defrost your crab cream soup; this will give enough time for the frozen crab cream soup to defrost. The best way to thaw crab cream is in the refrigerator. If you reheat crab cream soup right away, the flavor might be lost.
If you're in a hurry, soak the container or bag in warm water until it's completely thawed.
If the crab cream soup is too thick, thin it with water until the required texture is achieved. You can also get the desired consistency by whisking or blending.
Transfer the contents to a saucepan and cook on low heat. To keep your crab cream soup from burning, stir it constantly. You can also use a microwave-safe container to heat the content.
If the flavor of the crab cream soup is dull, seasoning, lime juice, and fresh vegetables can be added.
 Tips for Your Crab Cream Soup
Here are some additional tips for freezing the cream of crab soup.
If you're going to add veggies to your crab cream soup, undercook them, so they're still firm when you reheat the soup.
Do not freeze crab cream soup while it is still hot.
Use freezer bags and plastic containers of good quality.
Don't overfill your bags or containers.
Stacking more than three bags of crab cream soup may cause the bags beneath to burst.
Use a baking sheet to cover the base of your freezer and the freezer hangers to prevent spillage in the event of a rupture.
Thaw completely before reheating.
Crab cream soup should never be defrosted at room temperature.
Thaw your crab cream soup in the refrigerator rather than in the microwave, if it's in a plastic container. Plastic can release carcinogenic substances when heated.
Thawed crab cream soup should not be refrozen. This procedure may result in the loss of nutritional components. If your thawed crab cream soup was cooked properly, you can refreeze it.
During a power outage, reduce opening the freezer door to the barest minimum. The temperature can still be preserved for about 24 hours.
Eat your crab cream soup within three months of it being frozen.
Frequently Asked Questions
How long would crab cream soup last unfrozen?
Unfrozen crab cream stored in a fridge can last up to 4 days and is stored in a location where the temperature is lowest. Avoid storing crab cream soup at refrigerator doors.
How long would frozen crab cream soup last?
Frozen crab cream soup can last up to 3 months if stored in an appropriate temperate condition. Ensure your crab cream soup is stored in an air-tight container and also stored where the temperature is stable and low.
Final Note
Although freezing would increase the shelf life of your crab cream soup, if procedures for freezing, thawing, and heating are not meticulously adopted, you can lose the pleasant flavor and texture of the content.
Follow the procedures and tips we have provided for you to enjoy your tasty crab cream soup.
We are sorry that this post was not useful for you!
Let us improve this post!
Tell us how we can improve this post?