While homemade soups are always the most satisfying soups because they are freshly made and of course, with a sprinkle of love, not everyone wants to make their soups from scratch every day because of busy schedules and a few soup recipes that might have flopped a couple of times.
This is why people opt for homemade soup products such as bear creek soup, but to be safe you would need to know if it is gluten-free or not to avoid complications if you have an allergy or a diet plan.
Not all bear creek soup flavors are gluten-free, in fact, most bear creek soups have been proven to contain gluten in their ingredients. However, in recent times bear creek soup flavors without gluten have been made available for purchase to those who have gluten allergies or would simply rather void it.
Bear creek soups are loved by many because of their unique recipes that make each flavor of their soup taste as though it was homemade.
Everyone loves a meal that seems to taste like it was homemade rather than processed. But with a history of soup flavors that contain gluten, we need to clarify whether or not it is safe to consume bear creek soup if you have a gluten allergy or you are on a strict gluten-free diet.
NEW: Can You Freeze Cucumber Soup?
Bear Creek Country Kitchens Explained
The bear creek country kitchens is a brand that began in 1991 in a small town in the Wasatch mountains of Utah.
From their first products put out, they were known for their unique homemade recipes, they began by selling different flavors of dry soup mixes at boutique fairs as well as their famous "just add water" creamy potato and cheddar broccoli soups.
People loved these dry soup mixtures with amazing flavors so much that they spread the word, retail shops became interested in these soup mixtures and began to distribute and sell them.
With this, they officially became a retail brand and they have continued to develop various homemade recipes in different mouth-bursting flavors to date.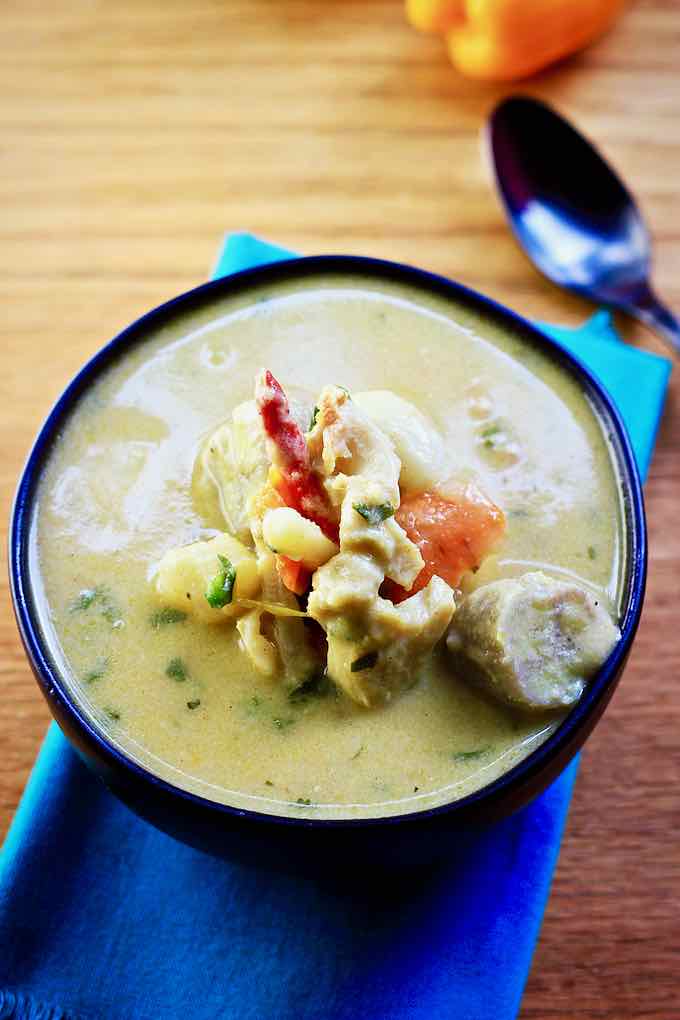 Is Bear Creek Soup Gluten-Free? 
It is not easy to find a soup that is gluten-free when dining out or when shopping for processed dry soup mixes and this is largely owing to the fact that restaurants and manufacturers rely a whole lot on soup thickeners that contain gluten in them.
So when you go out to enjoy a meal with a friend or loved one and you are on a gluten-free diet, it is usually tough to find a soup that would suit you best and the same goes for processed dry soup mixes on the market. 
Is this case the same for bear creek soup? Let's find out. When the bear creek country kitchens began creating dry soup mixtures for sale, they used gluten ingredients such as wheat flour to thicken the mixture. But as time went on, they decided to strategize and replace the gluten thickening ingredients with non-gluten thickening ingredients. 
There are currently 14 flavors of bear creek dry soup mixtures selling on the market and 9 of those soups have been remanufactured to ensure that they are gluten-free and safe for consumption for persons with gluten allergies or those on a gluten-free diet.
The gluten thickener that was previously used which is wheat flour has now been replaced with corn starch and other non-gluten thickeners. 
Which Flavors Of Bear Creek Soup Are Gluten-Free? 
If you have been on the lookout for bear creek soup flavors that are gluten-free since hearing that most of their dry soup mixtures have gluten thickeners then you are in luck, with the manufacturing modifications that have been made on the bear creak soup brand, there are quite a number of gluten-free flavors to choose from today and these include; 
Bear creek darn good chili and cheddar potato mix.
Bear creek clam chowder mix 
Bear creek cheddar broccoli mix 
Bear creek split pea mix
Bear creek creamy potato mix 
Bear creek tortilla mix
Bear creek navy bean mix 
Bear creek creamy wild rice mix 
Bear creek cheddar potato mix.
Bear Creek Soup Mix, Cheddar Broccoli, 11.2 Ounce (Pack of 6)
This favorite Bear Creek soup tastes like it simmered for hours not minutes.

A Bear Creek original. Thick and Creamy. The perfect blend of cheese and broccoli.

Try adding extra broccoli florets, sour cream and shredded cheddar cheese for variety.

Easy to prepare mix, just add water.

Bring home a little comf
Prices pulled from the Amazon Product Advertising API on:
Product prices and availability are accurate as of the date/time indicated and are subject to change. Any price and availability information displayed on [relevant Amazon Site(s), as applicable] at the time of purchase will apply to the purchase of this product.
Frequently Asked Questions 
How do you make bear creek potato soup? 
To make your bear creek potato soup all you need to do is boil 8 cups of water and add it to the soup mix, whisk it together, and leave the pot on medium heat to simmer for 15 minutes while stirring from time to time.
What kind of soups does bear creek have? 
The bear creek country kitchens produce the following soup flavors; minestrone soup, tortilla soup, cheddar potato soup, chicken noodle soup, cheddar broccoli soup, creamy potato soup, vegetable beef soup, gumbo soup mix, navy bean soup, clam chowder soup, and wild rice soup.
What is the shelf life of bear creek soup mix? 
When stored in a refrigerator properly, a package of bear creek soup mix can last at its best quality for 18 to 24 months. If already opened, ensure that it is sealed back tightly so that it can be preserved for long.
Summary
A hot bowl of soup that you only need to make with some boiling water and a fee optional added ingredients is simply bliss.
That is why so many people have embraced the trend of purchasing dry soup mixtures from different brands on the market because it makes it much easier to prepare homemade soups of various kinds. 
With the bear creek soup mixes, our major concern is whether it is gluten-free or not, and from the information provided above we have learned that there are 9 flavors out of the total of 14 dry soup mix flavors that have been proven to be gluten-free, so feel free to enjoy them! 
Keep reading:
We are sorry that this post was not useful for you!
Let us improve this post!
Tell us how we can improve this post?