Salsa is a Mexican sauce that people love and is also a good addition to a balanced diet. Because of the fresh ingredients such as tomatoes, onions, chilies, lime juice, cilantro, and salt used in making this sauce, you may be wondering if you can eat salsa without cooking it.
We have provided ample information about salsa, its benefits, and some recipes you should try out for an amazing salsa dish.
Yes, you can eat salsa without cooking it. Salsa is a very versatile sauce that can be eaten either raw or cooked. Eating the salsa fresh is highly nutritious but might not give you the sweet and smoky flavor that the cooked salsa will give. However, both the uncooked and cooked salsas are very healthy for you.
Salsa, whether fresh or cooked, adds flavor to your food and is also nutritionally beneficial. It contains essential vitamins and minerals that are useful for your body's growth.
This sauce can be eaten as a whole meal or can be used as a sauce for eggs and as an accompaniment for food. It is vegan-friendly as all the ingredients used in making the salsas are roots and vegetables.
You should eat salsa because it contains a good dose of vitamin C, helps to burn fat, and is generally a healthy meal for your heart because of its water content. It is hydrating, helps in the regulation of the thyroid, and may even help protect against cancer.
NEW: Can You Eat Wild Radish? Is It Safe?
Homemade Salsa Recipe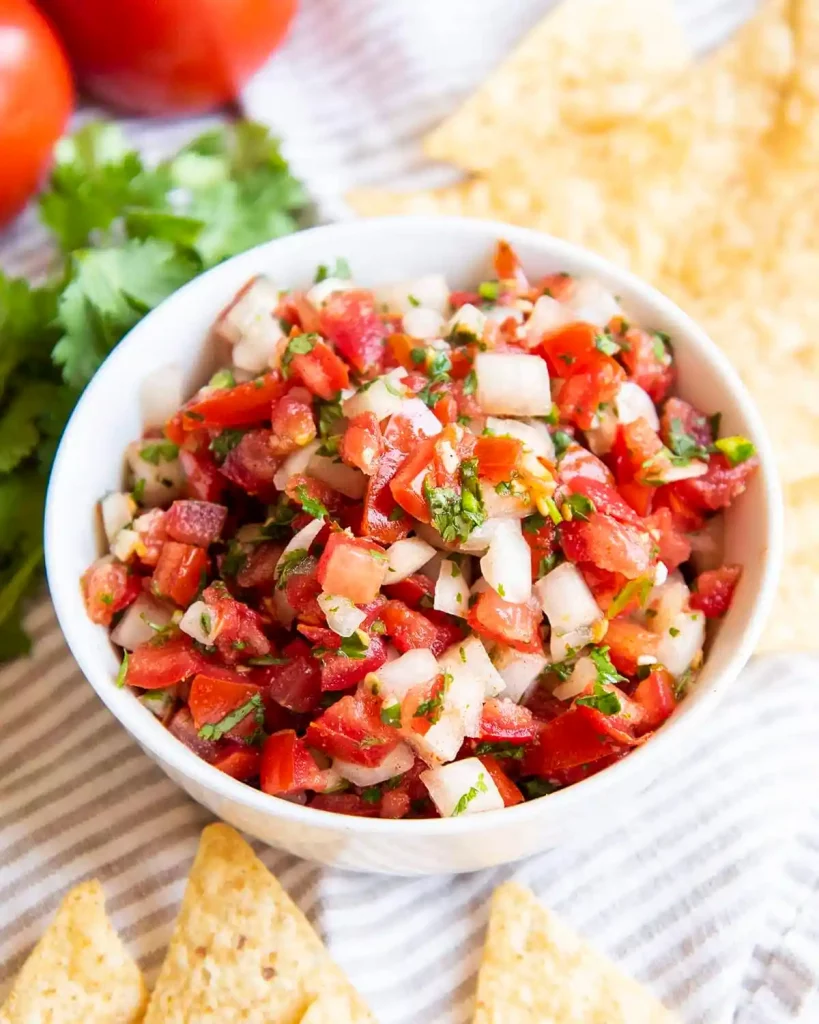 Below are the basic recipe needed to make homemade salsa.
Tomatoes
Pepper (chiles)
Garlic
Cilantro
Cumin
Pepper
Lemon juice
Lime juice
Salt
Check the recipe for homemade salsa.
Salsa is one of the easiest foods to make. You do not need to have specialized cooking skills to make an amazing bowl of salsa sauce. There are two ways of preparing fresh salsa.
Method 1:
Simply chop all your vegetables together into even sizes and put them in a big clean bowl.
Add your pepper, cumin, and salt and stir well.
Pour both the lime and lemon juice over it and stir well.
You can add extra chilies or additional vegetables, depending on your desired outcome.
After this, put it in the fridge for some time or serve it directly over your food, or use it as a dip.
Method 2:
Blend all the vegetables in a food processor.
Add the lime and lemon juice to the blended sauce.
Pour it out into a clean bowl and add your ingredients.
To eat uncooked, put the fruit and veggie toppings of your choice on top and let it cool for some time.
You can also use it as a sauce for food or fries.
Recipe For Cooking Mexican Salsa
Salsa is one of the traditional dishes that Mexicans cherish. They make use of their "comal" for heating the vegetables and their "molcajete" to grind the vegetables. However, since these might be out of reach for you, you can make use of your equipment to still have a wonderful Mexican-style salsa.
Recipe
Tomatoes
Chile pepper or jalapeno pepper
Onions
Garlic
Cilantro
Salt
A Step-By-Step Method for Cooking Mexican Salsa.
You can start by boiling your vegetables (tomatoes, jalapenos, onions, and garlic) in hot water or roasting them in a dry pan.
Once they are soft enough, put them in your food processor or blender.
You can decide to make the vegetables chunky or finely processed. Both are amazing for your salsa.
Pour out the sauce, and add your cilantro and some extra chopped onions based on your choice.
Add salt to taste and serve either as a whole meal or as a side dish.
How to Preserve Your Homemade Salsa
Salsa, because of the fresh ingredients used in making it, does not have a long shelf life.
You should store your salsa for a maximum of one week. To store your salsa, pour it into a glass jar or container that is airtight and keep it in the refrigerator.
The reason for the glass jar choice is that it keeps the flavor from seeping out, which keeps your salsa fresh during the shelf-life duration.
Frequently Asked Questions
Can you eat undercooked salsa?
Of course, You can eat undercooked salsa. The nutritional benefit of either cooked or uncooked salsa is the same. The flavor, however, differs.
Should I cook down my salsa?
No. You should not cook down your salsa. Either chopping or cooking the normal way is perfect for your dish.
How do you preserve salsa without canning?
To preserve salsa without canning, simply get airtight containers, or preferably glass jars, as they keep flavors fresh during the shelf-life period. Pour the salsa into the containers, seal them and freeze them.
Does salsa need to be pressure-cooked?
No. Salsa does not need to be pressure-cooked. You can simply boil or roast the salsa and you will still be left with an amazing taste.
Summary
You can eat salsa without cooking it. It is of great benefit to the body, and this benefit can be gotten either cooked or uncooked. The cooked salsa, however, gives the sauce a smoky flavor that will make it more appetizing.
You should try out the recipes we outlined for you, either fresh or cooked salsa. It is worth mentioning, lastly, that homemade salsa is healthier and fresher, but should not be kept for more than a week, to keep the flavor and texture fresh.
We are sorry that this post was not useful for you!
Let us improve this post!
Tell us how we can improve this post?