No gathering is complete without a great pimento cheese spread. This rich and tangy appetizer is an American party staple, but it is good for so much more than just parties! This tasty spread goes with everything.
Pimento cheese is great for spreading on sandwiches, quesadillas, or, my personal favorite, you can mix it into your french fries!
No matter how you eat it, pimento is delicious, and letting any of it go to waste is a terrible shame! Don't despair! You don't have to throw out unused pimento cheese after a big party, it can be saved!
Let's get into the basics of what makes pimento cheese so yummy, and how to preserve it!
What is Pimento Cheese?
This delicious spreadable cheese is an American party classic. It is a mixture of cream cheese, cheddar, mayonnaise, and pimento olives. Peppers and other spices can be added to the spread to jazz it up.
It is known for its rich, creamy, and sharp flavor, and its salty bite from the pimento olive. Pimento cheese can be found in just about any grocery store, or it can be easily homemade.
Whether it comes from the store shelf or your kitchen, you will not want to waste one bit of this flavorful wonder!
How Long is Pimento Cheese Good For?
Homemade pimento cheese should be good in the fridge for about 10 days. Store-bought pimento cheese should be good until the printed date on the side of the lid. Your pimento cheese should be kept in an airtight container before storing it, this helps preserve its shelf life longer.
Pimento cheese stored in the fridge should be good for 3 weeks.
Pimento cheese is not like most eatable products hence the freshness might be compromised after a few weeks. It should still be safe to eat if it's still within its expiration date however it should be discarded after that expiration date.
How to Make Pimento Cheese
Making pimento cheese at home is as easy as pushing a button, thanks to the food processor! You will not be disappointed with the ease of making this dairy spread!
Simply add cream cheese, cheddar, pimento olives, and pepper flakes to your food processor, and pulse until the mixture is soft and fully mixed.  You can add as many extra spices or seasonings as you like.  Dill pickles, hot sauce, and cayenne pepper are all great additions to this cheesy pâté.
Transfer the finished pimento cheese to an airtight container.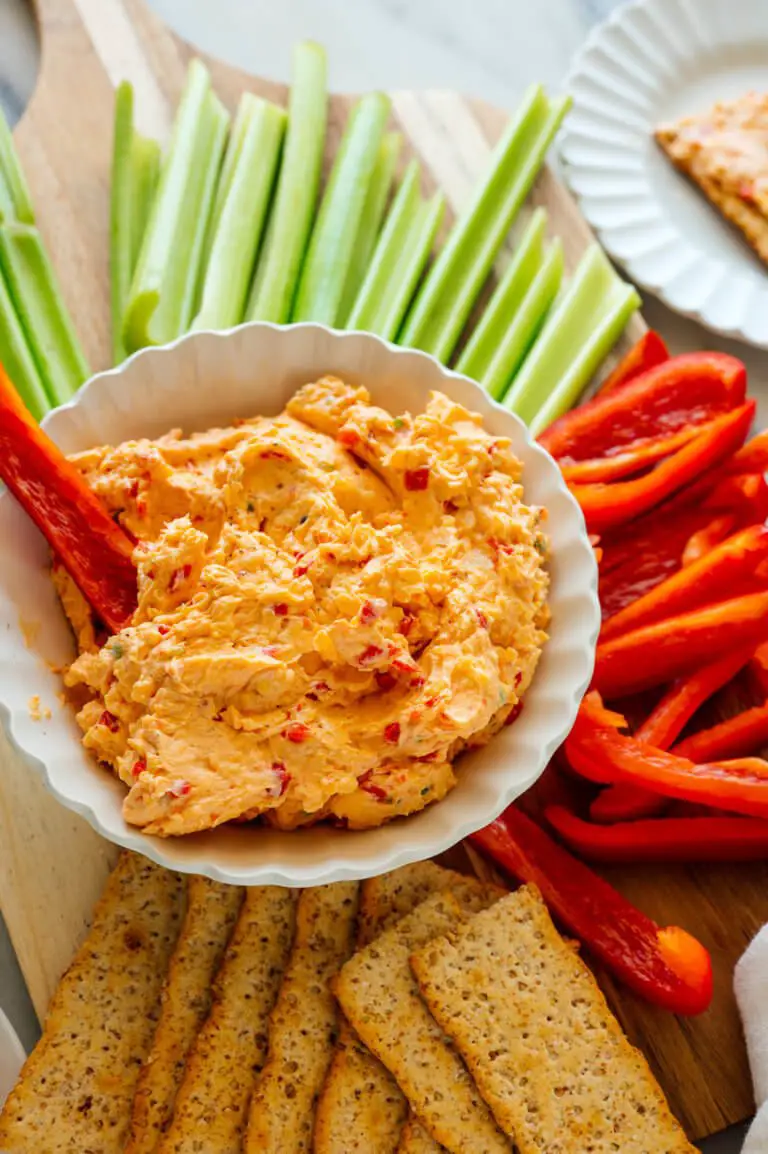 How to Serve Pimento Cheese
Creamy and tangy pimento cheese is always a hit at a party, but it's great to keep it yourself, too! 
Enjoying pimento cheese alone? Try a pimento cheese sandwich on sourdough, it's a savory delight! Better yet, try rolling some cold pimento cheese in store-bought croissant rolls.  Bake per their normal instructions, and get ready for the pimento explosion!
For a group, serve this tasty spread with crackers or bagel chips. Everyone is sure to love this cheese, but don't worry any leftovers can be kept! Another party favorite is the olive on olive mash-up of pimento-stuffed olives. They are a salty bite that will liven up any get-together.
It's no wonder why this cheese is the life of the party! Its rich and salty flavors make it the perfect pairing for a good martini. There is something so retro and fun about this spread!
What to do With Leftover Pimento Cheese
Couldn't eat all the yummy pimento cheese at the party?  Worry not, it can be saved! There are a few simple steps to follow to preserve your extra pimento cheese.
A quick note on food safety, please always keep your cheese cold.  When serving for a party, keep the cheese in a bowl over ice to ensure it stays cold. Food that is not temperature controlled risks growing dangerous bacteria, so always ensure you are not leaving foods like pimento cheese at room temperature for longer than necessary.
Any cheese that has not been kept at or below 41°F or 5°C for longer than two hours should be discarded.
Storing Pimento Cheese in Refrigerator
No matter if it is homemade pimento cheese or store-bought, it can be stored in the refrigerator.
A freshly made or freshly purchased cheese can be kept in an airtight container in the fridge for up to ten days. The cheese will become extra thick after refrigeration, so you can allow it to soften for a few minutes on the counter before serving.
Can Pimento Cheese be Frozen?
Absolutely! Pimento cheese can be frozen, but a few extra steps need to be taken to do so. These steps would apply to both store-bought and homemade pimento cheese, and it is always best to freeze the pimento cheese within a day of purchase or creation. Freezing foods when they're at their freshest ensures both qualities of taste and safety.
Prepare to freeze the cheese by laying out plastic wrap on the counter. It is best to use chilled cheese, so chill the cheese in the fridge for at least an hour before the next step.
Scoop the pimento cheese onto the prepared plastic wrap. This can be done in one large scoop or portioned out into smaller balls of cheese.  If you are planning to split the cheese into more than one portion, be sure to lay out the correct number of pieces of plastic wrap based on how many frozen portions of cheese you plan to make. Wrap the portioned cheese in the plastic.
Once the cheese is wrapped in plastic, place it inside a freezer-safe bag, and press all the excess air out.  Seal and label the bag with the date of purchase or preparation. 
Pimento cheese can be stored under these conditions in the freezer for up to three months. 
How to Defrost Frozen Pimento Cheese
To thaw your tasty cheese spread, place the freezer bag containing the cheese in the refrigerator overnight, and just like that, you will have creamy pimento cheese ready to serve.
The spreadable cheese out of the freezer tastes just like fresh, but if you're not happy with the texture of your previously frozen cheese, try putting it back into the food processor.  A quick blitz in the food processor can help soften the cheese, and bring back its velvety texture.
Wrapping Up
Pimento cheese is a spread you can enjoy at any time of the day, but proper preservation is highly recommended. These dairy products do provide lots of nutritional value, and it is also gluten-free which makes them a healthy spread option.
Either store-bought or homemade, as long as it is refrigerated, it should stay good for 3 weeks.
We are sorry that this post was not useful for you!
Let us improve this post!
Tell us how we can improve this post?