Stomach upset is one of the many sicknesses people do not like to battle with. There's the feeling of not being able to do anything by yourself and for yourself, and then there's not being able to eat any of your favorite meals because your stomach is upset.
We understand that this is a lot, however, while it may be impossible to eat your favorite soups and food, some soups help you when you have a stomach upset.
While it is not confirmed that any food can cure your stomach upset, these soups can boost your immune system, making it strong enough to fight off all infections. We have provided you with the 9 best soups for stomach upset.
List of Soups For Stomach Upset
Here are great soups for stomach upset and their recipes.
1. Ginger Bok Choy Soup With Noodles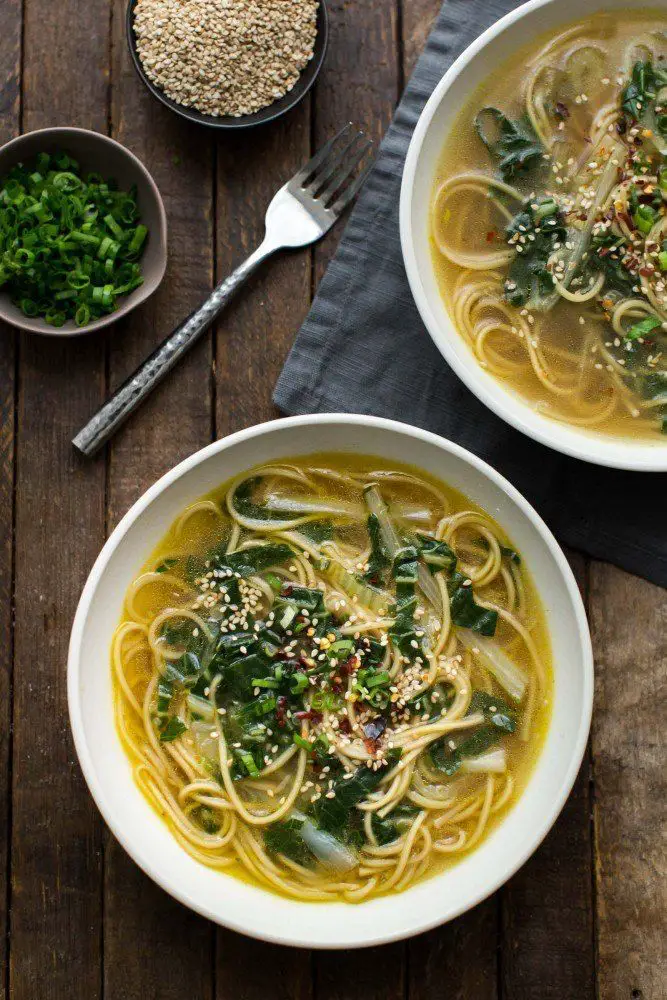 The ginger bok choy soup with noodles is one of the best soups for stomach upsets. Not only is it great for fighting the flu, but it is also nutritious, delicious, and comforting. If you love eating your greens, then this is a good recipe for you. the ginger bok choy soup is one of the easiest to make in such little time.
How to make it:
Place your stockpot over the heat, pour some olive oil, and allow it to heat, over medium-low heat. Then add some scallions, garlic, and ginger into the pot.
Stir it as often as possible for 2 to 3 minutes.
Add in some vegetable broth and water, and allow it to cook for about 5 minutes.
While your broth is getting cooked, cut off the head of bok choy, and the stems, and then slice the stems into tiny thin strips, roll up the leaves and cut it too.
Add the stems into the broth and let it cook until the stems are tender.
Then add the leaves and allow them to cook for some minutes.
Lastly, add in your ramen and allow it to cook for 5 minutes or less, this is how long it will take the ramen and bok choy to get tender, add salt to taste.
Put the soup in bowls and spice it up with chopped scallion greens, red pepper flakes, and sesame seeds.
2. Turmeric Broth Detox Soup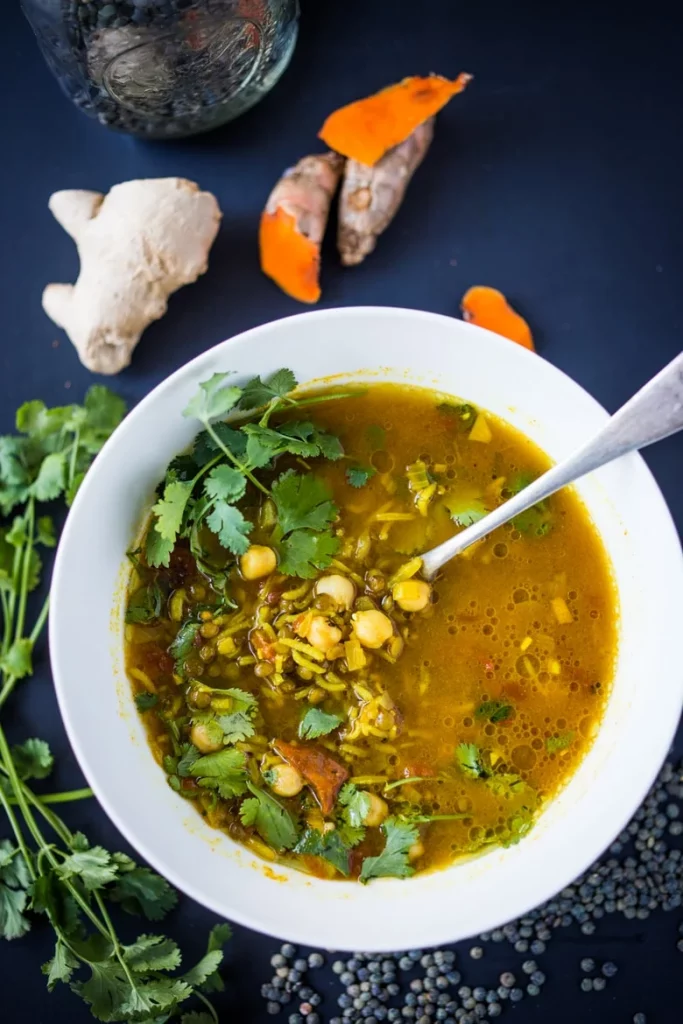 Your body will thank you right after taking the turmeric broth detox soup, this is because this soup is full of so many nutrients that help your body. The turmeric broth detox soup is full of antioxidants and anti-inflammation, which make it suitable to fight against every infection in your body and get your liver back up.
It is perfect for stomach upset soothing and the best part is that you do not have to break the bank to get it garnished in just 20 minutes.
How to make it:
Sauté some onion, ginger, garlic, and turmeric into a pot. You can either make use of fresh or ground turmeric, anyone is fine.
Then turn in the rest spices; veggies broth or chicken stock, water, salt, lemon, or lime.
Allow it to simmer for a few minutes and your turmeric broth detox is done! If you please, you can add other ingredients, such as chicken, turkey, meatballs, beans, or lentils.
For starch, you can add noodles, rice, or even potatoes, either works well.
3. Greek Lemon Chicken Soup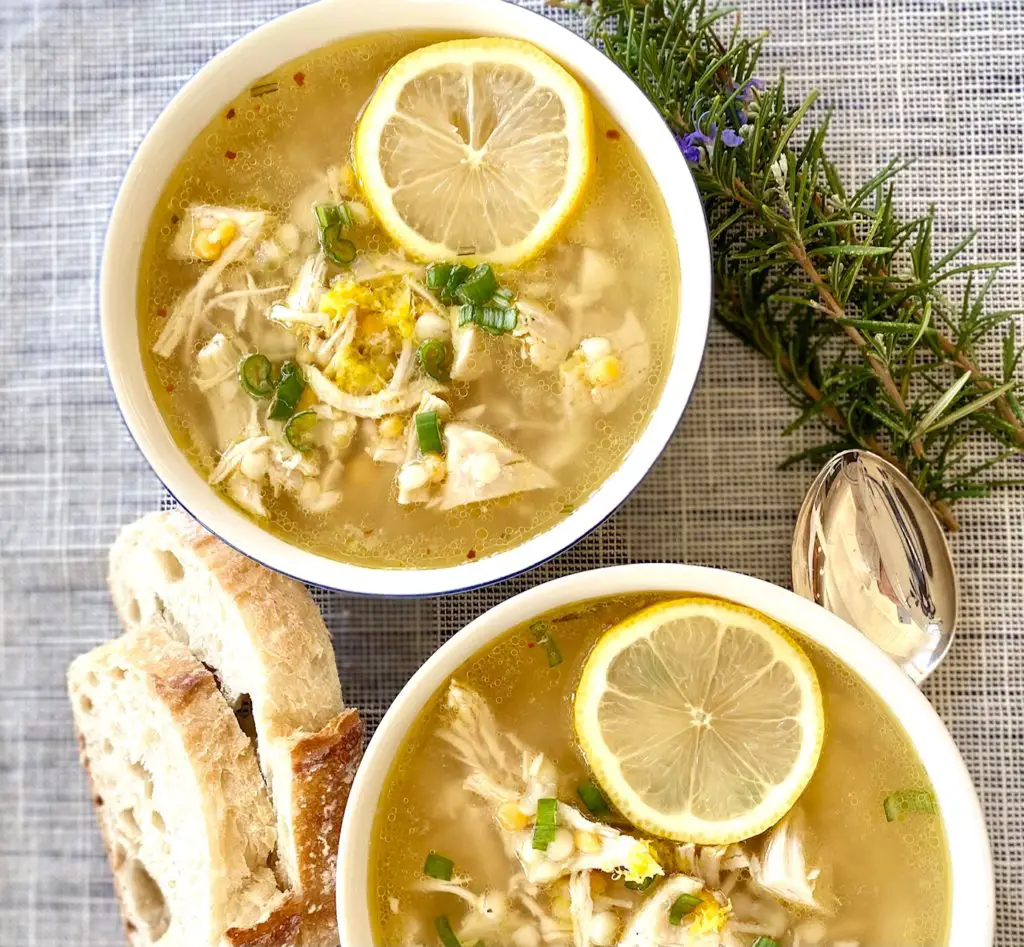 Also known as the avgolemono soup, this soup is full of the right flavors and the perfect soup that you need for stomach upset. It is a comforting soup and is full of nutrients, and don't get us started on the scent of lemon that makes it rich. Following the right steps and recipe, your Greek lemon chicken soup will be done in no time.
How to make it:
Add chicken broth, lemon juice, onions, celery, carrots, white pepper, and soup base. Boil this over high heat and then reduce the heat for it to simmer.
In another bowl, blend a mix of flour and margarine and add into the soup mix.
Allow it to sit in for 10 minutes and stir while it is in. mix egg yolks until it turns light yellow and add some of it into the soup, allow it to heat for some minutes, then add in your rice and chicken (ensure the rise is pre-cooked).
Cook all together until it looked okay. Put it off the heat, share into bowls and garnish with some slices of lemon.
4. Crock Pot Lentil Soup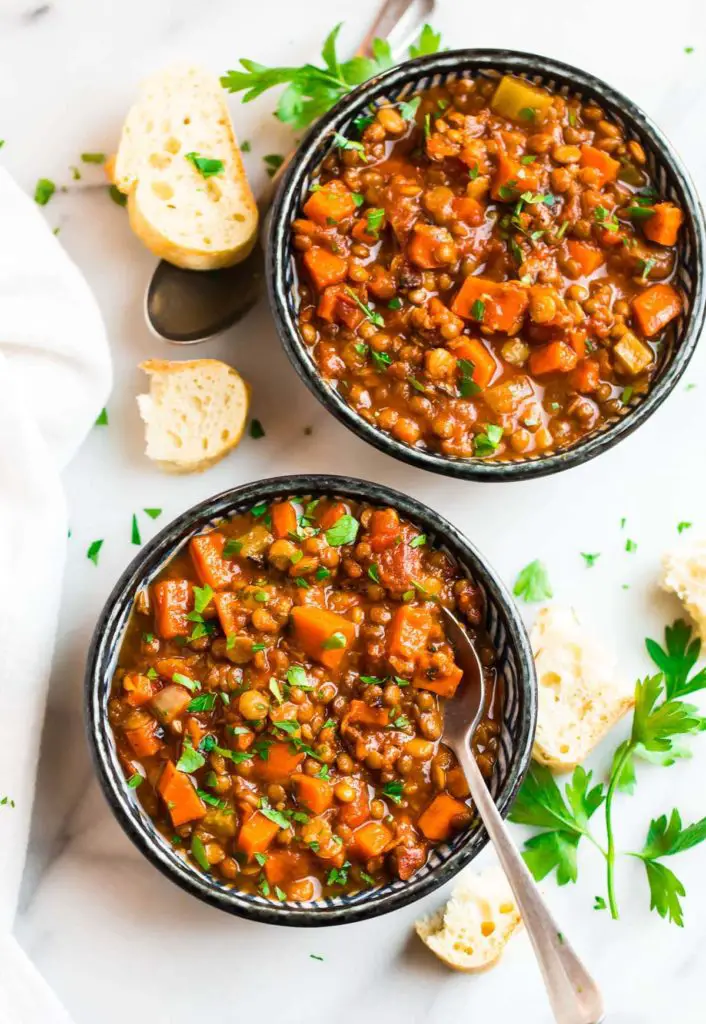 From the ingredient, it is quite obvious to deduce that crockpot lentil soup is healthy for you. even more, it is perfect for upset stomachs, we consider it our go-to soup for stomach upset. The soup is full of flavor and is filling. If you are vegan, you should know you aren't left out as you can make this
How to make it:
Turn in carrots, potatoes, squash, lentil onion, celery, and garlic into your crockpot and cook for about 6 hours.
While this is on, blend 4 cups of soups, parsley, olive oil, and kale, and pour the mix into the pot. Once done and cooled add sherry, lime soup, and vinegar to the soup, then serve.
Your lovely crockpot lentil soup is ready!
5. Yellow Pumpkin Soup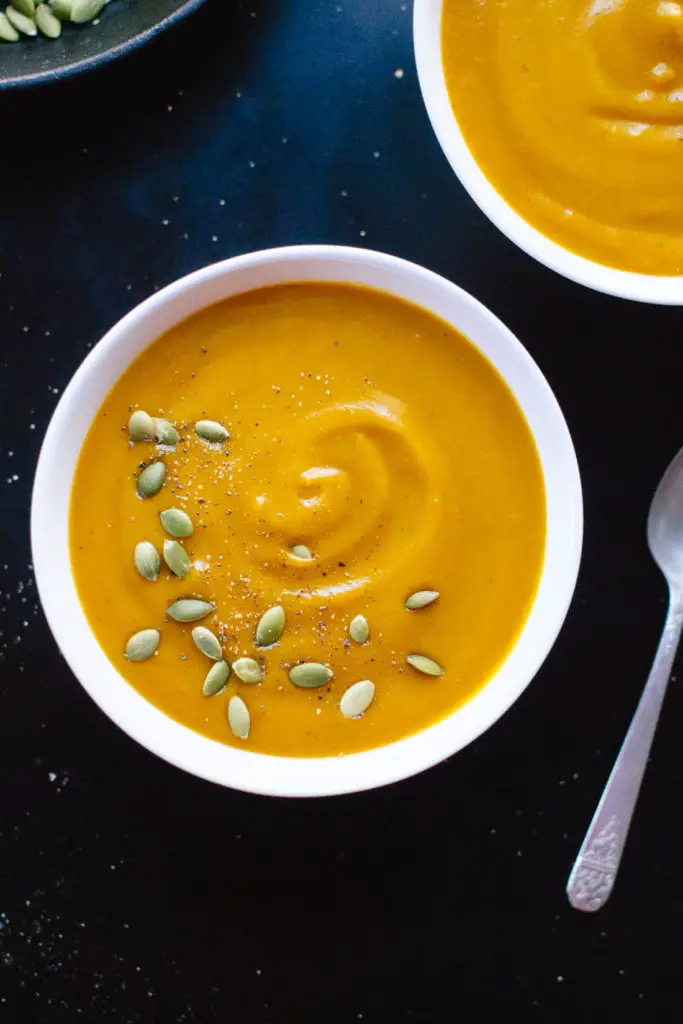 The yellow pumpkin soup is one of the best healthy soups you can take for stomach upset. The addition of herbs and spices makes the soup have a satisfying taste. It has low calories and is full of natural cream. The yellow pumpkin soup is full of vitamins A, C, and E.
How to make it:
In a pressure cooker, add some onion, green chiles, ginger, roasted cumin seeds, 2 cups of water, and half a pumpkin.
Cook for about 10 minutes and blend the combination in a mixer, turn back into the cooker and boil for a while and then serve.
6. Winter Vegetable Chicken Noodle Soup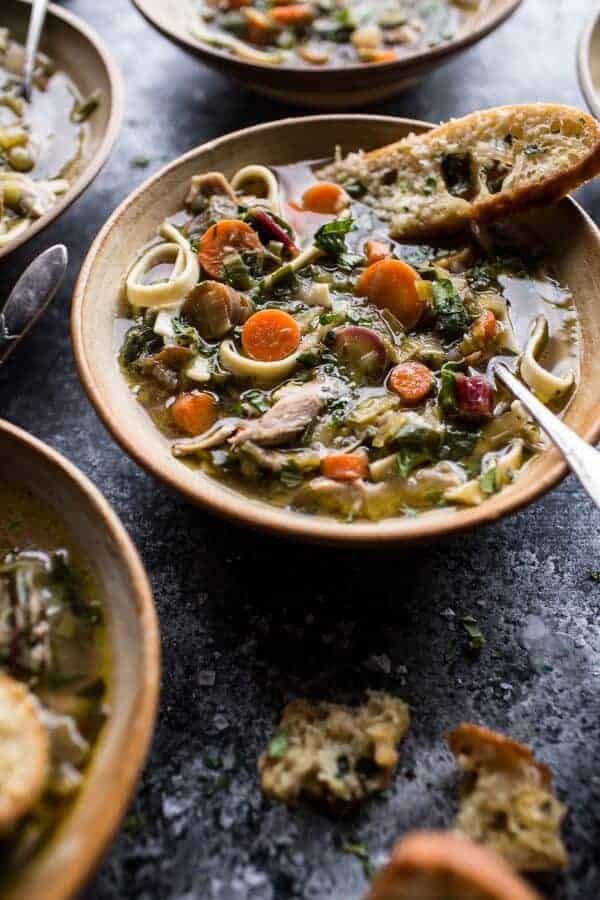 Regardless of how it is made, chicken soup is one of the best there is. Much more, the winter vegetable chicken noodle soup is an exquisite dish. Low-carb as it is, it is full of vegetables that are capable of helping you stay hydrated and fighting off flu, and stomach upsets.
How to make it:
Add a combination of celery, leek, turnip, carrots, and a quarter cup of chicken broth, into a saucepan.
Allow it to cook for about 10 minutes or until the vegetable is soft enough for you
Add in your noodles and chicken, then salt and pepper to taste
Reduce the heat to low heat and allow it to simmer for a while and your soup is done!
7. Pea Soup With Freekeh And Pesto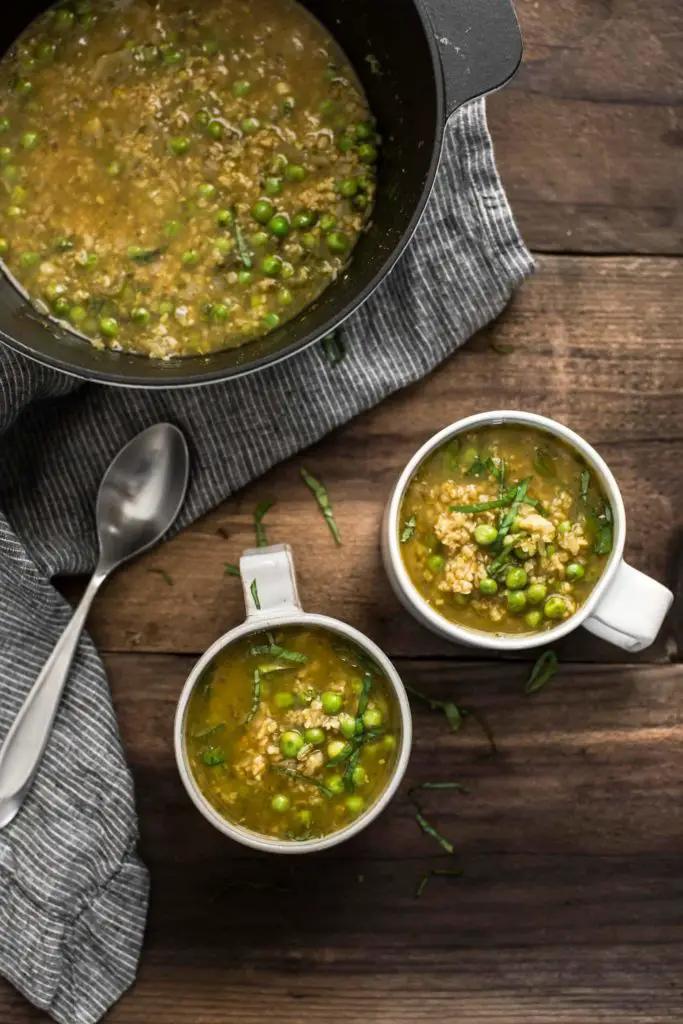 This pea soup is the ideal soup for you on days when you have a stomach upset. Not only is the pea soup with freekeh and pesto great for days when you're sick, but it is also delicious and very quick to make. The best thing about this soup is that you can make different variations depending on what you like and want.
How to make it:
Cook shallots and olive oil in a preheated pan and leave in for some minutes.
Add in the freekeh and pour some vegetable stock; cook for 15 minutes or more. next, you add some peas and allow it to simmer for about 5 minutes, and take it off the heat.
Once it is off the heat, add pesto, salt, and pepper, this will help your upset stomach. You may add other vegetables such as spinach, carrot, or kale if you do not have peas.
The addition of the different vegetables will help your immune system.
8. Coconut Curry Soup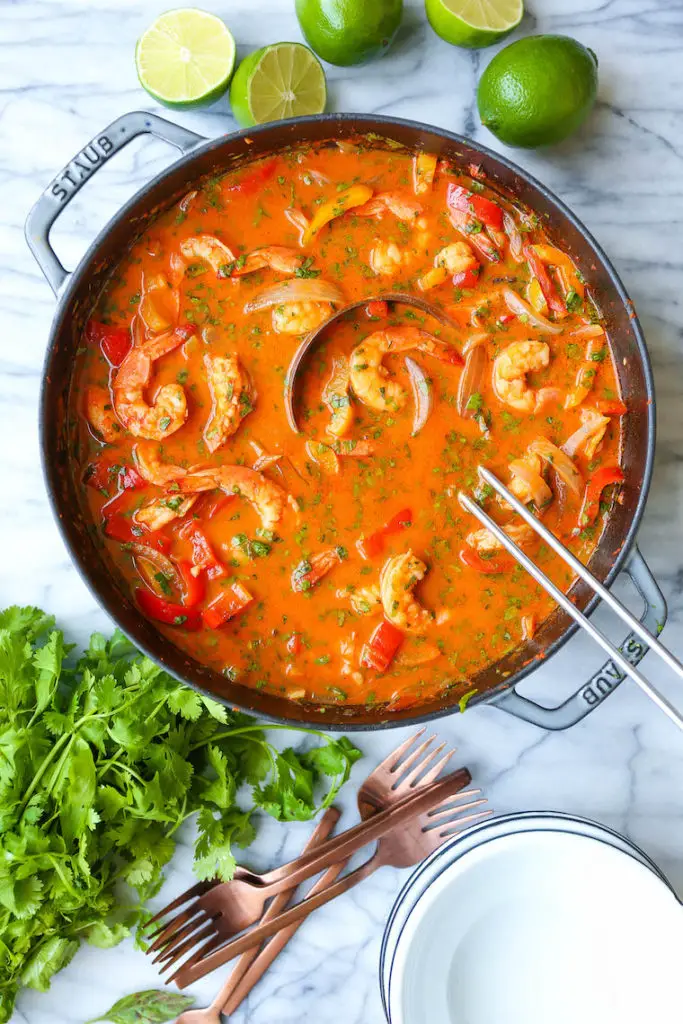 Not only is the coconut curry soup good for you any day, but it is also more perfect on days when you have a stomach upset. The combination of all the recipes helps in cleansing your body and ridding it of any toxins that may cause upsets.
The coconut curry soup is delicious and nutritious. You have the option of either adding some noodles or rice. However, if you want to keep it on a low-carb, then it is advised that you do not add noodles or rice.
How to make it:
Add some onion to the oil and cook until the onion is soft. Add in the red curry paste, ginger, and garlic.
Next, you pour some broth ingredients and stir them all together
Let it simmer and add bell pepper, shrimp, and chicken. allow it to simmer for a few seconds and remove it from heat
Garnish it with lime wedges and any herb of your choice
If you will be adding noodles, add them and let them cook until the noodles are soft, usually 10 minutes.
9. Southwestern Vegetable And Chicken Soup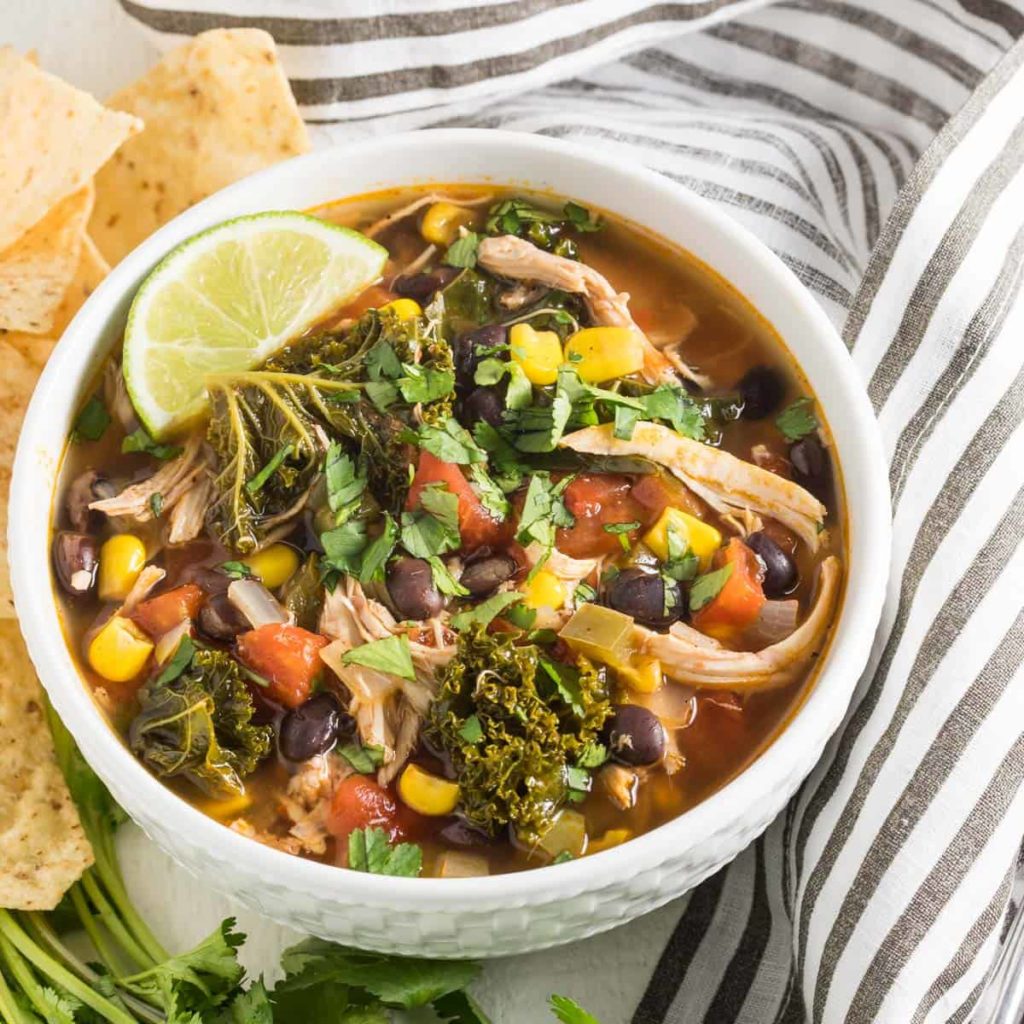 Chicken soup can be made in different varieties and still taste good, alongside its delicious taste, it is also medicinal and can help with your stomach upset. This chicken soup is full of vegetables that will boost your immune system.
How to make it:
Pour some olive oil into a Dutch oven or soup pot and heat up over medium heat
Add some onions and bell pepper and cook for 5 to 6 minutes or until the vegetables are soft
Add some garlic and let it simmer for a few seconds.
Add in chili powder, tomatoes with their juice, cumin, chicken broth, corn, salt, pepper, black beans, and chicken. allow it to cook until it boils.
Reduce the heat, and let it simmer for about 10 minutes
Add in the chopped kale, stir and let it cook until the kale is tender. You can add in some chopped cilantro or lime juice when you serve.
Frequently Asked Questions
What Should You Not Eat When You Have Diarrhea?
It is recommended that you do not take in any fried or greasy food, spicy food, pork, sardines, raw vegetables, or dairy products. You should also not eat processed foods, especially the ones with additives.
Is Soup Good For Bowel Problems?
Yes, soups with vegetables and grains are very high in soluble fiber, this is because they absorb water to form a gel in the stomach and this helps in relieving bowel problems.
Final Thoughts
Above are all the types of soups you need to get your stomach back in shape. Not only are the soups good for your stomach, but they are highly nutritious and beneficial to your body in many other ways.
The recipes have been provided above; you do not have to worry about them.
We are sorry that this post was not useful for you!
Let us improve this post!
Tell us how we can improve this post?