We all love a well-made brisket sandwich. However, not everyone is a professional at this and one of the top reasons is that you are working with the wrong type of bread and with so many types of bread out there, you want to make sure you have the best one.
Just as you have to pick the best binder for briskets so also is the need to choose the best bread for brisket sandwiches too.
What is the best type of bread for a brisket sandwich? Simply go with bun or roll bread. Lots of people also run with quality white bread, and they turn out perfectly. Your recipe is also going to determine the type of bread you go for and if you are looking for one that absorbs the moisture of your bread, go for ciabatta rolls.
Brisket bread sandwich is one delicious put-together recipe, and it works perfectly when you work with the right ingredients and guidance. With a bread brisket sandwich, you need to be sure of quite a lot of things.
What classic bread brisket sandwich are you trying first? You must have quite a lot of brisket recipes going on in your head and if you are making the bread sandwich then the best bread types are one of the first things you need to consider.
Read on to learn the best bread to work with and how to make the best brisket bread sandwiches.
Tips For Making Ultimate Bread Brisket Sandwiches
To create a bread brisket sandwich, you do need much, just brisket, BBQ sauce, and your bread. Note that there are lots of bread brisket sandwiches out there, and you just need to find one that you love which also means you need to do quite a lot of trials.
It's quite hard for you not to love a rich flavored brisket bread. With the right tips and consistent practice, you can be a pitmaster at smoking brisket and bread brisket sandwiches in no time.
All you need to create a perfect bread brisket sandwich is brisket, BBQ sauce rub, and bread, but for a rich delicious brisket bread sandwich, there are lots of toppings and condiments you can include. Below are the notable toppings and tips to guide you.
Toppings/Condiment:
BBQ dry rub
Leftover brisket
Any choice of sauce
Slaw
Pickled onions
Fried shallots
Cilantro
Bun, roll, or bread.
Top Tips To Guide You:
Chop up all the leftover briskets instead of slicing them. Read Sliced vs Chopped Briskets Guide.
Heat up the brisket
While your brisket is being warmed, toast the brioche buns or roll. Bread doesn't have to be toasted
Coat in the BBQ sauce
Top your sandwich with a creamy spread like mayo
Assemble the pickles and relish at the bottom of the sandwich then add the BBQ brisket and other toppings you have.
How you choose to add toppings and make your bread brisket turn out is entirely up to you and your recipe. So, the above are simple guides that can help you.
The Best Bread For Brisket Sandwich
Choosing bread for a brisket sandwich is not as complicated as it sounds.
There are two categories of bread you can use for a brisket sandwich, and it includes soft and crusty bread. You can use any of these for your brisket sandwich, but each has different types with its advantage and disadvantage. Here is a list of the best bread for making your brisket sandwich.
1. Ciabatta Bread
Ciabatta bread is the best option if you are just pulling your smoked brisket out.
These are also the ideal favorite for quite a lot of people and this is because it is dense enough to hold their shape and infuse moisture into your brisket as well. It can soak enough juices from your brisket but not heavy enough to fall apart.
This is a good recommendation for any kind of sandwich. It is the most common type of bread you can get for your brisket and if you are looking to entertain lots of guests, this is the best bread to consider.
Check the recipe for the ciabatta bread brisket sandwich here.
2. Sourdough Bread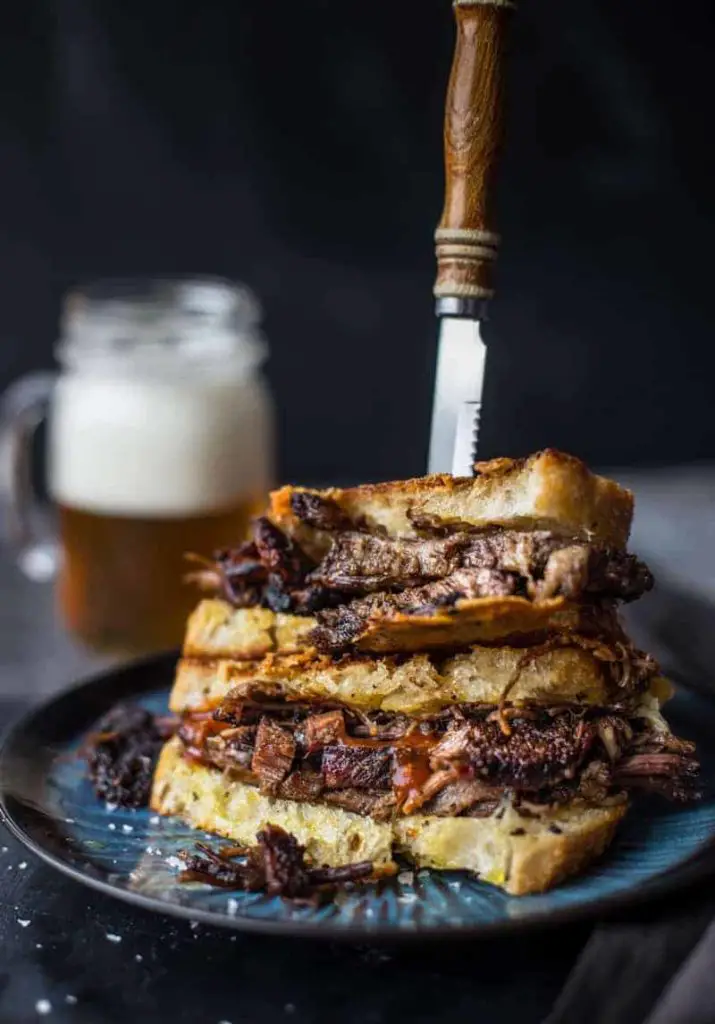 Sourdough is another best type of bread you should pair with your brisket sandwich. This type of bread holds up well without falling apart while soaking up tones of juice from your brisket and toppings.
Homemade sourdough bread is also very easy to make and a lot healthier than some types of bread.
3. Brioche Bun
The brioche bun is the fluffiest bread option for a brisket sandwich. If you are looking to create a classic brisket sandwich, the brioche bun is your perfect go-to. The brioche bread keeps your choice of brisket sandwich simple, and it's another bread that helps keep the balance of things without falling out.
Check the crockpot brisket sandwich recipe here.
4. White Bread
Not many people consider white bread as a great option for brisket sandwiches however since it's usually the most available type of bread, it can work just as well.
Soft white bread is also one of the best for brisket as it can help enhance the flavor without overpowering the taste or ruining the tender texture.
While white bread is great due to its softness, you should avoid loading with too much dressing or condiment as too much liquid can cause it to fall apart. White bread is best for leftover briskets.
5. Pretzel Bun
The lighter the bread, the better it will be for your brisket sandwich. You can have your brisket sandwich at any time of the day if you are choosing the pretzel bun bread, it lets you create simple and luxurious brisket sandwiches.
Pretzel buns have a slightly sweet interior with a salty crispy crust that can further enhance the flavor of your sandwich. Do not go overboard with the toppings though and also go with chopped brisket rather than the sliced.
6. Wholegrain Bread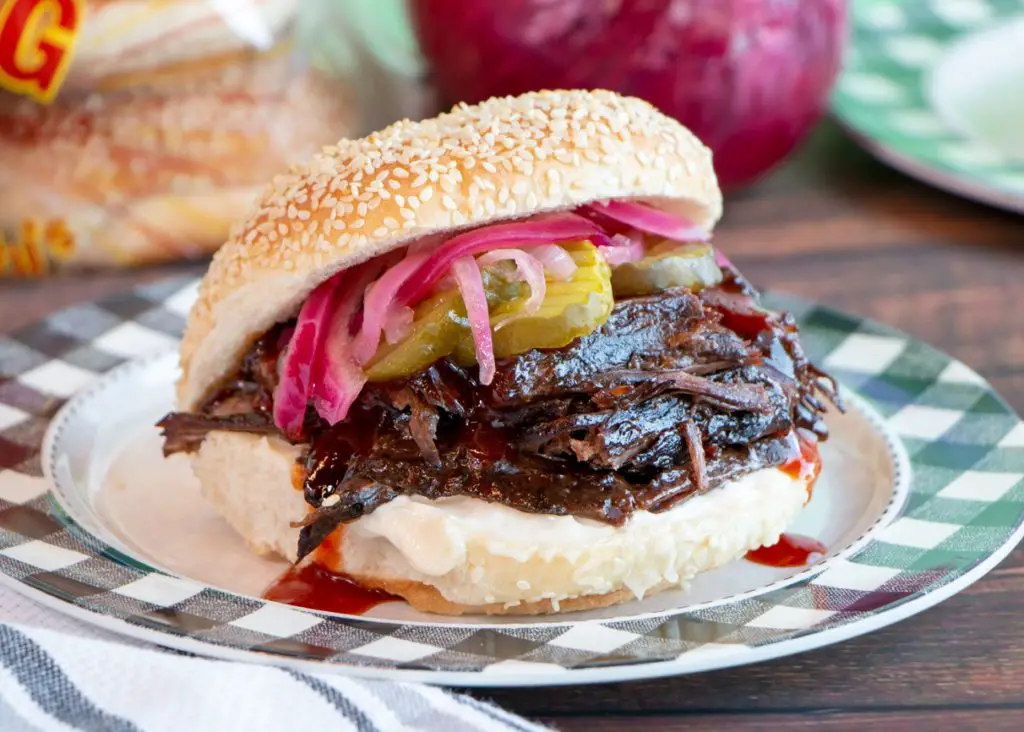 Wholegrain is the best type of bread if you are looking for nutritious bread. It can add some taste to your brisket sandwich as well. This is another common bread you can easily get your hands on. It can take your brisket sandwich to a whole new level and won't fall apart from condiments and toppings.
7. Texas Toast Bread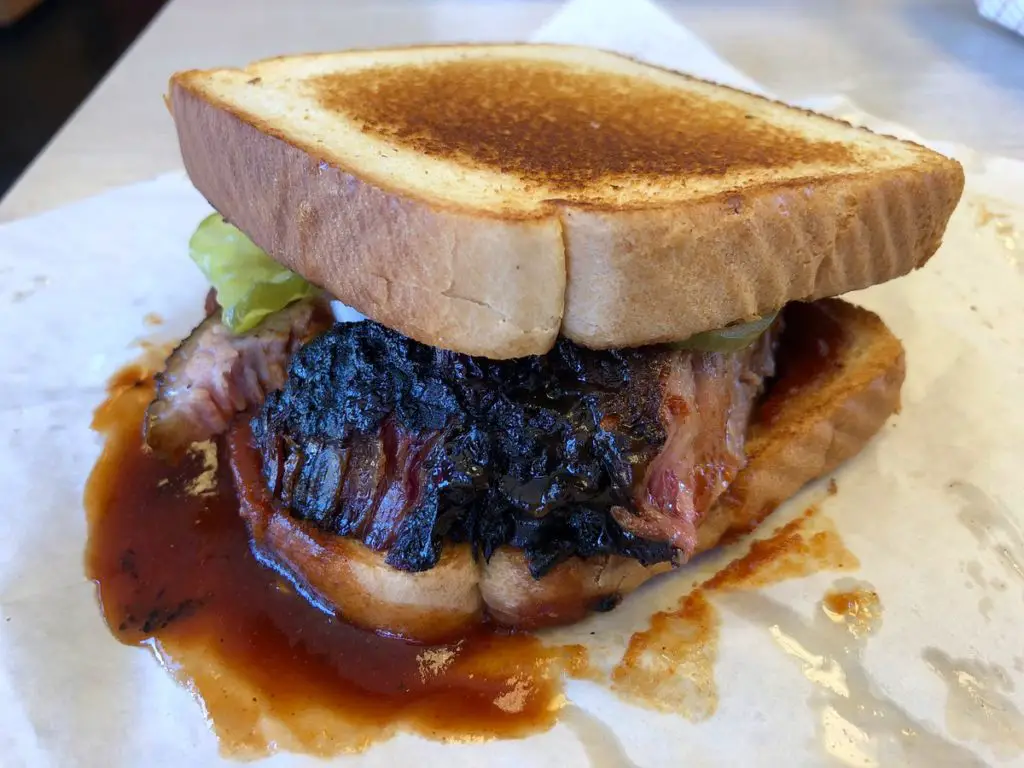 If you are looking for something more exciting and with deep rich taste, go with Texas toast bread. This is a staple at some barbecue joint. This type of bread works with sliced brisket and cheese as well.
Check out the Texas toast bread brisket sandwich.
Frequently Asked Questions
What goes well with brisket sandwiches?
If you are looking to serve guests or just looking to enjoy a luxurious brisket, you do need a list of foods that go well with it. Smoked asparagus, smoked Brussels sprouts, roasted carrots, baked beans, oven-roasted potatoes, or boiled corn on the cob.
How do you reheat brisket for sandwiches?
To reheat your brisket for sandwiches, double wrap in a foil to keep it moist and put in the oven after preheating it at 325 degrees F. Heat at room temp for 20 to 30 minutes and let it rest for 20 minutes.
Are brisket sandwiches healthy?
Brisket sandwich contains a high level of oleic acid, which produces two HDLs and LDLs. HDLs, lower the risk of heart diseases, and LDLs lower the risk of bad cholesterol in the body. Generally, a brisket sandwich is good for your heart and keeps the body fresh as well.
Does brisket sandwich make you gain weight?
Brisket meat includes lean fat meat hence it can help lose weight instead. However, brisket sandwich due to the bread contains 515 calories which can make you gain weight if it is consumed in excess. Brisket sandwiches should be eaten in moderation.
Is brisket an expensive cut of beef?
How expensive brisket is depended on the part of the beef you are buying. The untrimmed beef brisket happens to be the cheapest cuts you can buy. However, on average brisket isn't exactly expensive but a cut that wastes part of the beef is priced higher.
Wrapping Up
It's quite hard not to love a sandwich brisket, however, how you decide to make it and the recipe you choose has a lot to do with how it turns out.
If you do have a smoker, don't hesitate to go with the slow cooking method in making your brisket, this does enhance the taste of your bread sandwich even more. Furthermore, a brisket sandwich sure will satisfy your guests more than fried snacks.
We are sorry that this post was not useful for you!
Let us improve this post!
Tell us how we can improve this post?