Sweet potato casserole is just that recipe you need either on weekend nights with family or at holiday gatherings with friends. Sweet potato casserole has an incredible creamy filling that stands out as a family get-together dish, it is also one of the iconic dishes that has a generational recipe.
Sweet potato casserole is always the perfect dish to make on thanksgiving and it sure has lots of benefits to offer as well.
You don't need a special occasion to enjoy a bowl of sweet potato casserole and we have to agree potatoes make the perfect comfort food. Potatoes are widely versatile and paired with nice ingredients, you can create something cheesy, creamy, and delicious.
How do you create a classic holiday sweet potato casserole? If you are planning to create a dish that has your guests or family coming back for more, then you do need a list of top-rated sweet potato casserole recipes to choose from.
55 Sweet Potato Casserole Recipes
You will be amazed to know that there are many magnificent ways you can enjoy sweet potato casserole. So, look no further for the perfect sweet potato casserole as we have rounded up 55 sweet potato recipe that is perfect for thanksgiving and a side dish on any occasion.
1. Southern Sweet Potato Casserole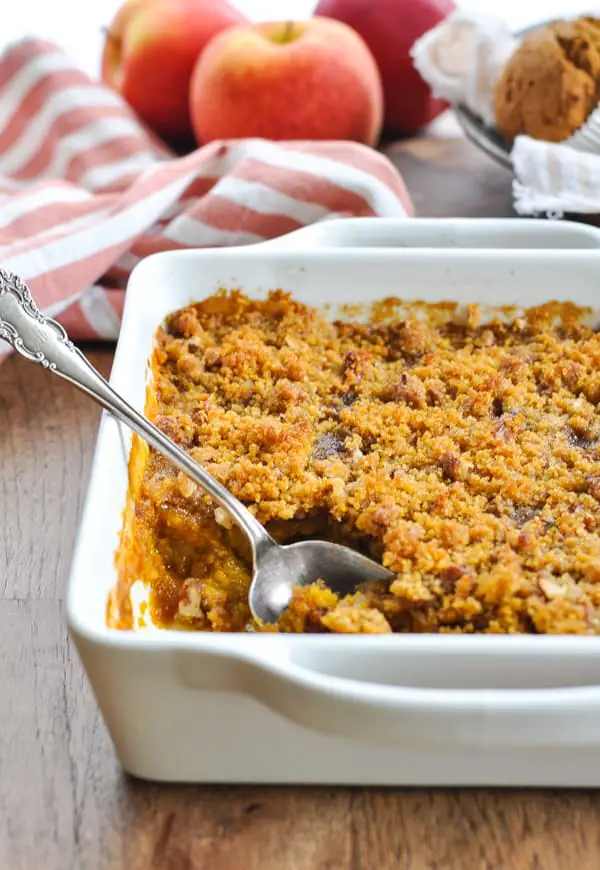 Southern sweet potato casserole is easy to assemble and make for thanksgiving although it also has to be made the night before, it can serve as a main course, dessert, or side dish. This particular recipe is regarded as a crowd favorite hence you can't go wrong with it. This is a savory dish even kids can enjoy.
2. Sweet Potato Casserole with Pumpkin Seed-Oat Crumble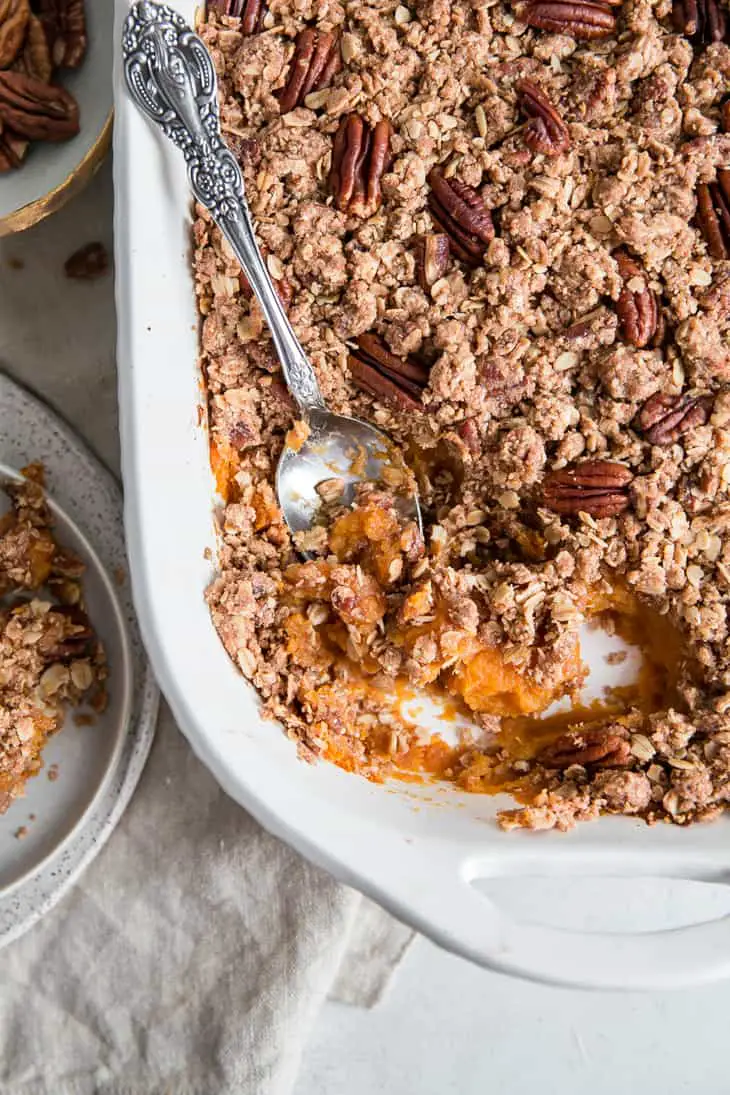 There are quite a lot of healthy ingredients in this recipe and it also uses ingredients that add a subtle sweetness and less sugar.
3. Cheesy Scalloped Potatoes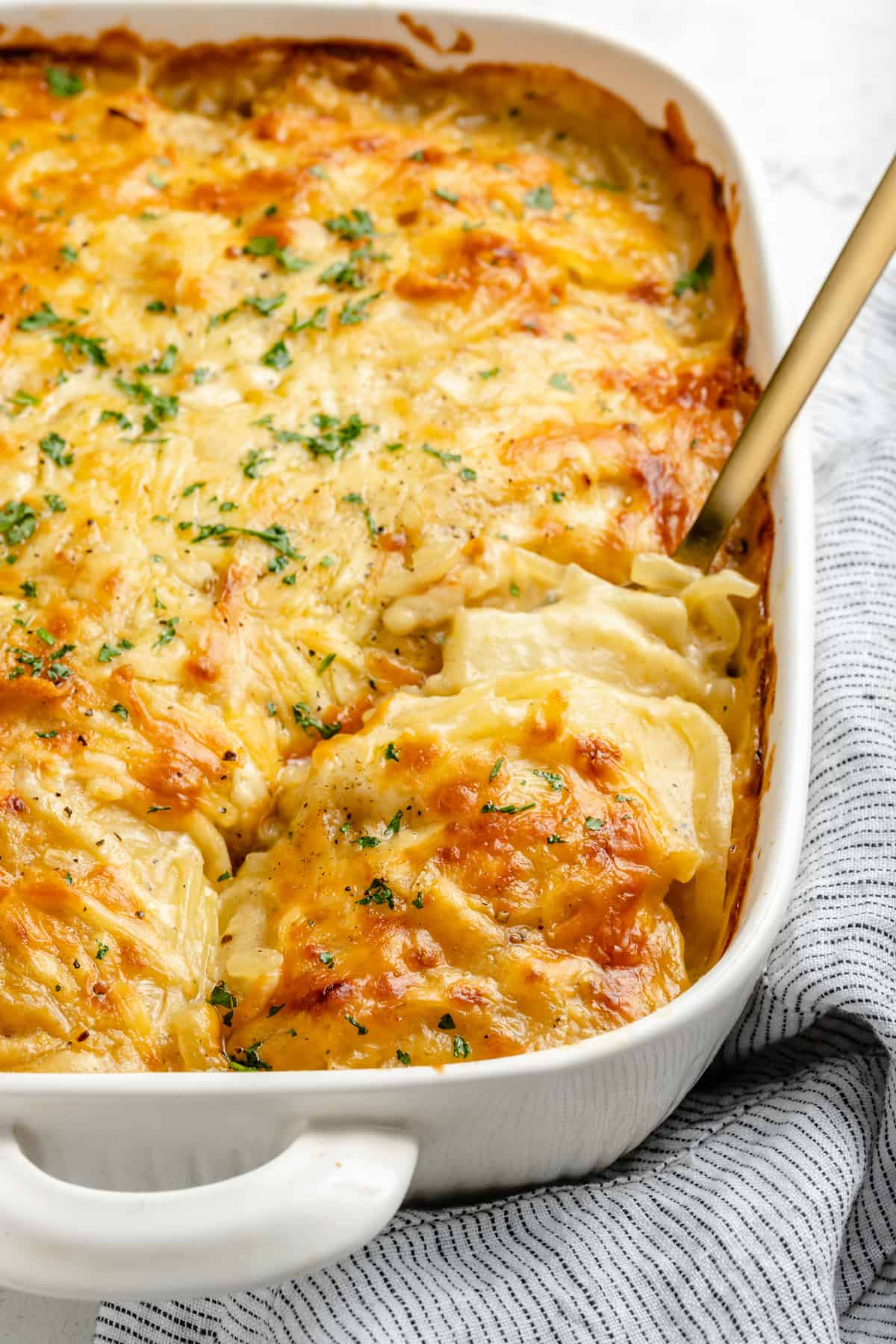 Cheesy Scalloped potatoes ensure you have the perfect casserole for thanksgiving dinner. Many can't get enough of this delightful dish and you get cheese covering every part of your scalloped potato.
4. Sweet Potatoes Gratin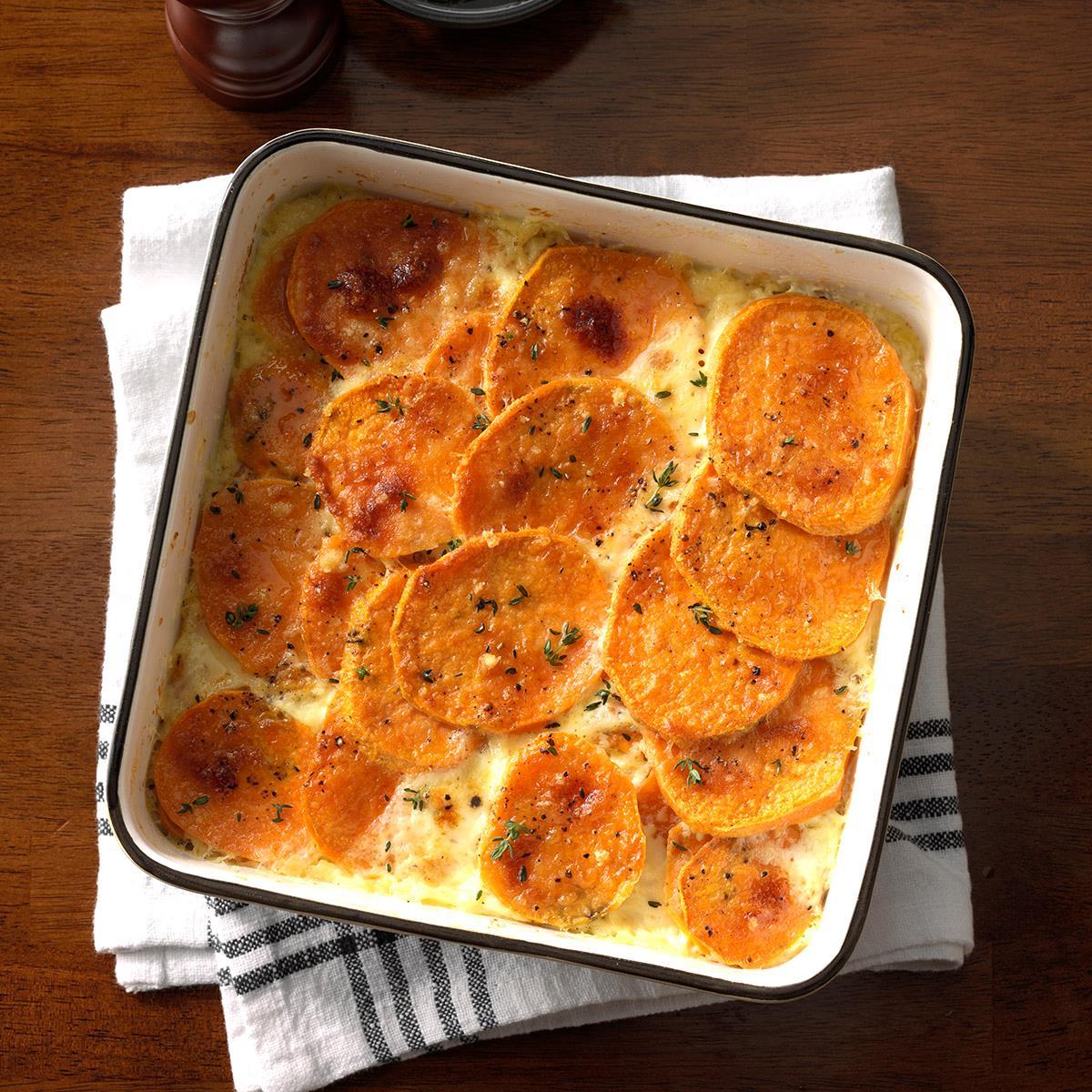 Here is another delightful sweet potato casserole that is filled with nutrients and does have the savory unforgettable flavor as well.
5. Traditional Sweet Potato Casserole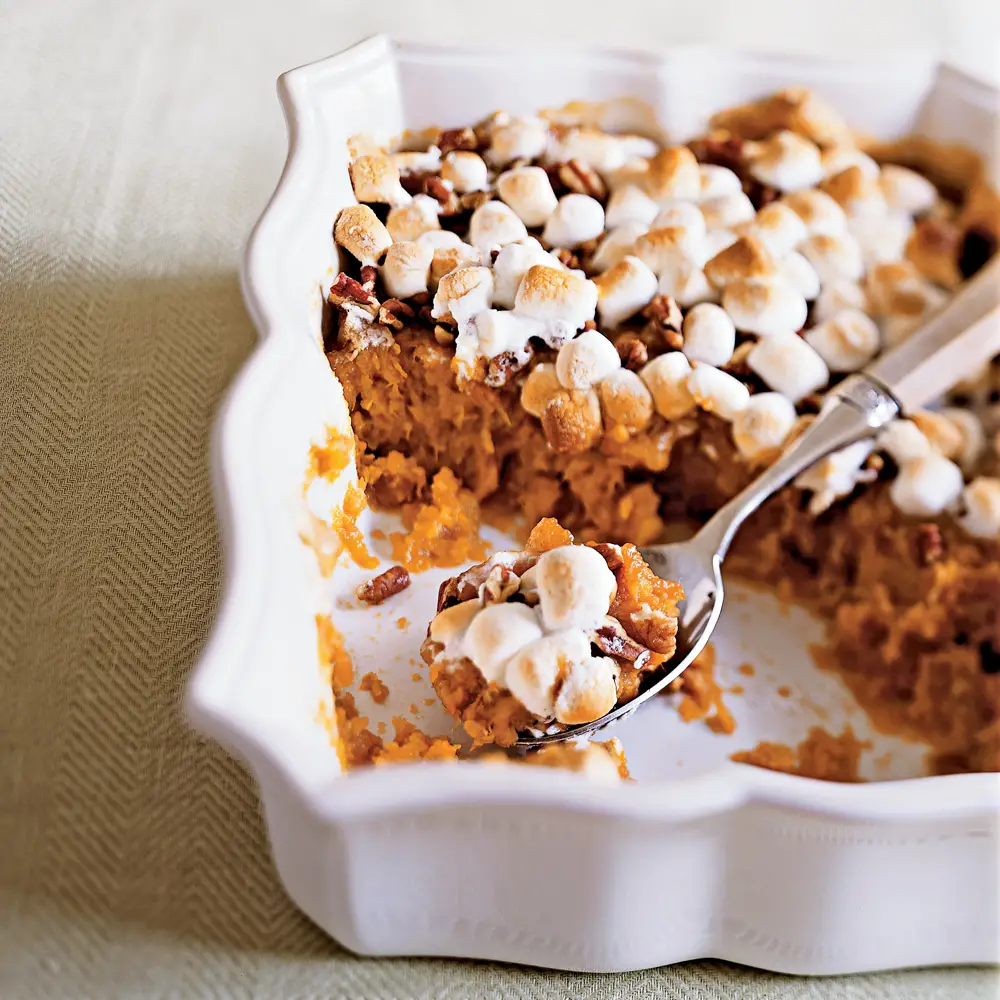 This is the light version of the sweet potato casserole and you can enjoy it topped with marshmallows and toasted pecans.
6. Hash Brown Potato Casserole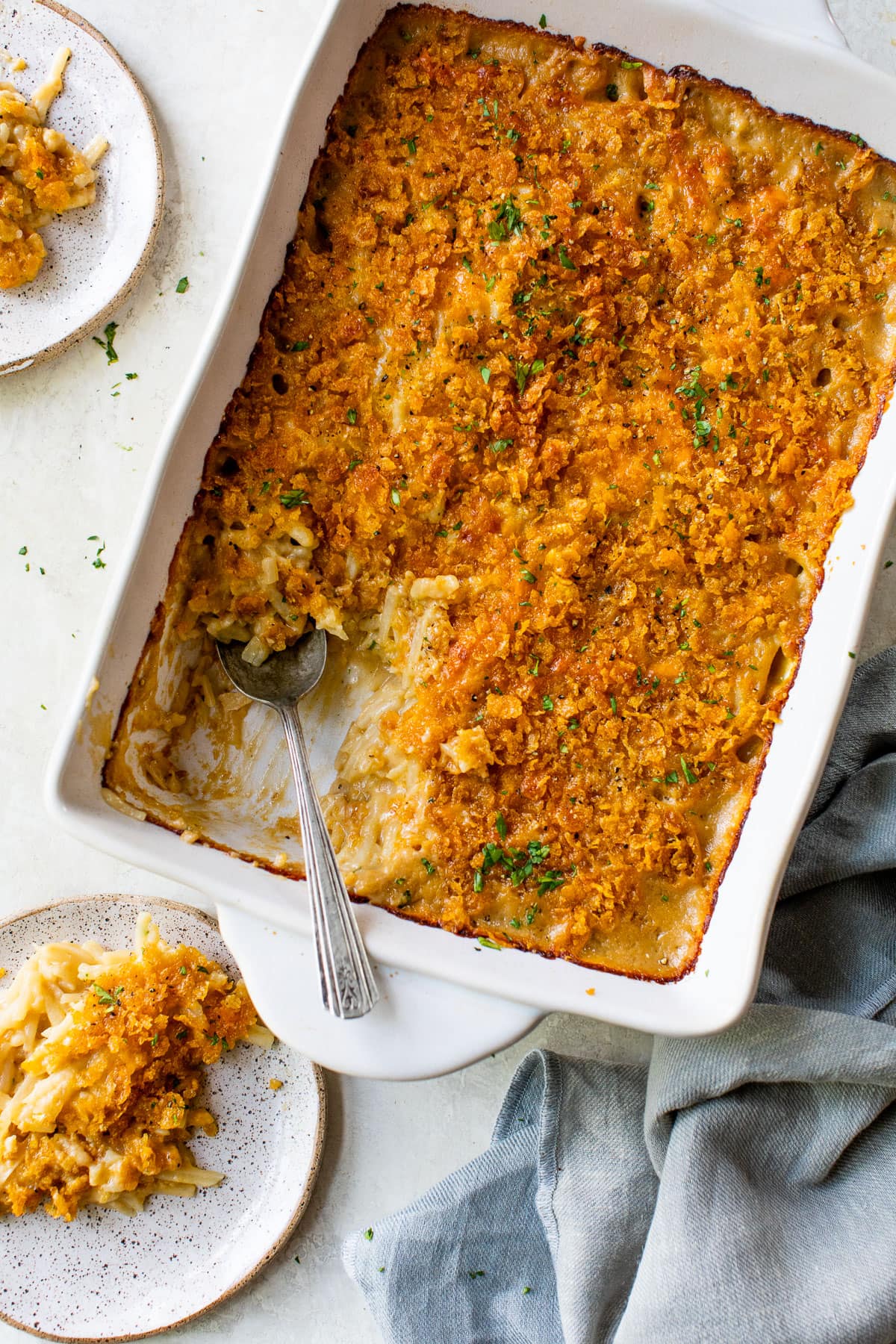 Hash brown potato casserole has a creamy delicious taste you can't help but love. It should have your friends and family coming over for thanksgiving every year.
7. Bourbon Sweet Potato Casserole With Bacon And Pecans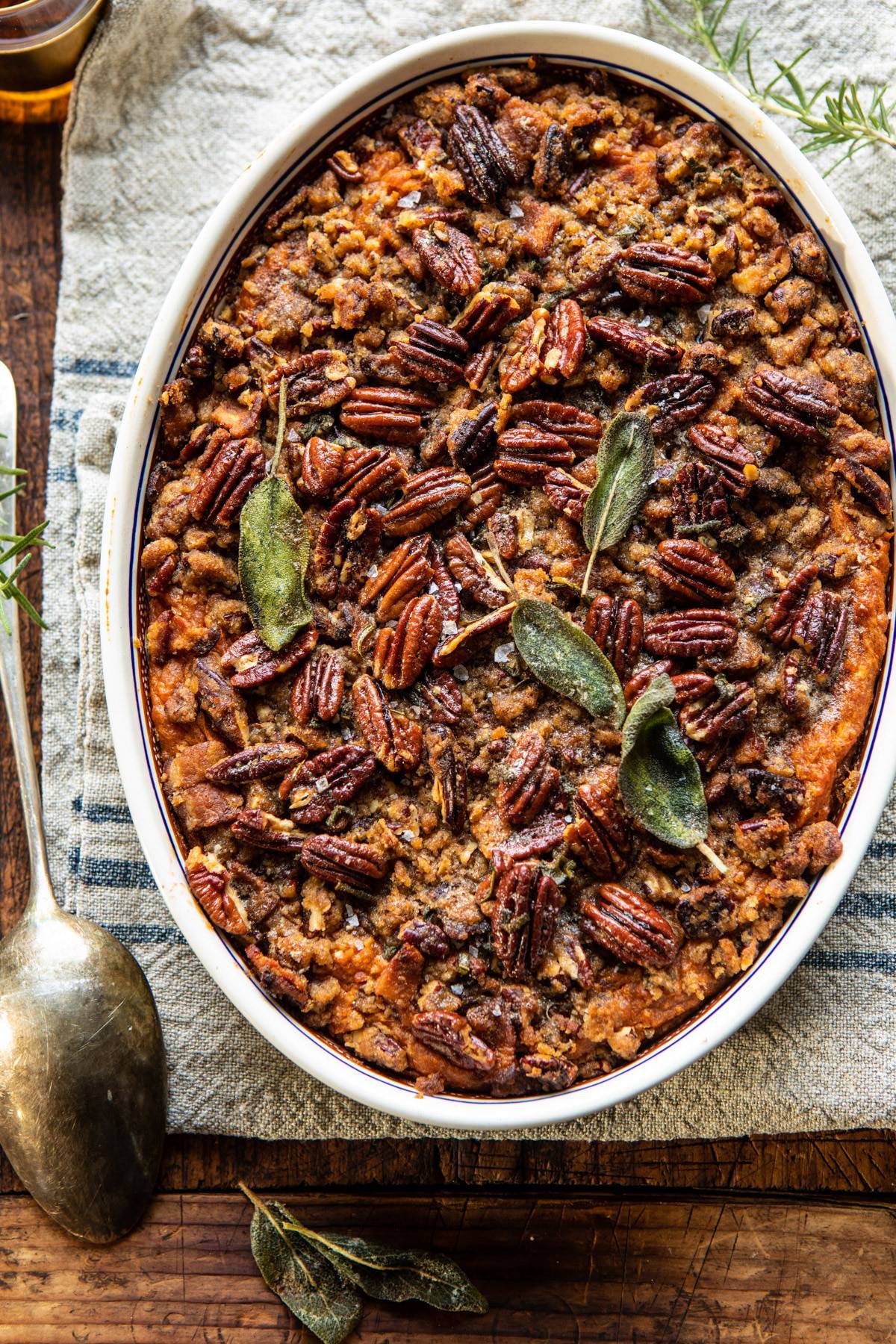 This is another sweet potato casserole recipe that should have your friends and families excited for weeks. It is layered with hearty potatoes to give your taste bud a sweet and savory taste.
8. Sweet Potato Casserole With Potato Chip Topping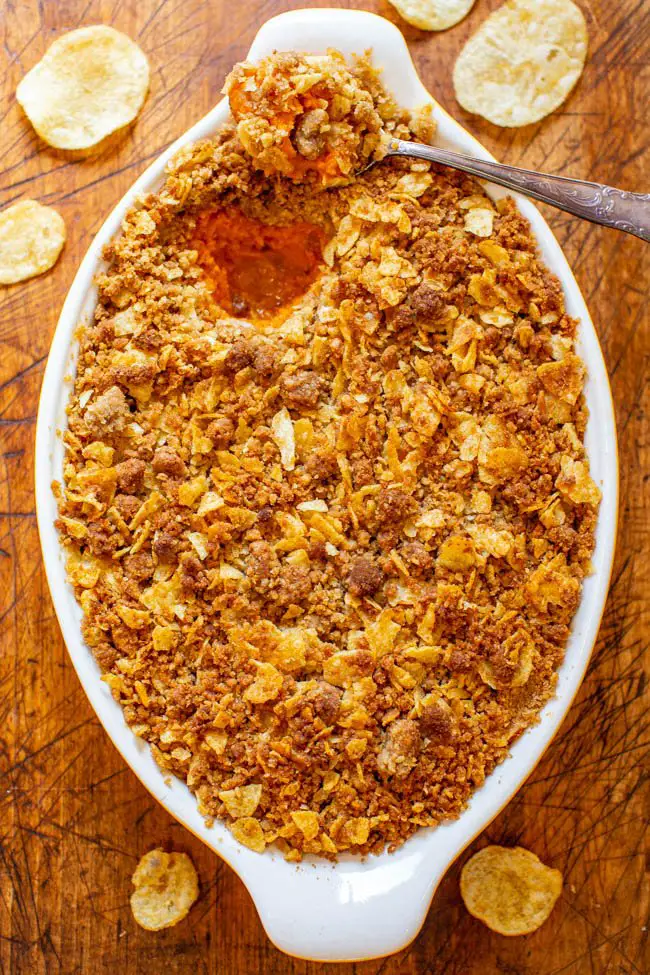 Want something more fun and classic? Consider going with this awesome sweet potato casserole recipe, potato chips have been used to give it a salty-sweet flavor you can enjoy with family.
9. Spiced Sweet Potato Casserole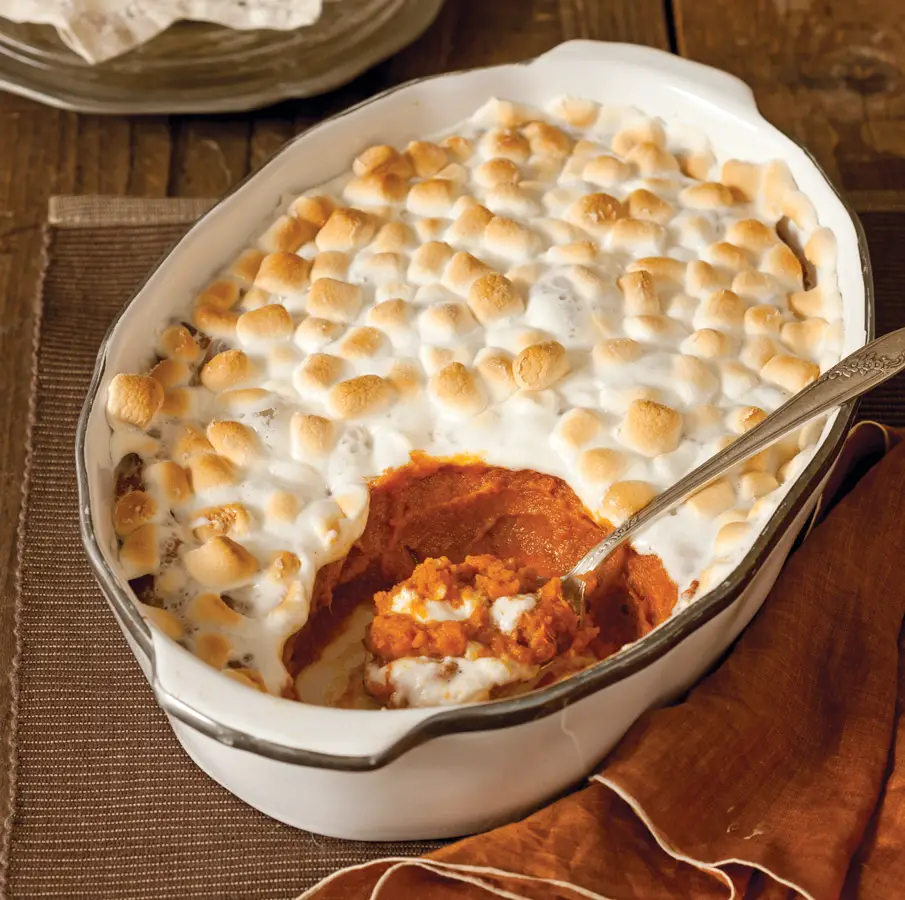 Go for a spicy casserole if you are up for it. This can be prepared a day before, stored and covered, and can be refrigerated for up to a day.
10. Lighthouse Inn Potatoes Casserole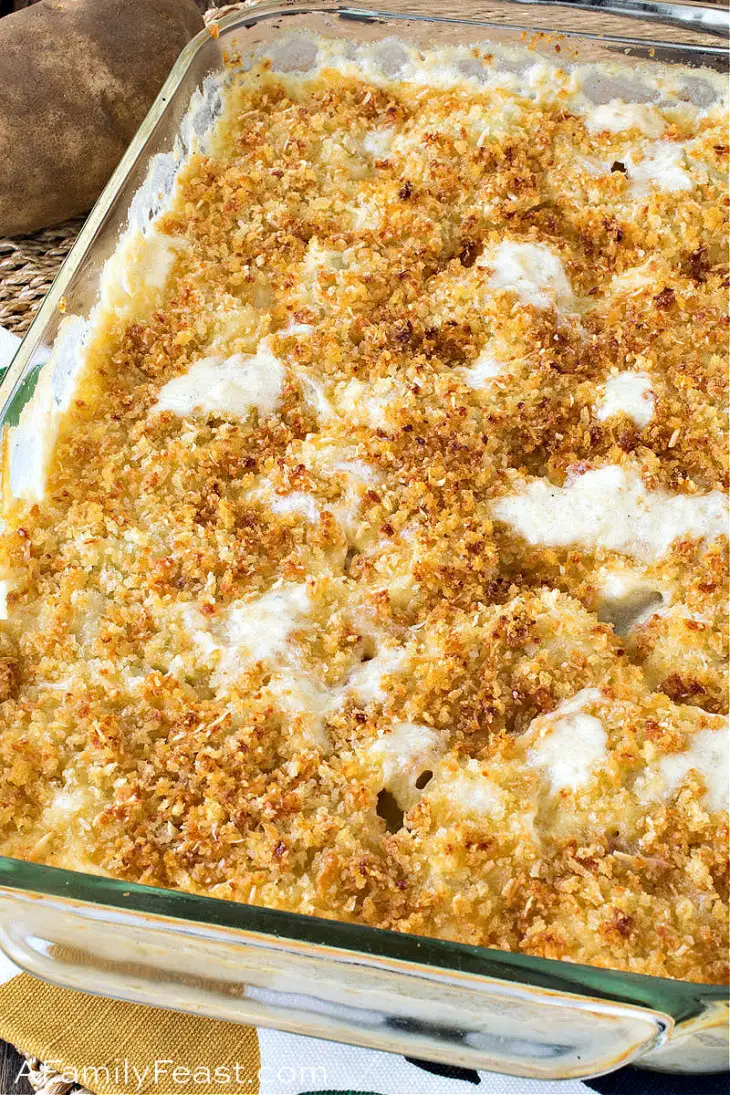 Lighthouse inn potatoes casserole recipe is a popular choice of a side dish for thanksgiving, it has tender slices of potatoes in a creamy sauce sprinkled with a crunchy cheesy topping.
11. Wild Mushroom And Sweet Potato Gratin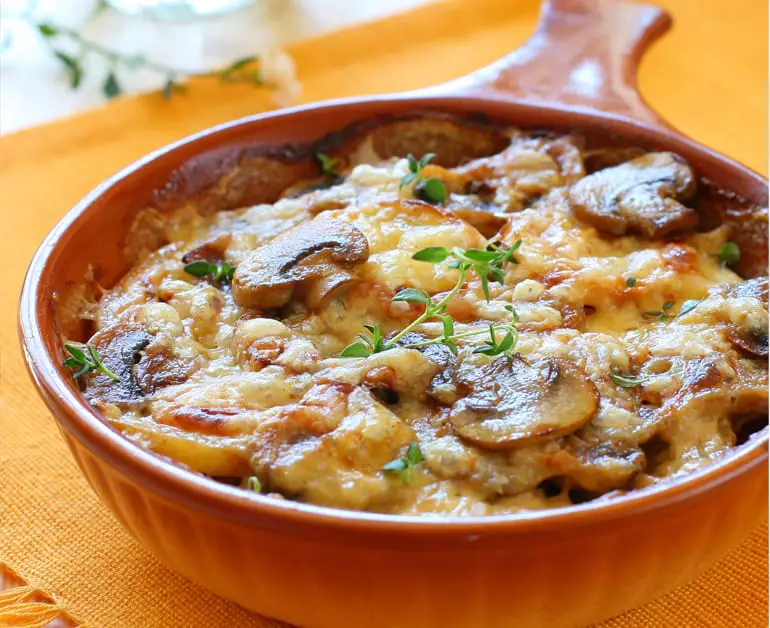 Need something nutty and delicate to pair with the sweet taste of sweet potato then go with Chanterelle mushrooms and fontina cheese.
12. Sweet Potato Apple Gratin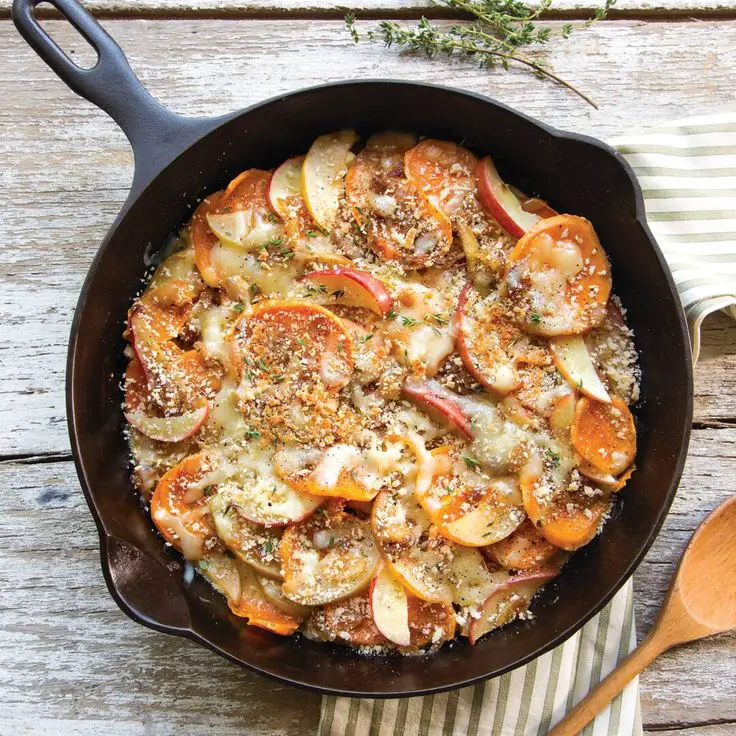 Sweet potatoes have been paired with tangy apples in this delicious casserole recipe.
13. Cheesy Mashed Potato Casserole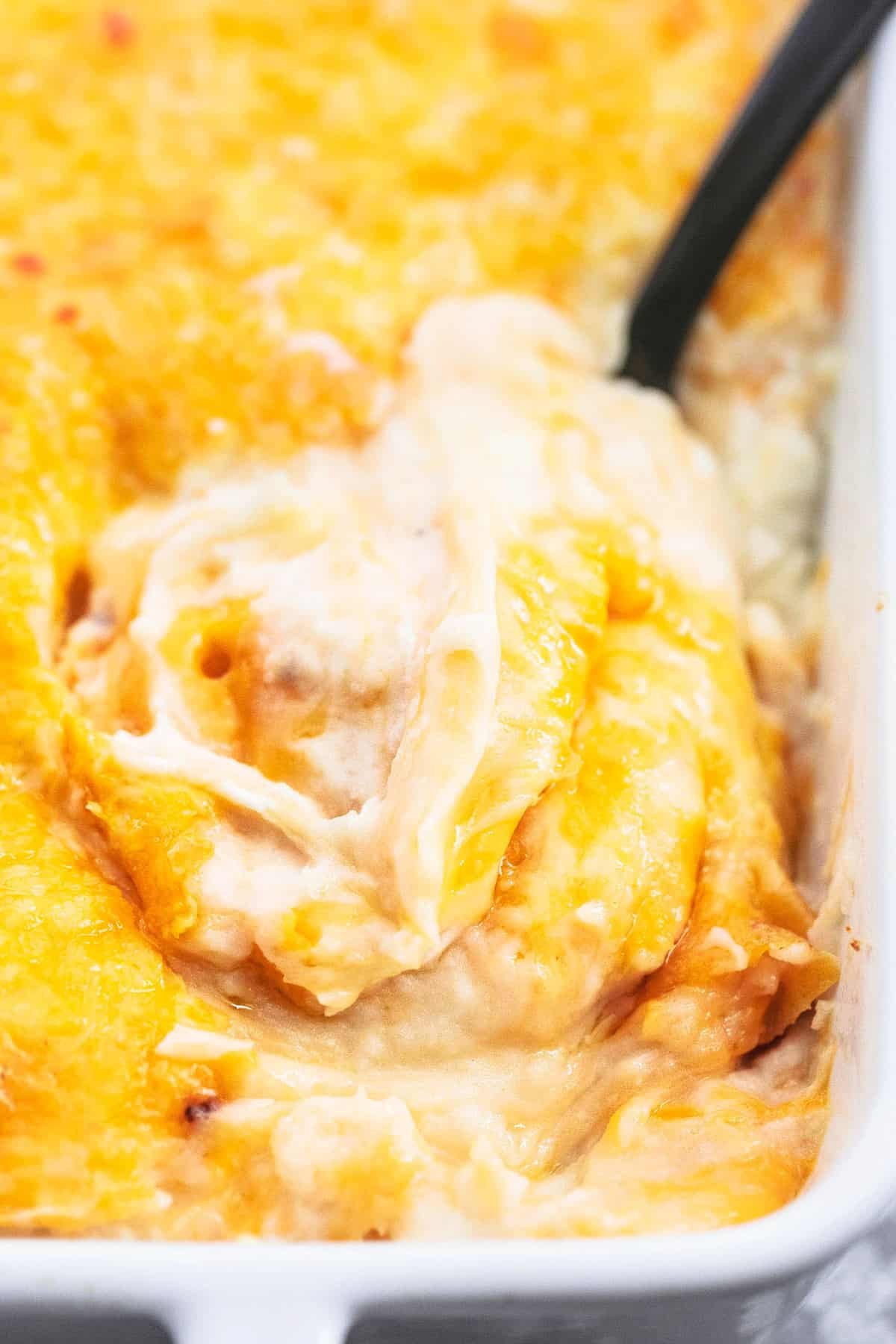 The cheesy mashed potato casserole is pure delightful comfort food you can enjoy with friends and family on any occasion.
14. Twice Baked Sweet Potato Casserole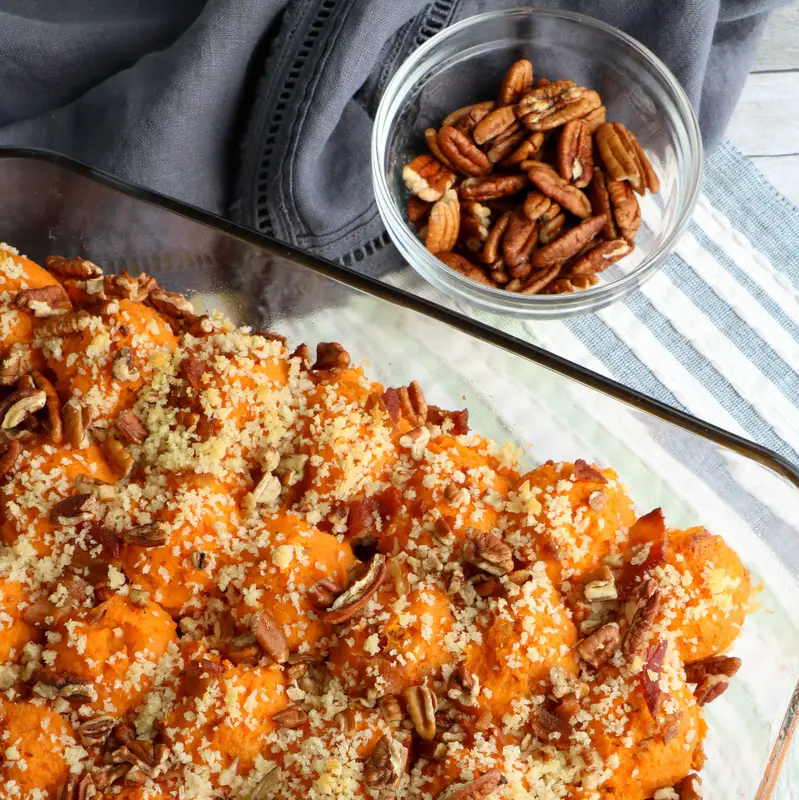 Twice baked sweet potato casserole recipe is similar to the traditional potato casserole and It's just as delicious.
15. Loaded Mashed Potato Casserole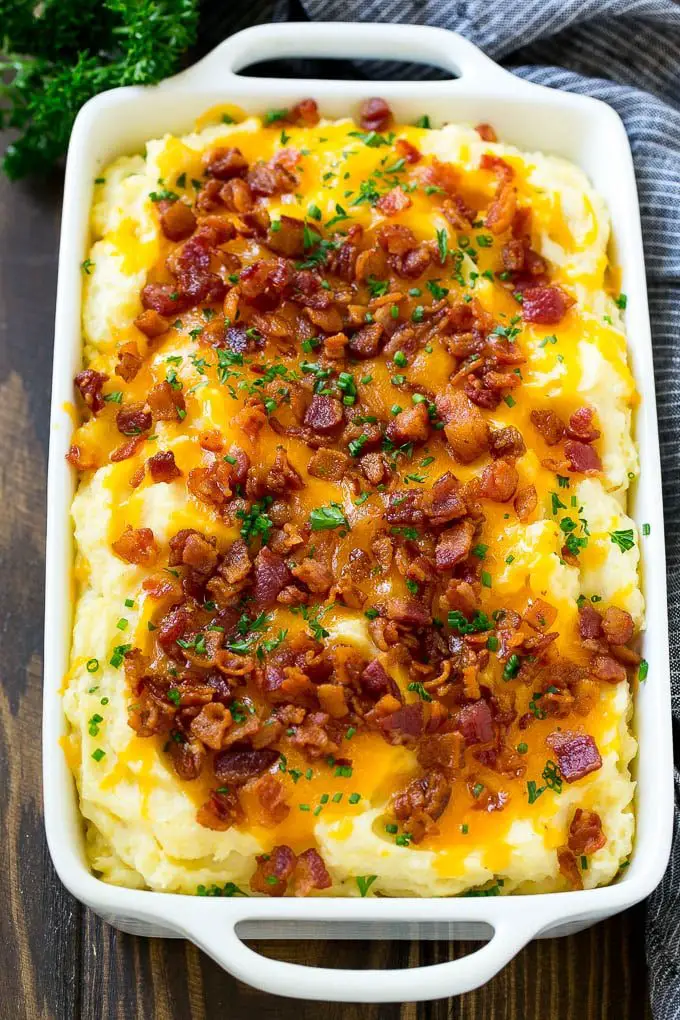 Loaded mashed potato casserole should take 1 hour to make and it's the perfect loaded no-fuss sweet potato casserole for a holiday.
16. Scalloped Potatoes And Ham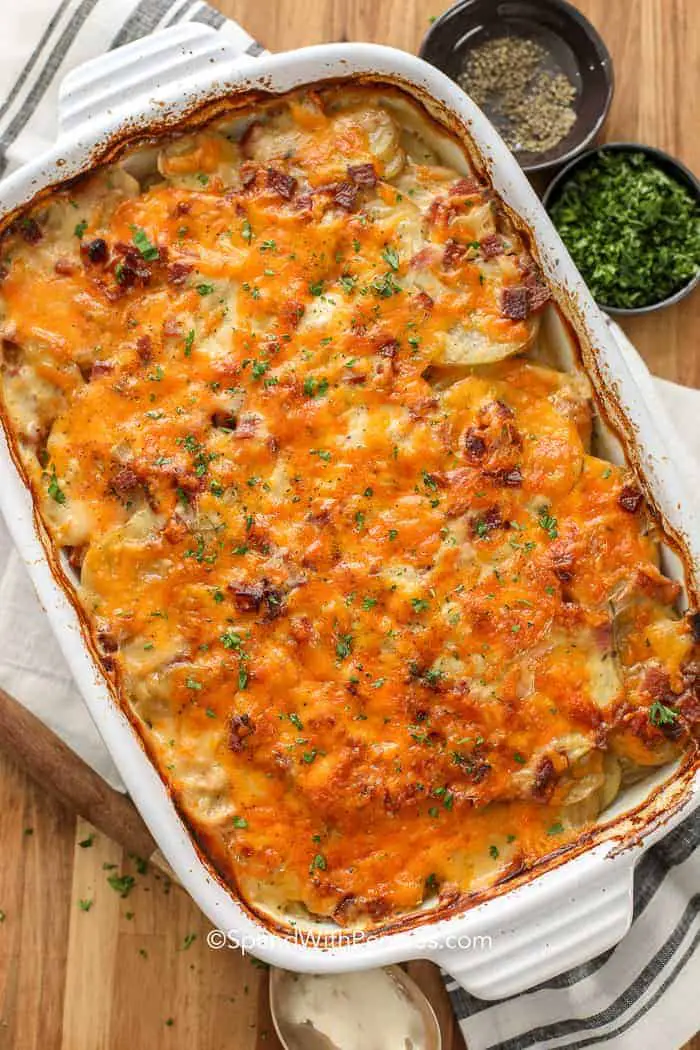 Scalloped potatoes tend to pair nicely with ham so here is a recipe that shows how delicious this can turn out.
17. Sweet Potato Casserole with Marshmallows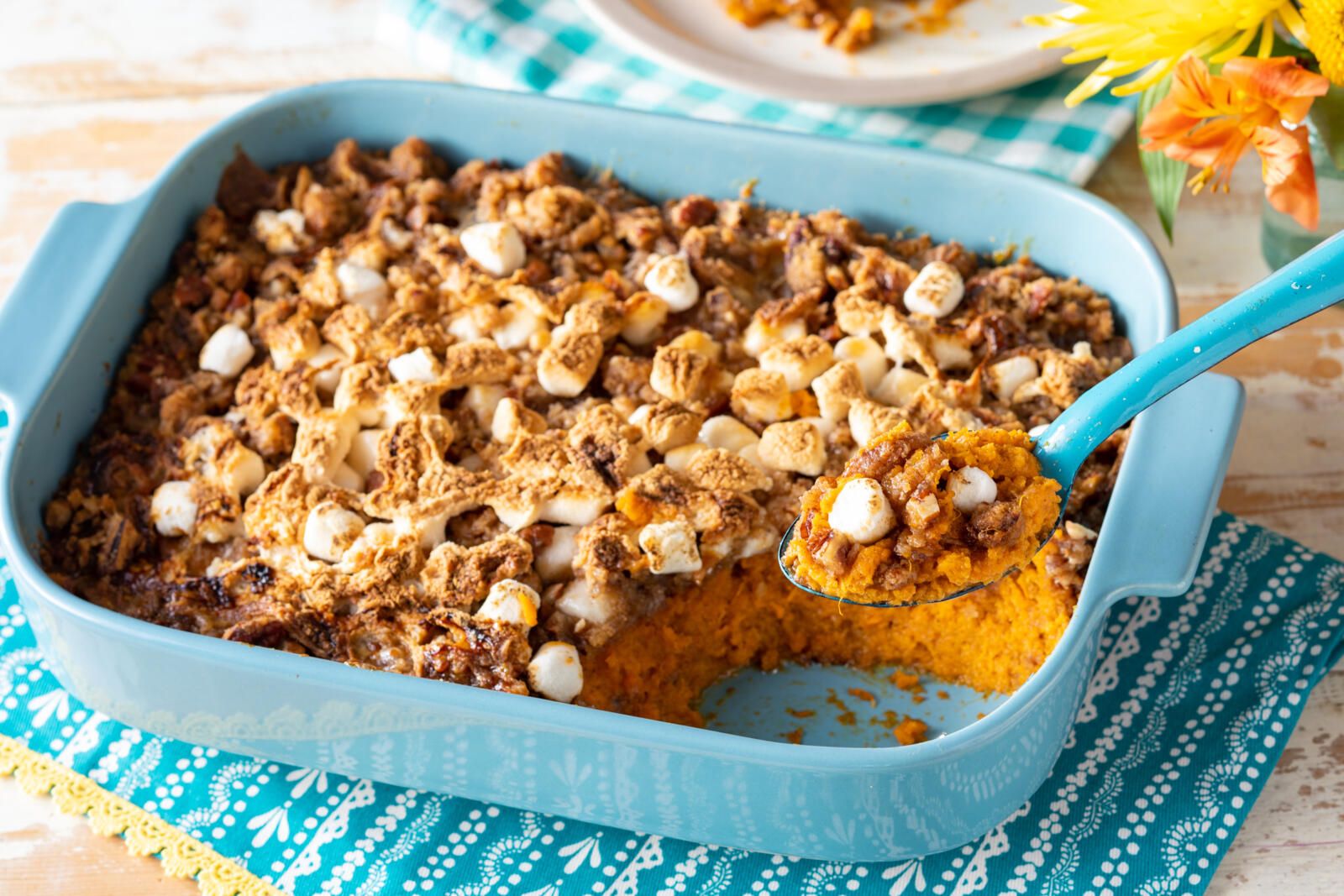 This is one of the oldest sweet potato casserole recipes and it is definitely still a favorite option for many dinner and holiday gatherings.
18. Sweet Potato Carrot Casserole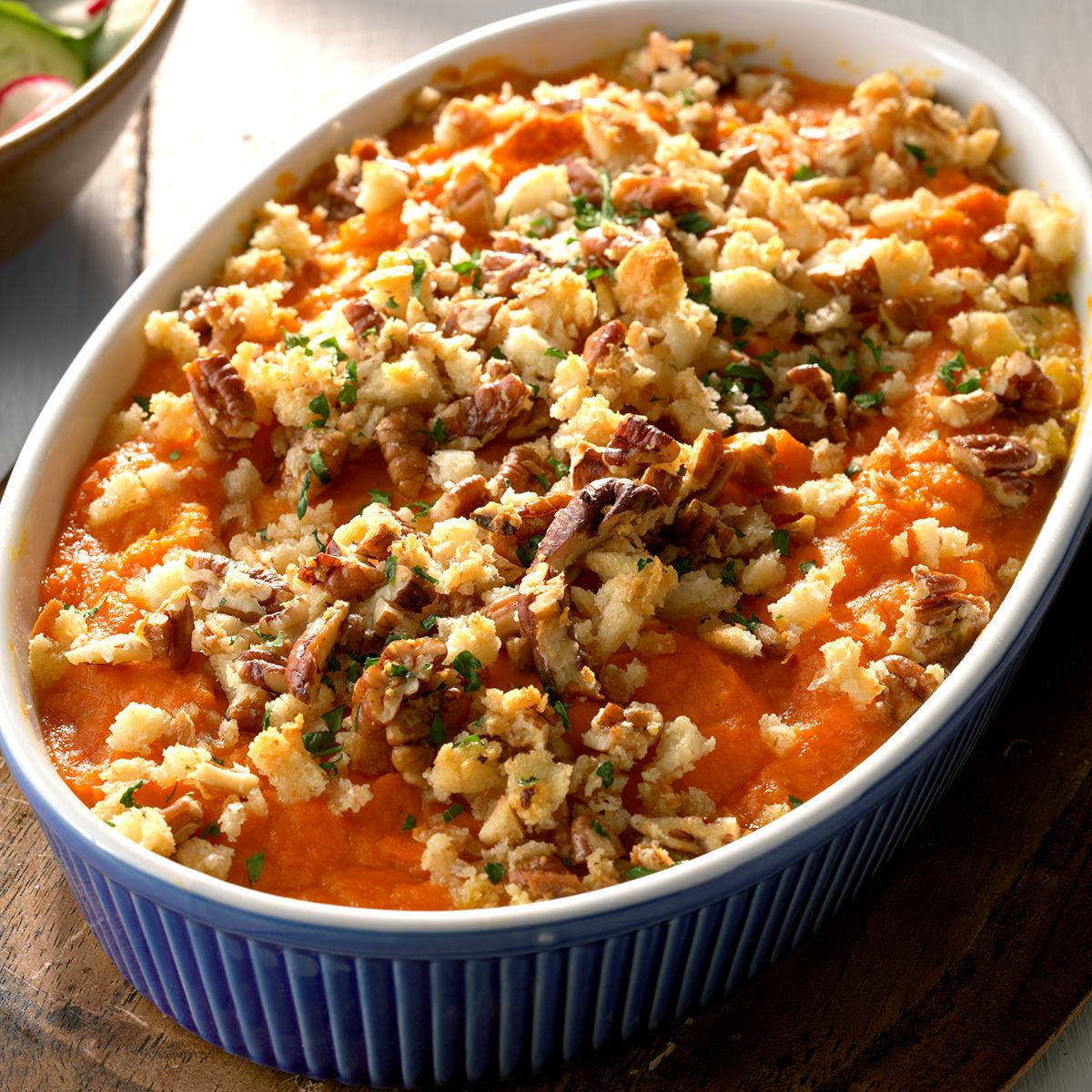 From the nutrient content to the flavor, this is a great potato casserole recipe to enjoy for Thanksgiving dinner. It is topped with sweet and crunchy maple pecans.
19. Cowboy Meatloaf And Potato Casserole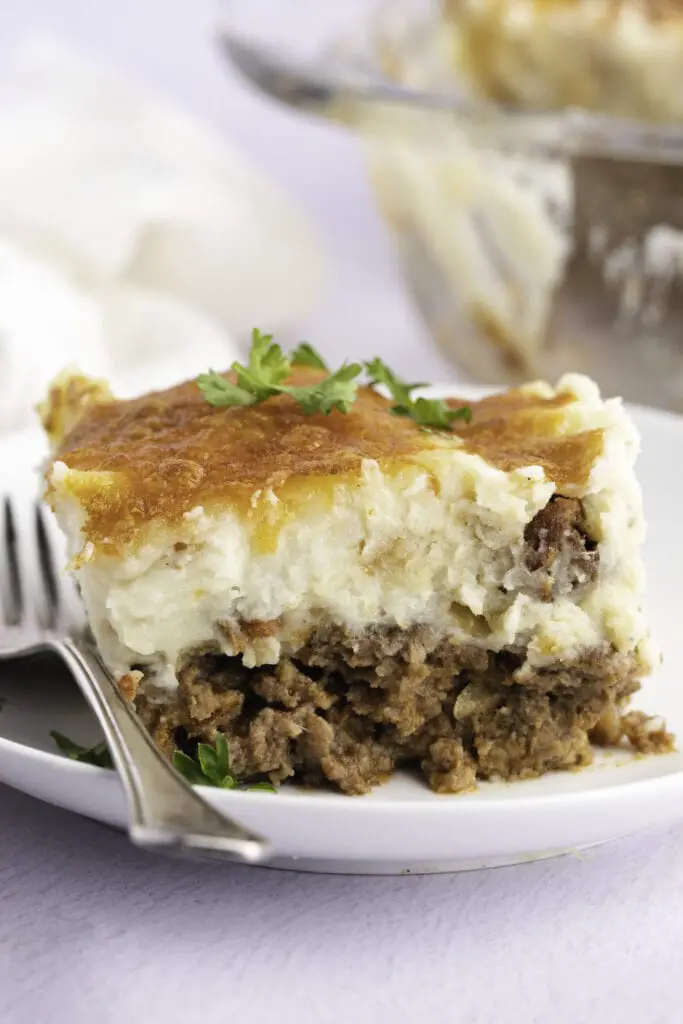 The cowboy sweet potato casserole is the complete meal you need to complete and make up for energy after a long tiring day. This is also a lot easier to make than you think.
20. Sweet Potato Jalapeno Casserole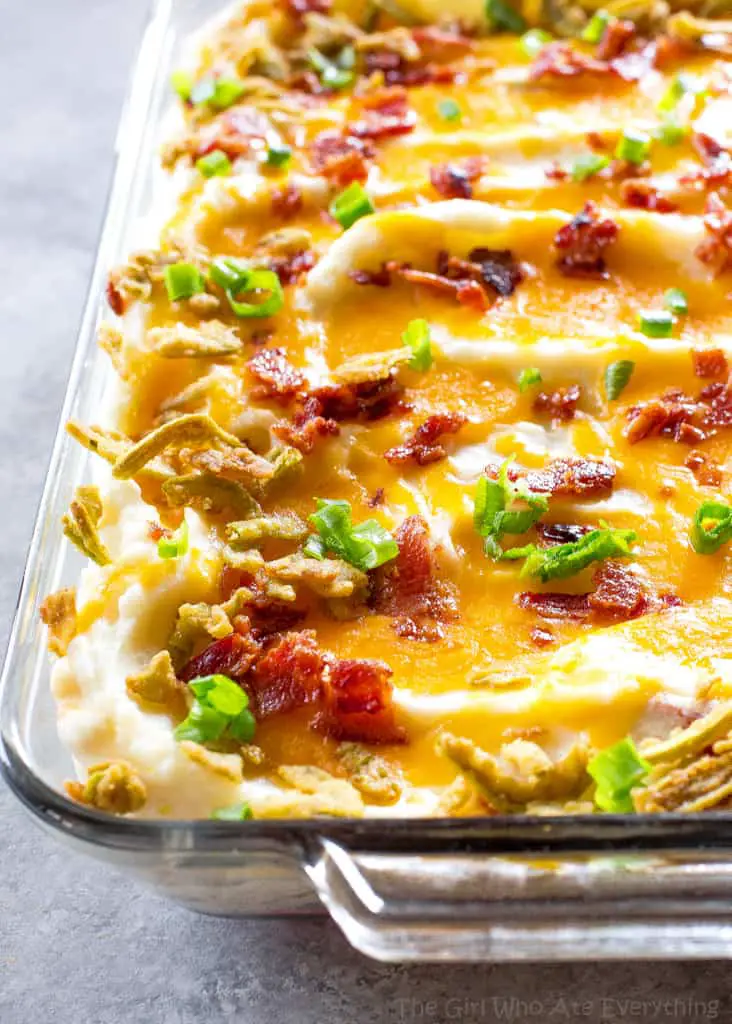 The sweet jalapeno casserole is another one of our favorites so don't hesitate to try this with all the exciting twist that comes with it.
21. Crispy Sweet Potato Galette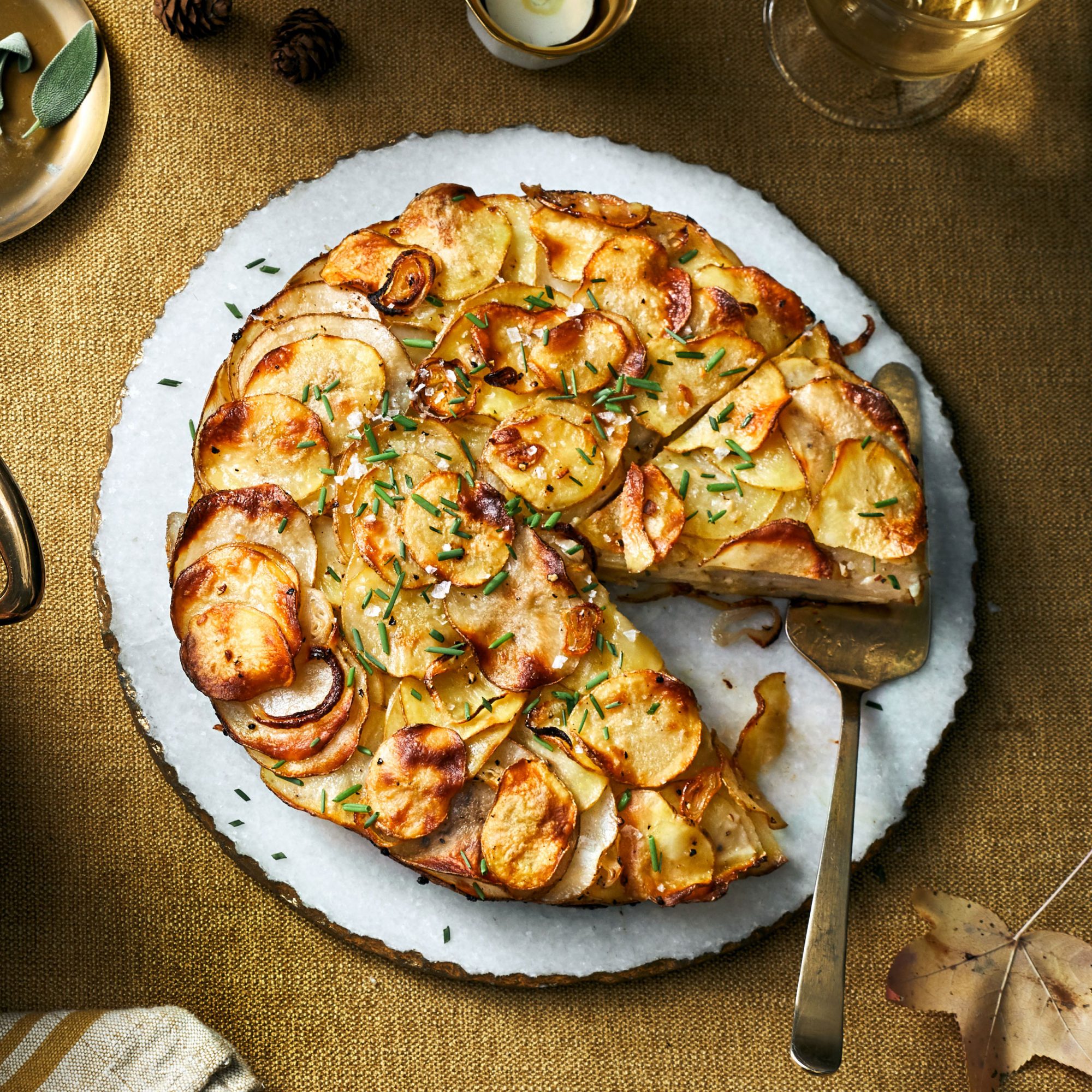 This hearty recipe is a light casserole and it makes the perfect weeknight dinner. It is loaded with lots of flavors.
22. Sweet Potato Casserole With Rosemary And Goat Cheese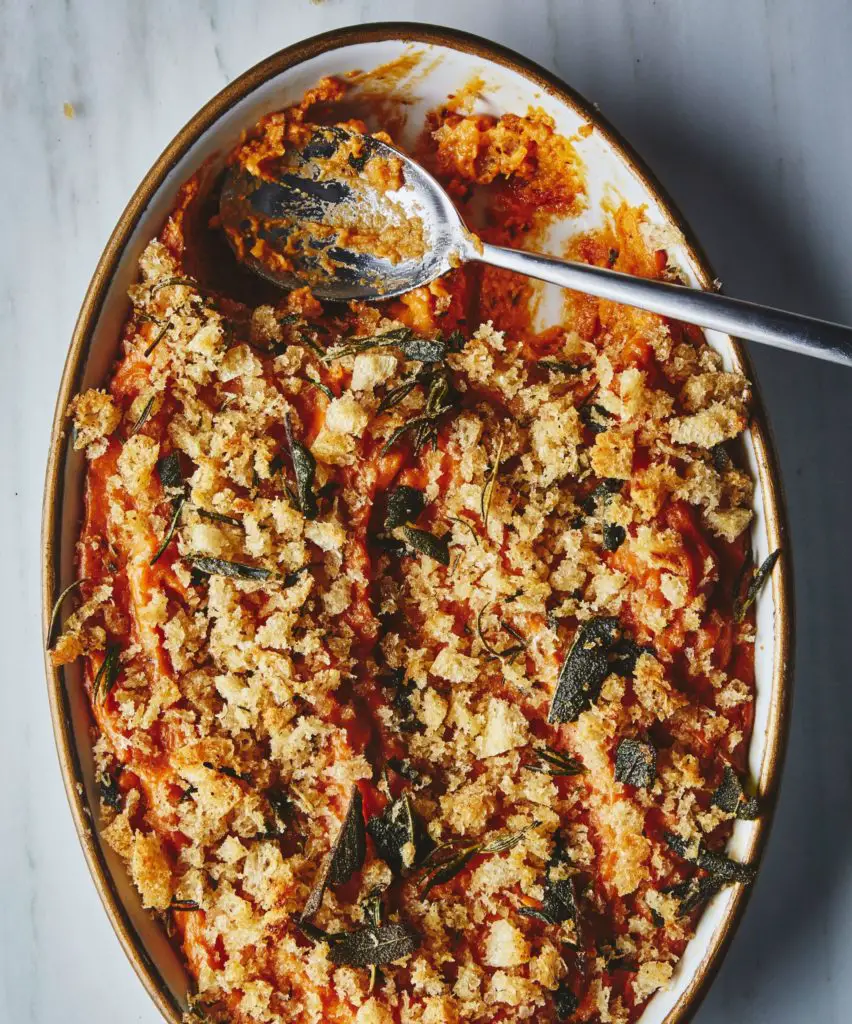 Want a real treat to share with family and friends or a calm dinner night alone? Here is one worth trying.
23. Hassleback Sweet Potato Casserole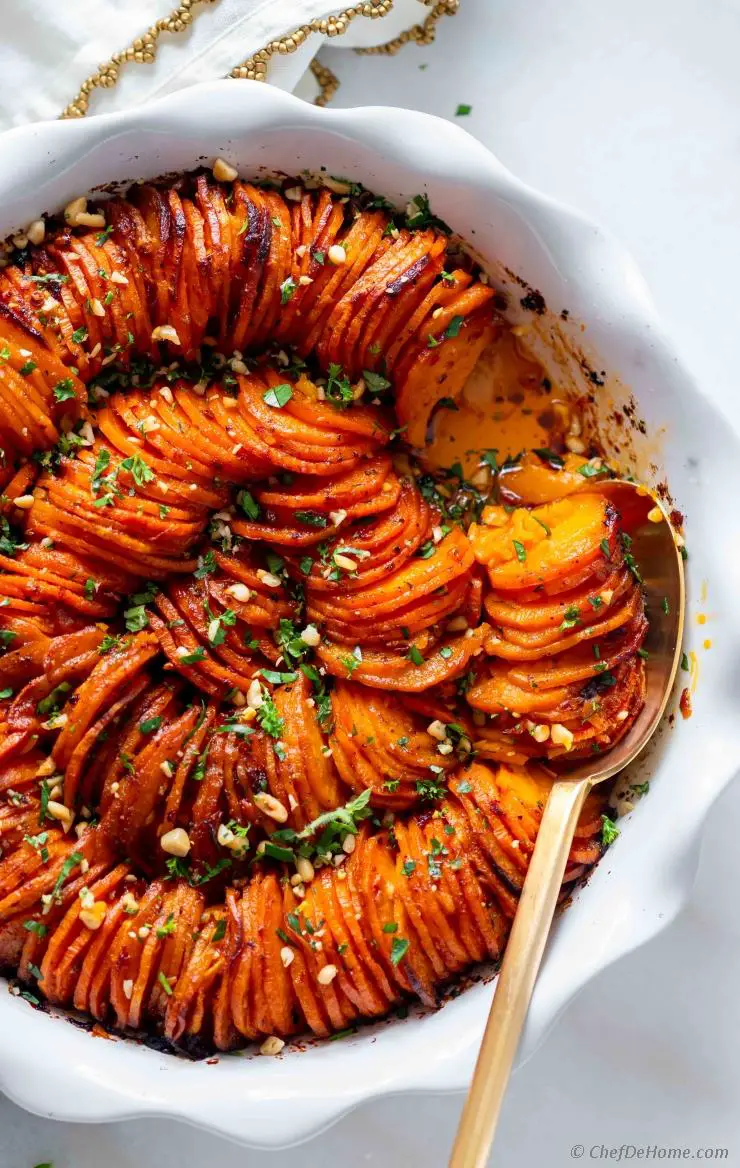 Hasselback sweet potato casserole has more than just a pretty presentation. This is a dynamic dish you can serve at a dinner party or holiday meal with family.
24. Healthy Sweet Potato Casserole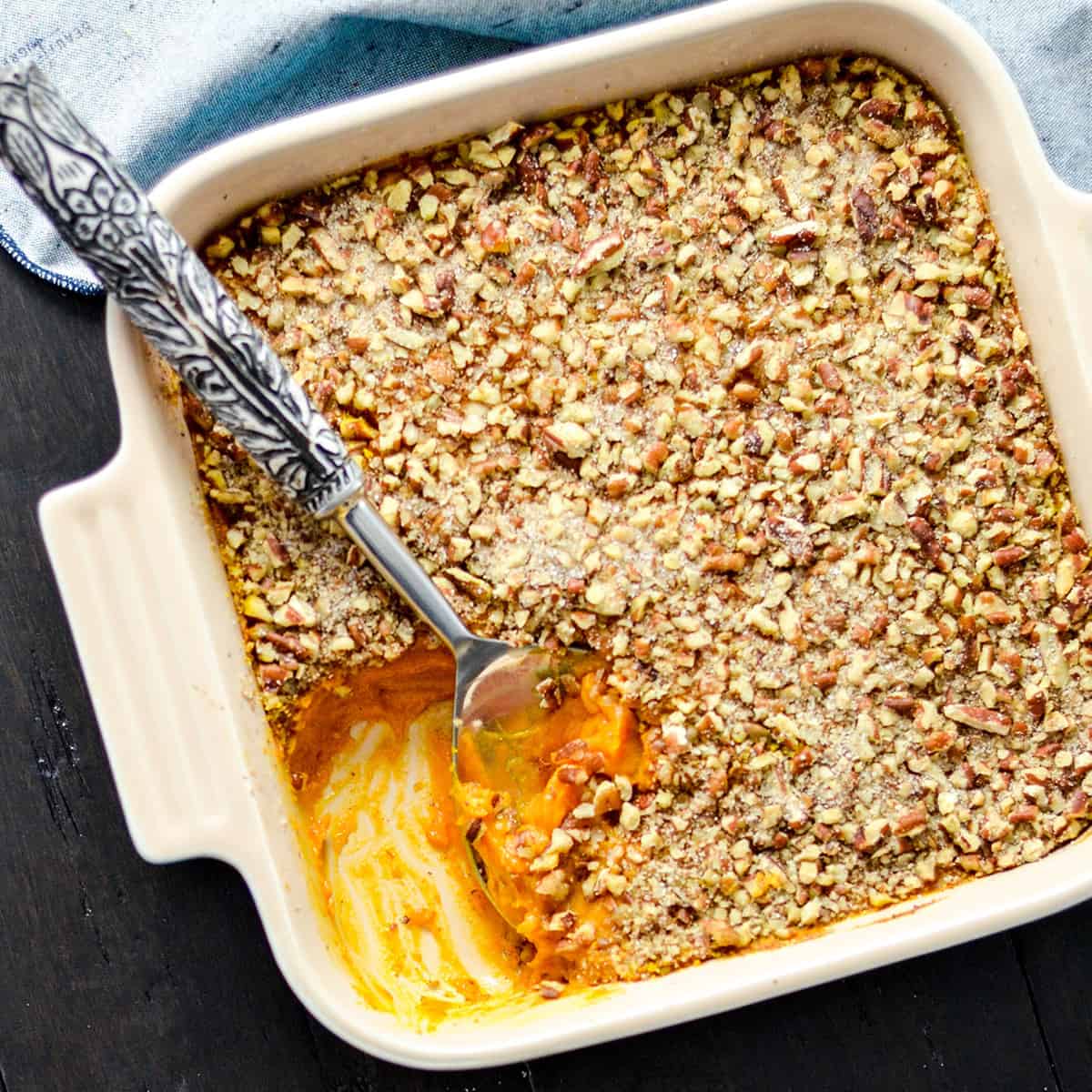 Want to cut back on some calories but can't help but fancy some delicious casserole? This recipe is filled with all necessary flavors, it's smooth and super healthy!
25. Creamy Sweet Potato With Chives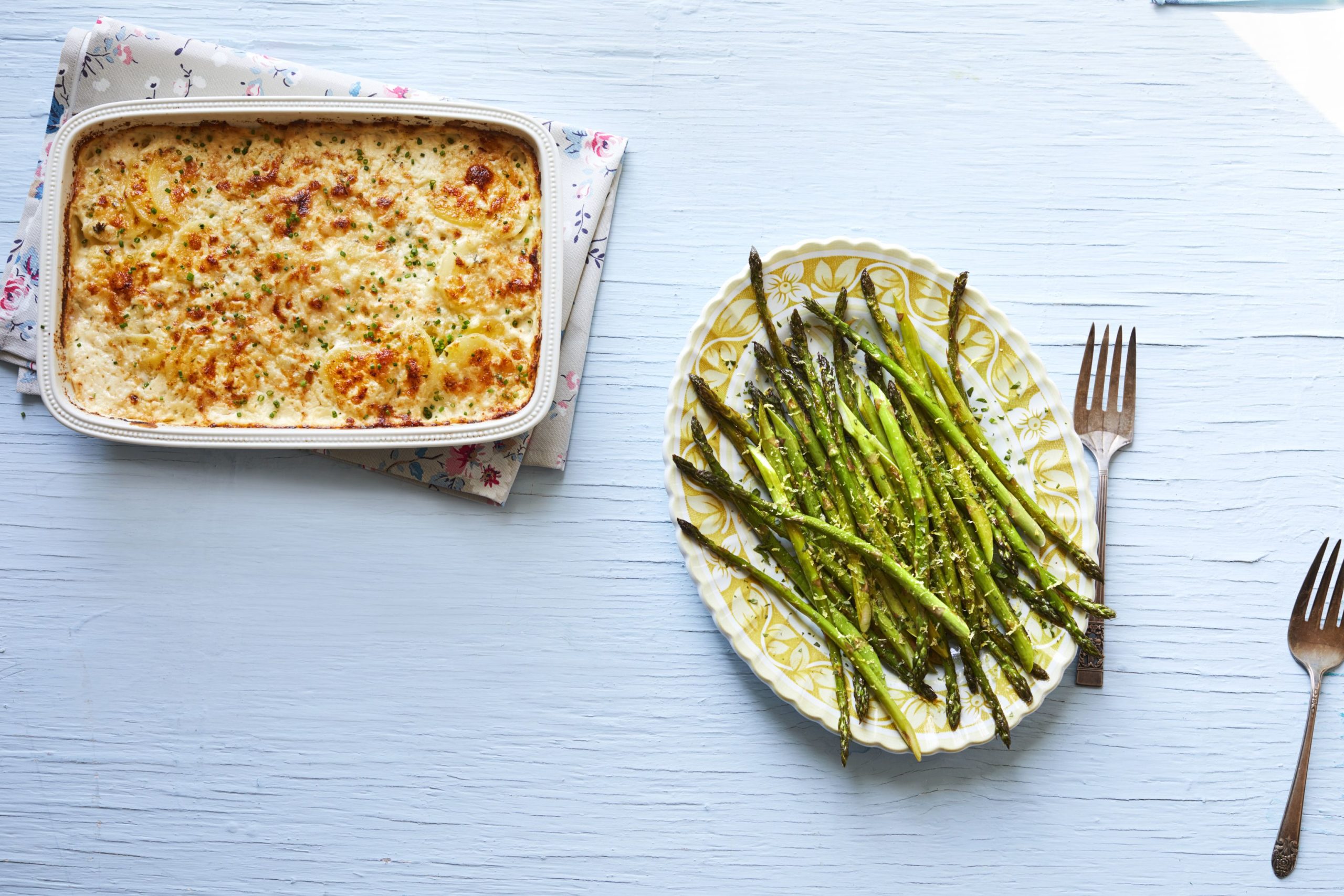 This creamy sweet potato with chives is another healthy casserole that can make the perfect side dish.
26. Parmesan Potato Casserole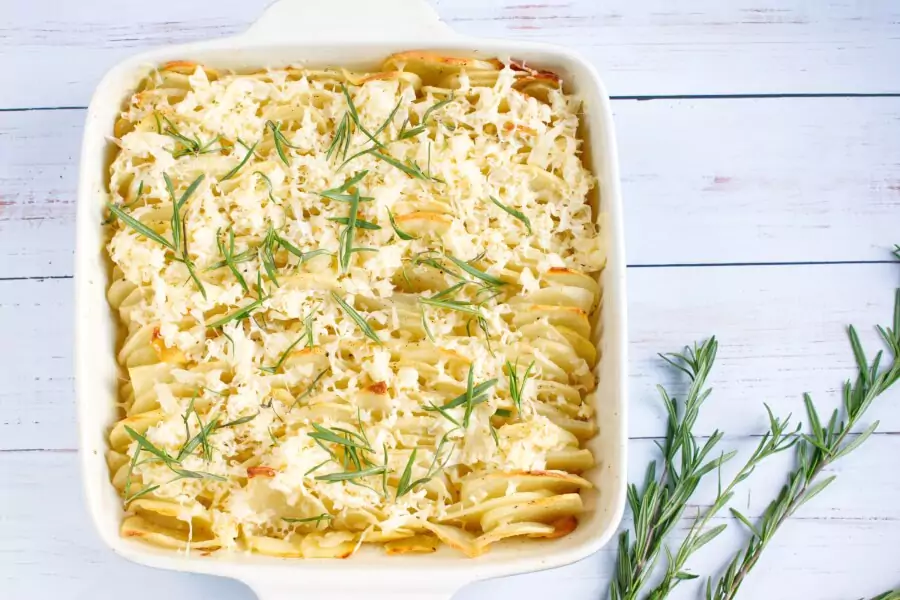 This sweet potato casserole recipe is crispy on the outside, and creamy on the inside.
27. Savory Sweet Potato Casserole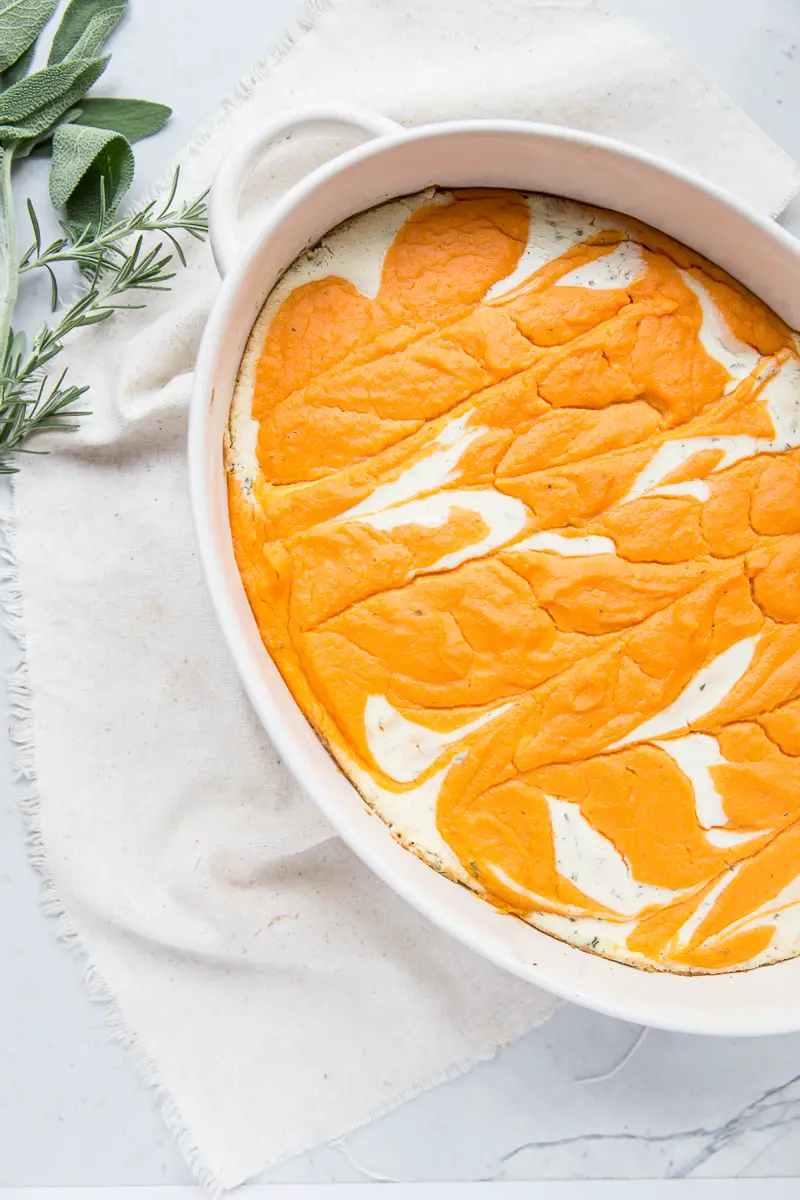 The aromatic flavor and lovely nuttiness are enough reasons to add this to your holiday or thanksgiving dinner menu.
28. Sweet Potato Tater Tot Casserole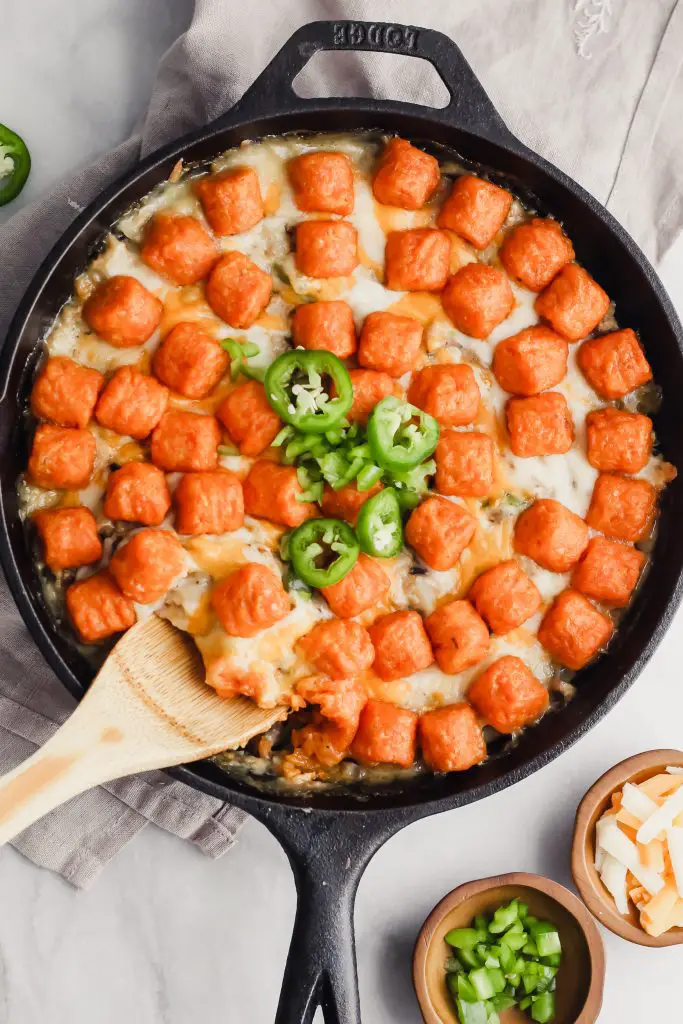 If you are not familiar with tater tot casserole then not to worry, this recipe should teach you all about that and this classic dish gives you and your family fond memories.
29. Sweet Potato Casserole With Pecan Topping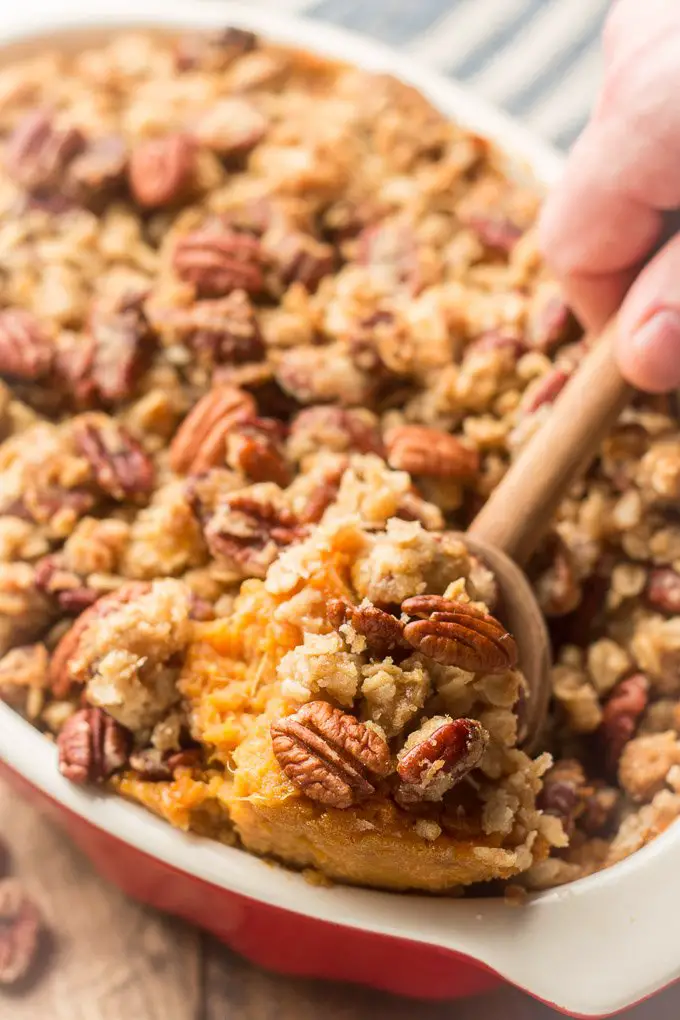 This recipe should have you excited even before it's ready. This is a really delicious dish and it is topped with pecans to give you the best crunchy tasty casserole.
30. Pizza Potato Casserole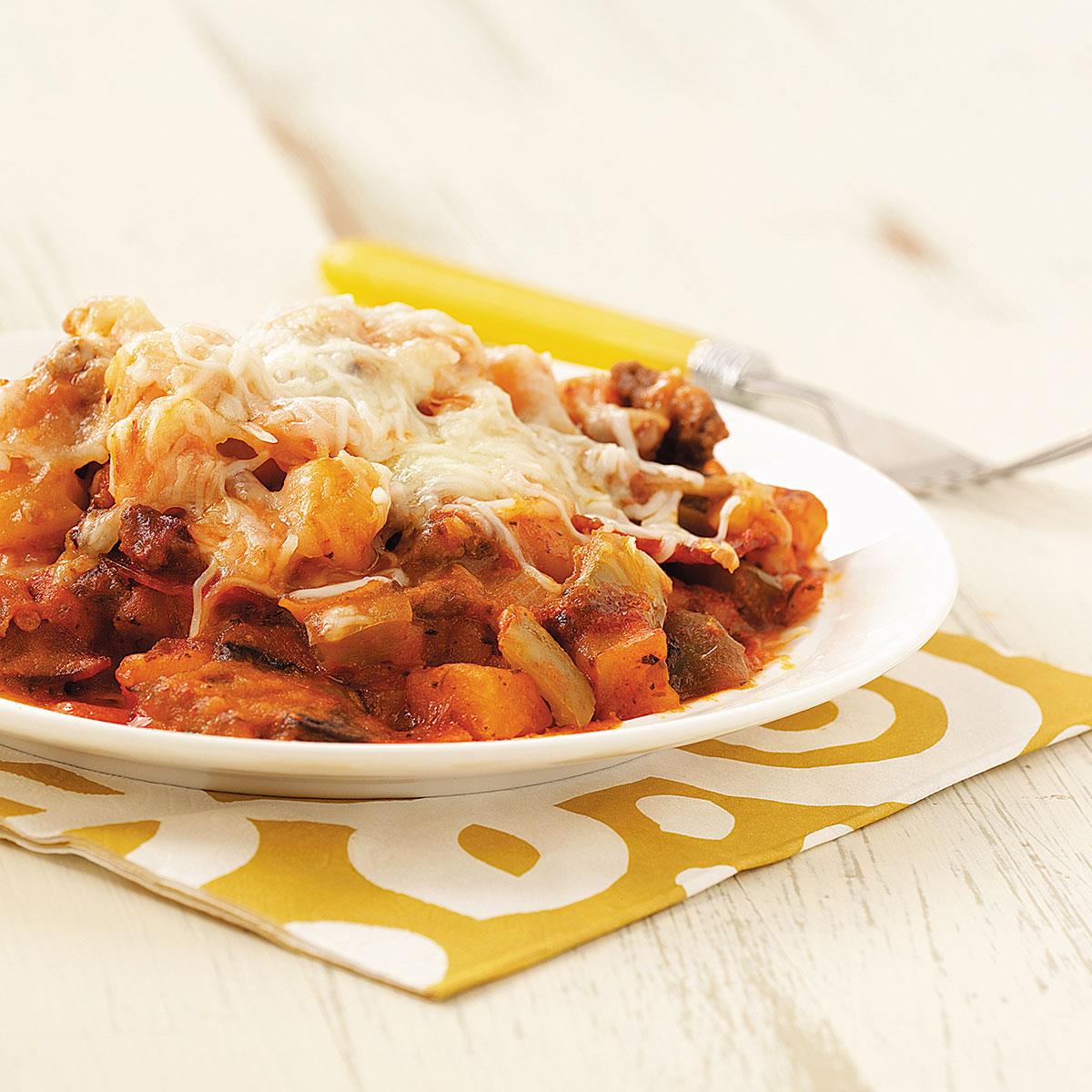 Here is an easy-to-make dinner casserole with 3 main ingredients that are vegan, gluten-free, and allergy free.
31. Zucchini Potato Casserole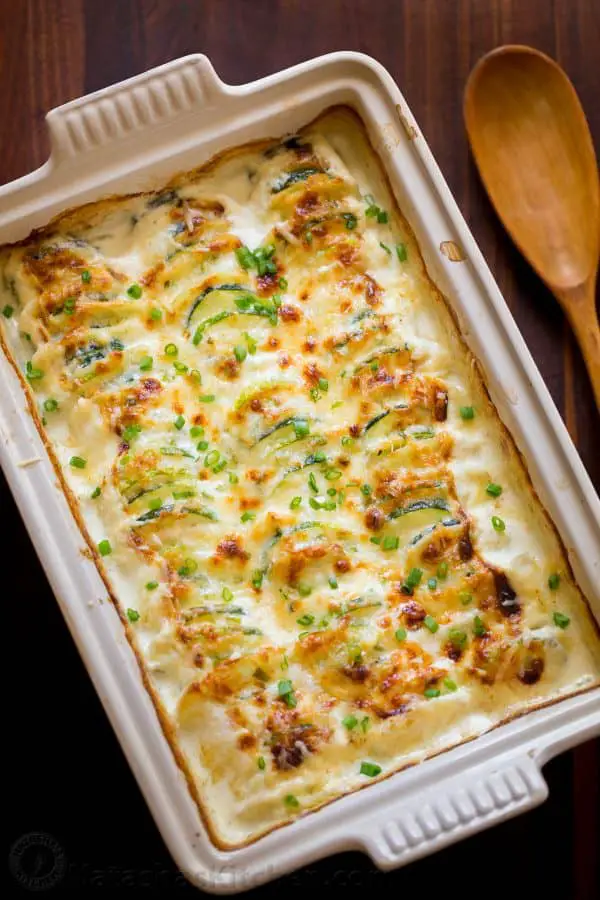 Every sweet potato casserole recipe has a reason for standing out and here is one that is no exception in that regard. This casserole recipe is fancy and delicious!
32. Cheesy Chicken And Sweet Potato Casserole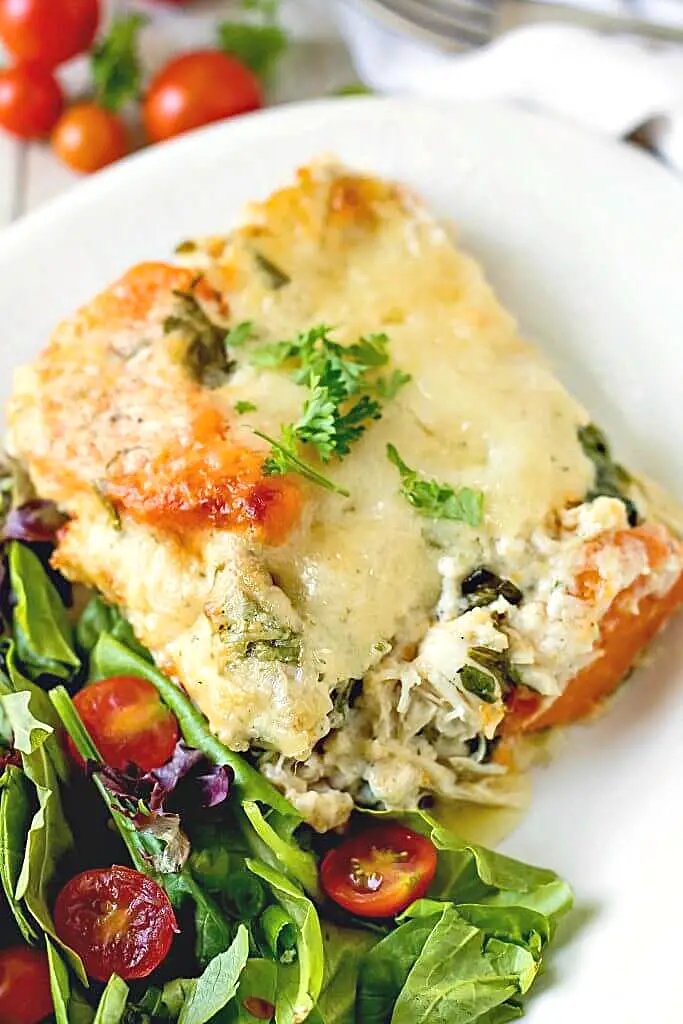 This recipe has just the right combination to give you a tasty unforgettable meal experience. It's the ideal comfort food to go for on all occasions.
33. Slow Cooker Sweet Potato Casserole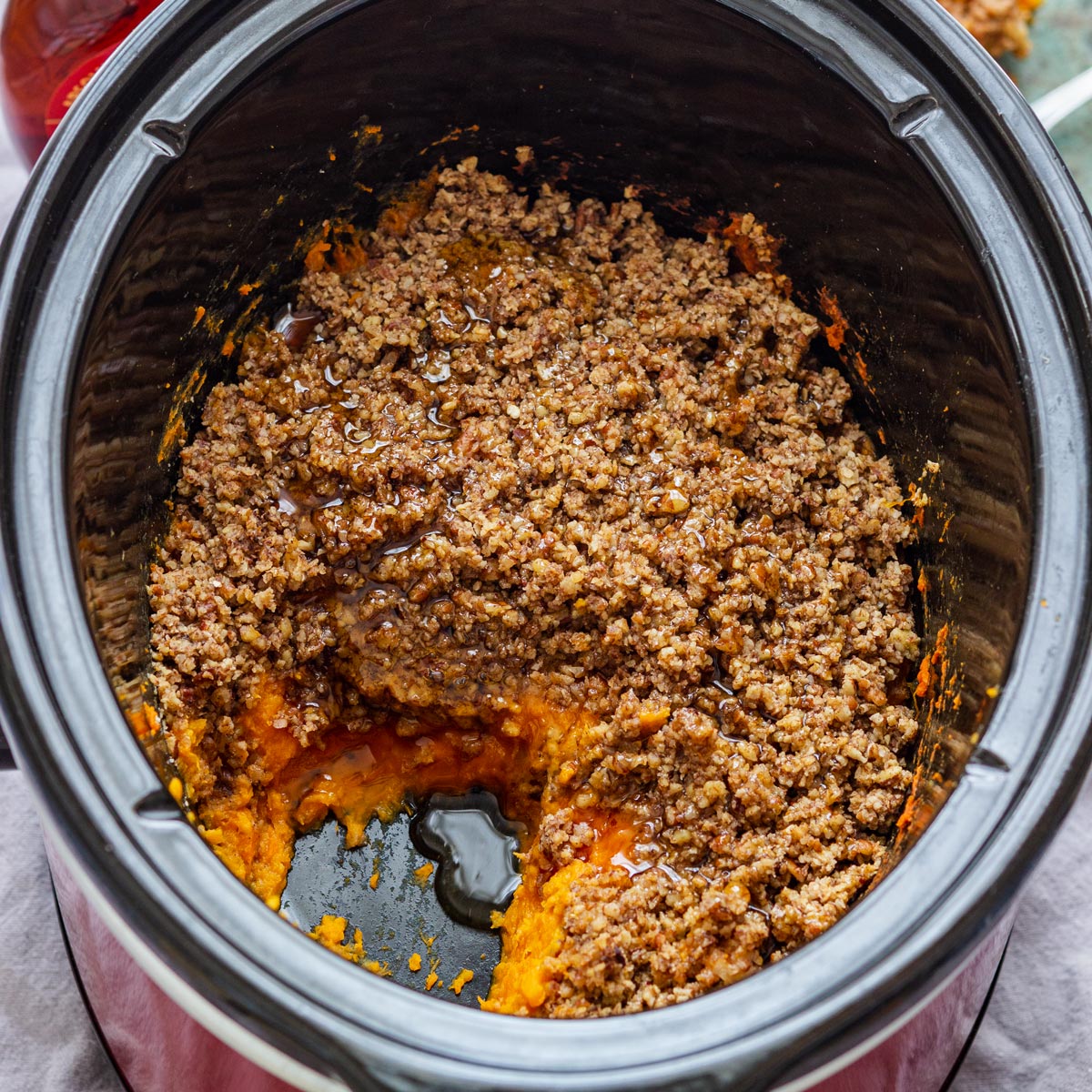 This is all made in a crockpot and it comes in handy if you are last minute planner.
34. Loaded BBQ Pork Sweet Potato Casserole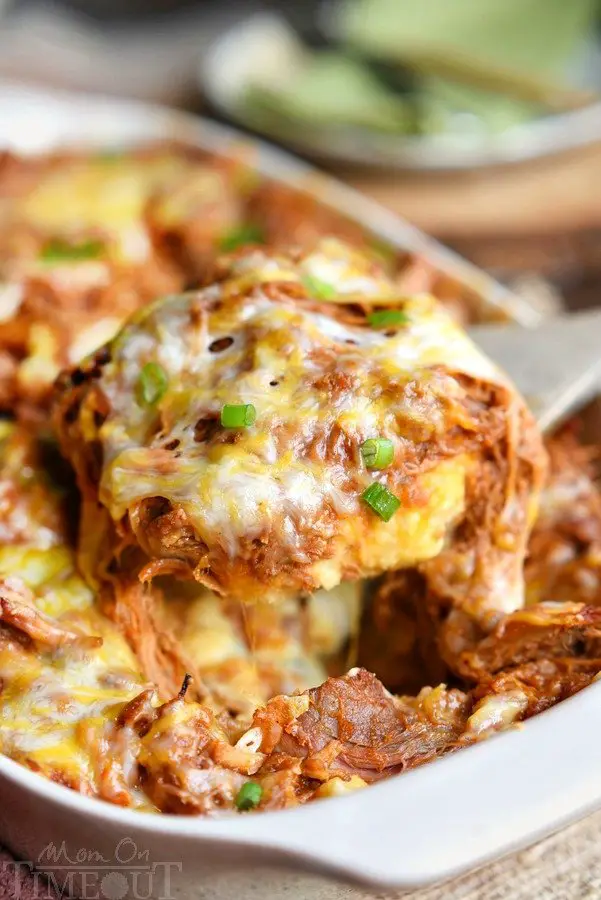 Here is another comfort food that is at its best. This is one loaded BBQ pork sweet potato casserole that will melt deliciously in your mouth.
35. Broccoli Cheddar Sweet Potato Casserole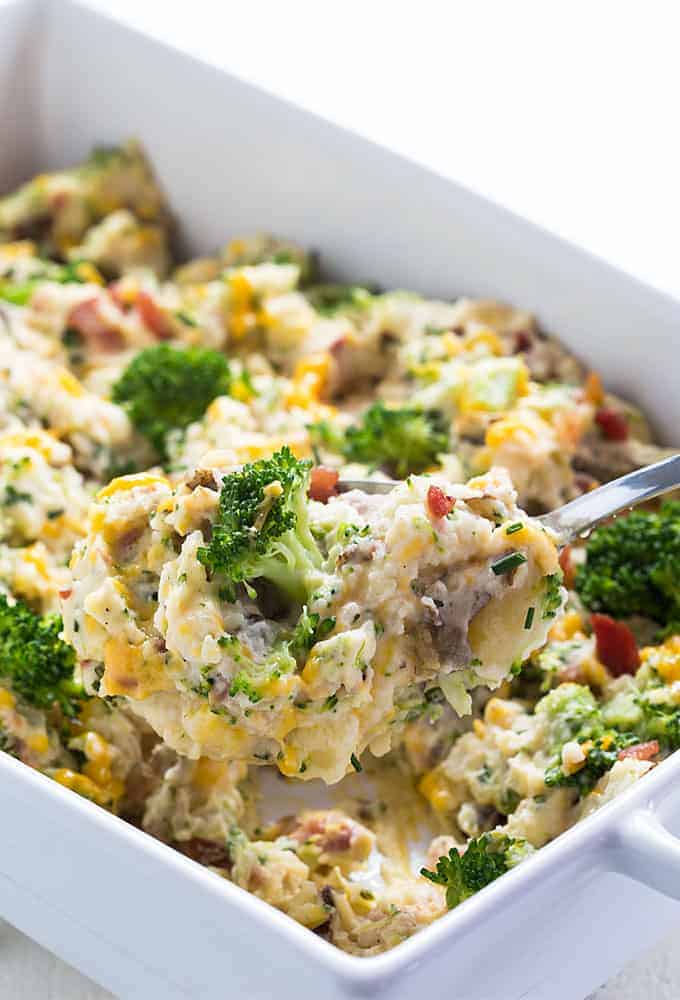 You can't have enough of this hearty and healthy broccoli cheddar sweet potato casserole.
36. Mashed Potato Casserole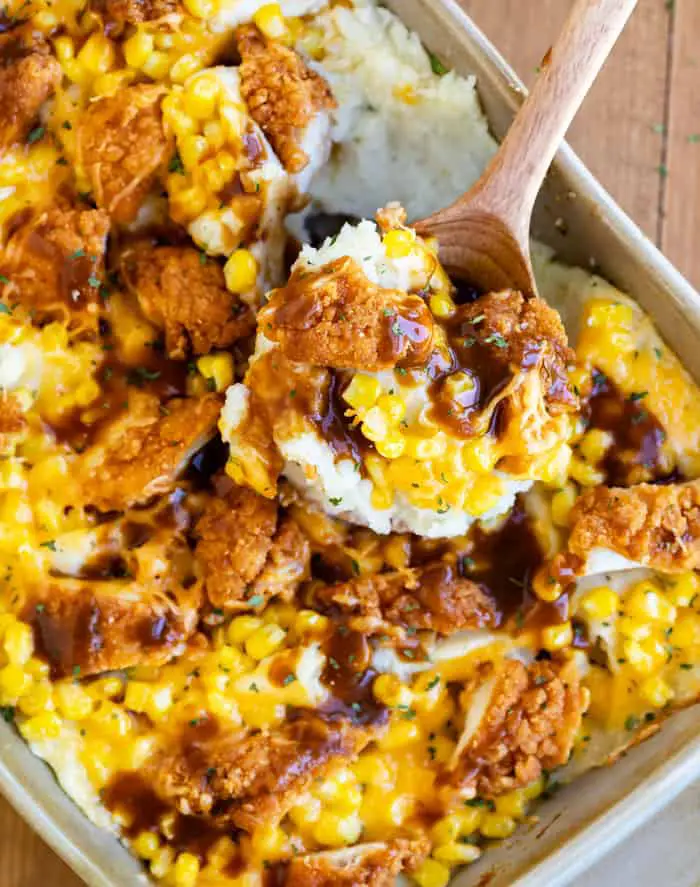 Keep it simple, silky smooth, and pair with the perfect taste for any holiday table setting with this mashed potato casserole recipe.
37. Lemon Chicken Potato Casserole
This is just golden, it has been made with sliced Yukon Gold Potatoes, Lemon Wedges, and Chunks of Tender Chicken. Just the perfect combination you need to create an unforgettable Thanksgiving dinner.
38. Skinny Cheesy Potato Casserole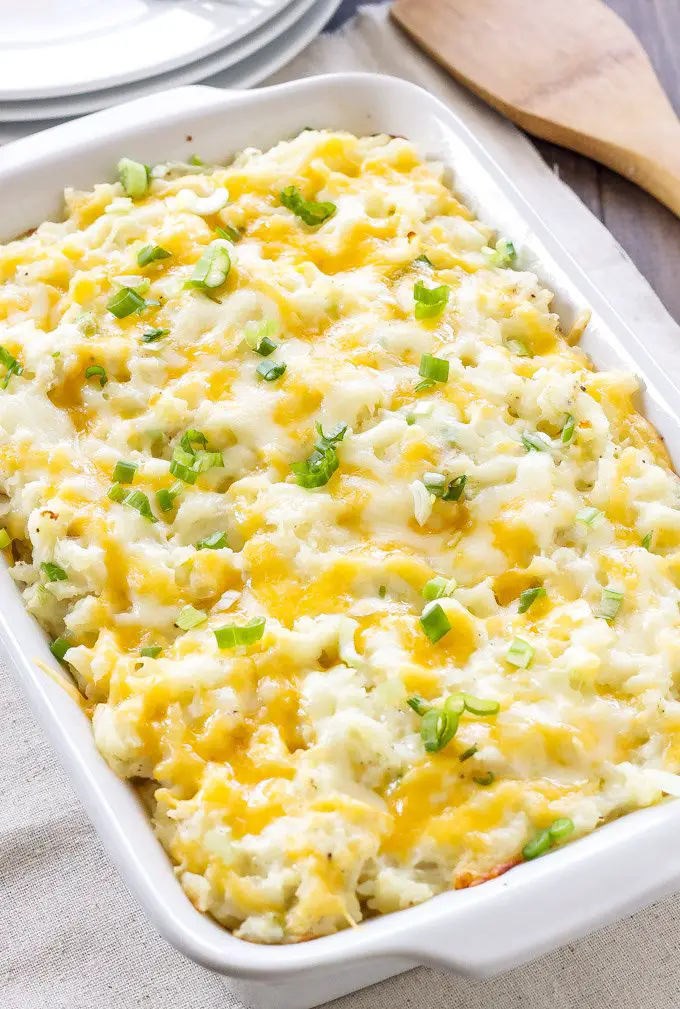 This is a welcome twist to the cheese potato casserole. This is really good and worth a place on your dinner table.
39. Cracker Barrel Sweet Potato Recipe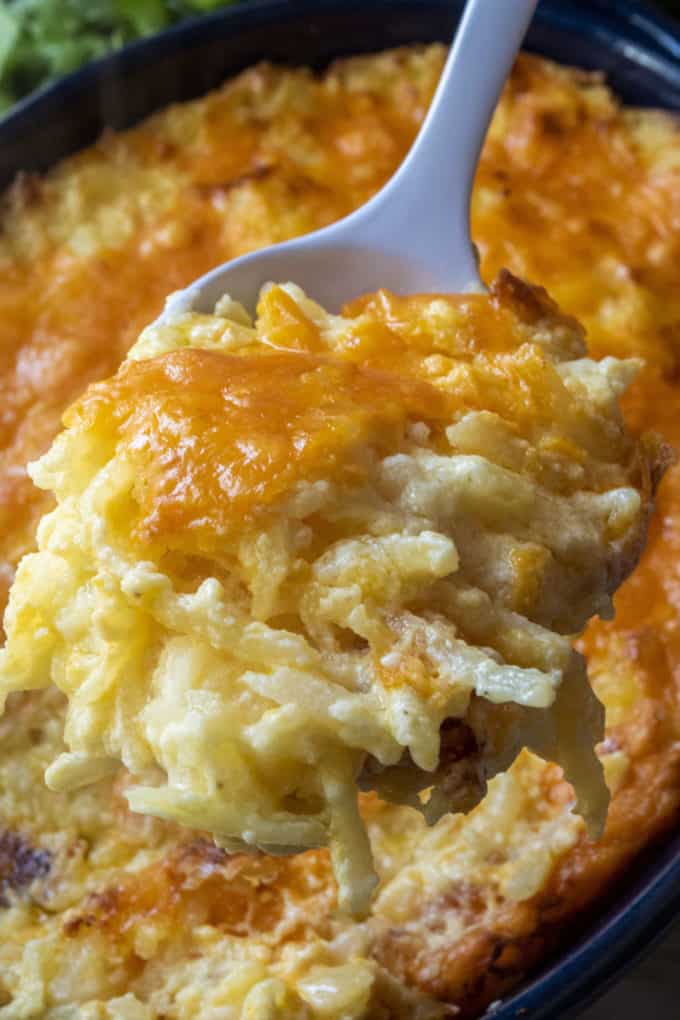 Looking for something bold, versatile but simple? This makes a great side dish or dessert.
40. Healthy Butternut Sweet Potato Casserole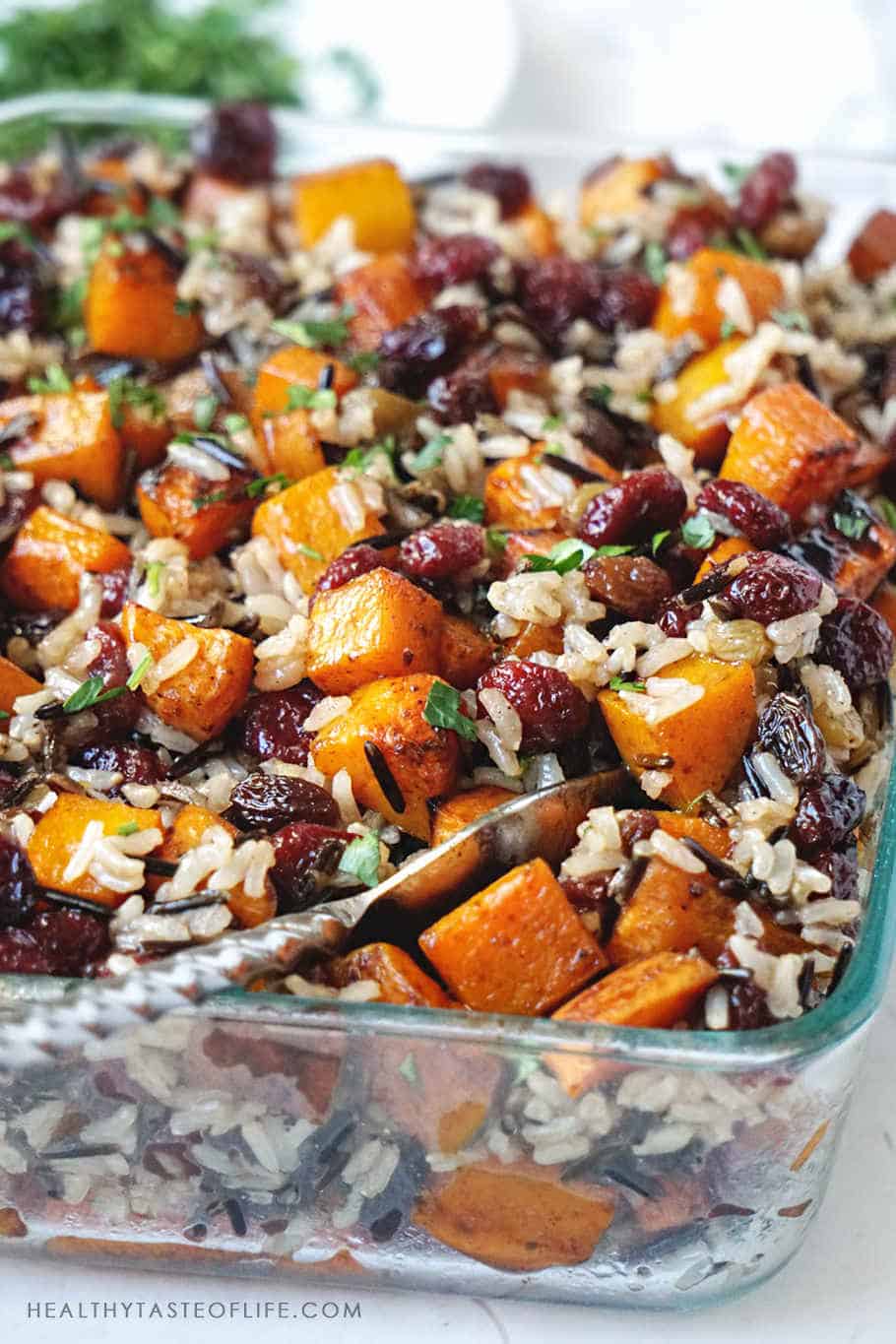 Butternut sweet potato casserole is not just a typical thanksgiving dinner meal but it is also a classic recipe and with the unusual variations that come with it, it can easily be adopted as a traditional holiday recipe.
41. Creamy Whipped Potato Casserole
This is for those who love creamy tastes and two types of starchy potatoes have been used in this recipe. You can also have the cheese substituted if you are not so into it.
42. Buffalo Chicken Sweet Potato Casserole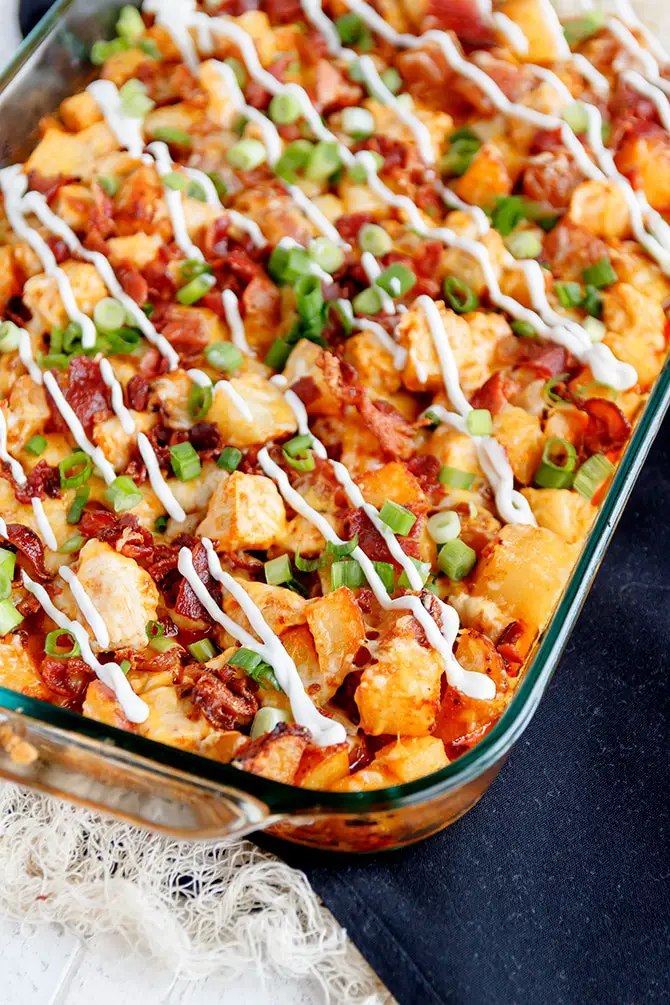 Buffalo chicken sweet potato casserole is a healthy and satisfying dish that only needs 10 minutes to be prepped.
43. Cracked Mashed Potato Casserole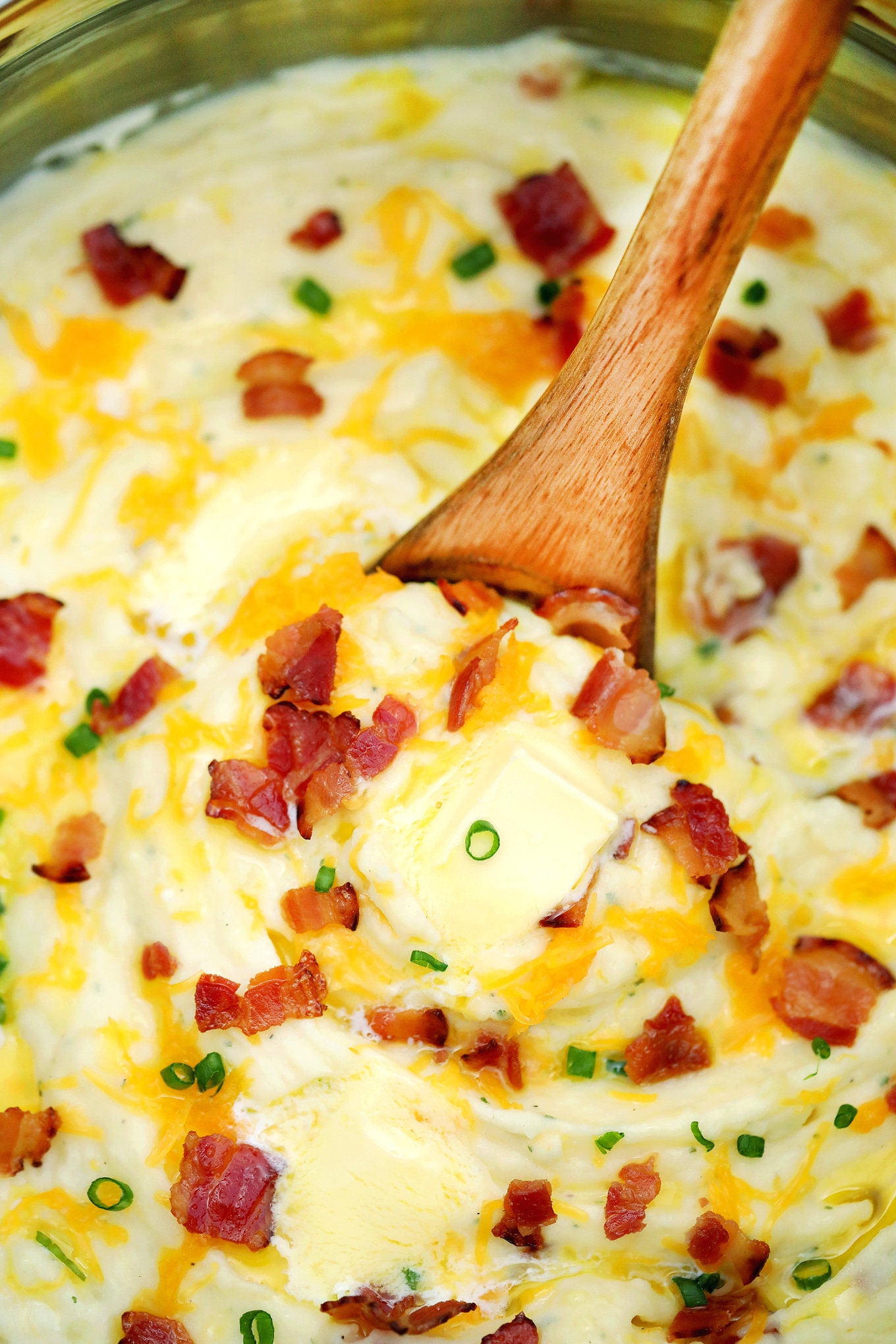 This is so easy and tastes amazing!
44. Maple Meringue Sweet Potato Casserole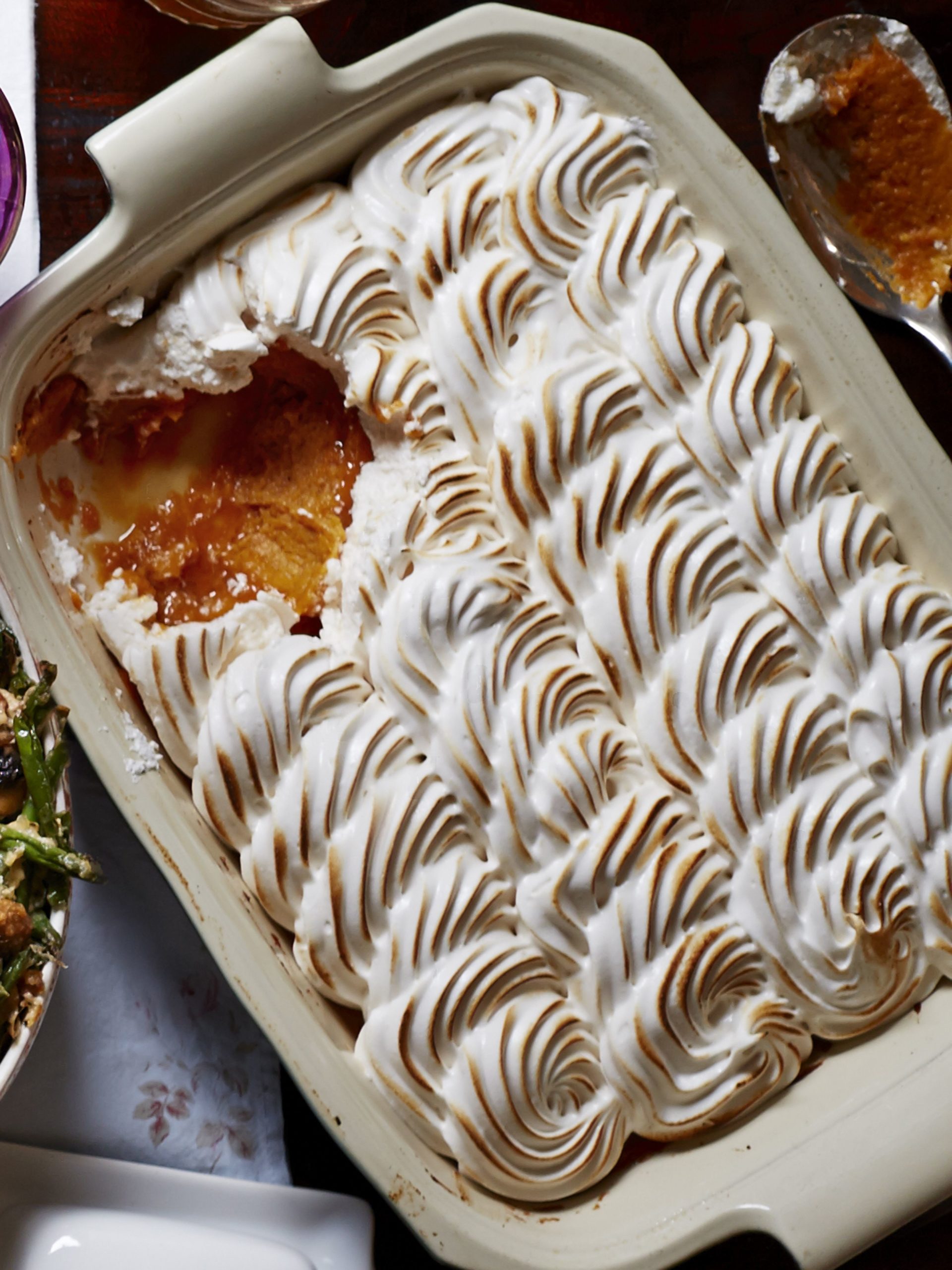 This is another holiday must-have sweet potato casserole recipe, this should have family and friends asking for more.
45. Sweet Potato Casserole With Brown Sugar Topping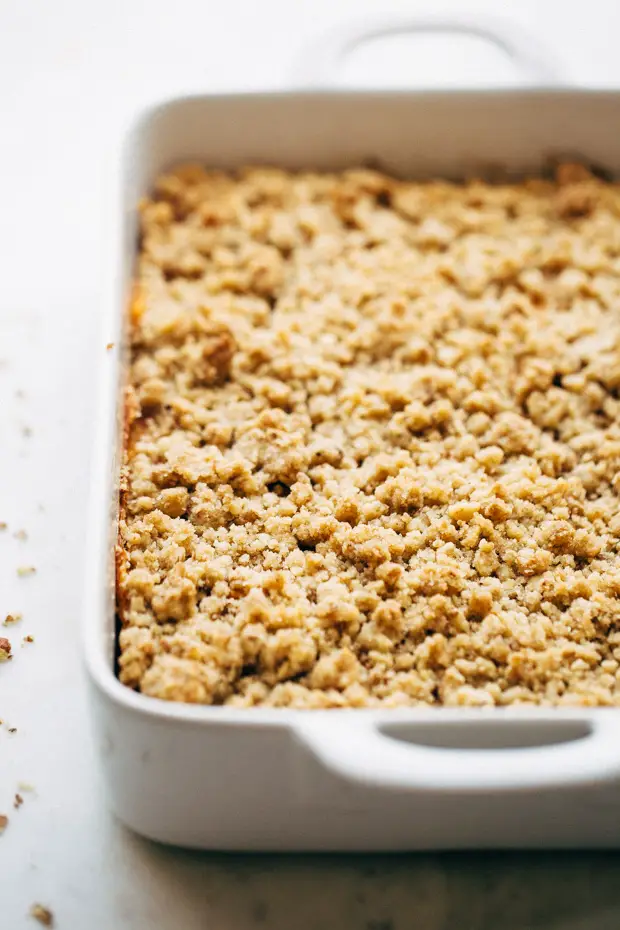 Sweet potato casserole with brown sugar topping is just the ideal comfort cozy food you need to be cooking right now. You can't have enough of the deep rich sweet flavor.
46. Vegan Sweet Potato Casserole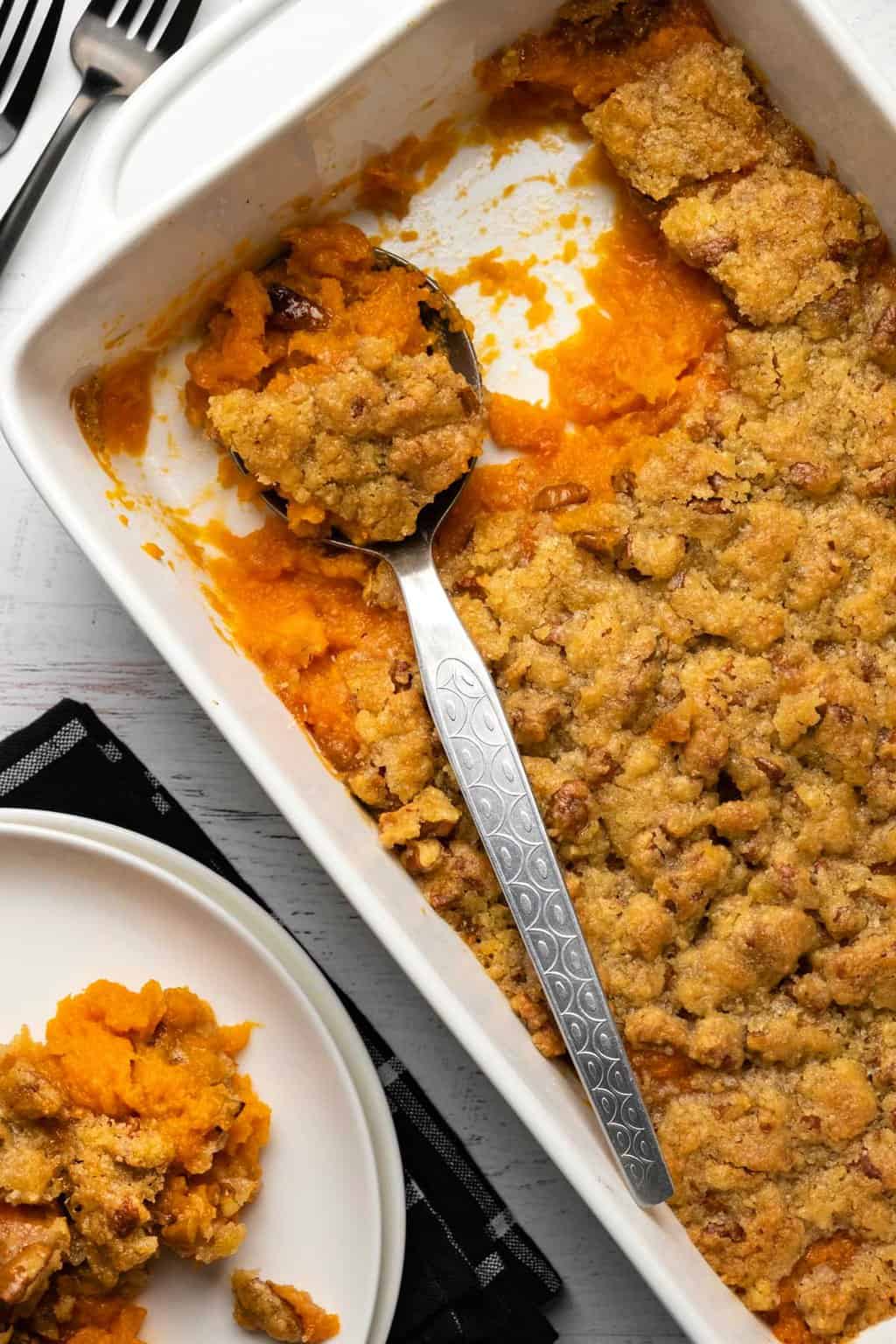 This has a subtle taste but it is also warm and spicy which is indeed an epic combo. Just the Vegan casserole recipe you need.
47. Ruth's Chris Sweet Potato Casserole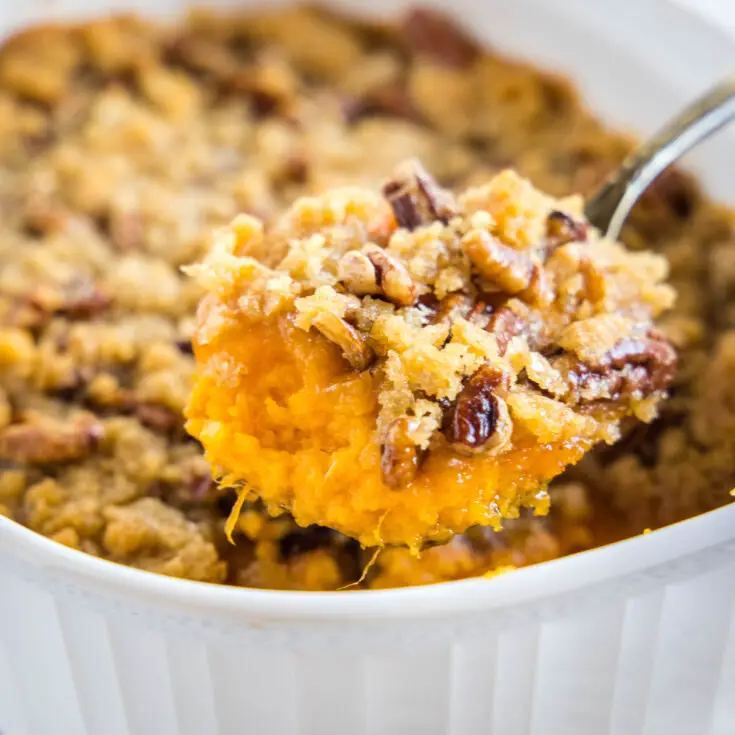 This is one of the most famous sweet potato casserole recipes and it's one worth adding to your thanksgiving or holiday recipe list.
48. Candied Sweet Potato Casserole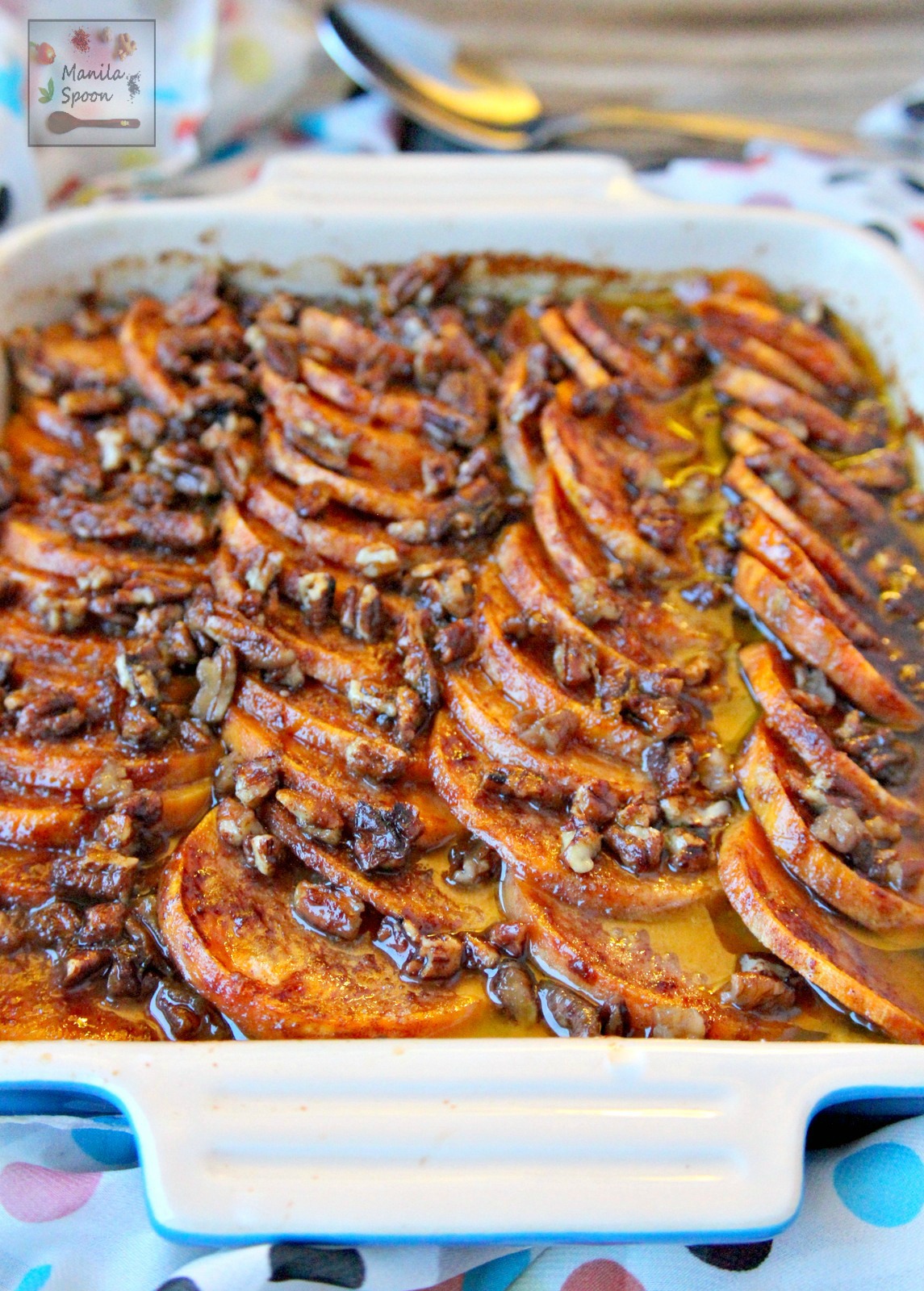 The gooey delight that accompanied this makes it a must-try for anyone who loves the candy and can't have enough of sweet potatoes either.
49. Cheesy Ham & Potato Casserole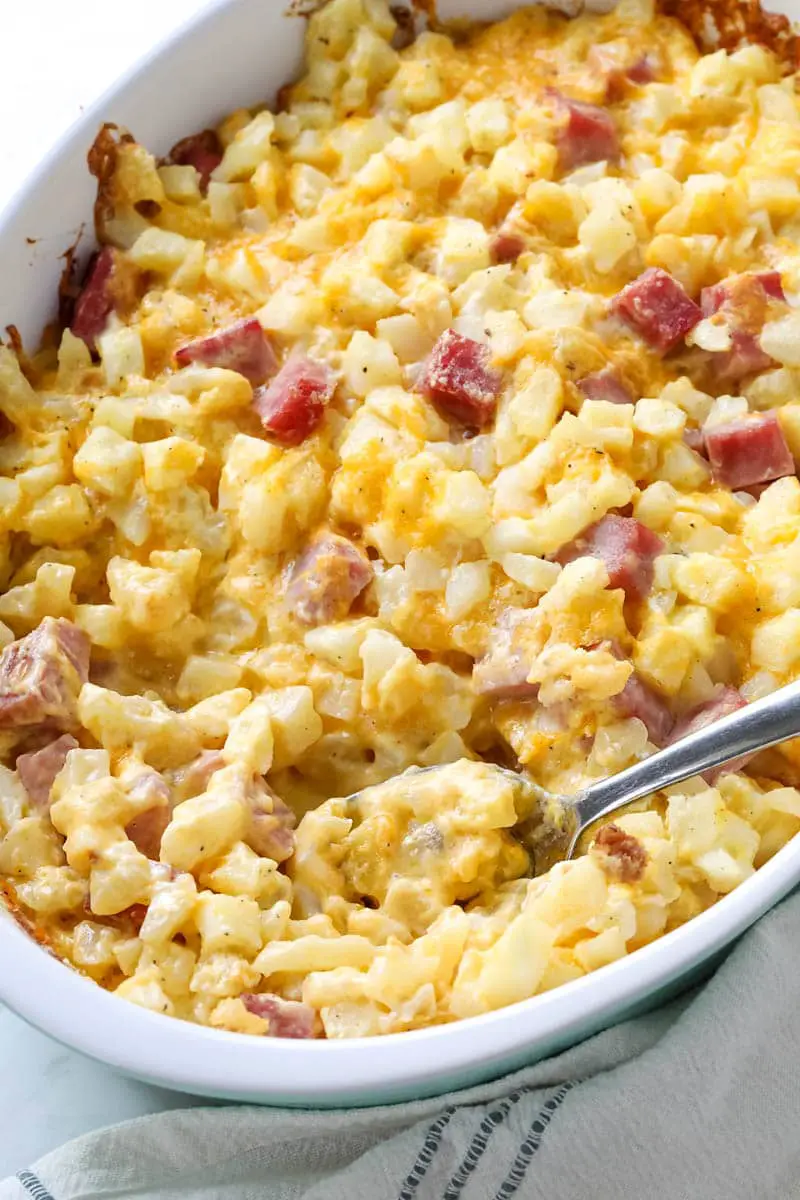 Time to do something amazing with your leftover ham.
50. Classic Sweet Potato Casserole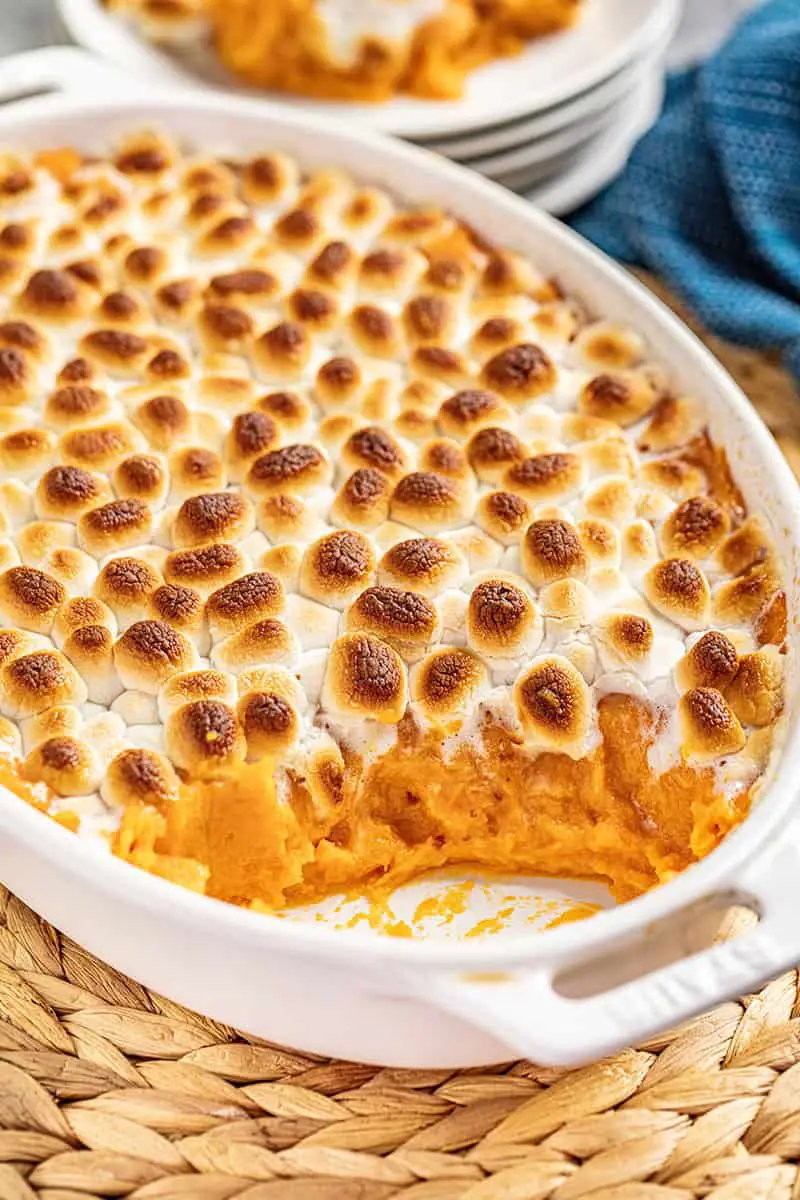 The classic sweet potato casserole is crunchy, it works as a side dish for Thanksgiving dinner. It is nicely topped with toasted marshmallows.
51. Paleo or Vegan Sweet Potato Casserole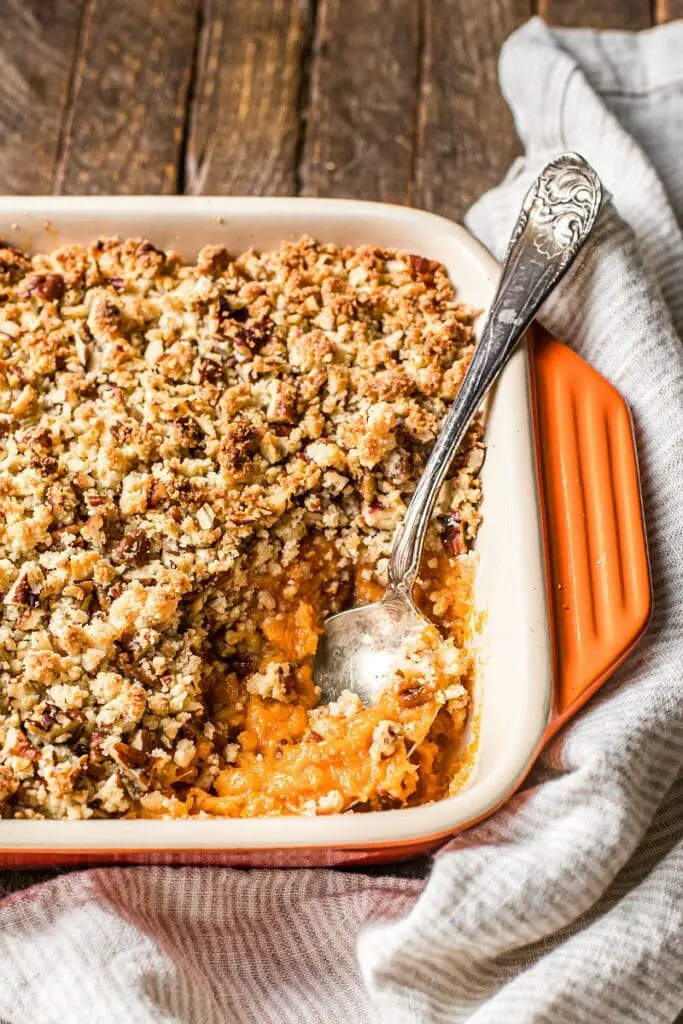 This is made with just 10 ingredients but it's naturally sweetened and still the perfect vegan and paleo sweet potato casserole to go for.
52. Whipped Bourbon Bacon Sweet Potatoes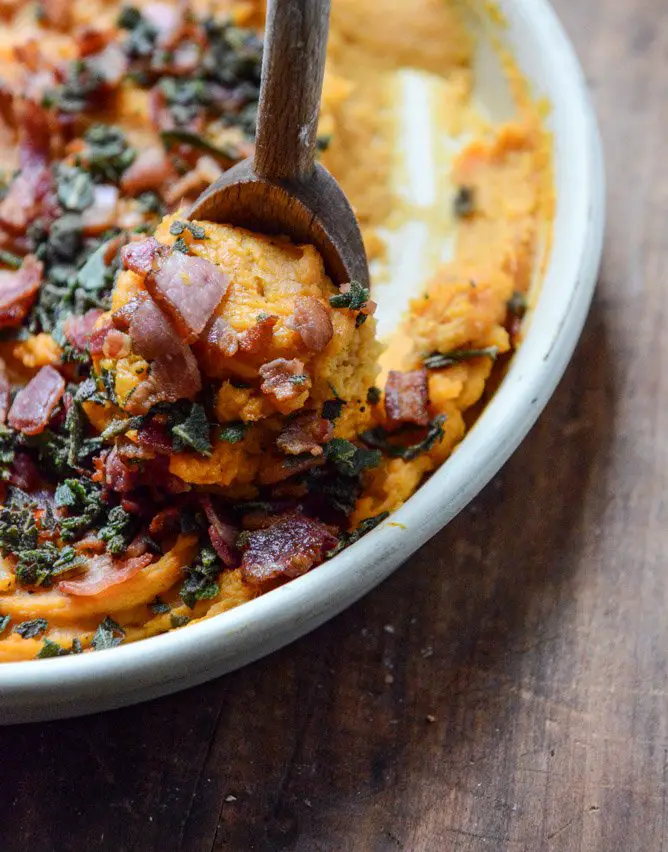 Looking to throw a party and impress your guests? Here is a recipe that takes the casserole recipe up a notch.
53. Yummy Sweet Potato Casserole Recipe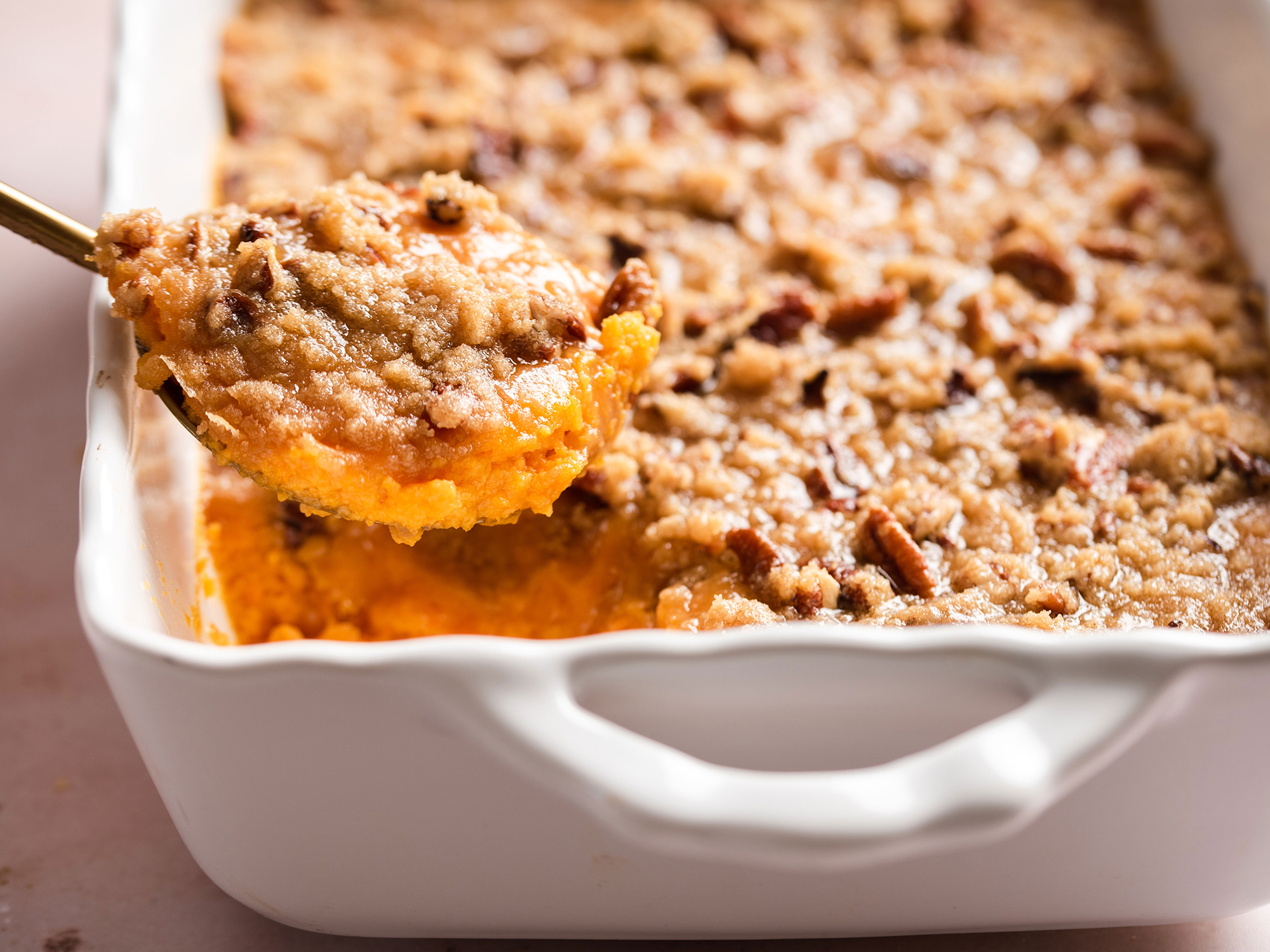 This recipe can easily become your go-to side dish for any traditional holiday including Christmas.
54. Rice Krispie Sweet Potato Casserole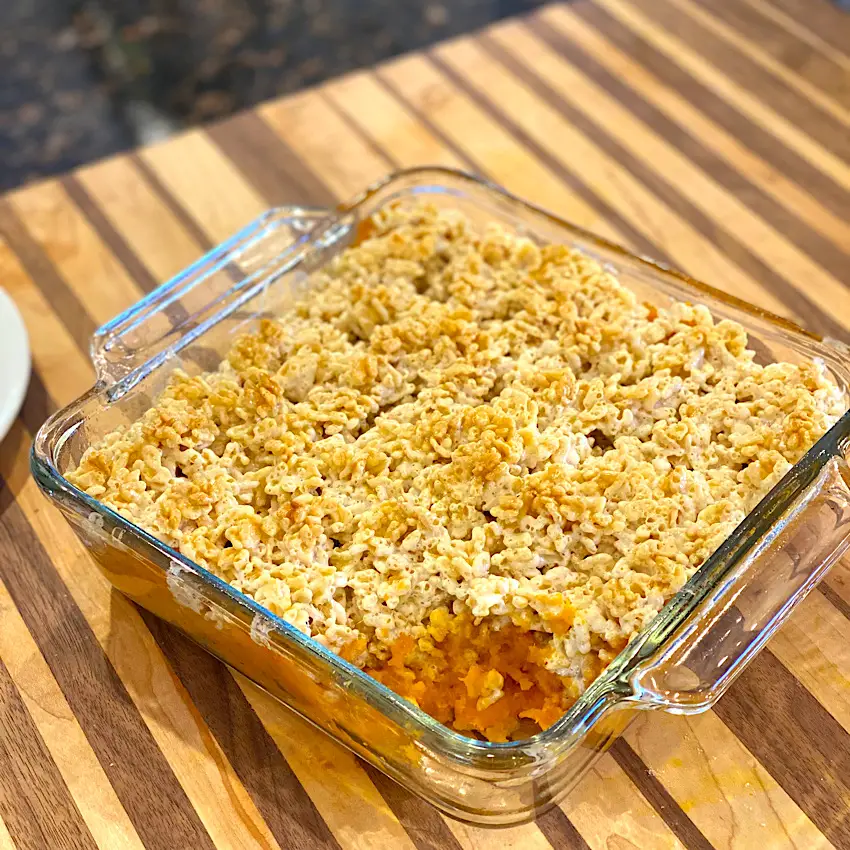 If you are up for some unexpected recipe then this homemade treat will do just great. The rice crispy topping sounds unusual but it's definitely good.
55. Sweet Potato Souffle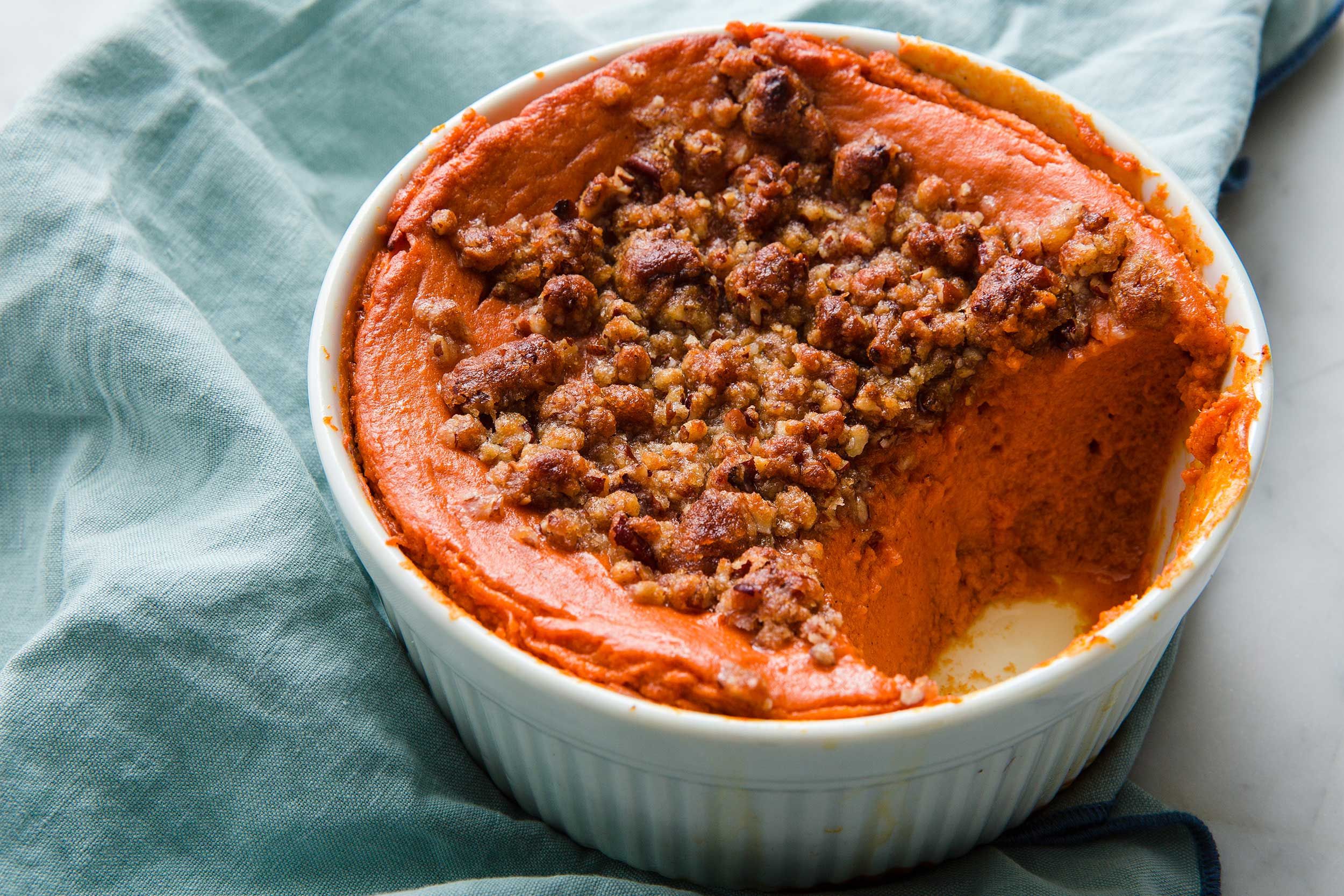 The sweet potato souffle is a more elegant side dish than most casserole recipes. It is however suitable for feeding large crowds especially when the choice of dessert is something light and fluffy.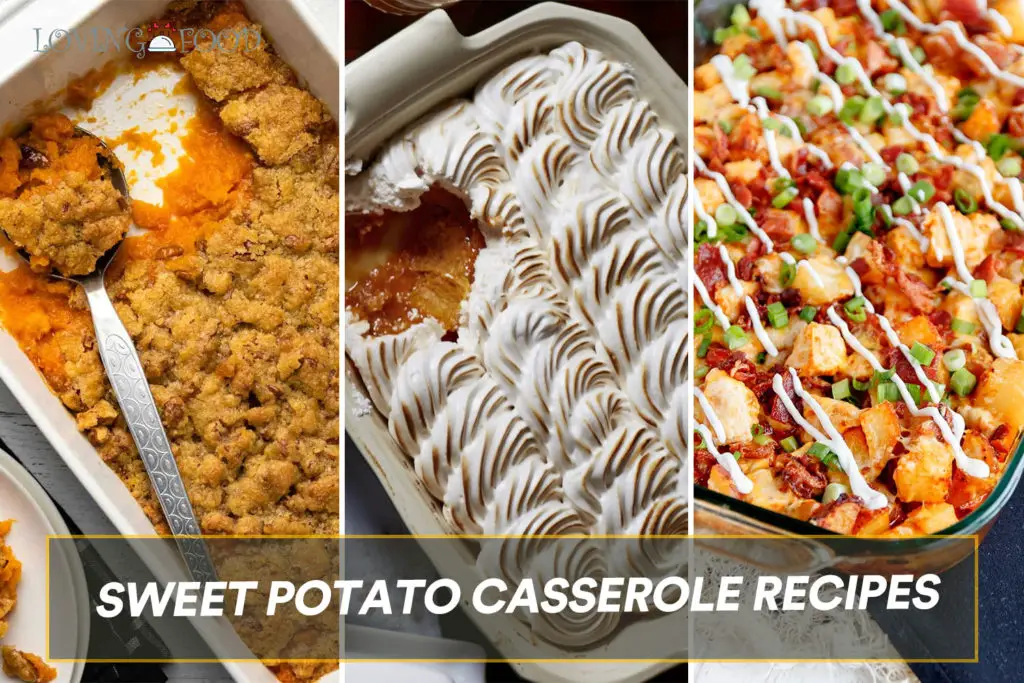 55 Sweet Potato Casserole Recipes (2022)
Want to make sweet potato casserole for the whole family? These are the recipes for you.
Directions
Select your favorite recipe from the list of 55 sweet potato casseroles
Get all the required ingredients in one place.
Read, set, cook.
Enjoy your meal.
Recipe Video
Wrapping Up
When you think of cozy comfort foods, potatoes are what come to mind.
Also, the last thing you want to worry about on thanksgiving or Christmas is food that takes forever to prep and makes, sweet potato casserole can really save the day no matter the occasion.
Holidays really ain't the same without a sweet potato casserole recipe hence we have the best recipes compiled for you and now you just have to pick one or try as much as you can. There is never too much casserole on thanksgiving!
We are sorry that this post was not useful for you!
Let us improve this post!
Tell us how we can improve this post?