It's time to do more than just dress your baked potato in sore cream. The oven is also not the only way you can enjoy baked potatoes, the air fryer has recently been introduced and there are so many amazing recipes you can create with it. Your size of potatoes will play a big role in what recipe you choose to go for however having multiple options makes this a lot easier.
Perfectly cooked potatoes are not impossible, you just need the right recipe to guide you. Air fryers are well known for their ability to produce crispy crunchy food exterior hence why potatoes are going to turn out great in them.
An air fryer is similar to an oven but it is a tool that can be used in cooking food with little to no oil required. The difference between the oven and the air fryer lies in the heating element.
The air fryer can also cut your cooking time in half. We have to agree that baked potatoes are the easier dish to make no matter the holiday you are celebrating. Hence, we have compiled an amazing list of baked potato recipes you will enjoy making in your air fryer.
NEW: 45 Must Try Taco Soup Recipes
30 Air Fryer Baked Potato Recipes
Cooking can be quite a lot of fun but it's an entirely different game when you are cooking for family and friends. Air fryer baked potatoes are not just delicious but they are healthy and happen to be a meal that works for festive periods or family gatherings. Below are 30 air fryer baked potato recipes for 2022.
1. Easy Air Fryer Baked Potato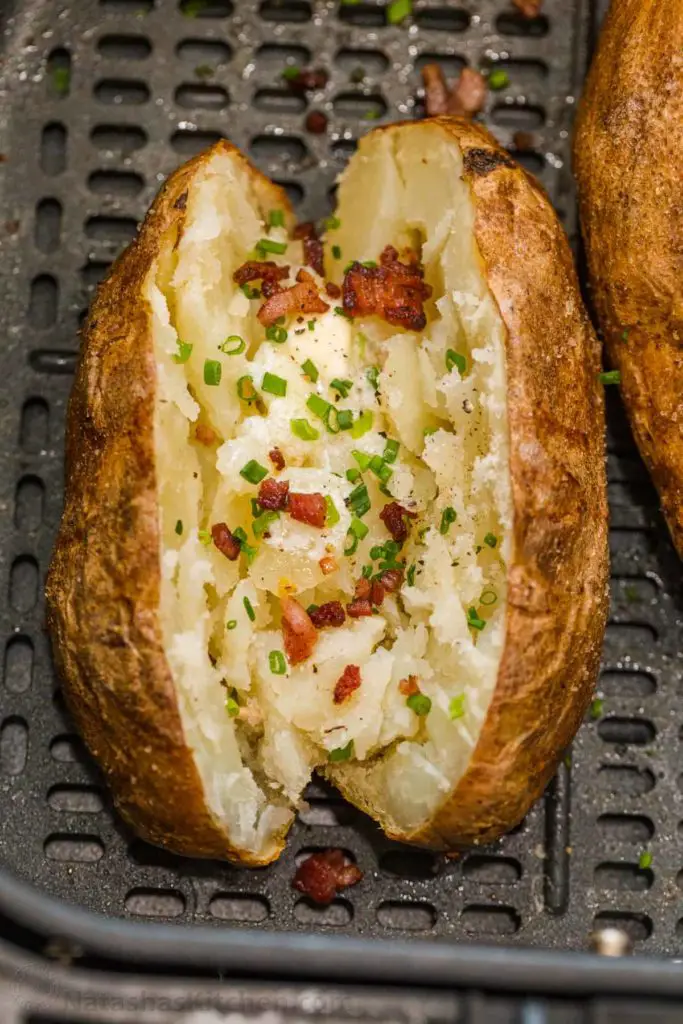 If you are baking potato in your air fryer for the first time then it's only ideal to start with the easy one. This is a popular recipe lots of people fancy for any occasion, it provides you with tender potato with a crispy flavorful skin. This is regarded as one of the easiest recipes you will find online however proper preparation is still vital.
You can make this in your oven as well however a lot of people claim they turn out crispier and tastier in an air fryer. It can be stored in an airtight container or refrigerated for up to 5 days. Top with cheese or any stuffing of your choice when ready to serve.
2. Air Fryer Twice Baked Potatoes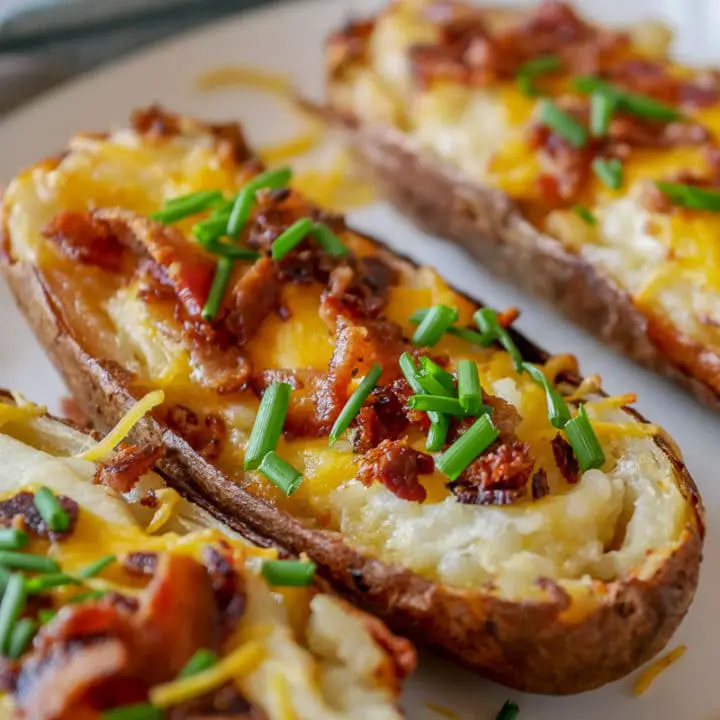 Air fryer twice baked potatoes might just sound like baking two potatoes to people who are not familiar with the recipe, however, it's more than that. Air fryer baked potatoes are really great fancy dish to make for guests and they are so easy to make. You can stuff them with your favorite stuffing mix-ins.
The main and support ingredients used in making these are all healthy. Twice-baked potatoes work as a side dish, light meal, or dinner.
3. Air Fryer Sweet Potato Casserole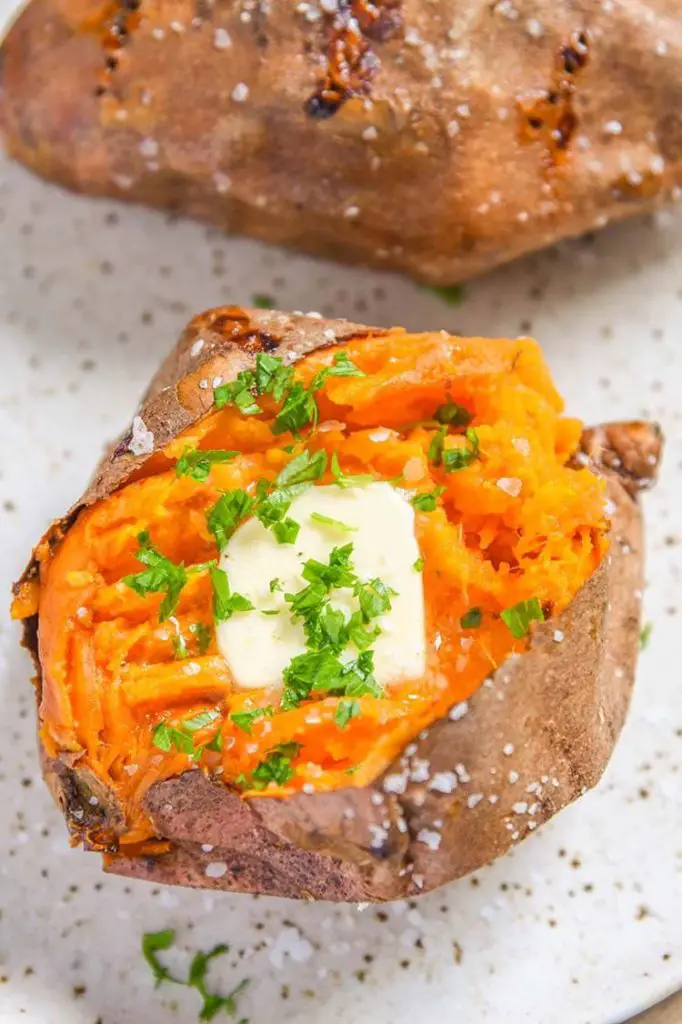 You will be amazed to know that you can use your air fryer to make sweet potato casserole. This gourmet delight is made with sugar, sweet yams, pecans, butter, cinnamon, and more. This is considered an ultimate side dish and it's the copycat of the oven sweet potato casserole.
This air fryer potato casserole turns out just as great as making them in the oven.
4. Air Fryer Crispy Roasted Onion Potatoes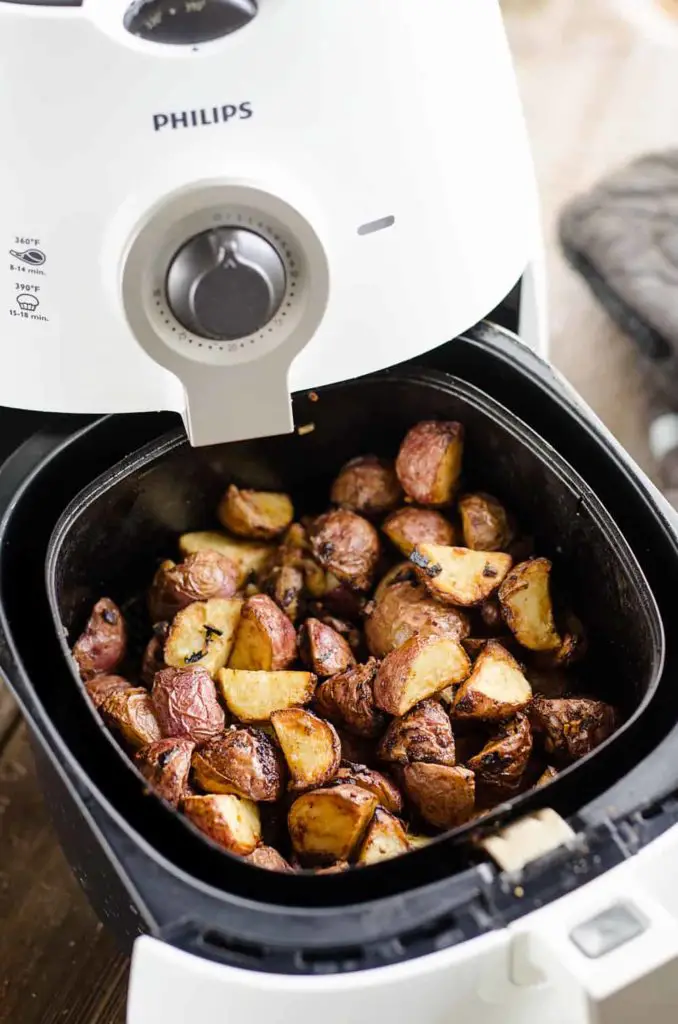 Air Fryer Crispy Roasted Onion Potatoes is another air fryer dish that is packed with lots of nutritional ingredients and it's an ideal meal to share with friends and family.
5. Air Fryer Hassleback Potatoes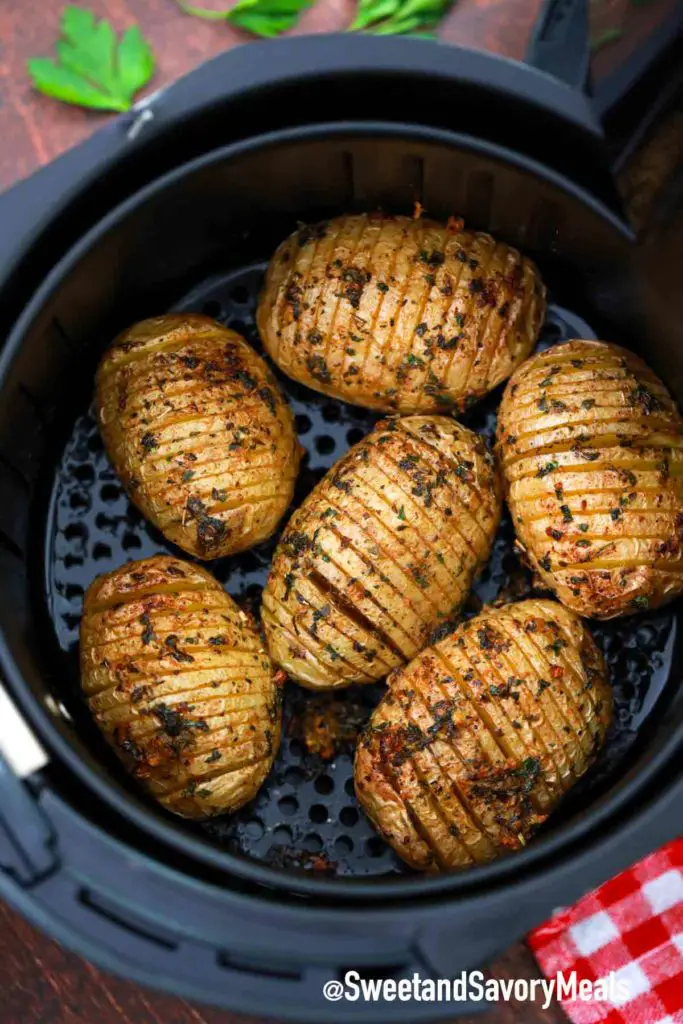 If you are looking for an adventurous dish then the Hasselback air fryer potatoes are the ideal choice. This is regarded as the ultimate air fryer potatoes recipe as it is accompanied by Parmesan cheese and thyme.
6. Air Fryer Candied Sweet Potatoes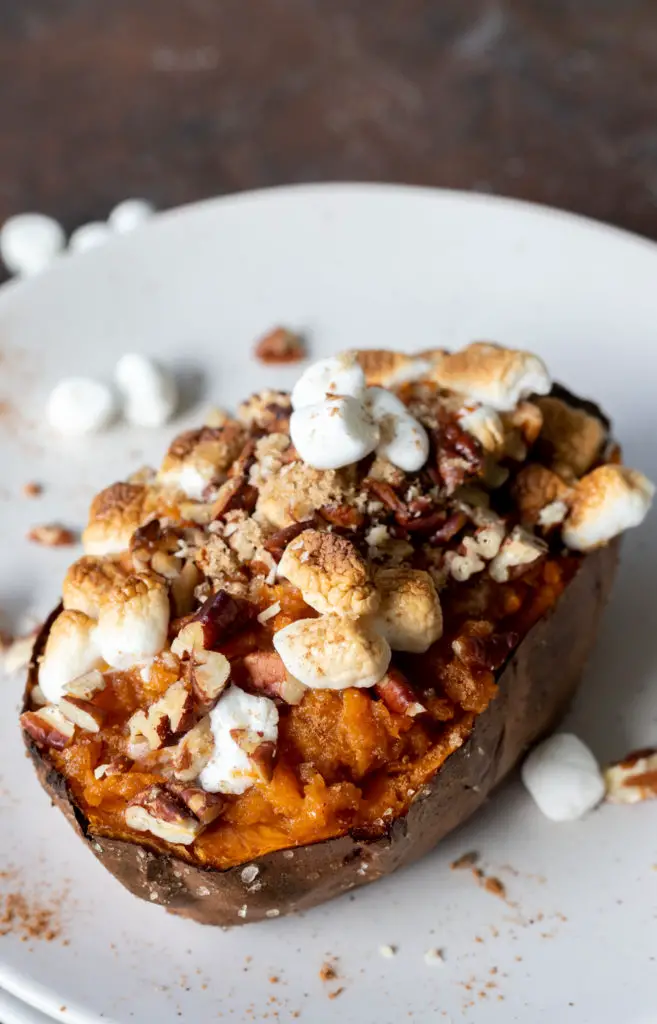 The candied air fryer sweet potatoes set the festive mood which is why it's America's favorite Thanksgiving side dish. This dish doesn't require many ingredients and yet it turns out really delicious and nutritious.
7. Air Fryer Potato Skins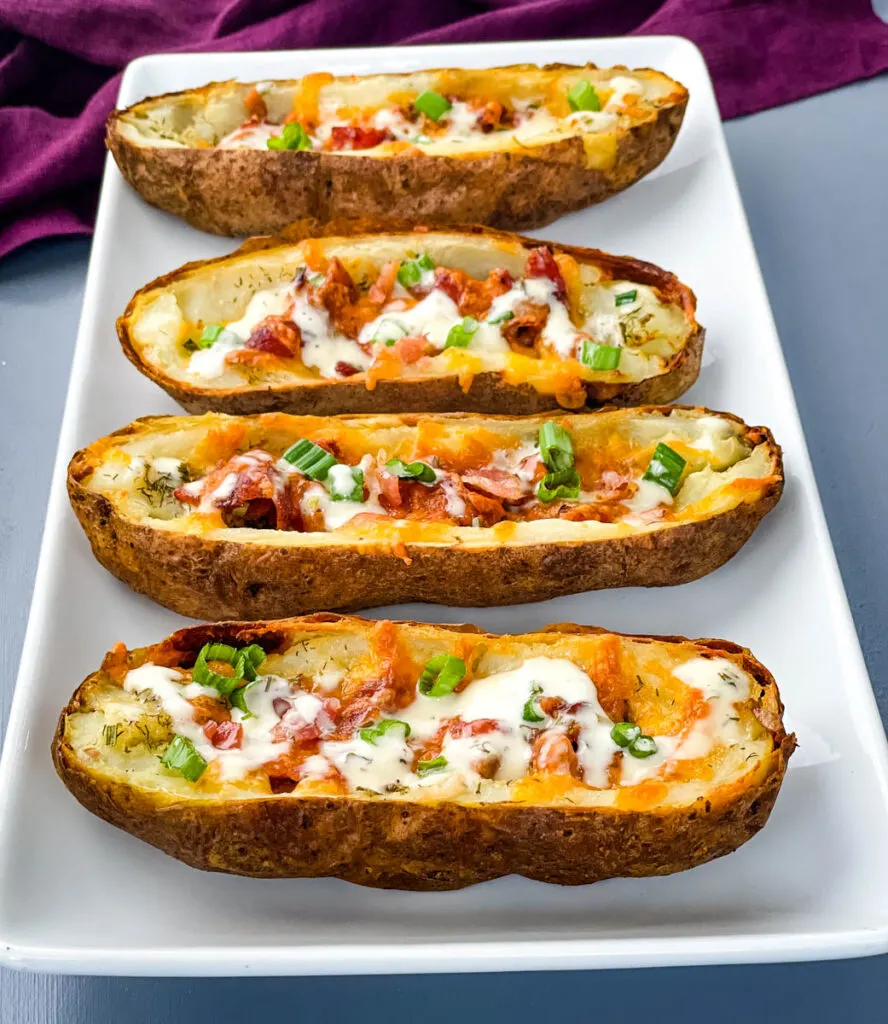 Want something fast and easy to make? Air fryer potato skin can be served with any of your favorite toppings and it is made completely in an air fryer.
8. Air Fryer Loaded Pizza Baked Potatoes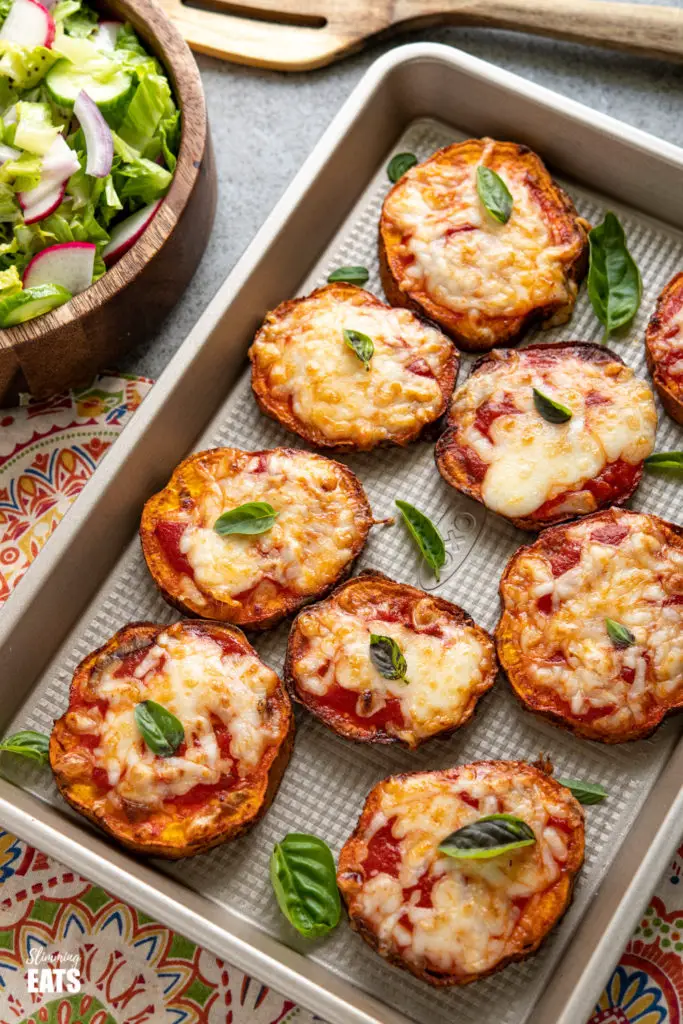 Loaded pizza baked potatoes made in an air fryer are sweet and crispy, and it's just the perfect dish for any Thanksgiving or light dinner with family.
9. Air Fryer Broccoli & Cheese Baked Potatoes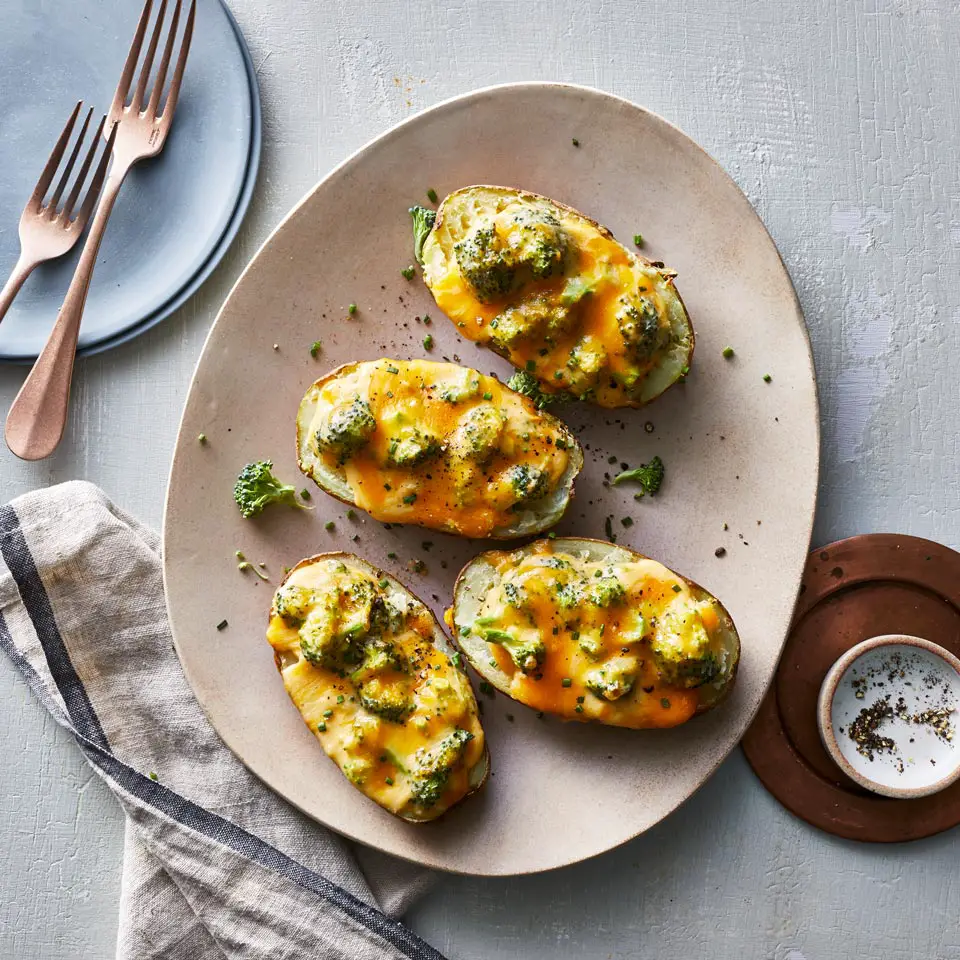 Here is another classic air fryer potato that makes the perfect dish for any occasion. This gives you two delicious side dishes and your guests won't forget about them in a hurry.
10. Mexican Air Fryer Potatoes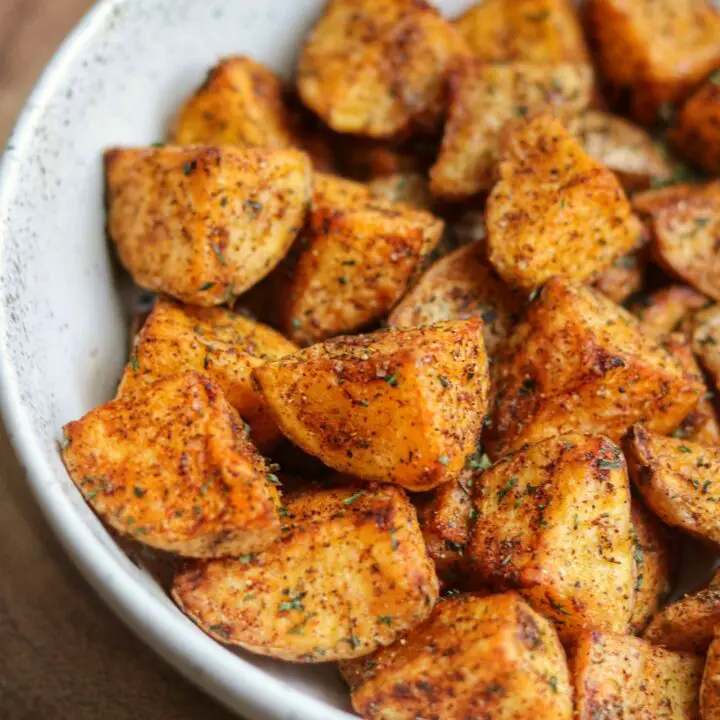 The Mexican air fryer potato recipe is low on fat and it's a much healthier choice for anyone.
11. Air Fryer Enchilada Stuffed Baked Potatoes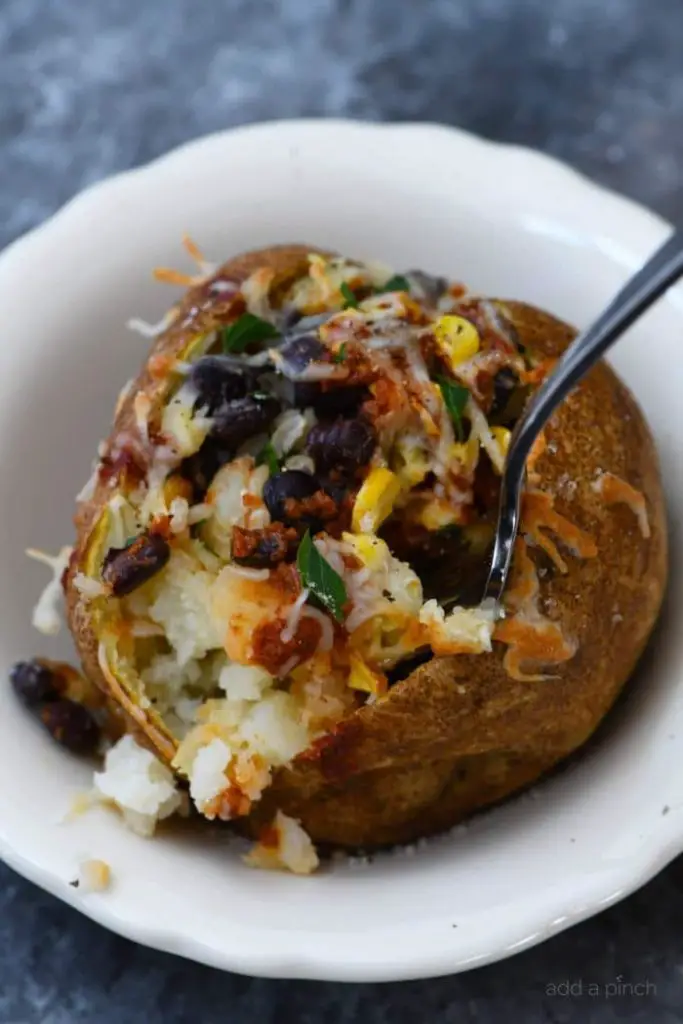 Air fryer Enchilada stuffed baked potatoes is another delicious dish that marks a festive occasion and it is a savory dish that can be enjoyed on any weeknight.
12. Omelette Loaded Air Fryer Potato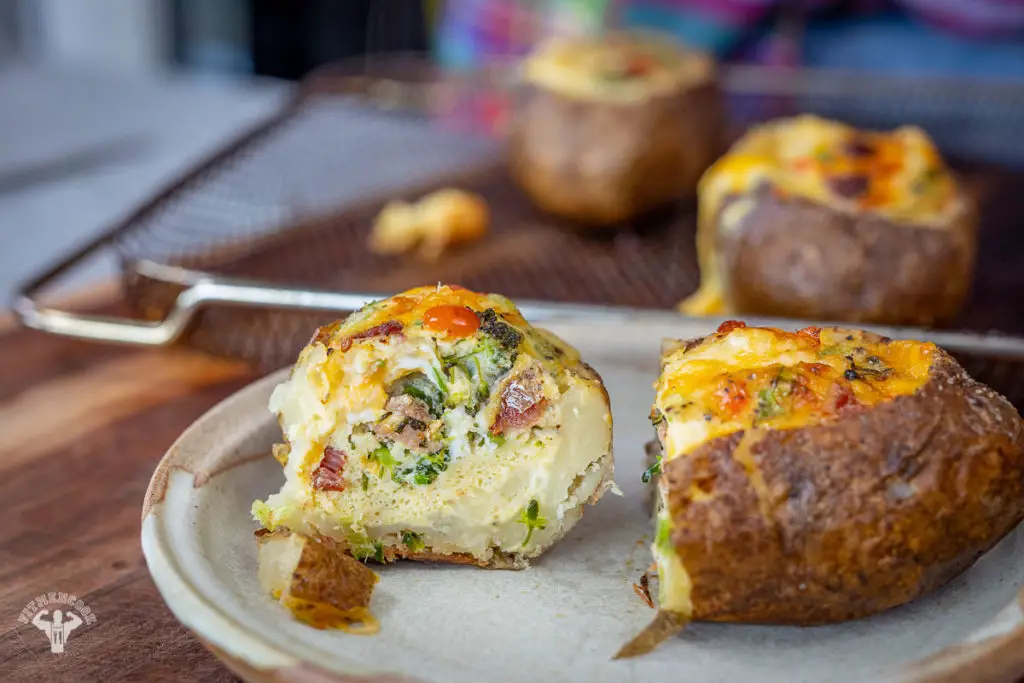 The omelet-loaded air fryer potato can be made from beginning to end in the air fryer but many people believe it turns out more outstanding if the oven is used as the base.
13. 15 Minute Air Fryer Breakfast Potatoes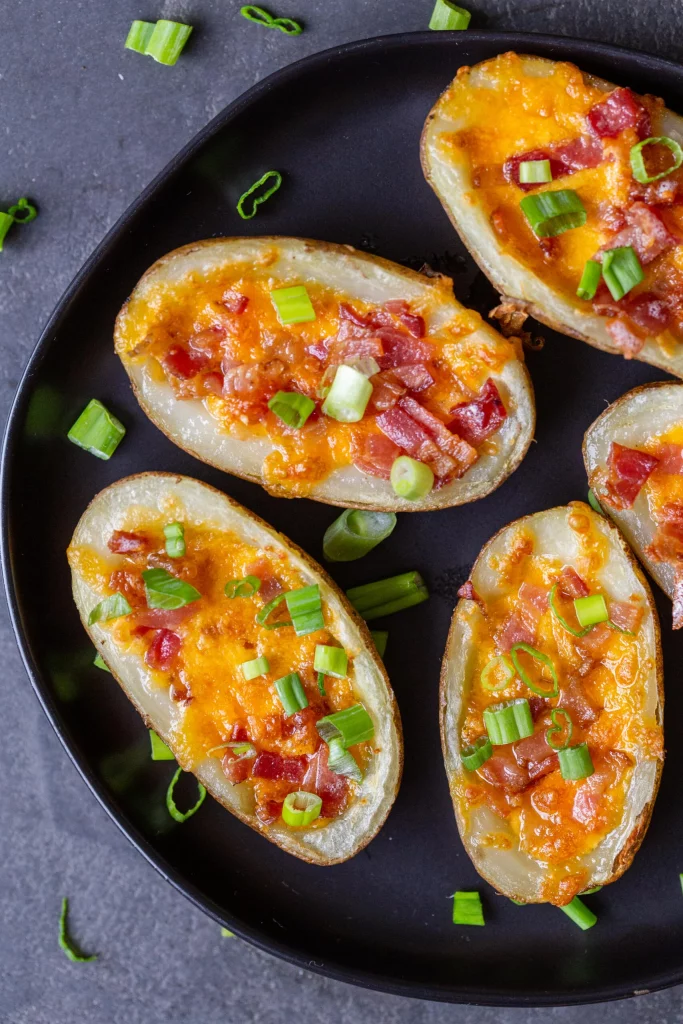 If you want a last-minute breakfast that won't take too long to make then this 15-minute air fryer breakfast potatoes should be on your list.
14. BLT With Air Fryer Potatoes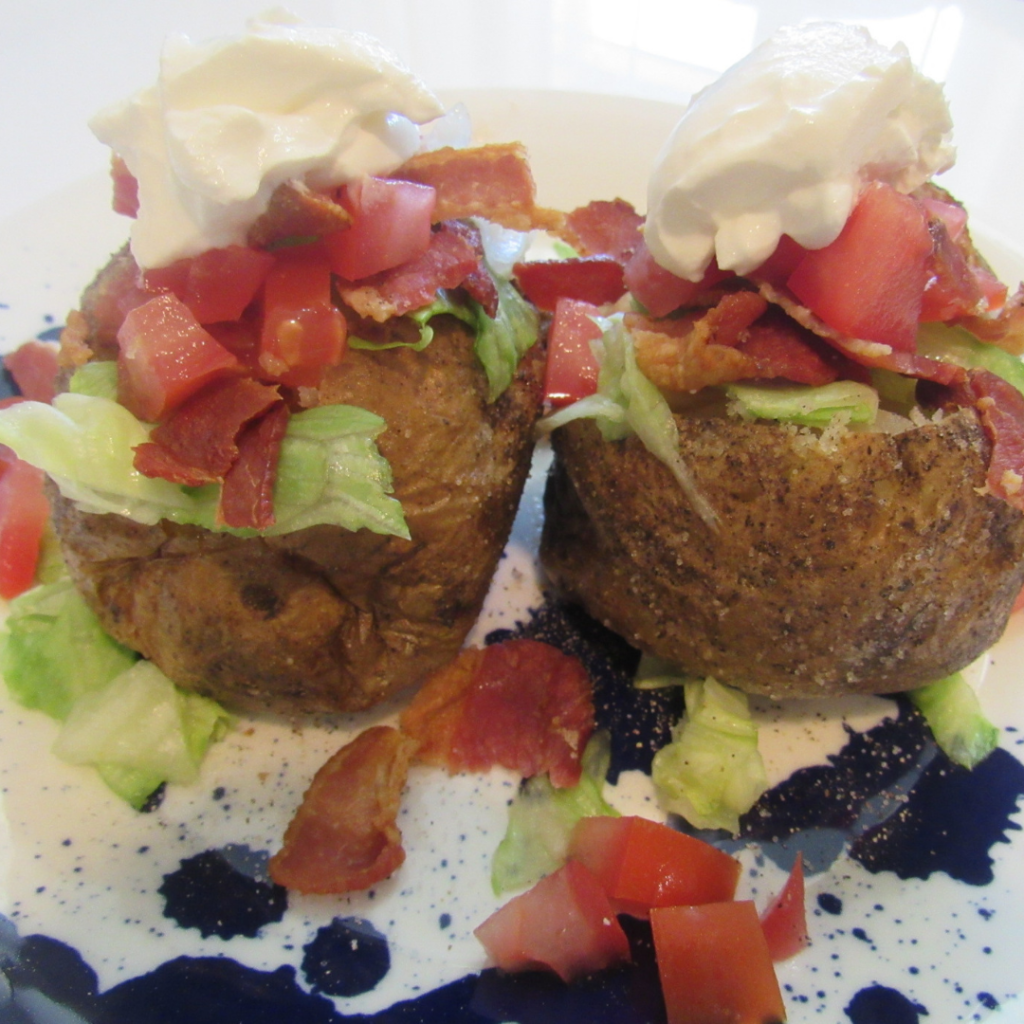 This is one epic BLT recipe you can enjoy for thanksgiving and any other festive occasion with no bread. The oven will be needed for the prepping.
15. Creamy Chicken Alfredo Baked Potatoes
We all love the creamy Alfredo chicken and accompanying it with these awesome baked potatoes makes it a more satisfying dish.
16. Garlic Smashed Air Fryer Potatoes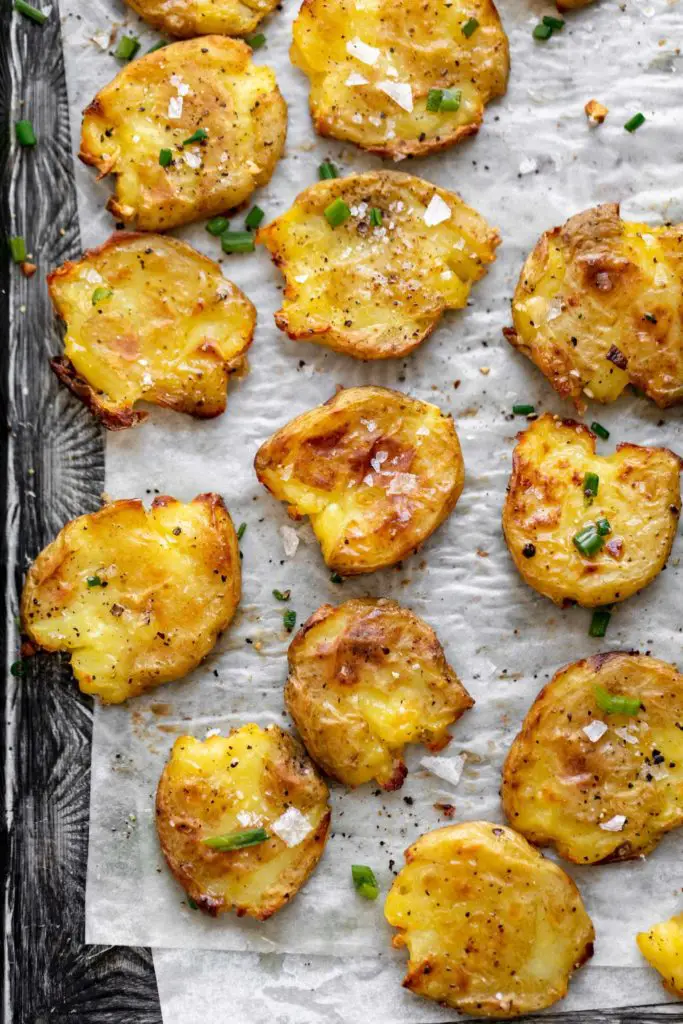 Healthy baked potatoes sure have a way of fueling our energy and appetite and this is one that adds a flavorful taste to the mix. Garlic smashed air fryer baked potatoes have a buttery crispy taste you can't help but love.
17. Air Fryer Taco Stuffed Potatoes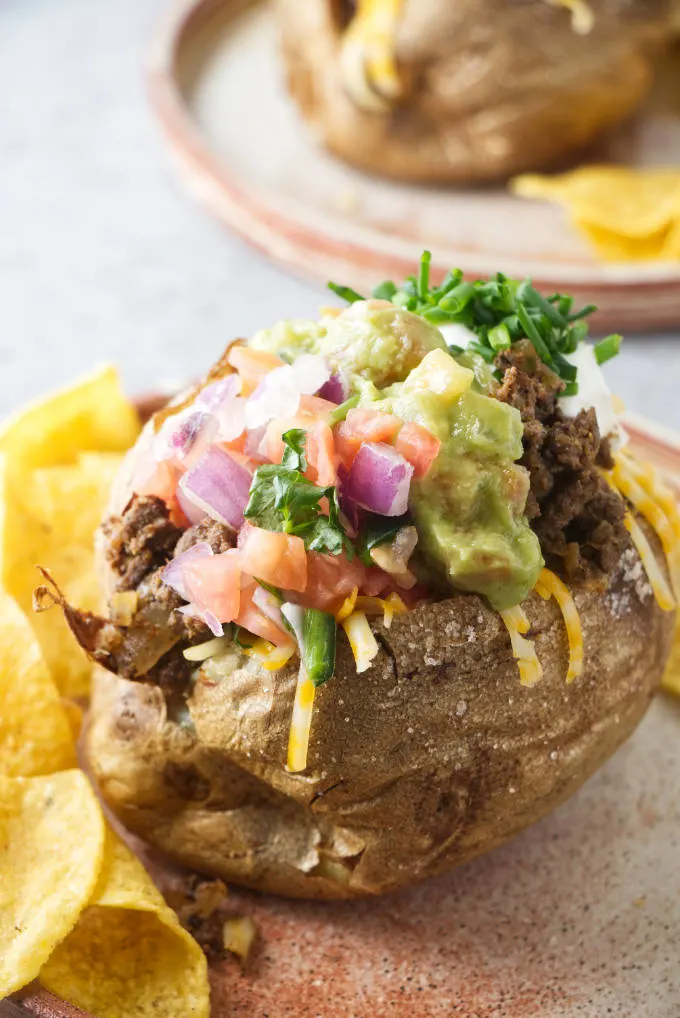 Baked potatoes are stapled dishes and they become a perfect side dish for pleasing your guests when it's stuffed with tacos.
18. Air Fryer BBQ Pork Sweet Potato Skin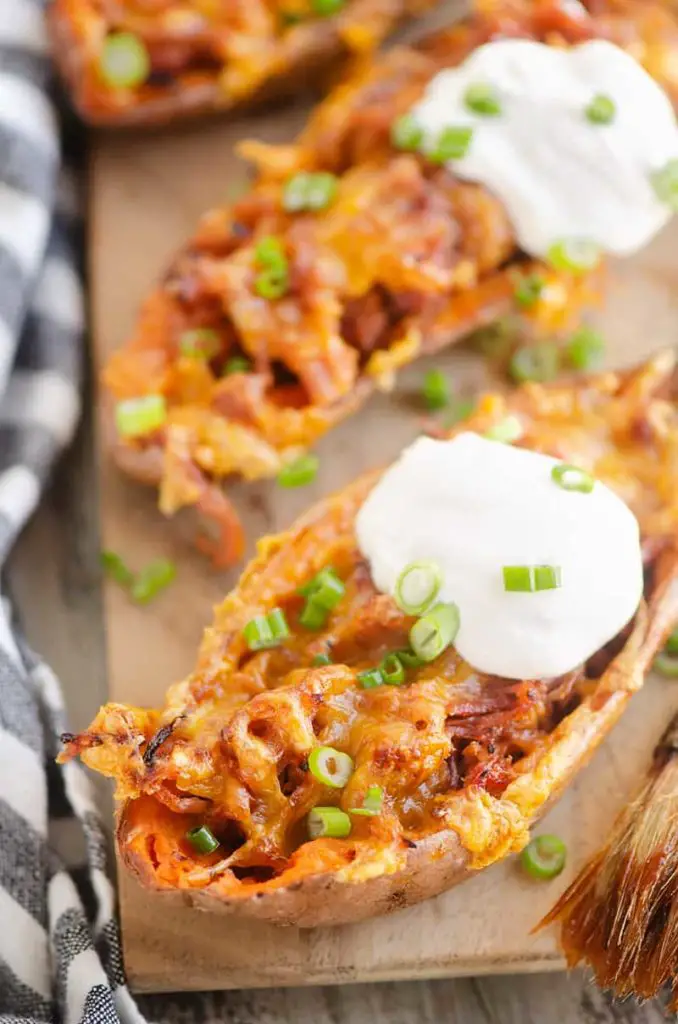 With this recipe, you get a combination flavor of pulled pork, cheddar, and green onions. You can enjoy this with any sauce of your choice, this is ideal for gathering with family and friends, and also works for casual weekend dinner.
19. Air Fryer Crispy Potatoes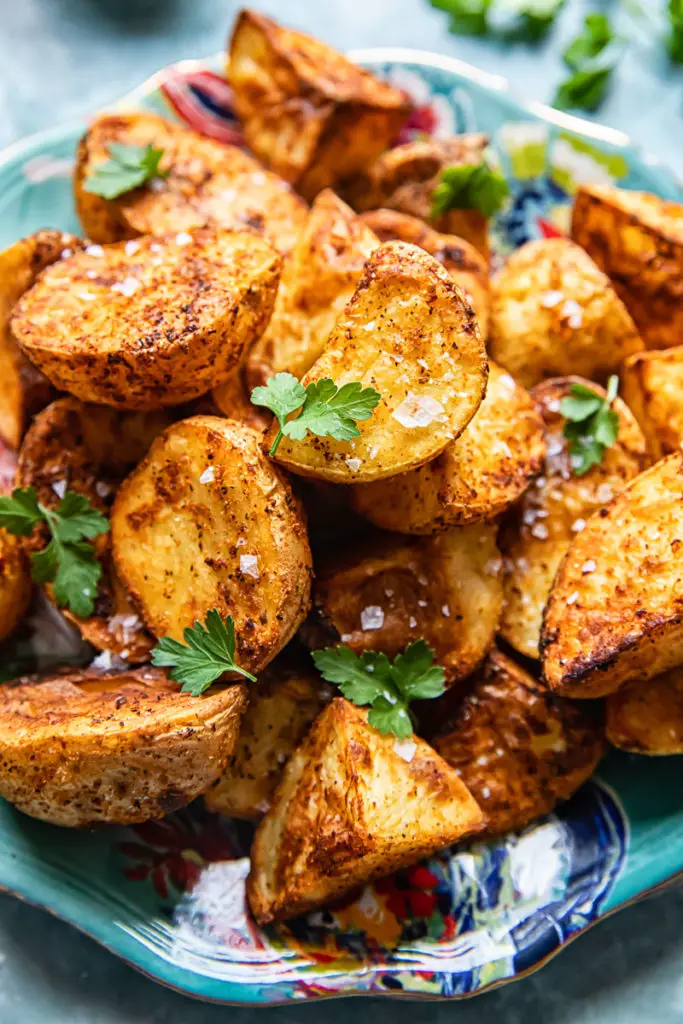 One of the benefits of the air fryer is that you can make very tender crispy potatoes. This recipe is easy and suitable for any festive occasion.
20. Air Fryer Potatoes au Gratin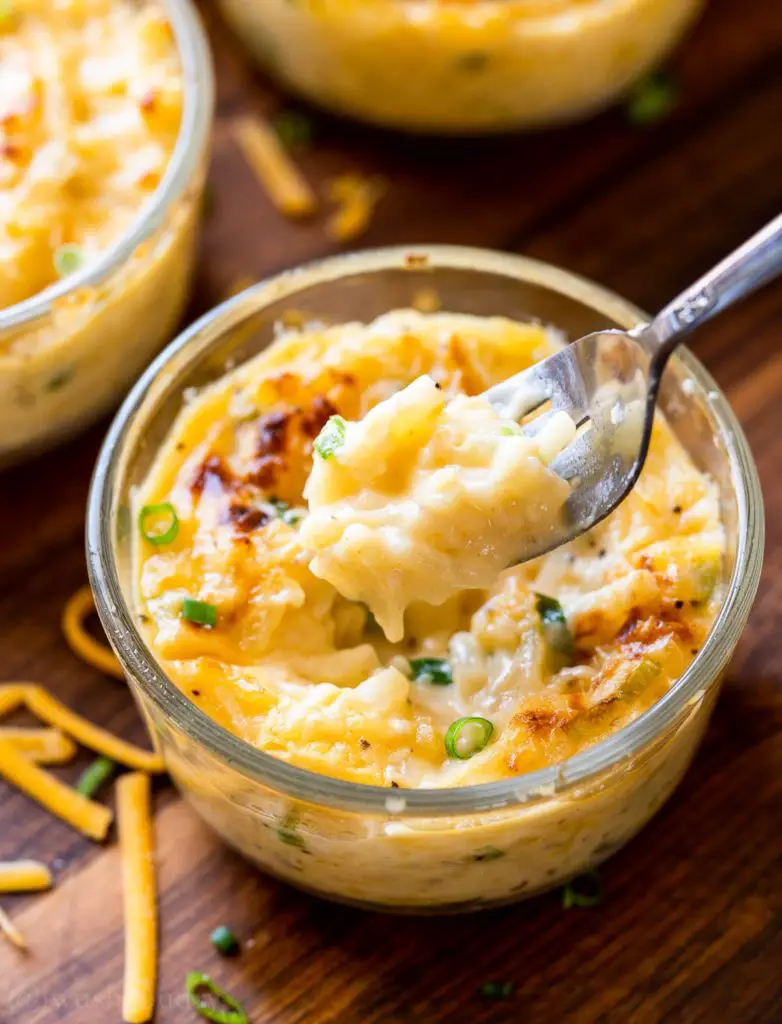 This is also known as cheesy scalloped potatoes but this is considered the baked version and it's just the perfect side dish to make on holiday dinners.
21. Perfect Air Fryer Baked Potato Recipe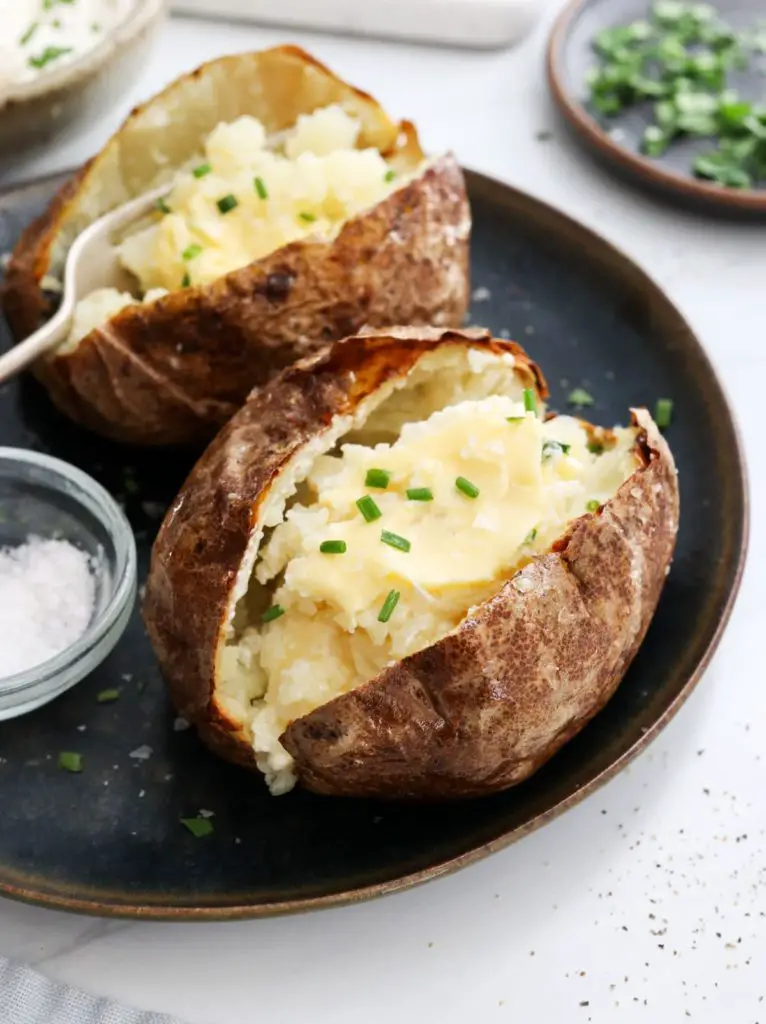 This is regarded as perfect due to how it's the popular choice of air fryer baked potatoes recipe and when done right, you get fluffy soft potatoes. The air fryer is the right choice for making this baked potato as it allows for a temperature control environment where your potato can cook on all sides.
22. Air Fryer Rosemary Potatoes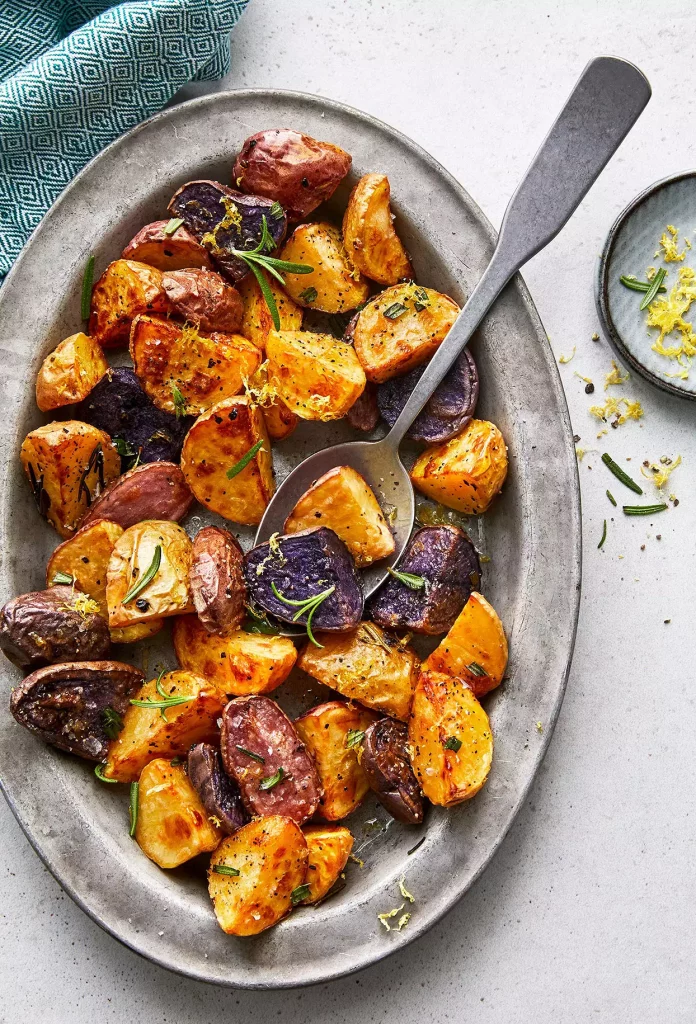 This recipe is made with red potatoes and it's one you are going to fall in love with. Red potatoes are paired with rosemary, oil, and seasoning then it is roasted to perfection. This is a simple, colorful and just the right tasty dish to enjoy with family.
23. Air Fryer Baked Sweet Potato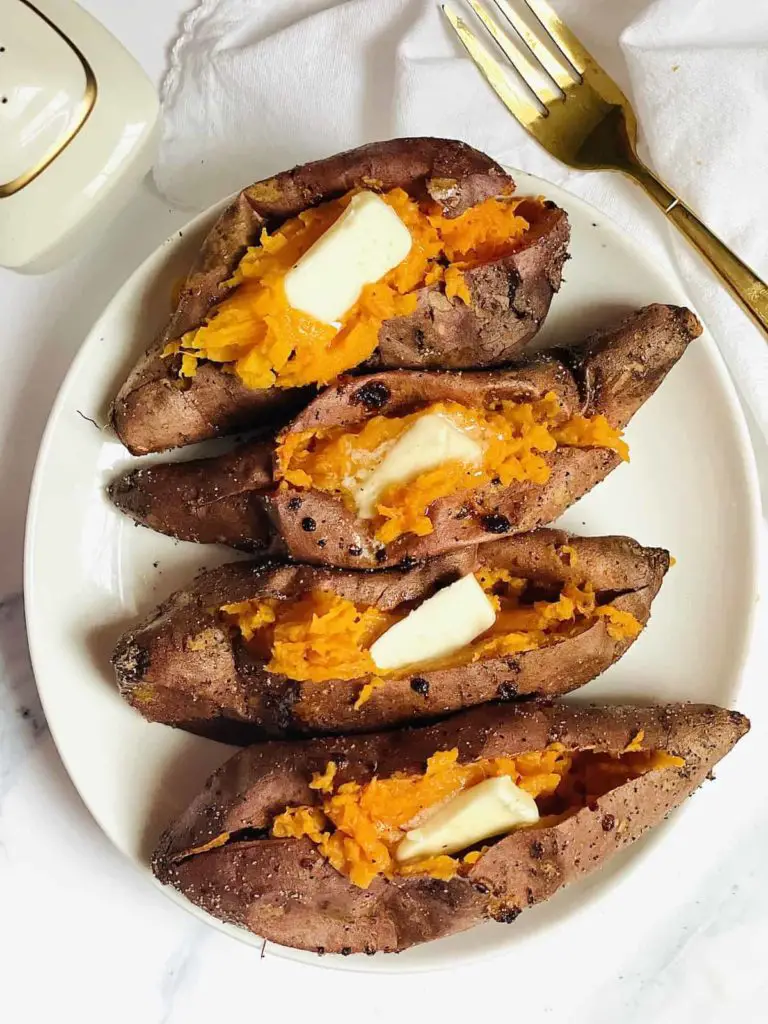 One of the benefits of using the air fryer is that you can go with little to no oil. You can make baked sweet potatoes in no time with no oil at all. This recipe gives you baked potatoes with crispy and delicious skin while they are soft and tender on the inside.
24. Air Fryer Mashed Baked Potatoes Balls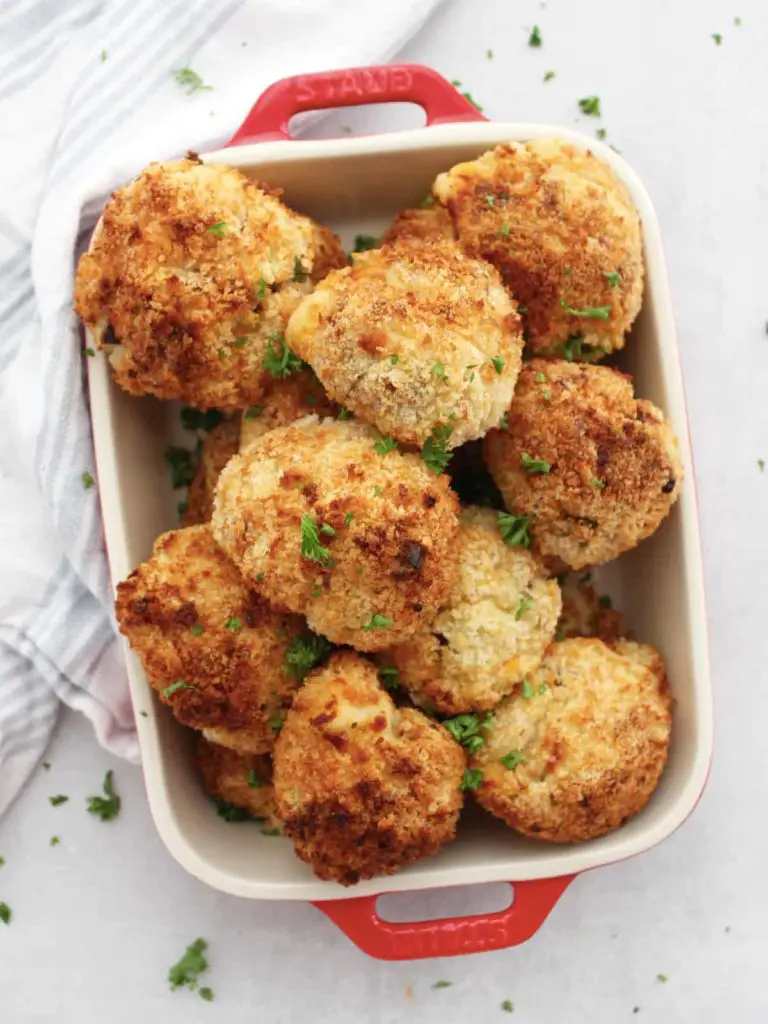 This is another loaded baked potatoes recipe worth adding to your holiday side dish menu. This is really delicious and it offers you benefit both in the taste and nutrient. This is panko crumbs and It's made with less oil. It's one of the easiest and fastest air fryer baked potatoes recipes.
25. Air Fryer Potato Wedges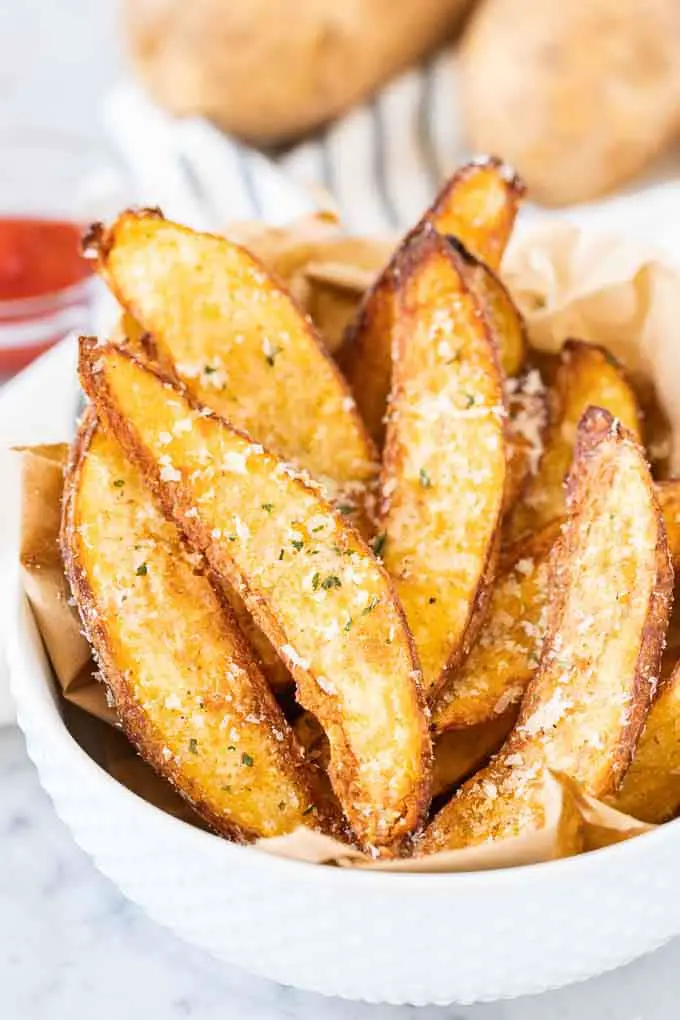 This potato has carefully been baked in the air fryer and the recipe does say it might end up being the best potato wedges you have ever had. That right there is enough reason to have it added to your menu!
26. BBQ Chicken Stuffed Air Fryer Sweet Potatoes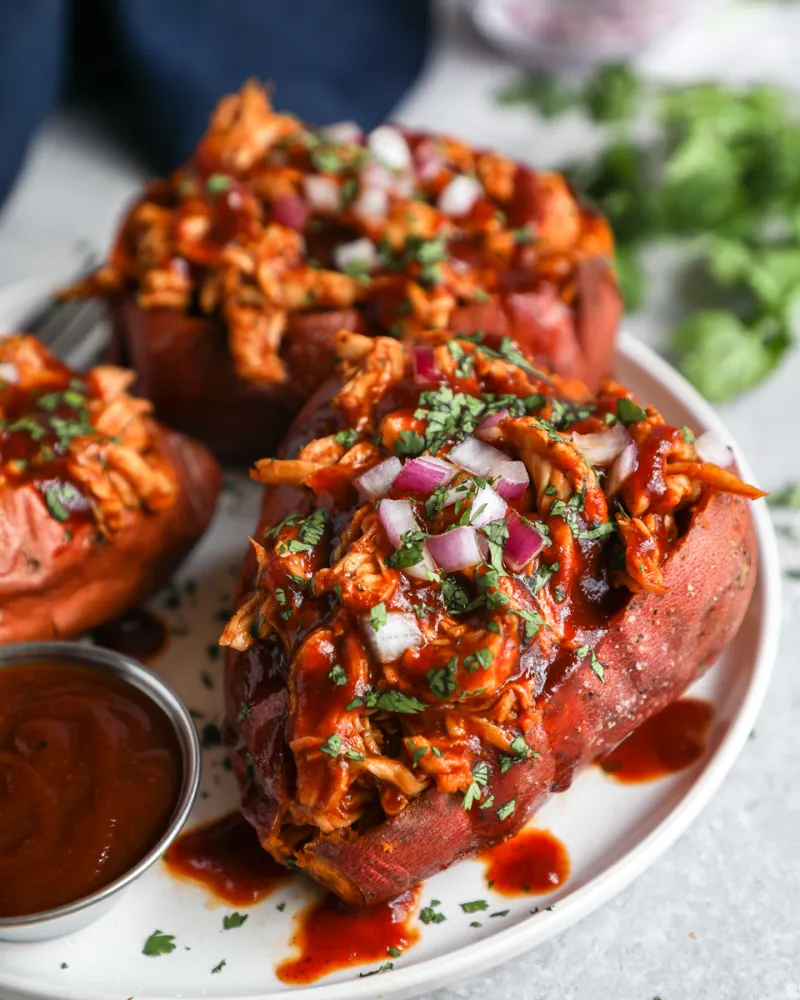 This is another very simple baked sweet potato recipe you can enjoy as a full meal or side dish. The recipe calls for sweet potatoes, BBQ chicken, shredded cheese, parsley, and red onion which are all simple basic ingredients.
27. Air Fryer Baked Potatoes With Brown Sugar Cinnamon Butter
Air fryer baked potatoes can really be your go-to comfort food if it's stuffed with the right ingredients. Here is another recipe that tops the chart of best holiday dishes to make.
28. French Onion Air Fryer Baked Potatoes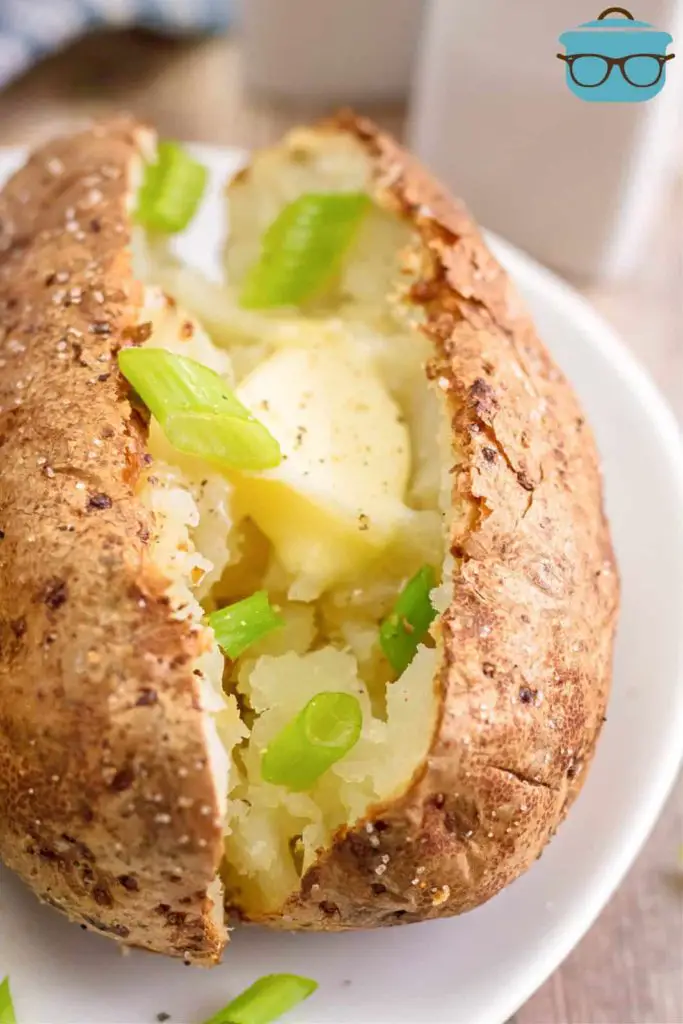 The French onion air fryer baked potatoes change the method of baked potatoes you are used to. This is a quick and simple recipe you can make and enjoy with family and friends. This recipe gives you potatoes that instantly melt in your mouth with a burst of flavor.
29. Cheesy Air Fryer Twice Baked Potatoes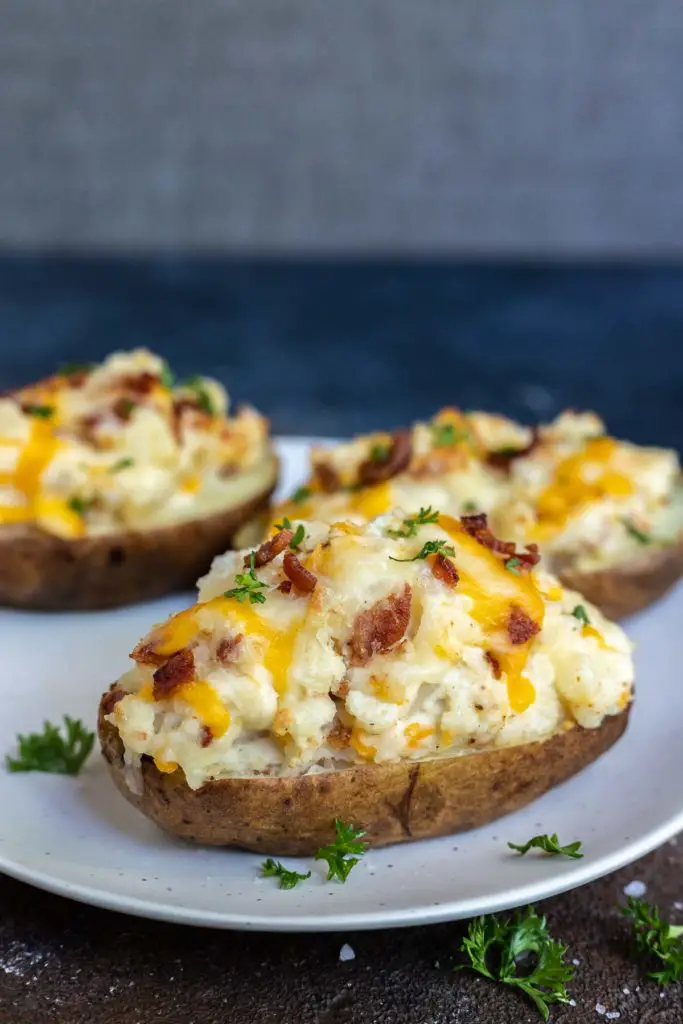 This cheesy air fryer twice-baked potato is really creamy and worth every effort you will put into it. This recipe produces baked potatoes that are crispy on the outside with melty cheese and mashed taters on the inside. You can add any of your family's favorites toppings to it.
30. Easy Air Fryer Potato Latkes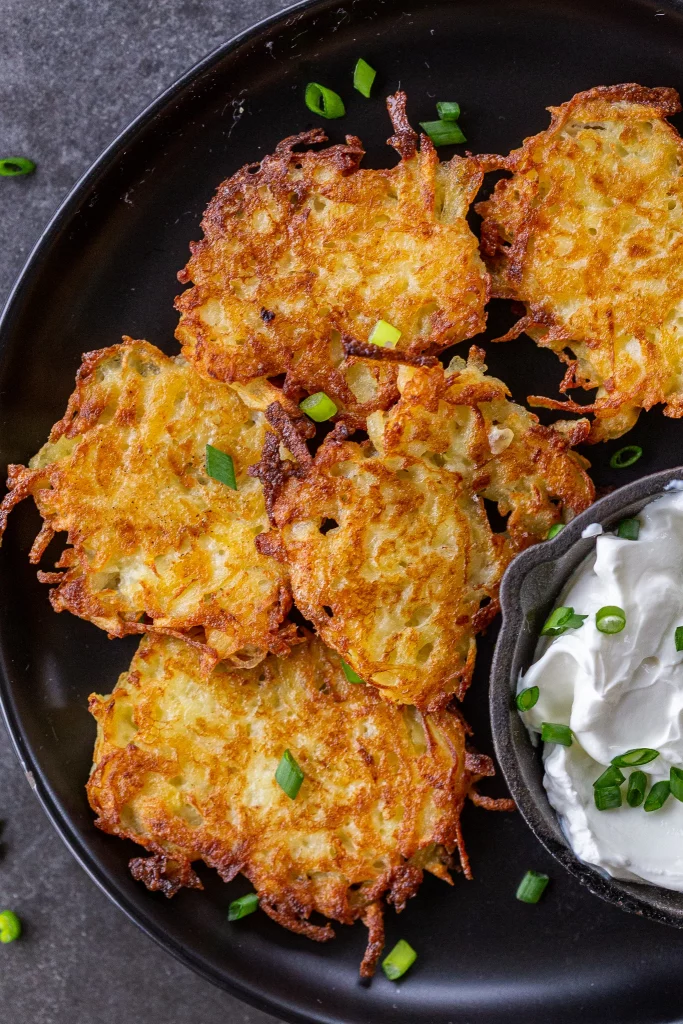 Easy Air Fryer Latkes is a popular baked potato recipe and it is so good, that it practically melts with flavor in your mouth. These fried favorites are made with a traditional blend of potatoes, onions, and eggs. It can be topped with applesauce, cracked pepper, scallions, and pretty much anything you think goes with baked potatoes.
Wrapping Up
One meal we are sure many people can't have enough of is baked potato.
With the many recipes available for baked potato air fryers, it might be time to have your conventional oven replaced with an air fryer.
An air fryer might be a small kitchen appliance but it is a time saver and most holiday dishes require fast preparation, hence it will surely come in handy. In addition, air fryer baked potatoes are healthier alternatives to deep-fried ones.