Popeyes kitchen has many mouth-watering dishes on the menu, but not many are vegetarian-friendly.
If you are on a strict vegetarian diet, you should get familiar with the items you can order before visiting Popeye Chicken and Biscuits. Popeyes makes great comfort foods, unfortunately, they are not all vegetarian as most of them are made from animal products.
It's quite hard not to love their crunchy chicken and if you haven't been there, you should also know looking at the picture alone can get your mouth watering, and you can be sure that they are worth having a taste of.
Popeyes happens to stand out due to their tasty fried chicken and while we all agree fried check is not the healthiest food option and when it comes to popeye's fried chicken, it's particularly unhealthy.
Everyone has a question when it comes to popeye's menu. While popeyes do consistently deliver a menu with a stronger delicious flavor you can enjoy any time, there isn't something much for vegans and vegetarians.
8 Vegetarian Foods Options At Popeyes
Popeye's menu compiles mostly foods from animals and this is not suitable for a vegetarian diet. As we mentioned earlier, they are popular for their Louisiana-style chicken and the sides, but that isn't suitable for a vegetarian and vegan diet.
But not to worry, below are the top vegetarian food options we have curated for you.
1. Mac And Cheese
Popeye's Lousiana Kitchen does not have a vegetarian menu and there is no plant-based chicken either but luckily, you do not have to eliminate their mac and cheese. This is one of the best vegetarian food options on the menu. Most pasta is naturally vegetarian.
2. Baguette
The list of vegetarian foods you can enjoy at Popeyes is very limited. The baguette however is a simple meal you can ask for. This is vegan and vegetarian friendly, it is also very delicious and filling.
3. Applesauce
We all love applesauce and there are no animal or dairy products in it. This is a simple comfort side for you can enjoy when you visit Popeyes.
4. Corn on The Cob
Popeyes corn on the cob is known to have a really high-quality taste, and it's a classic comfort food anyone can enjoy. The corn on the cob is definitely meat-free however one without butter is the only option you can go for.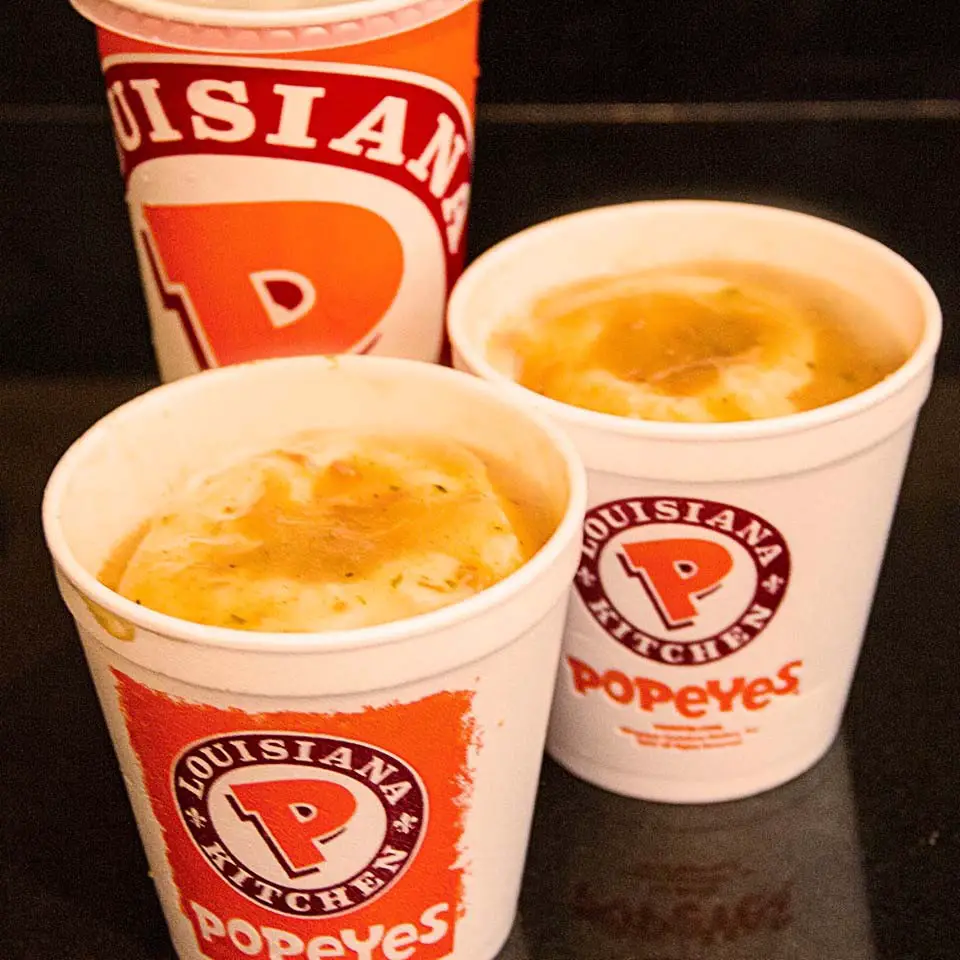 6. Beverages
They really do not have a wide selection of foods for vegetarians, but there are lots of vegan and vegetarian beverages to go for. The soft drink options for vegans to try at popeyes are coffee, diet coke, orange juice, Hawaiian punch, Dr. pepper, sprite, unsweetened tea, sweet tea, and mountain dew.
7. Grits
You should consider trying the grits as well since they are typically made vegan but ensure they do not contain animal fat or any dairy products at your popeyes location.
8. Jalapenos
Jalapeños are another item that seems to be vegetarian-friendly at popeyes after all it's just jalapeño peppers sliced up in a cup. While there is nothing spectacular about this, if you are a spice lover, you can get some baguette to go with it.
Popeyes Foods That Look Vegetarian But Are Not
Popeyes makes really great comfort foods and granted they do have more vegetarian food options than MacDonald but according to many online sources, these menu items are likely to have been cooked in animal fat.
Here are some menu items that people mistake to be vegetarian, but they are not;
Red beans and rice – contains pork fat
Onion rings – contain milk and egg
Coleslaw – contains egg
Hot cinnamon apple pie – contains milk
Green beans – contain turkey bacon and milk
Mashed potatoes – contain milk, the gravy contains pork and chicken
Mardi Grass Mustard – contains egg
Biscuits – contain milk.
Frequently Asked Questions
Does Popeyes have a vegetarian sandwich?
Popeyes has recently announced the first vegetarian sandwich, and it features a blend of breaded and fried red bean, lettuce, patty, and tomato on a brioche bun. However, there are few choices for vegetarians, and you might have to eliminate some items from your sandwich.
Are Popeyes beans and rice vegetarian?
The beans and rice are just as popular and delicious as the chicken, unfortunately, it is not vegetarian. Popeyes beans and rice are cooked with pork, so there is no way to modify them by removing some items rather than avoiding them if you are on a strict no-meat diet.
Does Popeyes gravy have meat?
Popeyes gravy does have meat and many non-vegan ingredients are in it. Most gravy is meat-based and this is not an exception, it contains ground chicken, turkey base, gizzards, beef base, turkey stock, whey, smoked pork Tasso, and gelatin.
Does Popeyes fry in Lard?
This has a no and yes answer. Popeyes fry the way things should be fried and according to some customers, they believe they do fry in lard. Their chicken is also fried in lard and they do have some items that contain peanuts and this same oil is used for fries.
Wrapping Up
According to the information gathered, Popeyes might not be the right place for you if you are looking for a vegetarian and vegan meal. The cajun fries which happen to be a delightful side to try have also been reported to be fried in pig lard, so you might consider avoiding it as well.
Popeyes does not list all its ingredients online so most information is not 100% confirmed.
But contrary to what many people presume, many of Popeyes' vegetarian food is not completely vegetarian friendly, so we do hope the menu is revised soon and something 100% vegetarian is added.
We are sorry that this post was not useful for you!
Let us improve this post!
Tell us how we can improve this post?