Kitchen appliances are an important part of the kitchen and home, and this includes outdoor appliances. While we are grateful for the creation of most kitchen appliances because they make our kitchen and cooking activities easier, an important aspect of purchase for every buyer is to buy the best of the products they can find.
The Blackstone company has a reputation for producing the best griddle types, even as they come in different sizes. However, there has been a lot of discussion on the differences in the Blackstone griddle that are found in different stores, such as Walmart.
There is the possibility that the Blackstone griddle sold at Walmart is different from the one sold in other stores. This is because the Blackstone company have some partnership and relationship with some stores and organization, which leads to the production of some Blackstone griddle that is exclusive to those stores and including Walmart. 
This brings us to the focus of this article. Are Walmart Blackstone griddles different? Are they of more or less quality than the Blackstone griddle gotten in other places? Find out all we know about this in the article below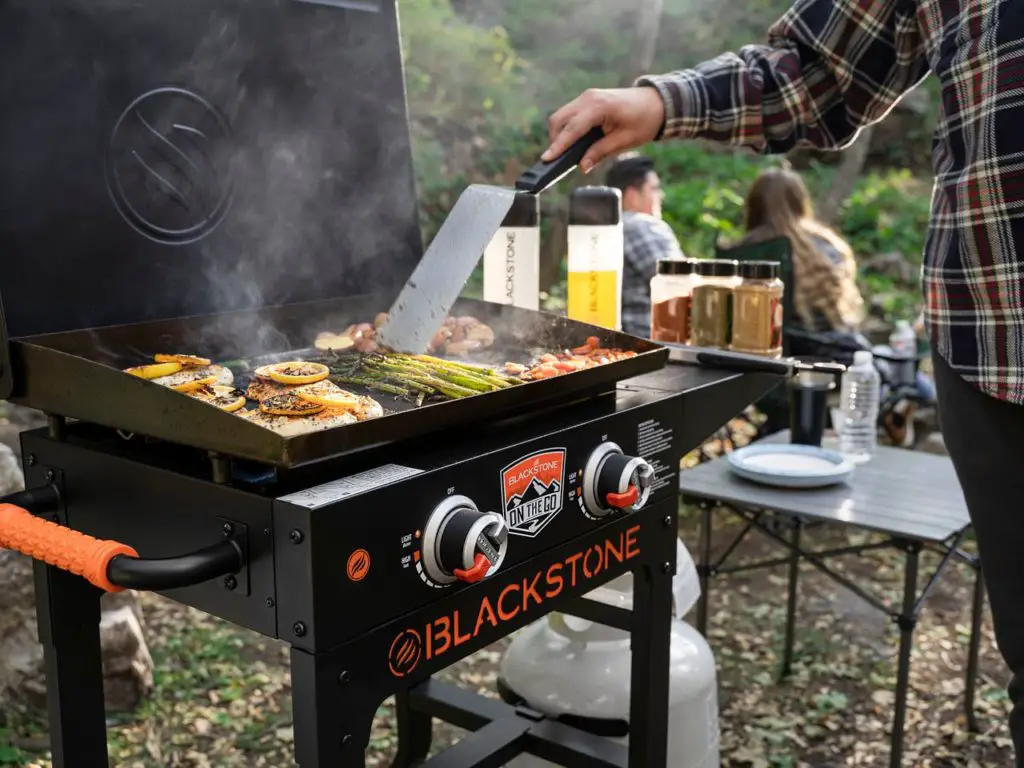 Are Walmart Blackstone Griddles Different?
The Blackstone griddle has become a favorite among many, and we are not surprised this is so. The griddle has amazing features that make cooking easy, fun, and fast. This griddle is also very versatile as it allows you to cook different types of food, on the griddle.
The Blackstone griddle is made of cold-rolled steel, which makes the appliance spread heat evenly throughout the flat top. All of these and more are reasons the Blackstone griddle is loved, and we cannot dispute that we love it for the same reason.
There have been observations concerning the different Blackstone griddle models found in different stores and exclusive to those stores.
In Walmart, it has been noticed that the Blackstone griddle there is different from the ones in other places. Is this a coincidence? Or are they different? Our research led us to the knowledge that the Blackstone company has an exclusive partnership and relationship with stores like Walmart, which makes to create different models of Blackstone griddles, exclusive to the stores.
The Blackstone griddle found in Walmart may be different from those in other places. However, we cannot ascertain whether they are of more or less quality, however, believe that since they are made by the same manufacturing company, they are still of the same material and quality.
The Blackstone griddle comes in different sizes, regardless of where it is bought, and while a lot of people have problems with choosing the right size, it is always advised that you purchase a size that is suitable for you after considering factors such as your budget, the features, and the size of your pots and pans at home.
While the griddle isn't designed to be used with pots and pans, you may still be able to do so, hence you should purchase a griddle that is bigger than your cookware at home.
The following are the sizes of the Blackstone griddle you may find in some stores 
| | | | |
| --- | --- | --- | --- |
| Blackstone griddle Model | Number of burners | Dimensions in Centimeters  | Dimensions in Inches |
| Blackstone Tailgater gas grill griddle  | 2  | 132 .1x61x97.8 cm | 52x24x38.5 inches  |
| 36-inch Blackstone griddle  | 3 – 4  | 158×55.9×91.4 cm | 62.5x22x36 inches  |
| 28-inch Blackstone griddle  | 2 – 3  | 113×49.5×85 cm  | 44.5×19.5×33.5 inches  |
| 22-inch Blackstone griddle  | 1 – 2  | 66×22.9×55.9 cm | 26x9x22 inches |
| 17-inch Blackstone griddle  | 1 – 2  | 53.3×52.1×35.6 cm | 21×20.5×14.7 inches  |
Frequently Asked Questions
What Is The Most Popular Blackstone Griddle Size?
Is A Blackstone Griddle A Good Purchase?
Yes! Buying a Blackstone griddle is a good purchase for us. If you enjoy cooking outside your home or need to go to a camp, then this is suitable. You also get to cook different food at the same time and at a faster pace. If you have a large family, then we do recommend the Blackstone griddle for you. The Blackstone griddle can last for a long time; however, this is dependent on how you season and care for it.
How Often Do I Need To Season My Blackstone Griddle?
You should season your Blackstone griddle after every use; however, this does not refer to an intense, deep seasoning. You should clean the griddle and coat it with some cooking oil, after every use. This will protect your Blackstone griddle from rust.
Can I Use Soap On A Blackstone Griddle?
Yes, however, you can only use soap to wash off the factory coating when you purchase it. Any other cleaning afterward should be done with only water. This is because the soap may not entirely go off and this will affect your food.
How Do I Protect My Griddle From Rust?
Rust can be a sign of different things. However, this is often a result of moisture on the griddle. to prevent your griddle from rusting, ensure it is stored in a place where no moisture can get to it. You should also season the griddle as often as possible. If you do not use your Blackstone griddle for a long time, ensure you take it out of the store and clean the dust off it.
Final Thoughts
Blackstone griddles are a favorite among many people and this is due for several reasons. Regardless of the difference, you should be assured that the griddle is made by the Blackstone company as well.
Blackstone griddle can last for as long as 15 to 20 years, however, while the Blackstone griddle is a strong product, we recommend that you put efforts into caring for it as this can affect the longevity of the appliance.
We are sorry that this post was not useful for you!
Let us improve this post!
Tell us how we can improve this post?