An air fryer is the latest kitchen appliance that every kitchen lover wants to own right now. With the versatility of the air fryer, we are not surprised about this.
The air fryer has a lot of benefits, such as reducing the number of calories used in cooking, by getting food done with little or no oil at all. It also allows you to fry, roast, and bake! Much better is a newer product, the air fryer dehydrator.
The air fryer dehydrator is a newer appliance that not only allows you to perform a lot of duties on your air fryer, the dehydrator allows the air fryer makes use of electromagnetic rays and fans to distribute heat all through the machine. Fantastic, right? Here are our top 3 picks, if you're in a hurry.
Instant Vortex Plus Air Fryer Dehydrator
Ninja AF101 Air Fryer Food Dehydrator
GoWISE Air Fryer & Food Dehydrator
With the production of air fryers with dehydrators from different companies, it can be a hard task to identify and pick the best one. We decided to help and that is why we have given a review of the best air fryers with dehydrators you can find.
The Best Air Fryer Food Dehydrators
Having a guide to help you choose an appliance such as an air fryer food-dehydrator is one of the ways you can ensure you are getting the right one. So, below are the best air fryer food dehydrator we have rounded up for you
1. Instant Vortex Plus 6-Quart Air Fryer Dehydrator – Best Overall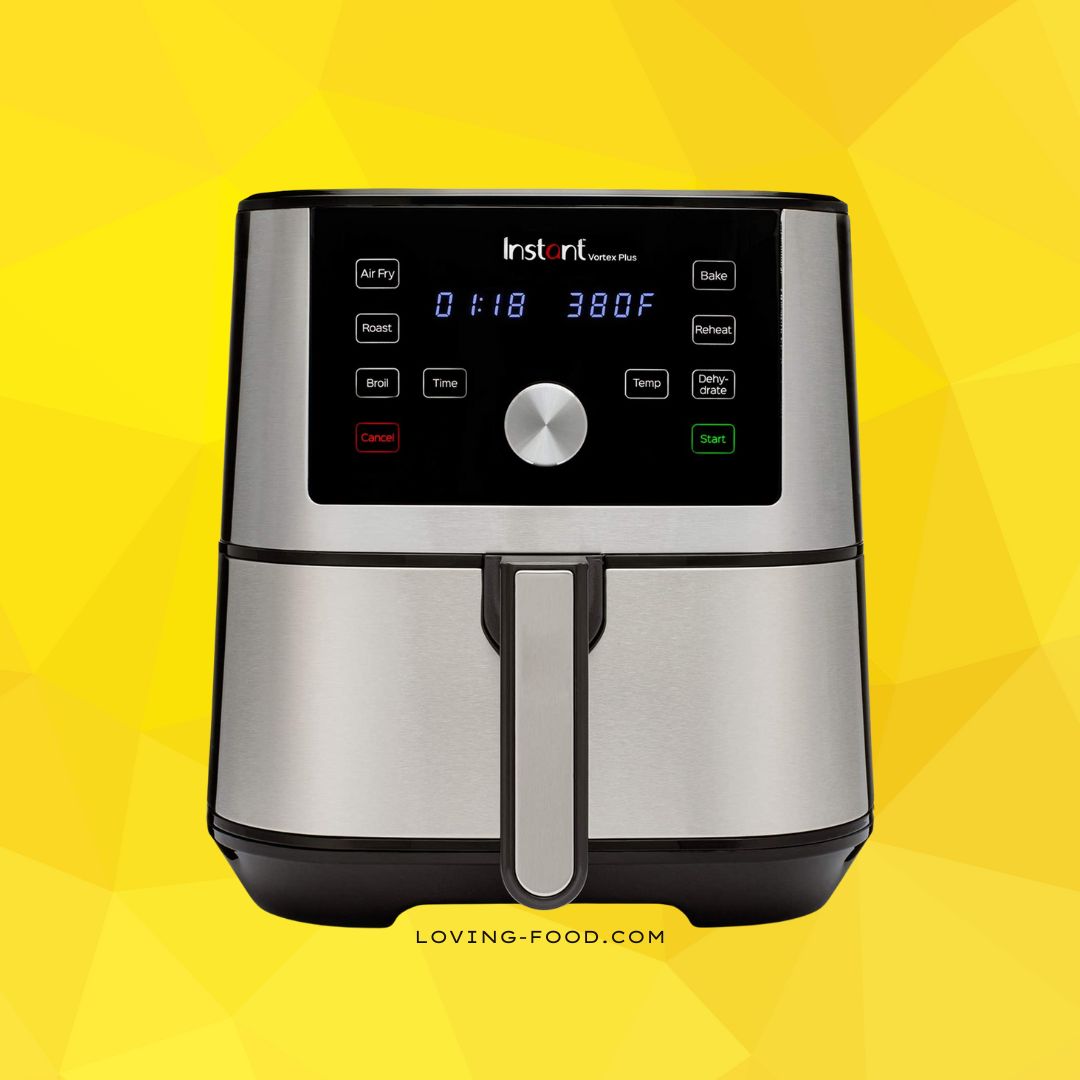 After a series of testing and research, the Instant Vortex Plus 6-Quart Air Fryer dehydrator is easily one of our best picks for many obvious reasons, the instant vortex plus 6-Quart air fryer dehydrator is a single-layer air fryer that is great for basic cooking options, such as baking, roasting, frying, broiling, etc. It is also very affordable, making it a choice for a lot of people.
It comes in the 6-Quart model, as well as a smaller model, which is 4 quarts. It comes with accessories such as a basket and cooking tray, you also have a 1-year warranty when you purchase.
We especially love the built-in safety features such as overheat protection and automatic turn-off, which help in keeping the air fryer from overheating. It is simple to use, with one touch, you can navigate your way through the many features.
Cleaning the inner part of the air fryer is also very easy. It has a big space for cooking for large families. And gets heated quickly, one more good thing, we love that it doesn't get hot while it is in use. We, however, do have a problem with the manual as it is not clear enough.
Apart from this, the instant vortex air fryer is an excellent air fryer dehydrator is a good one to purchase.
Pros
One-touch smart control.
Has a temperature range of 90 to 400 degrees.
EvenCrisp technology reduces oil by 95%.
6 in-1 device; air frying, broiling, baking, reheating, roasting, dehydrating.
Cons
The basket isn't dishwasher safe
The Manual is not clear enough
---
2. Ninja AF101 4-Quart Air Fryer Dehydrator – Best Value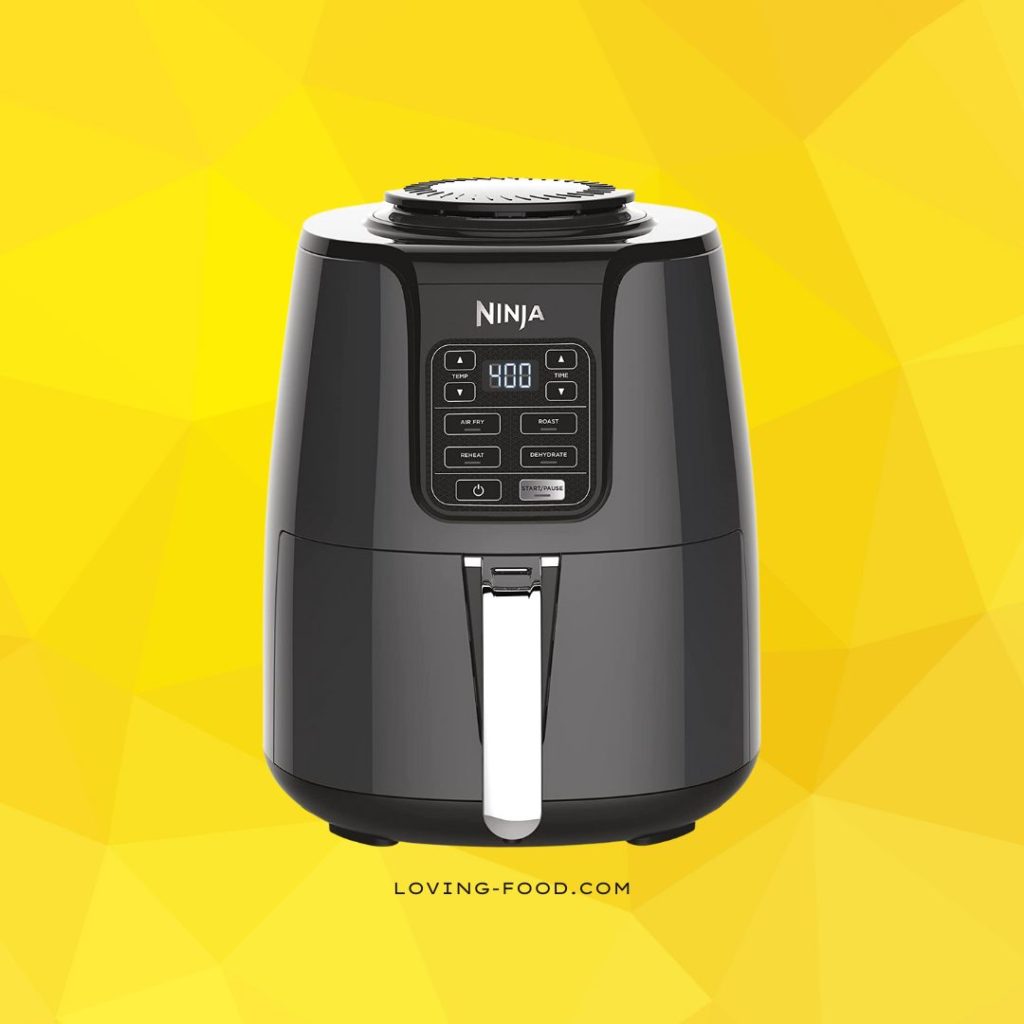 If you've heard of or seen an air fryer dehydrator in the stores, then this is probably what you saw. The ninja AF101-4 is one of the most popular air fryers there is, and it has lived up to its reputation. Since the release of this model in 2018, it has been very efficient and useful.
It has a temperature range of 105 to 400 degrees and can perform different roles, such as air frying, roasting, reheating and our favorite role, dehydrating. It comes with accessories, such as a basket, plate, and a multi-layer rack which allows you to put two types of food in the air fryer, at the same time.
We love that the ninja AF101 has a small size and is user-friendly in terms of its operation. The design is also a modern one, making it attractive. It has effective temperature control and the best part is it gets your food done in no time, giving it the best texture and taste.
We have however found that many people complain about its pre-heating time, which is about 3 minutes. In need of a small-size air fryer with a dehydrator? This is the one for you!
Pros
Reduces about 75% of fats from food.
Has a combination of low temperature and a fan for dehydration.
Has a 4-in-1 feature.
Has a ceramic basket that is dishwasher safe.
Cons
Pre-heating time is slow.
---
3. Chefman 10.5 Quart Air Fryer Dehydrator – Best Multifunctional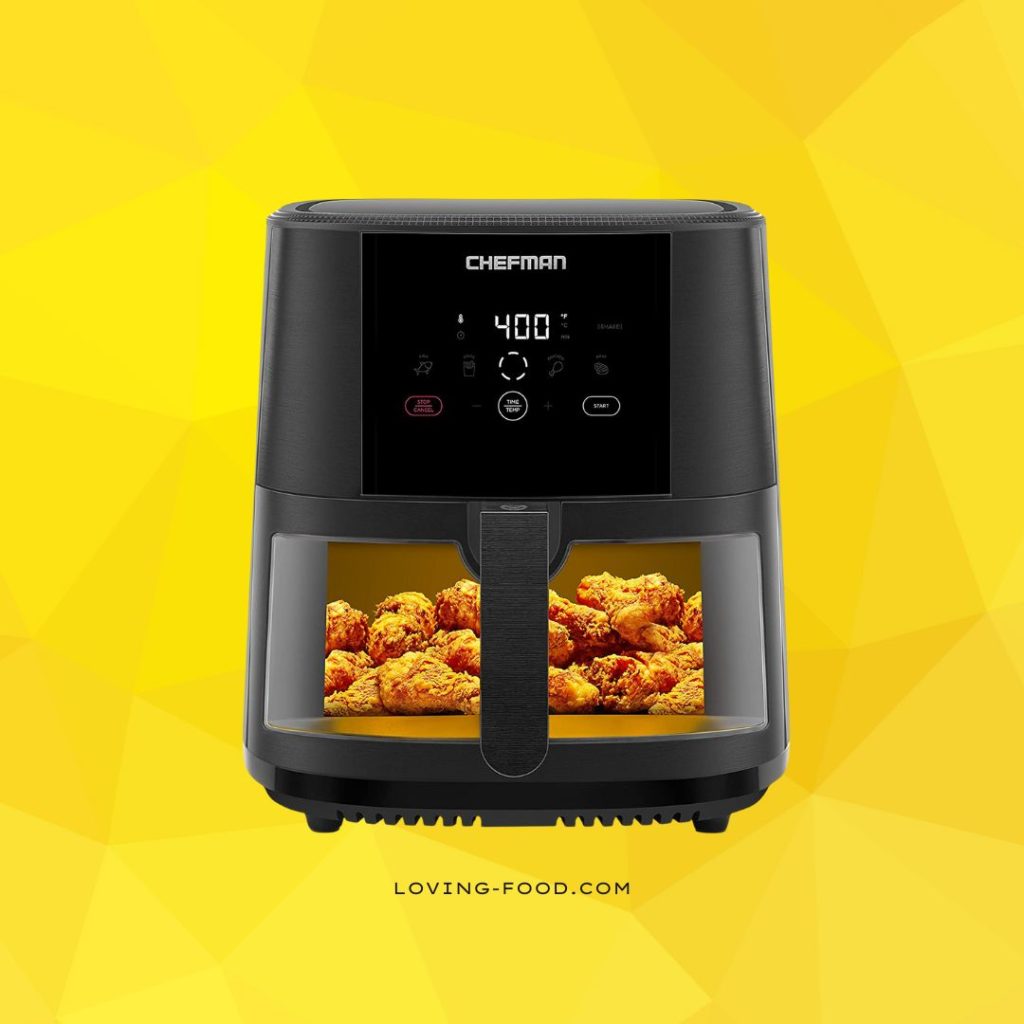 This is one air fryer, whose name gives it away. The chef man multifunctional 10.5-quart air fryer dehydrator is a versatile air fryer, it contains 17 cooking presets, all to let you perform almost all your cooking activities. It cooks very fast, in fact, faster than the conventional oven, it also doesn't require pre-heating.
Regardless of what time you are doing your cooking, the chef man multifunctional air fryer comes with interior lights, which allows you to see and watch all you are cooking.
It comes with accessories which include stainless steel rotisserie fork and spits, 3 air flow racks, a drip tray, stainless steel rotating tool, a removable drip tray, and many other parts that are dishwasher safe, making your cleaning very easy.
The chefman product is CETL approved with safety technology, which lets it be in use for a long time. The fun and loving part of the air fryer is that it can accommodate food for a crowd. It allows you to get different types of food done together, in no time. The chefman company gives you a 1-year warranty policy.
Pros
Touchscreen sets with large capacity.
Dishwasher safe accessories.
Comes with 17 presets including a dehydrator.
Saves about 98% of oil usage.
Cons
Needs a large counter space
Some reports of malfunctions.
---
4. Chefman 6.3 Quart Digital Air Fryer + Rotisserie, Dehydrator – Best Rotisserie Option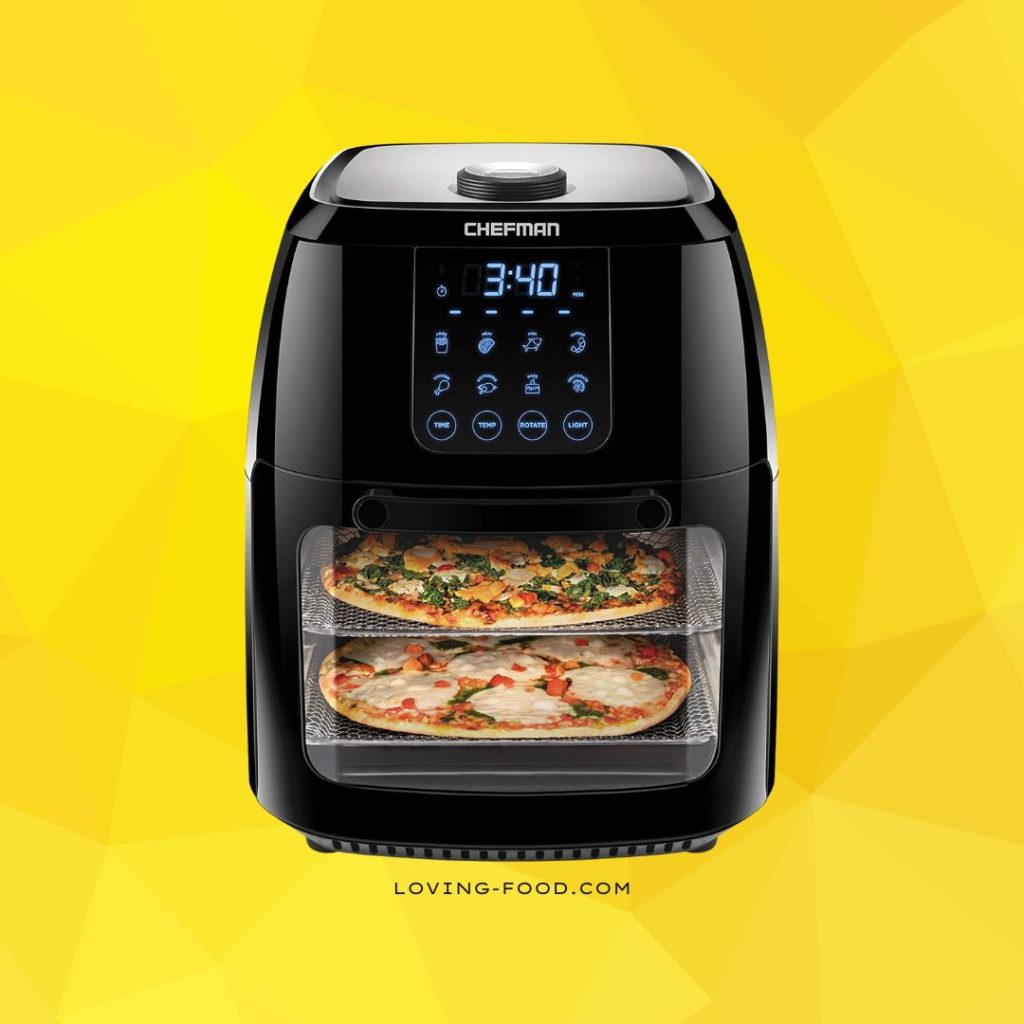 This is another versatile product from the chefman company. The chefman 6.3 quarts air fryer is the type that does nearly all cooking tasks in your home. It is loved for its fast cooking and its ability to not require pre-heating.
It comes with a touch screen display which is very easy to use. It also allows you a wide range of 90 to 400 degrees of temperature.
The chefman 6.3-quart digital air fryer is loved for its versatility, which lets you perform 8 roles, such as frying, roasting, dehydrating, baking, rotisserie, etc. like the multifunctional air fryer, this product of chefman comes with interior lighting making it easy for you to watch what you are cooking.
It has accessories such as a removable drip tray, 2 air flow racks, rotisserie spit and forks, rotating baskets, and other parts that are dishwasher safe. Like other air fryer products of chefman, it is CETL approved with advanced safety technology, which makes it quite durable.
It is perfect for you if you have a large family or intend to cook for a large family or extra guests. The 6.3 quarts space lets you make lots of food in no time. You also get a 1-year warranty when you purchase this product.
Pros
Suitable for a large family.
Interior lighting.
Allows up to 8 functions.
Saves about 98% of oil.
Temperature range of 90 to 400 degrees.
Cons
It comes with no removable basket.
---
5. Ultrean 12.5 Quart Air Fryer Dehydrator – Top Pick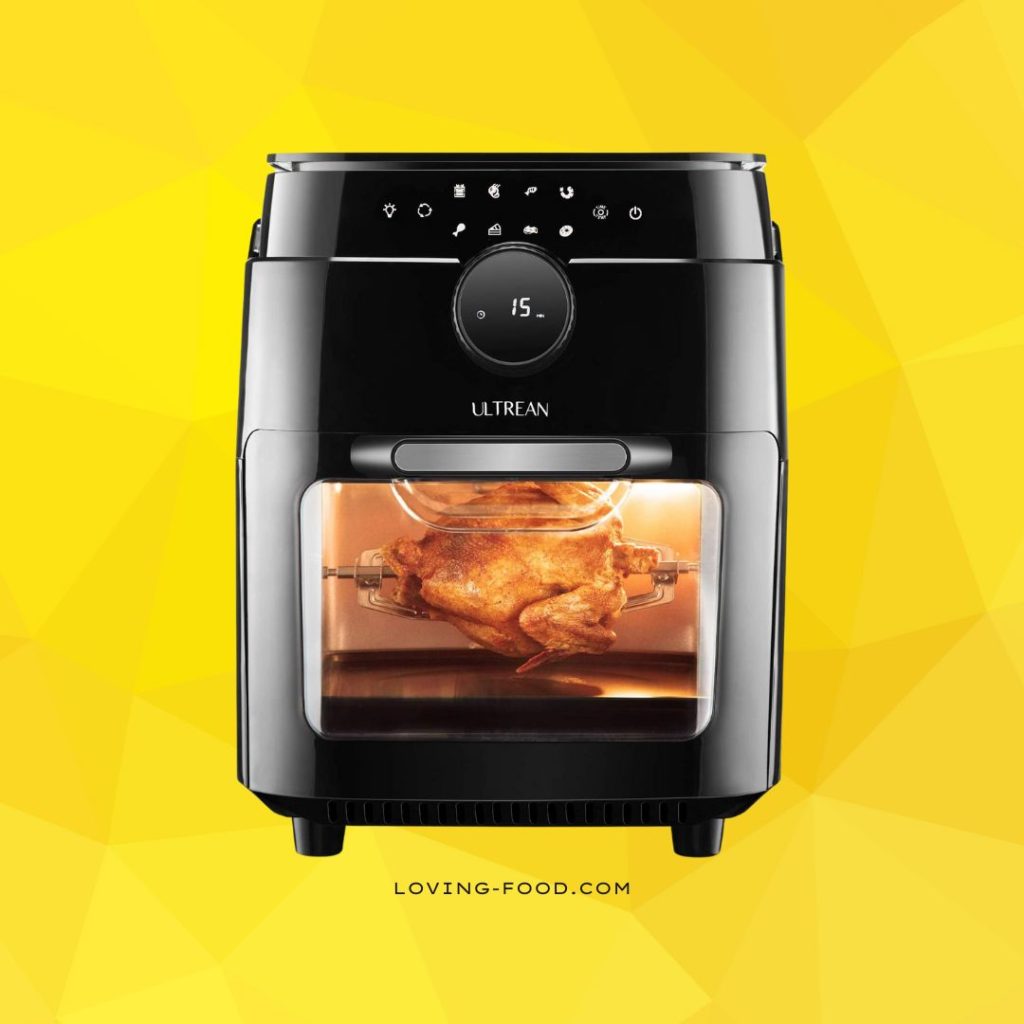 The Ultrean 12.5 Quart air fryer allows you to get good value for a considerable amount of money. With its large space, the Ultrean 12.5 air fryer is suitable for large families and for days when you have extra guests. It allows you to perform a lot of cooking duties, such as air frying, baking, and broiling, roasting, dehydrating, etc.
The entire machine is made of stainless steel material which helps ensure that you are cooking in a secure and clean machine.
It comes with touch screen buttons, which lets you perform all your cooking activities with ease, it also allows a temperature range of 150 to 400 degrees the Ultrean 12.5 Quart Air fryer dehydrator has a light control, which allows you to see what you are cooking, while it is still in the air fryer.
The accessories include; a drip tray, skewers rack, ting, and rotisserie retrieval, 3 dehydrating racks, oven glove, etc. it also comes with a bonus recipe cookbook, making it easy for you to try out different recipes in your air fryer.
We especially love the Ultrean air fryer dehydrator, because the combination of the air fryer and dehydrator allows you to cook sugar-free and oil-free food without losing its tastes.
Pros
Good price with 8 different presets.
Saves up to 80% of oil.
Comes with overheat protection and auto turnoff features.
Family capacity.
Interior lighting and LCD buttons.
Cons
The alarm's beeping is noisy.
---
6. Cosori Air Fryer Toaster Oven – Best Large Capacity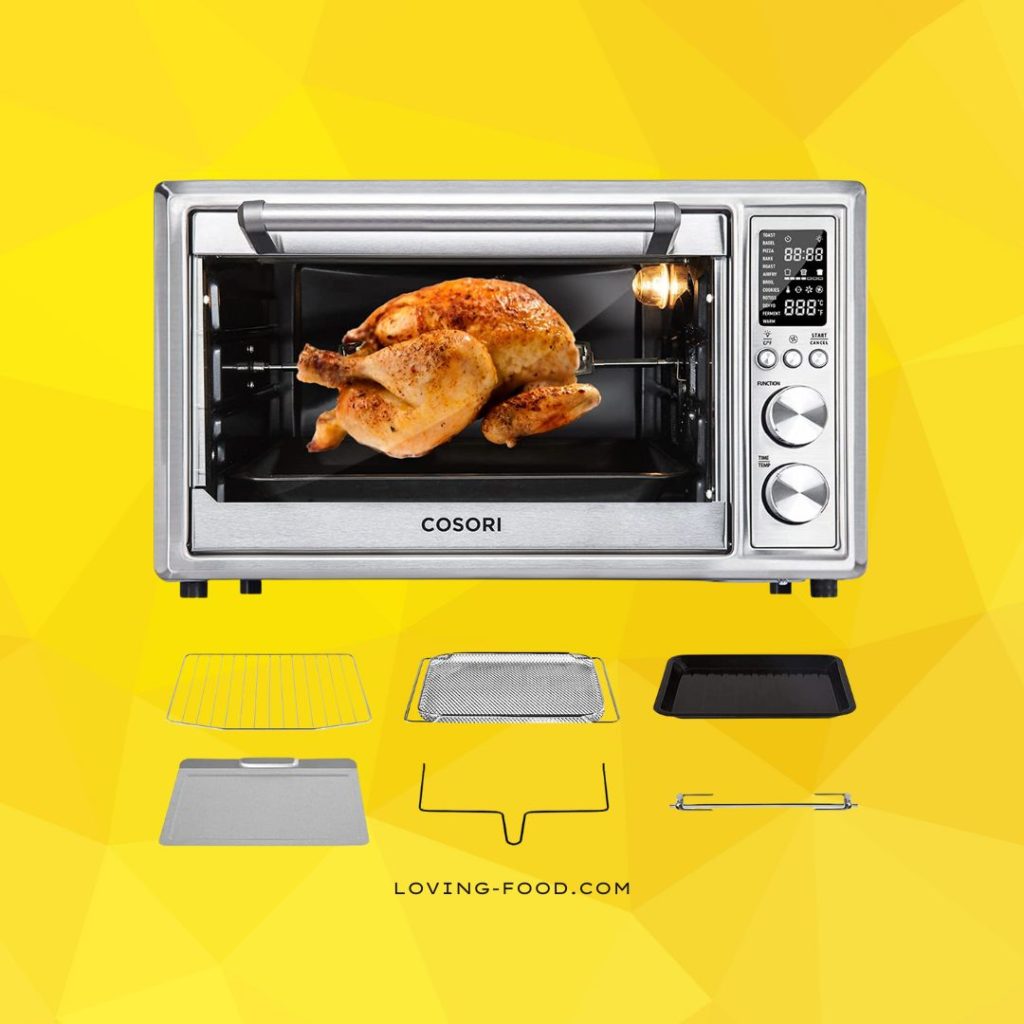 The Cosori air fryer toaster oven is that toaster oven that allows you to make food for many people, all at once. Whether you have a large family or a small crowd, the Cosori air fryer has got you covered when it comes to food.
Not only does it let you make food for many people, but it also allows you 12 different cooking functions, which means you can perform up to 12 activities with this air fryer, these include; air frying, baking, broiling, toasting, roasting, make pizza, slow cook, defrost, ferment, keep warm, reheat and dehydrating.
The air fryer comes with some accessories such as a wire oven rack, mesh basket, food pan, etc. although it doesn't come with a skewer, you can still rotisserie, you can do this by using the basket to rotisserie your food. We especially love that the Cosori air fryer oven is in sync with Google Assistant and Alexa, this means you can perform all your activities with the sound of your voice.
The air fryer allows a temperature range of 90 to 450 degrees. It, however, doesn't come with multiple wire racks and requires a big space in your kitchen. The rice can also be a little on the high side, however, it is definitely worth your money.
Pros
Wide temperature range.
Suitable for family cooking.
Sync with Alexa and google assistant.
Fast and saves up to 85% of oil.
Allows customized cooking functions.
Cons
Not easy to store due to its large size.
It will need some time for preheating
---
7. Gowise USA 17-Quart Mojave Air Fryer – Best Budget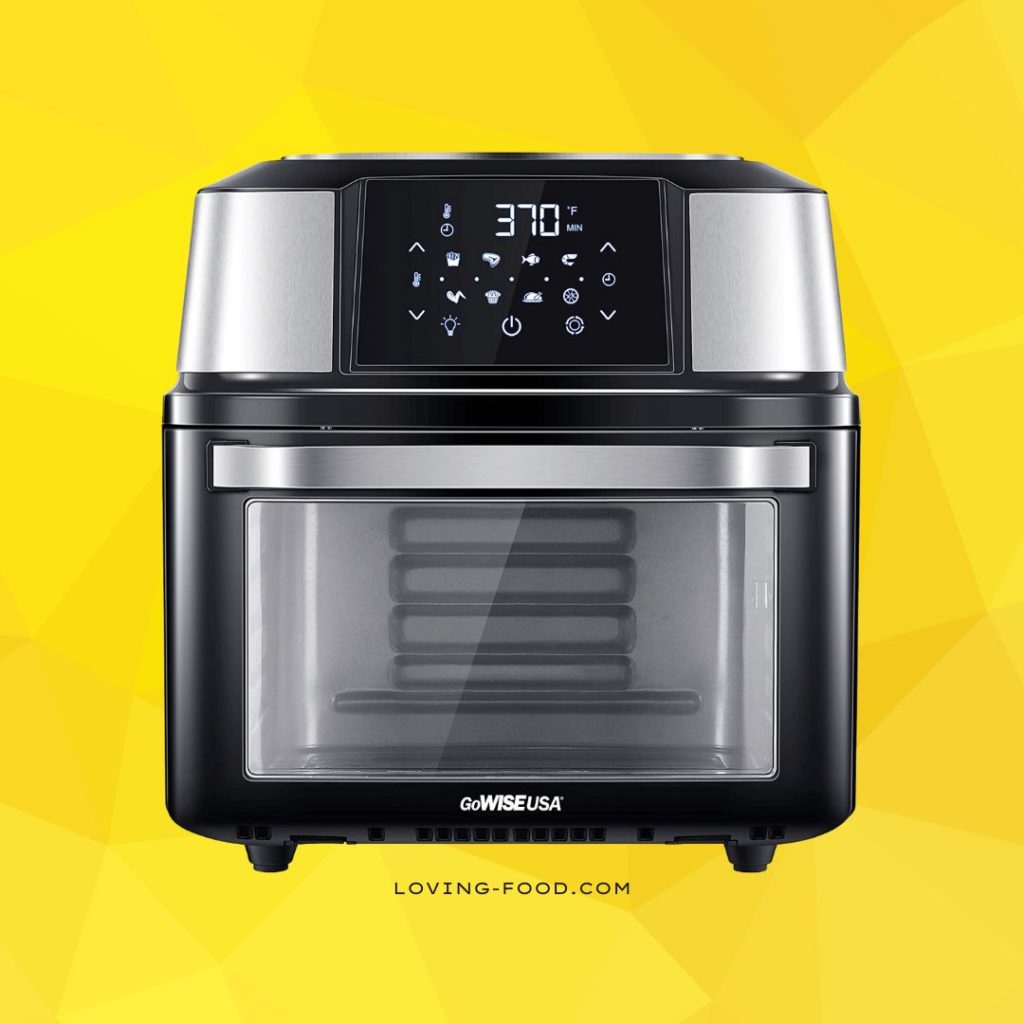 The GoWISE USA 17 Quart takes the lead in air fryers with the best dehydrators. This air fryer gives the best dehydrating options, letting you use the dehydrator for up to 24 hours. It comes with 5 dehydrating racks, which lets you dehydrate lots of food at once. With this air fryer oven, you can make healthy snacks and treats such as chips, granola, herb and spice blends, beef jerky, and a lot more.
Asides from dehydrating, this appliance lets you perform other functions such as roasting, toasting, baking, and rotisserie, you have the option of 8 automatic presets in it. The GoWISE USA air fryer allows a temperature range of 90 to 400 degrees F. it's so easy to use, as it comes with a touchscreen display.
It is suitable for large families as it has a 17 qt space, this is big enough for a small crowd or large families. This appliance has accessories such as a rotisserie cage, rotisserie skewers, tongs, drip pan, shallow mesh basket, dehydrator racks, etc.
With the GoWISE USA air fryer, you can be certain that your food will turn out well, even with less oil. Although this device requires a lot of space in your kitchen, we are certain that it is worth the space.
Pros
Suitable for large gatherings.
Lots of accessories.
8 preset functions.
Touch screen.
Saves up to 85% oil.
Cons
Its appearance is a bit bulky.
Expensive.
The door can not be completely lowered.
---
8. Yedi Total Package 12.7-Quart Air Fryer Dehydrator – Best With Pressure Cooking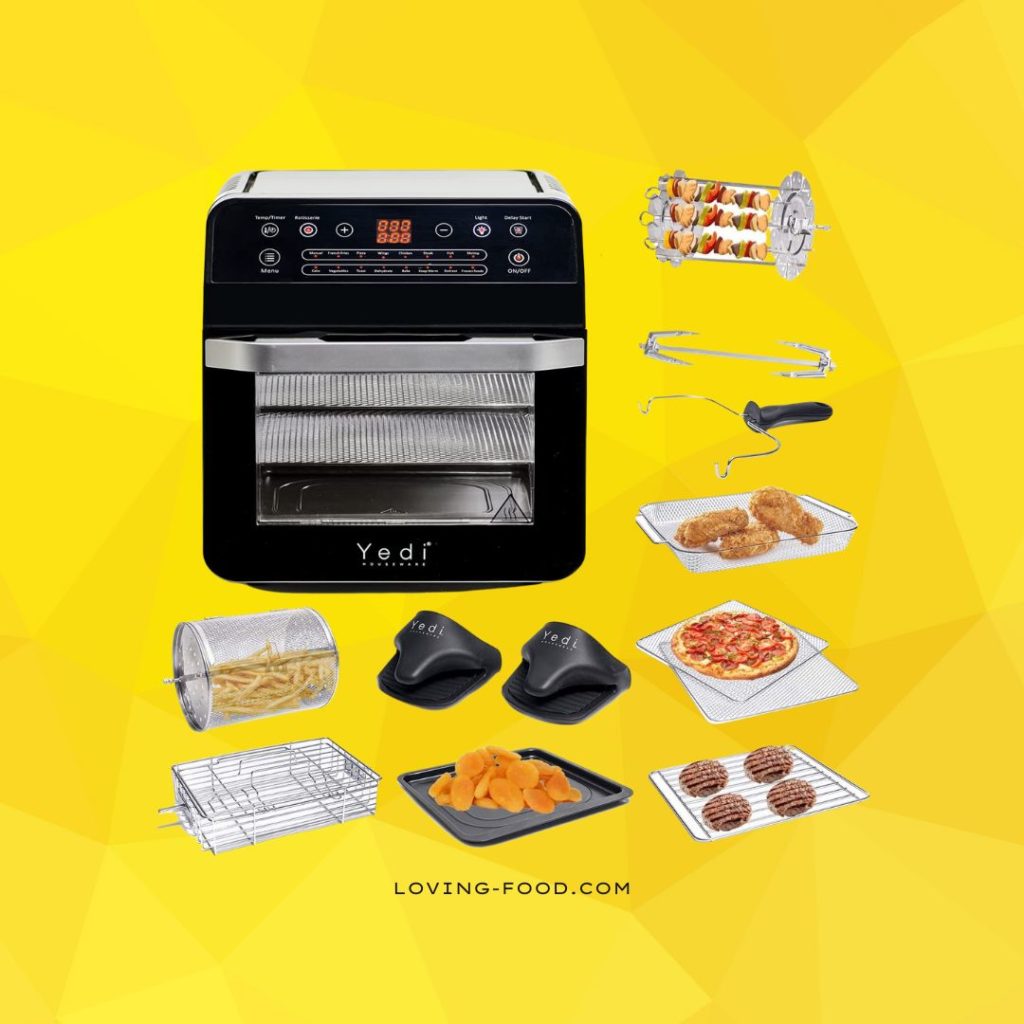 The Yedi total package 12.7 Quart air fryer dehydrator, indeed gives you the total package you need. although the Yedi air fryer has a big capacity, making it suitable for large family cooking. Irrespective of its size, it can still fit into your small kitchen perfectly, while also not taking up too much space.
It comes in accessories that allow you to make healthy food in a short time. Cooking with this Yedi product allows you to save 85% of oil, making it a healthy option for your food. The device is really easy to use, with the 18 different touch-smart programs.
The Yedi air fryer also has a 1-year return policy, where you either get your money back or replace your purchase, if there are any problems with it. It comes with 11 accessories, such as a rotisserie skewer, cage and steak cage, shallow mesh basket, two mesh trays, Yedi oven mitts, oven rack, drip pan, etc. it also comes with a free 100 recipe book.
Pros
Huge 12.7 QT size.
Suitable for a large family.
Saves up to 85% of oil and fat.
Great return policy.
18 presets and a free recipe book.
Cons
Comes in only black color.
How We Choose The Best Air Fryer Dehydrators
While understanding how an air fryer dehydrator works can help you choose the right one, knowing the right one to actually buy can make shopping less overwhelming.
The air fryer dehydrator picked in this buying guide has been decided upon based on its energy consumption, heating temperature, accessories, and cooking capacity. The compressive review on each product has also been used in selecting the best choice.
Our top air fryer dehydrator in terms of cooking capacity is the Instant Vortex Plus 6-Quart Air Fryer Dehydrator. However, all the dehydrators picked have been tested on cooking and temperature control. The dehydrator is discovered to evenly dehydrate food on both sides.
Lastly, each appliance picked is budget friendly and easy to get in the market. These air fryer dehydrators can help you save money, reduce food waste, and speed up your cooking as well.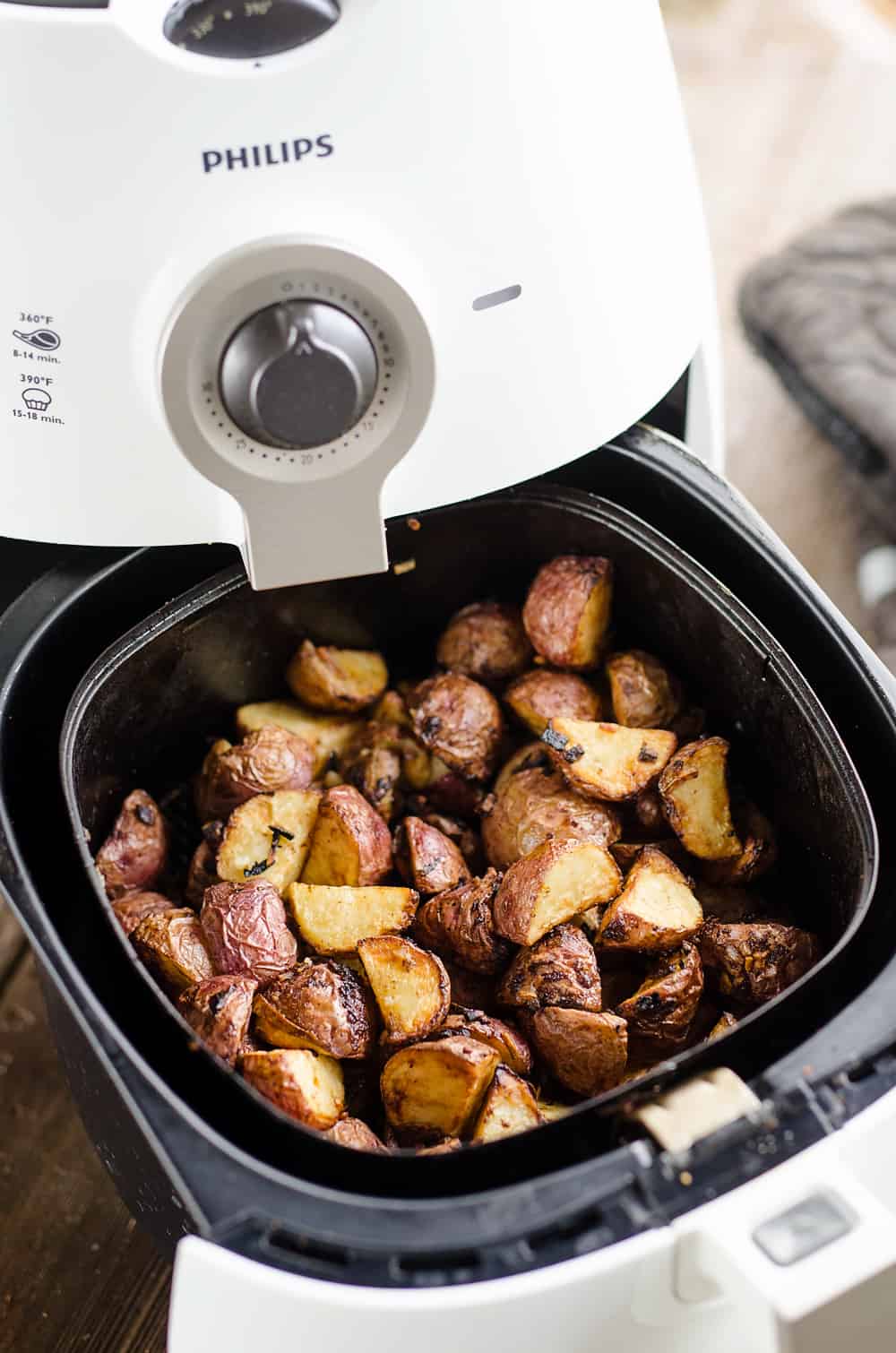 Factors to Consider When Choosing An Air Fryer Dehydrator
There are lots of good brands you can get an air fryer dehydrator from, however, you should know what features you are looking for first. There are also similarities between an air fryer and a dehydrator, but the combo is more like a convection oven and below are factors you should consider before buying.
1. Heating Temperature
The heating temperature is an important factor for any cooking appliance. You have to ensure the air fryer dehydrator you are buying has a wide range of temperatures, this way you can reach both high and low degrees.
2. Energy Consumption
Ensure the air fryer dehydrator is not going to drain your electricity at a very fast rate if you are not looking forward to a large electricity bill at the end of the month. The ideal range for a dehydrator air fryer is 1500 watts and more however you can choose one that is energy efficient.
3. Cooking Capacity
The cooking capacity should be put under consideration, so you can choose one that is large enough for the entire household. The 5 or 6-quart air fryer dehydrators are perfect if you are a family of 4, 2, or 4 quarts for a single and smaller capacity while large with enough space for parties with friends.
Frequently Asked Questions
Do air fryers make good dehydrators?
They are readily food dehydrators that are really great for dehydrating food however an air fryer can also achieve the same result. An air fryer uses hot air at a high temperature to cook while a dehydrator uses dry heat at a low temperature however most air fryers come with settings that let you dehydrate or cook food evenly.
How long do dehydrated foods last?
Dehydrated foods stored in the pantry should last approximately 6 to 12 months. Some dehydrated foods can also last up to 10 or 15 years provided it is stored in airtight packaging with an oxygen absorber.
Is Cosori dehydrator air fryer good?
Cosori is a really great brand and yes the dehydrator air fryer is considered a worthy investment as it features everything you need to dehydrate food efficiently and air fryer food as well. It comes with a beginner-friendly control panel and has everything you need to easily dehydrate food.
Can air fryers dehydrate fruit?
If you are using an air fryer that comes with dehydrator settings, you can dehydrate fruit and any food item in them. Air fryer dehydrators make dehydrating fruits and any produce very easy, and it also extends the life of your fruits. The air fryer works faster due to controlled and circulating heat.
Final Thoughts
Choosing one out of all the different brands of appliances available can be stressful, especially with the uncertainty of not knowing which one is best for you.
With the review we have provided, you can choose which appliance is suitable for you, your family, your home, and your finance. All the air fryers listed above come with a dehydrator that functions well and is the best on the market right now.
We are sorry that this post was not useful for you!
Let us improve this post!
Tell us how we can improve this post?