What kind of brush do you use to clean a Traeger grill? There are a good number of brushes out there but using any stainless steel brush to clean your Traeger grill comes along with the risk of scratching the grates or worst damaging the grill.
The purpose of getting a grill brush is to keep your grill clean, but the painful truth is that it is hard to shop for the right grill brush.
Grill brushes can make cleaning your Trager grill a breeze, but there have been complaints about the little brass or steel grill brush bristle breaking from its head, and it can get stuck in the residue or find its way into your barbecue, so the safe bet is to avoid the traditional square brush as they fall apart easily.
To shop for the right grill, it is only ideal to know exactly what you should be looking for and how safe it is. It is vital that you keep your Traeger grill clean, and we do agree that the grill brushes seem harmless and easy to get, but that is not the case.
It's quite annoying to discover that most grill brushes labeled as safe are not. Frankly, there has been an estimated 1700 injuries associated with the use of grill brushes with bristle. Luckily Traeger grills are easier to clean and there are safer grill brushes that won't send you to the ER this summer.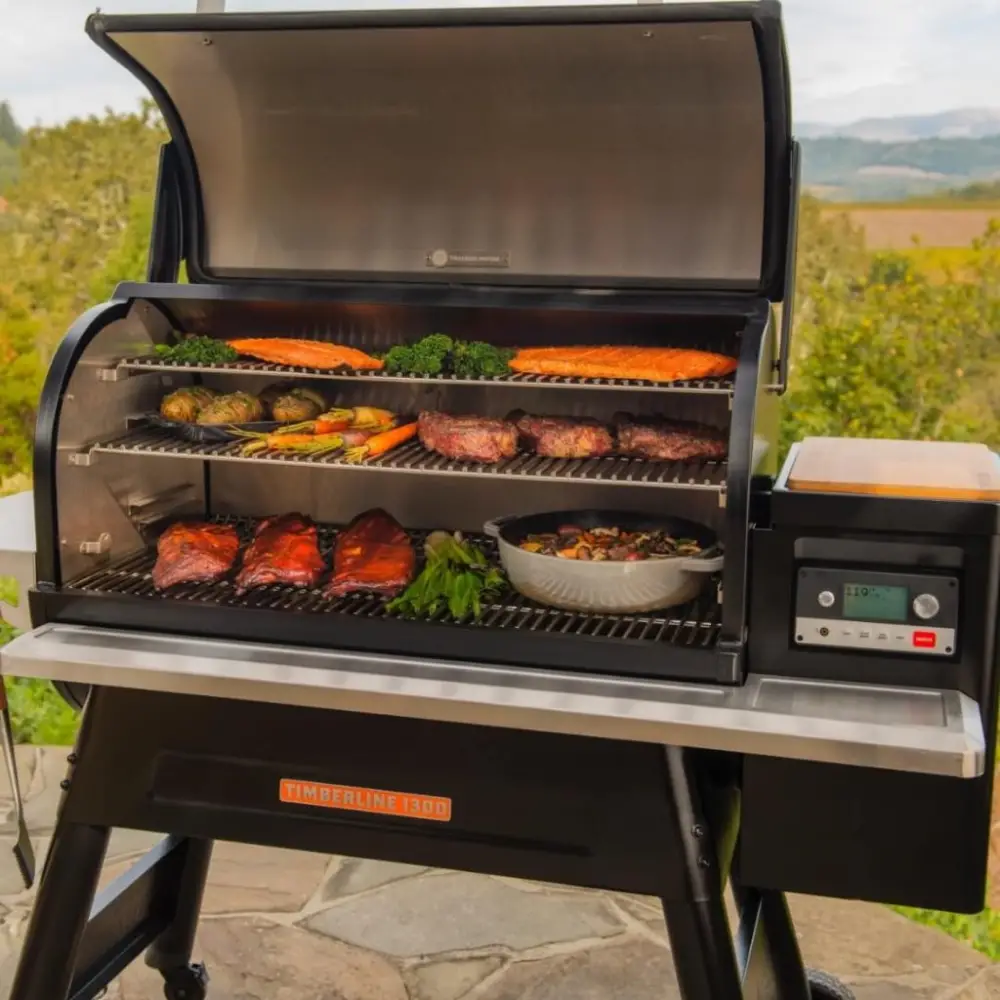 Why Get A Grill Brush For Your Traeger Grill?
Traeger's grills are designed just like any other type of grills hence maintenance is vital.
You sure need to give your Traeger grill a good spring cleaning after it has been left unused all through winter, and it is also another way to avoid dangerous flare-ups. Your grill is going to need a wipe down at least once for every 5 times you use or your food is going to start tasting like last week's own.
The proper cleaning of your Traeger grill is vital and this is where the grill brush comes in. There are different types of grill brushes on the market and while anyone will work for Traeger grills, you have to choose one with bristles strong enough not to fall inside the grates or food.
Brush generally comes in different styles but the ideal and safer options for grills are mesh brushes, bristle brushes, or a coiled brush. It is vital that you do not choose a traditional square bristle brush for cleaning your Traeger grill, they fall apart easily.
Getting a grill brush for Traeger grill can save you quite a lot of stress and ensure your food is safe from residues too. Grill brushes do not have many components which makes them inexpensive as well. With a grill brush, you can easily clean the top and sides of your grill regardless of the spacing between them.
7 Best Grill Brush For Your Traeger Grills
Shopping for grill brushes has been described as overwhelming, but you can't give up on them considering they are the most effective tool for removing char and gunk from grill grates. To avoid the threat of wire pieces ending up in your food, you have to consider growing bristle free, and we have rounded up the best grill brushes to buy for you.
1. GrillArt Grill Brush And Scraper
GrillArt Grill Brush and scraper have the exact cleaning power you need for your Traeger grill, and you do not have to worry about finding wire bristles in your food. This is one of the most common grill brushes on the market, it is an efficient cleaning tool for all types of gas and charcoal grills. It is designed with an ergonomic handle to make cleanup easy.
Not only does this grill have interesting easy-to-use features, but it can be your common daily brush, and the handle is strong enough not to snap or break. The brushes are soft enough for gentle cleaning and getting rid of mold.
It features a stainless steel scraper as well for getting rid of any stubborn residue on your Traeger grill grates. According to reviews, it works better than the traditional grill brush.
This is one of the highly recommended grill brushes, although it is a stainless steel grill brush, you do not have to worry about it scratching your beloved Traeger grill grates.
2. Kona Safe/Clean Bristle Free Grill Brush
If you are still worried about the bristle wire getting in your food then you should consider going for Kona Safe/Clean Bristle Free BBQ Grill Brush. This is an excellent bristle-free brush and cleaning your Traeger grill can be a lot easier with it.
There are lots of benefits attached to using this for your grill grates, although it is more pricey compared to other grill brushes.
Durability is one of its many benefits and that can be expected since it's expensive. This is not only designed to be safely used on stainless steel grill grates but also safe for ceramic, porcelain, and cast iron grills.
Kona bristle-free brush is highly recommended for all kinds of grills and since there are no bristles to worry about falling out, you can use it as often as you want. The length of the brush is also not too long or short which minimizes the chances of scorching your knuckles while cleaning.
3. Char-Broil Hot And Cold Grill Brush
Investing in the right grill brush is one of the ways you can ensure proper care of your Traeger grill. If you are still quite wary of using a stainless steel brush or don't understand how it's used then the best choice of grill brush is the nylon grill brush.
The Char Broil Grill Brush is a multipurpose brush infused with nylon bristles and a wood scraper, so you can efficiently clean hot grates. The bristles are made from long strands of nylon, so there is no risk of broken steel bristles.
The nylon bristle eliminates the risk of finding bristles in your food and the edge of the scraper will mold to the pattern of your grill grates with time which further ensures precision cleaning. This is also relatively inexpensive compared to bristle grill brushes.
The wooden handle is comfortable, so you do not have to worry about gripping too hard or hurting your knuckles when scraping. This grill brush has no pretty design and does not have the same cleaning power as the stainless steel brush, but you can always replace the brush when it wears down.
4. Grillaholics Pro Brass Grill Brush
Need a versatile and safe grill brush? Traeger grill grates have a unique cooking dynamic surface and if it's a cast-iron then you want to choose a grill brush that won't scratch it. Grillaholics Grill brush is made with brass which happens to be a material softer than stainless steel, so you can rest assured that you won't be scratching your beloved Traeger grill grates.
The brush is 18 inches long, and it features densely packed bristles with a 5-1/2 head which all work together to help give your Traeger grill the right summer cleaning. The brass bristles are thinner though but also softer than the stainless steel.
Grillaholics Pro Brass Grill Brush will work on any type of grill. In addition, this brush can withstand rigorous and frequent use due to its high-quality design and construction. If you are looking for a budget-friendly grill brush and one that goes easier on your grill, you should consider giving Grillaholics a try.
5. iDoCare 18″ Wire Grill Brush
Traeger's grills do deserve the ultimate grill brush hence the iDoCare 18″ Wire Grill Brush is highly recommended for it. Grill brushes might not be expensive, but you have to make safe choices and this grill brush is quite the ideal choice for you, it takes safety to a whole new level. The construction of this brush is quite rigid, but it is lightweight and efficient.
This brush is designed to handle any form of cleaning and with the 18 inches handle, you can be sure to keep your hands safe, it is also enforced to not break no matter how hard you scrub.
iDoCare 18″ wire grill brush is worth a shot if you are looking for a grill brush that makes the task of cleaning your grill very easy, and it works for different grill types. According to the manufacturer, the stainless steel bristle never breaks off which means there is no risk of getting bristles in your food.
6. Grillbot Black Automatic Grill Brush
Need a grill brush that is more suitable than the traditional grill brush? Grillbot black automatic grill brush is a robot cleaner for grills, and it will not only be saving you the stress of cleaning but ensures there will be no scratch on your Traeger grill. It is easy to operate and has a compact sizer for easy storage.
Grillbot automatic grill brush is quite expensive, but the robot features removable rotating nylon brushes to scrape off grease and any stuck food particles.
This is the first automatic grill brush to be produced and according to reviews, it offers a revolutionary way to clean your grill, and it does it perfectly. So, if you hate cleaning like many of us then you should find this highly suitable.
One of the benefits of using this robot grill brush is that the timer can be set for 10, 20, or 30 minutes for deep cleaning. It comes with long-lasting rechargeable batteries, so you can worry less about cleaning every time you have to grill.
7. Best BBQ Grill Brush Scrapers
Looking for an attractive grill brush without the wire bristles? Best BBQ Grill Brush Scrapers have no wire bristles, yet it is highly effective and not only meant for a grill grate but can also be used on other kitchen surfaces as well. This is simply a brush cleaner, so it does not feature any steel or wire hence you do not have to worry about it getting into your food.
Just as you can't go wrong with a Traeger grill for all kinds of grilling so also is choosing Best BBQ Grill Brush scrapers, all parts of it are safe for dishwasher. The brush features a universal scrub pad which is a highly recommended alternative to a steel bristle brush.
This is not the most durable type of grill brush since they are wire brushes but it does an excellent job of removing gunk and greases from grill grates with just a few brushes. Furthermore, you can use it in cleaning kitchen surfaces like your pans and sink.
How to Choose The Best Grill Brush For Traeger Grills
The construction of Traeger grills might be similar to that of other grills so most grill brushes will work for it. However, you can easily scratch your Traeger grill or worst damage the grates if you choose a grill brush that is not essentially designed for the steel.
In retrospect, you still need a strengthened heavy-duty grill brush that can get rid and doesn't break off.
To save you time and prevent you from damaging your Traeger grill, we have picked the safest and easiest options below. The products listed above greatly reduce the risk of bristles contaminating your food as that is a common concern.
Grill brushes are made up of two components which are the handle and the bristle hence there aren't many factors to look at. To choose the best grill brush for Traeger grills, ensure the materials used are food grade, check if they are thick enough, and spring back into place.
In conclusion, quality should be essential when picking a grill brush for your Traeger grill. Cheap grill brushes have the risk of falling off and getting stuck in your food hence it's highly recommended that you choose strong high-quality grill brushes.
Final Thoughts
Grills are generally very challenging to clean and Traeger grills are considered a worthy investment but if not cleaned and maintained properly, they can cease to be so.
It is important that you pick a grill that you can use for a long period and while metal wire brushes are popular, you should go for a brush that has no metal bristles.
Lastly, stock up on a few replacements for the brush head and change once you have cleaned your grill a couple of times.
Recently on Grilling:
We are sorry that this post was not useful for you!
Let us improve this post!
Tell us how we can improve this post?