Traeger Timberline 1300 is a popular type of grill and if you do plan to grill a lot, this should be on your shopping list.
According to reviews, the experience with Traeger Timberline 1300 has been good. However, there have also been some complaints about how this grill ignites quickly and some other minor problems as well. It's quite a beautiful pellet grill and faster than the 575 grills.
How do you reset a Timberline 1300 Traeger? Before picking up a Timberline grill, there are quite a lot of things you should know. Although this grill comes with amazing features that make it easy to use, most people still find it complex to operate.
It can be frustrating dealing with a grill that has problems. However, every grill sure has its issue and learning how to fix it can save you a lot of stress and concern. Timberline 1300 is quite an amazing grill, but a study shows it does have common minor issues to note.
Traeger Timberline 1300 is always going to be on the list of efficient and fast pellet grills to go for. These pellet grills are built to last. But they can have some minor issues that are unlikely to be on the manual. So, if your Traeger 1300 is acting up, this article contains some likely problems and how you can fix them.
Traeger Timberline 1300 Grill Features And How They Work
The Traeger Timberline 1300 is a common type of wood pellet grill that uses a modulating fan and hardwood to cook food on low and slow heat.
The Traeger grill is quite big, and it's one of the grills with tons of features that are very easy to use. One of the features that make it stand out includes a controller that lets you control your grill anywhere.
Choosing the best pellet grill can be a bit complex. The Traeger wood pellet however is an easy choice to make after considering the amazing features.
Pellets are drawn by the side-mounted hopper that is attached to the grill, and it is put into a central burn chamber by the auger and then ignited hot metal rod that is powered by electricity. Here are some of the notable features of the Traeger 1300 grill.
It comes with a Wi-Fi control that enables you to control the temperature setting of the cooking at a distance
This pellet grill also features a large cooking space. It is really versatile as well compared to other grill types
1300 square inches of cooking space
Heavy-duty removable stainless steel grilling grates
Can feed a large crowd easily
Double-walled.
Traeger Timberline 1300 Problems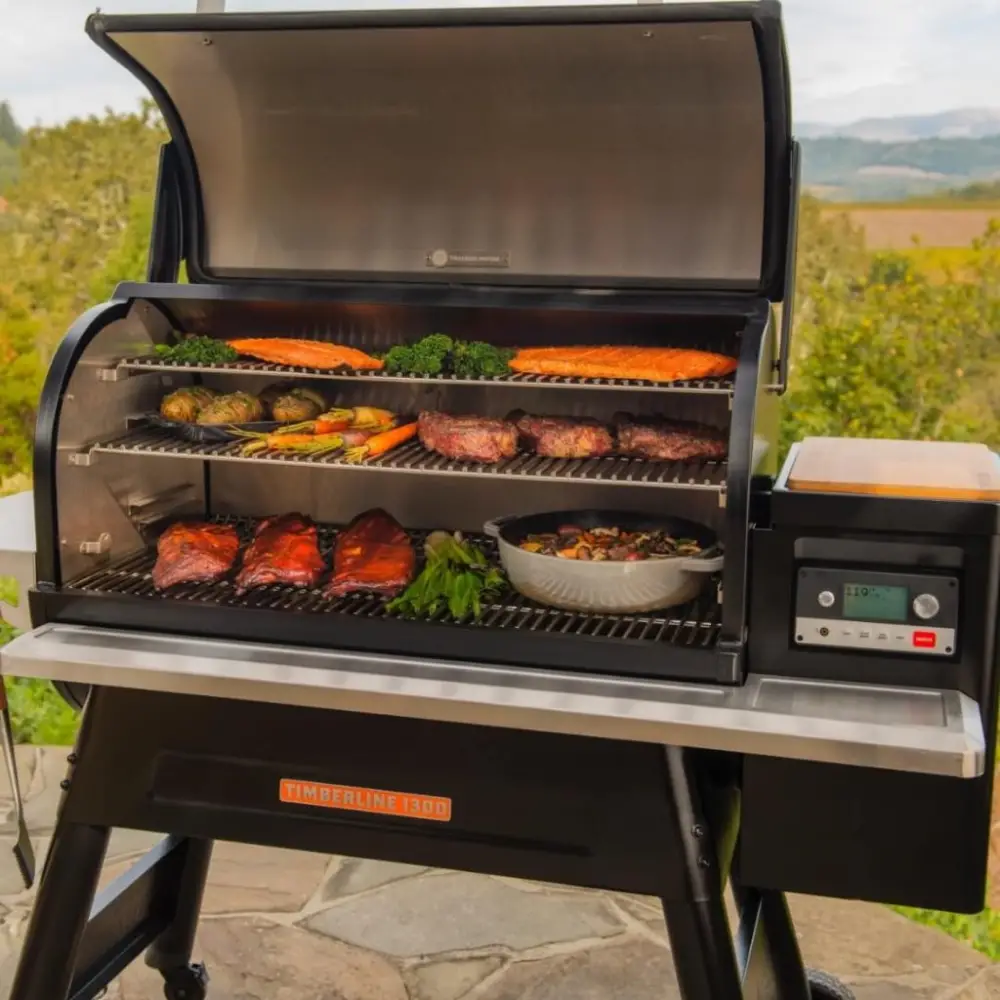 You will have to reset your Timberline 1300 grill at some point especially if you are experiencing some problems with it. Traeger Timberline 1300 can start to fail as a result of some common grill issues.
This grill has amazing functions, however, note that the features will only be worthwhile when your pellet grill works efficiently. So, here are some of the difficulties Traeger Timberline 1300 can have.
1. No Flames Or Disappearing Fire
If your Traeger grill has no flames at all then you are unlikely to be cooking anything which can be quite annoying. One of the things that can cause no flame from your pellet grill is if excessive ash has accumulated or the igniter can be faulty. There are possibilities that the pellet did not make it to the fire pot either.
The fire is also likely to fizzle out quickly. This can mean that the airflow is blocked which can cause the fire to disappear or no flame to even begin with.
2. Fluctuating Heat
Traeger 1300 has been noted to have unusual heat changes. Generally, this pellet grill should take 5 or 10 minutes to heat up but if it takes way too long then it's something to be concerned about.
3. Blocking Pellets
Traeger Timberline 1300 has a pellet sensor that monitors the supply of your pellets, so you don't have to worry about running out. However, you can use the wrong pellets which can cause blocking of the pathway. Lighting the fire inside the grill is sure going to be a hassle if the pathway is blocked.
4. Insufficient Power
Here is another common problem you might experience with Traeger 1300 pellet grill.
This pellet grill sure needs a supply of power to operate and if it doesn't get enough of that, it is unlikely to work efficiently. Insufficient power can stop the induction fan from coming up or running slowly.
How To Fix The Traeger Timberline 1300
How do you fix an issue on Timberline 1300? One of the common causes of any problem on Timberline 1300 is an insufficient power supply. You need to have it placed near a proper power outlet, so it can function properly.
However, here are some of the ways you can try to fix it yourself.
1. Clear The Clutter And Clean The Hopper-Blocking Pellets
One of the ways you can get your Timberline to function properly and keep it safe is regular and proper cleaning. Cleaning the hopper and clearing clutter should solve the issue of a blocking pellet, and it is likely to be the reason for fluctuating heat as well.
Here's how to properly clean your pellet grill:
Open up your grill
Remove both sides of the grill grates and clean them(use a cleaning cloth or heavy-duty paper towels)
Dispose of any old foil or drip tray liner and anything that might be blocking the pathway
Vacuum the insides of the fire pot and grill
The insides can be sprayed with a cleaner or all-natural degrease
Clean thoroughly and reinsert all components of the grill after
Make sure to get the right pellets for your Timberline 1300.
2. Maintaining Temperature-Fluctuating Heat
Fluctuating heat is a common problem and one way to get it back on track is to find a way to beat the heat and maintain some balance. You need to make sure you are using the right type of pellets and cleaning is likely to solve the issue.
But if this is not working, check if the fire pot and other components of the grill are in good shape.
Clear out any build-up from the auger and when placing your food on the grill, you should maintain an inch clearance from the edge of the grill.
3. Replace The Induction Fan-No Flames
Might be time to replace the induction fan if there is no fan or there is a disappearing fire every time you ignite your grill. The induction fan is what gets the grill to fire up and keep going so if this is not happening, check it and if it looks damaged, time to have it changed.
You can have the induction replaced yourself with the right tutorial. It is designed to be durable but can also wear out from use after a while so have it checked regularly. Try replacing other components that look damaged too and get better ones.
4. Resolve Power Outage Problem
You can simply have your Timberline grill reset to see if the problems go away. However, most of the issues are caused by power outages so if it's not solved after cleaning, this is your next option.
Replacing the components of the grill on any defective power source can help solve the issue as well. But first, you should ensure your grill is placed where power is easily accessible.
Frequently Asked Questions
How do I reset my Traeger Timberline 1300 after a power outage?
The Traeger Timberline 1300 might need to be set if you run out of pellets or to get the fire up properly. Go to the menu on the grill, settings, about the grill, next press and hold the igniter button until the Traeger logo appears. This should take 5-10 seconds.
Why is my Traeger not turning on?
If your Timberline 1300 is not coming up at all, the possible reasons are a tripped GFCI on the power outlet, a blown fuse, a bad power outlet a bad or break in the power cord or extension. You should check out all of these reasons.
How do you ignite Traeger Timberline 1300?
Keep the lip closed and press the ignite button to get it started. Timberline 1300 can take around 7 minutes to ignite properly, so you have to be patient with it.
How to shut down Traeger Timberline 1300?
The shutdown process is just as simple as turning it on. Use the shutdown cycle, so it can be down efficiently. Take your meal off the grill to let it cool. Tap the shutdown button and drag the button down to confirm it is off.
Final Thoughts
When it comes to maintaining heat longer, note that some Traeger grills are designed this way. The purpose is to use it in grilling and searing meat slowly.
However, be concerned if this is constant, and you can always reset the grill to get it back on track. In addition, keep the grill lid shut while you ignite it, this should prevent any temperature irregularities.
New in BBQ & Grilling:
We are sorry that this post was not useful for you!
Let us improve this post!
Tell us how we can improve this post?