There has been quite a lot of comparison between Pitts and Spitts vs Yoder grill, but none seems to be hitting the surface for people. These two grilling appliances and companies have been used by professionals over the years, but there has to be something that makes each product stands out.
Finding out the comparison might help determine which you should spend your money on.
The main difference between Pitts and Spitts, and the Yoder grill is the control system. These three brands have reputation for providing high-quality cooking appliances however Yoder grill is considered more expensive. Pitts and spitts grill have also been around for over 30 years which marks its difference from the Yoder grill.
If you are considering a grill based on how long it has been in the market then you might just go with Pitts and Spitts, however, that is not all you need to pick an efficient grill. Yoder grill is designed for heavy use makes it an ideal option for you if you are going to be smoking lots of meat and cooking too.
A comparison between these two grills is necessary if you can't make up your mind. According to research, both are made with high-quality material and are both efficient as well. Read on for the full comparison and understanding of these two popular grills.
Pitts And Spitts Grill Overview
Pitts and spitts grill is designed to take care of your smoking, braising, and grilling needs. It's an appliance that has been handcrafted and built-in Texas, and it's quite versatile as well. This is a wood grill, and it makes use of real wood which helps it produce a great smokey flavor you can't help but love.
Pitts and spitts grills can get as hot as over 600 degrees and the pellet grates happen to be easy to clean as well. This kitchen appliance is built to last for a very long time and functionality is important to the owner of the brand hence this is made with high-quality material that is resistant to wear and usage.
According to reviews, this is regarded as a genuine ultimate smoker with easy-to-operate functions. The craftsmanship and durability of the product have made it stand out for years.
This is built to deliver high-quality function and is loaded with special features. Their charcoal and pellet grills happen to be a great option for both home use and commercial use so, have classified some of their features for you below.
| Pitts And Spitts Charcoal Grill | Pitts And Spitts Custom Pellet Grill |
| --- | --- |
| Carbon steel cooking area and working surface | Made with stainless steel working surface |
| Adjustable charcoal tray panel | Wi-fi capable |
| Top shelf rack | Smart meat probe |
| Log lighter | Upgraded wheels |
| Stainless steel hopper lid | PID controller for superior temperature control |
| Paper towel rack | Paper towel rack |
| Hooks for hanging cooking utensils | Work shelf |
Yoder Grills Overview
The Yoder pellet grill has a warranty of 10 years which is one of its most amazing features. This grill has emerged as the best years and years after it was made, although it's a bit pricey, it is quite efficient. The quality of this grill ensures it can run up to 12 hours depending on the cooking temperature and cooking too.
This grill company focuses on quality over quality which explains why this is a great grill according to reviews. This features a button that enables you to smoke, roast, and grill on any occasion.
Choosing a specific type of Yoder grill isn't complicated since they are all built with high-quality material and over the years, old and new customers have continued to show they are happy about their products. The popularity of their grills has also increased over the years.
The key feature of any grill is functionality. But here is an analysis of the special features of the Yoder charcoal grill and their popular pellet grill with stainless steel shelves.
| Yoder Charcoal Grill | Yoder Pellet Stainless Steel Grill |
| --- | --- |
| Large grilling space | Made with solid stainless steel and prep shelves |
| Features function for cooking indirectly | Features Bluetooth connectivity |
| Heavy-duty use | Enough room for briskets or chicken |
| Custom stainless steel shelf | 2 integrated food probes |
| Easy to use | Easy control options |
| Pneumatic tires that can be used on patio or venue | Ceramic ignition system |
Pitts And Spitts vs Yoder Grill Comparison (Updated)
The P&S and the Yoder grill are both on the list of the top best grills to consider.
These two grills can rely on any outdoor cooking, and they make a great addition to any deck as well. Considering the quality P&S and Yoder grill have to offer, choosing one can be quite confusing, so below is a comparison table that can help you decide.
| Pitts And Spitts Grill | Yoda Grill |
| --- | --- |
| Has plenty of room for any meat or food | Versatile design |
| A popular model for beginners and consumer-friendly design | This is ideal for professional and commercial grilling |
| This is mostly used in large households and competitions | Specifically used in restaurants |
| Has a thermostat for maintaining a steady temperature | Produces high indirect heat for grilling meats and vegetables |
| The entire smoker is built of grade stainless steel | Built of steel which makes it look more like a smoker than a grill |
| Uses several variables and distributes heat evenly. | Fuel efficient and cooks food faster. |
Tips And Manual For Using Your Pitts And Spitts Grill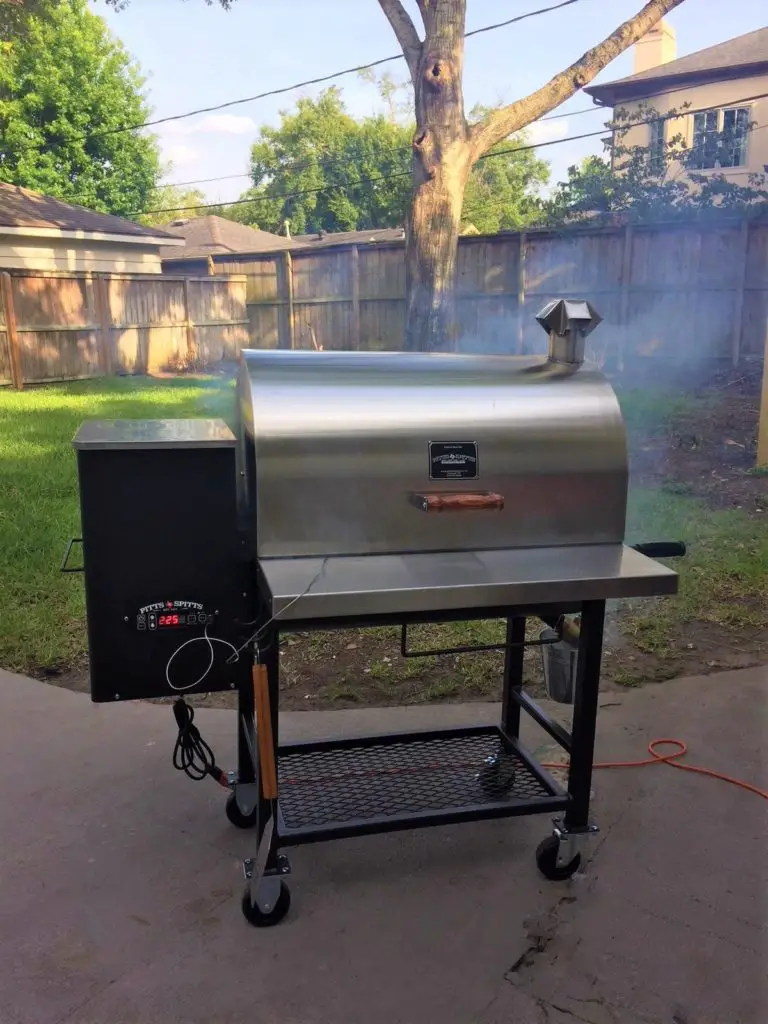 Every type of grill comes with its manual and tips generally and this has no exception either. Pitts and spitts have their grills designed for efficiency but made easy to use as well. But to stay on the safe side of things, here are safety tips and a manual that can help care for your grill.
Keep it off when cleaning and clean with a disposable rag or cloth
Clean accumulated grease when It's still warm since it's easier to get off that way but be careful not to burn yourself
Do not use abrasives that can scratch the stainless steel
Be careful not to put your hands anywhere on the auger especially when the pellet is on
Leave the valve drain open when cooking, so grease can drain into your bucket
For direct sear, simply open your trapdoor shift, shift the deflector plate to the left and turn your grill to 600 degrees.
Tips And Manual For Using Yoder Grill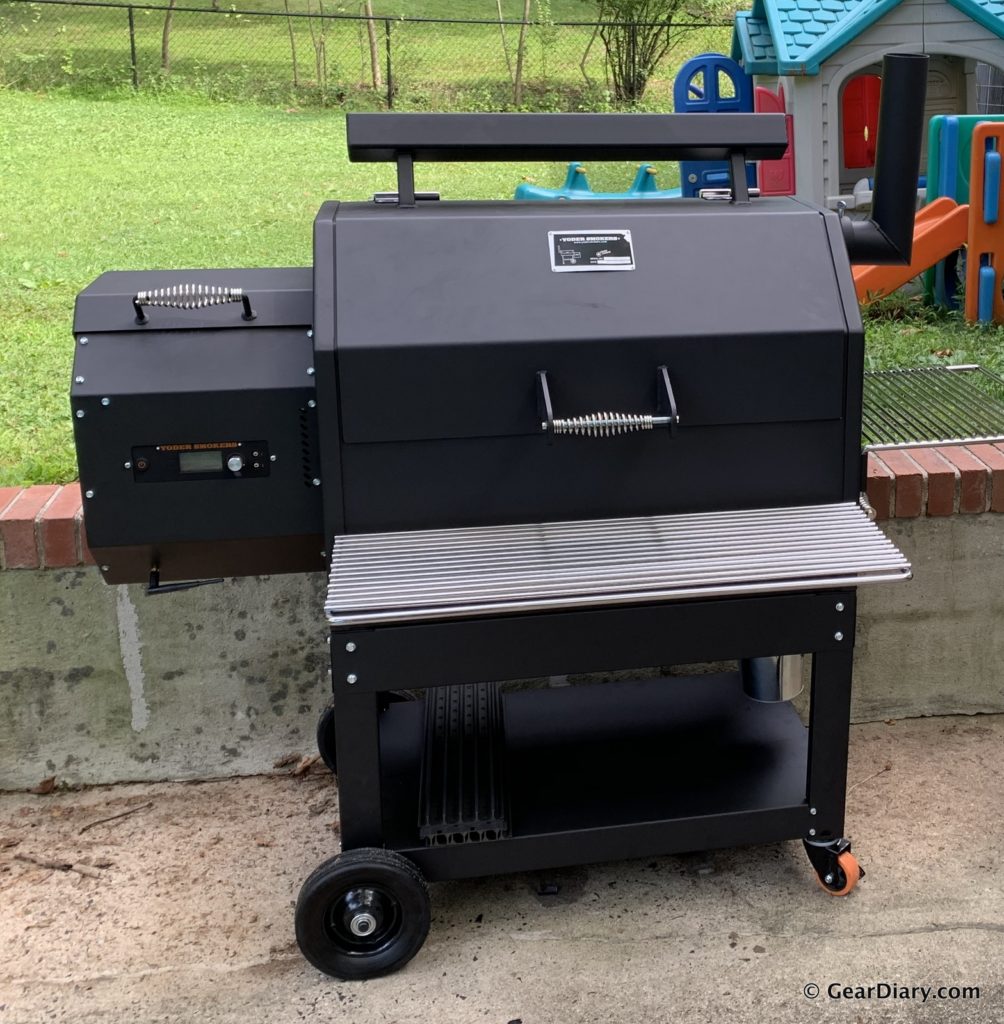 Due to the quality and accessories that come with this grill, you must have a clear manual on how to operate it and tips that can help make better use of it as well.
Do a thorough inspection of the grill every week
Surfaces of the smoker can be washed down using soapy water and rinsed with clean water (Use natural detergent)
Change the foil every one to three uses
Make sure the grill is completely cold before scooping out the ashes to be disposed
To control grease build-up, it's recommended that you use a citrus-based cleaning solution
Heat the grill for 15 minutes for indirect cooking.
Additional Concerns With The Grills
Here are some of your FAQs answered.
Are Yoder smokers worth the money?
Yoder smokers are the ideal choice for you if you are going to be grilling a lot. This pellet grill can be used for commercial purposes and although this is expensive but considering the quality, it is worth going for. The whole body of this grill is built with quality material, and it's built to last as well.
Where are Pitts and Spitts grills made?
Pitts and Spitts grills are made in Texas and happen to be the only wood pellet smoker in Texas too. This is a traditional design and it's built to deliver high quality and performance.
Where are Yoder pellet grills made?
The Yoder pellet grill is made in the US and has won so many awards as a reliable grill. The Yoder grill is built to bake, grill, sear, and smoke.
Wrapping Up
The Yoder grill might be a great option for restaurant needs, although there are also small portable sizes you can go for. While the Pitts and Spitts grill is also a great option for household uses, it's also best used in commercial settings.
Choosing between Pitts and Spitts or Yoder grill is not meant to be complex as these two offer the same value although different prices and functionality.
Better Grilling Guides On Loving Food:
We are sorry that this post was not useful for you!
Let us improve this post!
Tell us how we can improve this post?