How do you solve the problem of the gas grill getting too hot on low settings? If you are using a gas grill then this is something you are going to come across someday. You can simply solve this by turning the tank valve off completely and be sure to check your manual for any info as well.
Being extremely careful is important when you are using gas grills. While they are quite efficient, you are likely to deal with lots of questions like how do you keep it from becoming too hot and when to cover it. They might seem like easy questions, but you don't want to ruin your grill efficiency by doing the wrong thing.
Every gas grill comes with a manual, but it has also been noted that some are not explanatory enough which is why many people still have to seek answers online.
Low heat and flames can happen to anyone especially if you just changed the tank. The lower the flame of your grill, the lower the temperature ought to be. But if your grill gets too hot on a low setting, there might be a cause for concern.
Causes Of Gas Grill Getting Too Hot
Before you decide on why your gas grill is extremely on even on low heat settings, you should first understand your gas grill and why this is so. Several things can cause your gas grill to heat up the wrong way.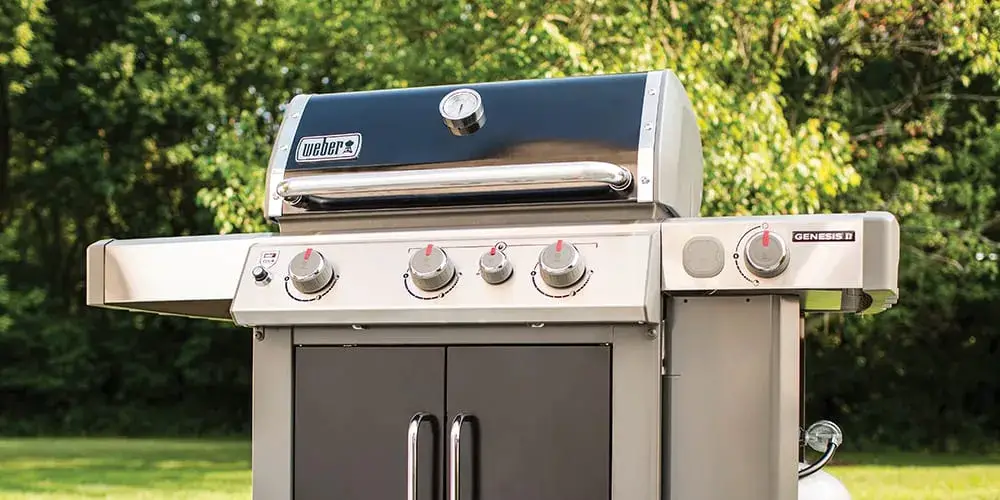 You should also know that there are simple tricks that can help you solve any of your gas grill problems.
However, if it's an issue you can't sort out, we advise you get a professional. The numbers of your burner tend to determine how low the temperature will be. Gas grills also burn hotter than charcoal grills but if they are too hot even on a low setting then there might be factors contributing to this.
There are many areas of concern when it comes to low flame settings, some of these include low flames.
A leaking propane tank
Clogged burners
Faulty regulator
Blocked orifices
The wrong type of regulator
The gas propane valve open is not all the way
The regulator is faulty.
According to experts if your gas grill gets hot at a low temperature, it is often due to the fuel line regulator. It can also be a result of a leak. Read on to eliminate the issue of a hot gas grill at low temperatures.
How to Fix Gas Grill Gets Too Hot On Low Setting Issues
Now you know where to look if your gas grill is not working efficiently. Next which is an important thing to be aware of is how to fix the gas grill if it gets too hot on the low setting. If your gas grill is new and suddenly starts acting up, you should probably have it returned or check the manual for quick fixes.
With all your burners on low settings, the temperature of your gas grill should just be normal, but this is not the case. Ensure the flow of fuels is continuous and understand that your regulator can be sticky and when it sticks, it can reduce the circulation of gas.
Here is how you can fix this:
You need to start by opening the grill lid and turning off the gas flow at the tank
Next, disconnect the regulator and hose from the tank
Turn the burner control valve to high for a minute or two and turn it off
You should allow it to sit for 5 minutes if you want
Reconnect the gas link to the tank and slowly turn on the gas
Light the grill and, it should work normally now.
This method should help regulate your gas grill temperature easily. You need to also be careful how you choose to fix your gas grill. Turn off the gas grill and burner for 1 minute and turn it on to see if it works before trying this step above.
Gas Grill Gets Too Hot On Low Setting Issues FAQs
If you do use your gas grills as often as we expect, you will need these FAQ answers to guide you.
Why is the flame on my grill so high?
Fat or oil dripping from the food are likely to cause high flame on your grill. Cooking your food in windy areas is another reason the flame on your grill can be high. To prevent high flame flareups, trim the fat, burn the grease away, keep your gas grill away from wind and keep it clean as well.
How do you reset the regulator on a gas grill?
To reset a grill regulator, you need to do it slowly and be careful with it as well. Turn off the gas of the propane tank and disconnect the hose from the propane tank as well. Open the lid of your BBQ gas grill next and turn all the burner valves to high then wait 2 minutes then turn it off. Connect it all back and turn your propane tank on slowly.
How do you lower the temperature on a gas grill?
The temperature settings of a gas grill tend to differ from that of other types of grills. To lower the temperature on a gas grill, leave the lid open, so it can release moisture and your food is only getting heat from one side. Most gas grills come with temperature settings to enable you to adjust to low settings.
Other Tips And Ways To Fix Gas Grills
Maintaining gas grills is not as complicated as it sounds and common issues people have to deal with are hot gas grills on low settings.
It's a common problem for gas grills especially if it's new. However, if you still can't rest the OPD device on your tank or regulator with the method above, here are other quick fixes that you can try, and it helps clean your gas grill as well.
Check your fuel level, if it's empty, it can be the cause
Check your propane tank for any dents, rust, or expiration dates, it might be time for a replacement
Use washing detergent and water along all sides of the propane tank and regulator hose to check if there is any gas leak.
Use an orifice cleaning tool or a ventri brush to clean burner tubes and ports.
Wrapping Up
Note that your gas grill grates are going to need constant cleaning to keep them functioning as well.
So, you might as well clean it first if you haven't done that in a while. You should consider consulting your grill manufacturer if you need to remove the gas orifices and control knobs. Make sure you are careful with the gas grill.
More BBQ & Grilling Guides On Loving Food:
We are sorry that this post was not useful for you!
Let us improve this post!
Tell us how we can improve this post?