Reheating kimbap is quite easy if you know how to do it right. It is a no-no to proceed to warm up kimbap with no good idea of how it is done. Many have gotten it all wrong and succeeded in ruining the texture, taste, and flavor of kimbap.
Kimbap for sure is one of those meals that you want to eat fresh, however, leftovers are bound to show up and you really do not want to throw that delicious goodness all away. Refrigerating leftover kimbap is a sure way to preserve it for a longer time.
Although it is possible to eat cold kimbap, that may not be the best way to have it as the rice would be a bit dehydrated and dry. To revive kimbap back to its glory without sacrificing its taste and texture you would have to reheat it properly.
The stovetop and the microwave are the common methods that can be adopted when considering reheating kimbap. However, using the stovetop to reheat kimbap is highly recommended and approved.
If you are hoping to find out the right way to reheat cold or frozen kimbap, this post will guide you through the steps on how it is done.
Is It Okay To Reheat Kimbap?
After refrigerating or freezing kimbap, the texture won't be as it was when it was freshly made. While it is not very recommended to reheat kimbap as many will do it wrong and completely ruin the meal.
However, it is okay to reheat cold kimbap, reheating kimbap gives you a better shot at reviving most of the moisture, taste, and flavor of the kimbap. It is of great essence that it is done correctly, otherwise, it will become too soggy and unenjoyable at most.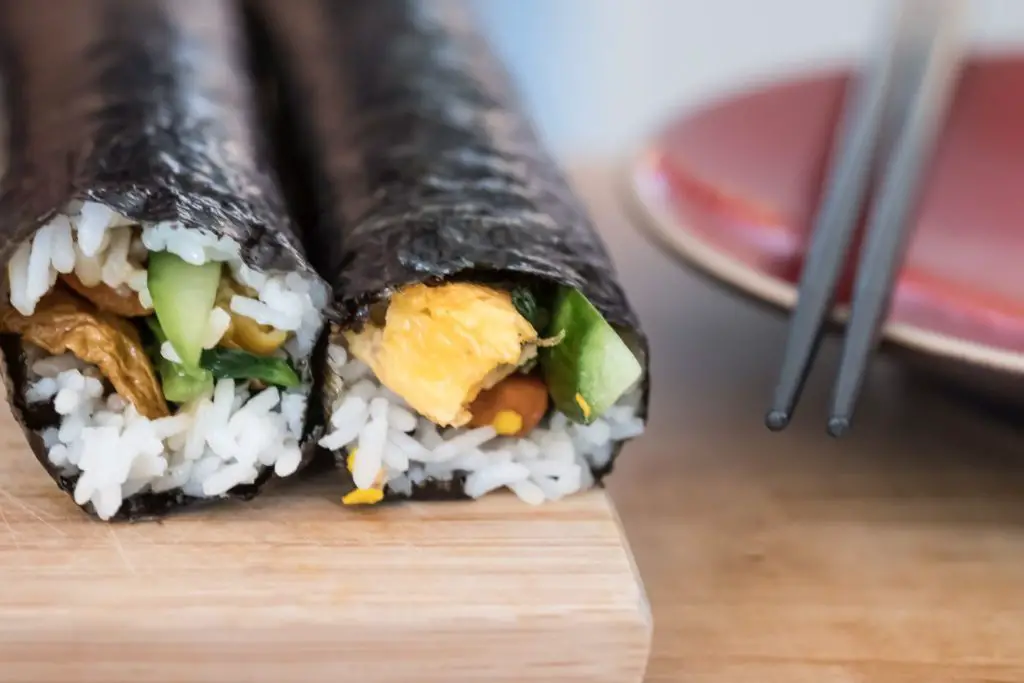 How To Reheat Kimbap Properly
When attempting to reheat kimbap you must ensure that you have extensive knowledge of how it is should be reheated. How you intend to reheat your kimbap matters a great deal and some reheating techniques are better than others.
On a lighter note, do not be frit, reheating kimbap is pretty easy to get a hang of. The following is a guide on how you can go about reheating kimbap;
1. Stovetop Method
This is by far the best method you can adopt to reheat kimbap. This technique reheats kimbap without sacrificing the taste or texture. Here, you'll be needing a frying pan or skillet, some eggs, and any oil of your choice (preferably sesame oil).
Eggs are very important when reheating kimbap as it is recommended to fry or heat up kimbap directly.
The eggs ensure that the texture of the kimbap is retained. Also using sesame oil will help give a boost to the taste of the kimbap, this, however, doesn't mean you can not use vegetable oil or any other oil that is available to you.
Steps on how to reheat kimbap on the stovetop;
Thaw the kimbap if it was refrigerated or frozen.
Beat the eggs and add a pinch of salt to taste.
Put the frying pan or skillet on the stovetop and allow it to heat up on medium heat.
Add a little oil to the pan.
Coat the kimbap with eggs. You can dip it in the beaten egg to make sure you have eggs on every part of the kimbap.
Place the kimbap into the frying pan.
Ensure that you flip the kimbap to the other sides when the egg coat has turned golden brown.
Leave to cool at room temperature and enjoy.
2. Microwave Method
This method should be a last resort as reheating with a microwave could make the kimbap to get all mushy and soggy. All the same, if you do not mind it getting quite soft then you can try out this method.
Unlike the stovetop method, you do not need a lot to get it all warmed up, you'll only be needing foil paper and that's it.
Here are the simple steps to take;
Thaw the kimbap if refrigerated or frozen.
Arrange the kimbap on foil paper.
Properly wrap it up and ensure that there's a little opening right on the top.
Set the heat on for 10 seconds intervals until you are satisfied.
Summary
Kimbap may not taste the same after being stored for a long time and reheated.
However, knowing how to do it the right way is a game-changer. This article reveals two methods that would work, so go ahead, reheat that kimbap and enjoy it at any time of the day.
We are sorry that this post was not useful for you!
Let us improve this post!
Tell us how we can improve this post?