The terms gimbap and kimbap can be confusing for people that are new to Asian cuisine.
It is understandable to be thrown off a bit when certain people say gimbap instead of kimbap. This will get you wondering what the difference is between them.
This post will keep you informed about this topic, stick around.
Is Kimbap Different From Gimbap?
No, Kimbap is actually the same as gimbap. You won't be wrong if you spell kimbap as gimbap and vice versa. When broken down "Gim" translates as seaweed sheet and "bap" means cooked rice.
Typically, kimbap (gimbap) is a Korean dish that wraps dried seaweed sheets and cooked, seasoned, rice around vegetables, seafood, eggs, or meat.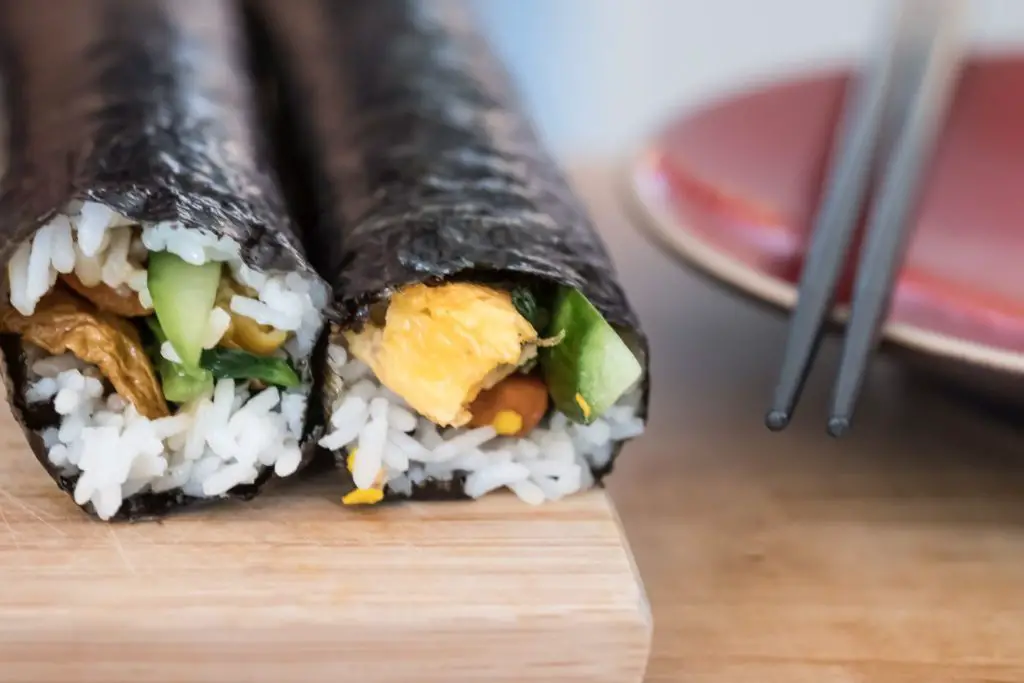 This delicacy has a sweet, flavorful, and tangy taste, it is locally and internationally loved by so many. Gimbap can be snacked on at any time of the day but especially at lunchtime and is also a perfect meal for picnics.
Homemade Kimbap Recipe
Kids love kimbap and it is pretty easy and fun to prepare. It might be the best meal to pack for your kids for lunch. You can always make customized fillings for your kimbap to make it even more fun for every member of the family.
Ingredients for the rice;
2 tablespoon sesame oil
2 tsp of kosher salt
2 cups of cooked short grain rice.
Ingredients for the fillings;
1 medium-sized peeled, julienned cucumber
1 medium-sized peeled, julienned carrot
2 beaten eggs
4 imitation crab sticks (optional)
4 dried seaweed sheets
10 ounces of regular or baby spinach
4 radish pickle
7 ounces of beef bulgogi (optional)
Salt to taste.
How To Prepare Kimbap
Step 1. Add the cooked rice, sesame oil, and salt to a bowl and mix vigorously.
Step 2. Separately stir and fry the vegetables for 2-3 minutes.
Step 3. Fry the eggs into an omelet for about 2 minutes.
Step 4. Allow the egg to cool then slice it up into sticks.
Step 5. Roll the seaweed using a bamboo sushi roller
Step 6. Proceed to spread out 1\2 cups of seasoned rice on 2/3 seaweed sheets (the shiny part should lay face down). Make sure to leave at least 2 inches of the seaweed bare.
Step 7. Add an equal amount of the various fillings to the rice and seaweed.
Step 8. Now roll the seaweed firmly.
Step 9. To make it stick, dab the seam with a little bit of water and paste it together.
Step 10. Repeat this step with other seaweed sheets.
Step 11. Coat a little sesame oil on the surface of the kimbap and slice it into 6-7 pieces.
Step 12. Allow kimbap to cool at room temperature and serve
Bottom Line
There is no difference between kimbap and gimbap as another name for kimbap is gimbap.
Kimbap is mostly spelled as gimbap most of the time so do not let it confuse you.
We are sorry that this post was not useful for you!
Let us improve this post!
Tell us how we can improve this post?