Can you dip bread in wine? Yes, you can dip bread in wine, and might be time to substitute cheese and wine for bread and wine instead. There is a process called intinction which is dipping bread in wine, this is meant for the Roman Catholics. While dipping bread in wine as an appetizer is an Italian tradition.
Dipping bread in wine seems to have different meanings for different ethnicities and people. Pairing bread with wine can be more than a snack if you have the right wine and bread. There are also specific wines that make this even tastier as well.
Dipping bread in wine has been around for centuries, and it's considered to be a tradition in Italy however it's more of a habit for some families now. Dipping bread in soup is another popular Italian tradition. Bread dipping is one of the ways you can savor the taste of the bread and the wine or soup.
In some cases, the dipping is done with apples, and it can be quite delicious as well but using bread is a method that has been adopted for years.
There are quite a lot of misconceptions about dipping bread in wine. A nice bottle of wine accompanied by bread can change how you enjoy your wine or bread alone. So whether you are making your bread yourself and dipping it in champagne or wine, read on to learn more about dipping bread in wine.
Can You Dip Bread In Wine?
Yes, bread can be dipped in wine just the same way it is done with soup. Dipping bread in wine has different meanings for different people.
For the Italians, it's an interesting tradition meant to help you enjoy your wine and bread. While for the Roman Catholics and Protestant tradition, it is called 'intinction' which can also be called "Holy Communion".
Dipping Bread In Wine: All You Should Know
Dipping bread in wine can be enjoyable if you work with the right wine and bread. Many people just go ahead and pick any bottle of wine and bland bread which can ruin the whole process. You can enjoy dipping bread in wine for dinner while you watch your favorite series on Netflix. Dipping bread in wine is not a new concept, but many don't see it as a meal plan yet.
Pairing wine with bread is also considered pastry, and you can also substitute sweet red wine for a bubbly drink such as champagne.
While wine and cheese are a combination that is expected, bread is a little surprising for some people. Bread and wine are often enjoyed as a filler before the main meal comes, but it can be more than that. Wine and bread are a staple in many countries, and it's served in restaurants in an exquisite way.
If you have a guest, you can simply toast brioche and have it paired with nice wine or champagne for them to nibble on till the main meal is served. The texture of a toasted brioche can compliment champagne bubble sweetness. There are lots of creative ways you can enjoy dipping bread in wine.
Wines And Bread To Pair Together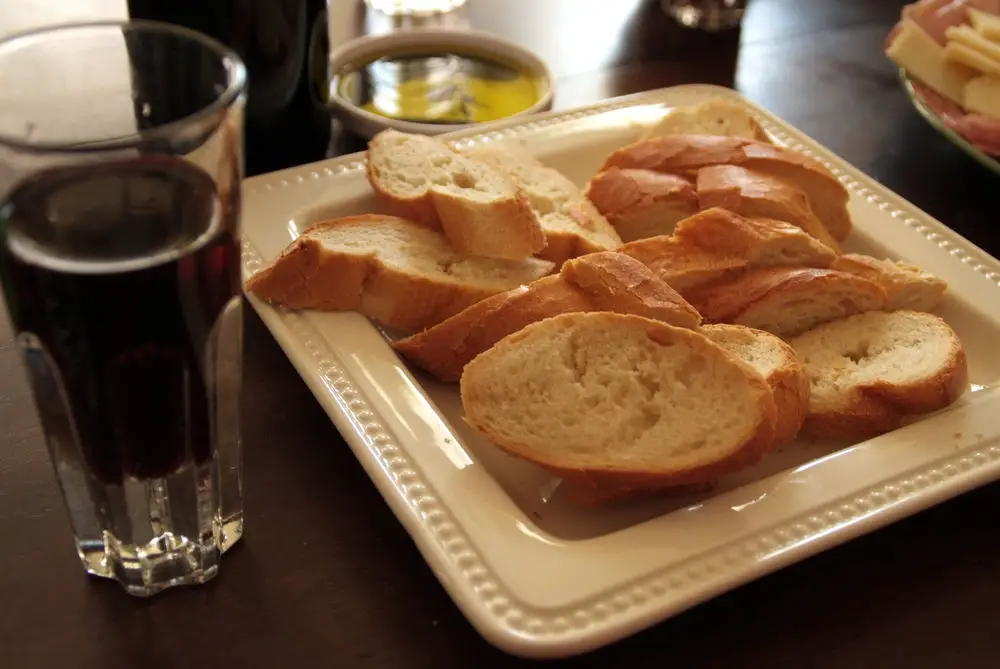 What can of wine can you dip bread in? The answer is all kinds of bread. However, experts claim certain wines make this more tasty and enjoyable. If you are looking to create the restaurant kind of wine and bread dipping, here is a table on what bread goes with what wine.
This list should make bread and wine dipping even more enjoyable.
| Wine | Bread |
| --- | --- |
| Sparkling wine or bourbon | Sourdough bread |
| Sauvignon Blanc or chianti | Garlic bread |
| Chardonnay | Pair with plain white bread made from wheat to match the taste |
| Cinsault | Plain rye bread |
| A blanc de blanc | Chinese bun bread |
| Semi-sweet sparkling wine | Semi-sweet fluffy bread which can be a yeast bread |
| Champagne | Brioche toast |
| Pinot noir wine | Deep flavor wheat and rye bread |
Knowing there is so much wine and bread out there means you are open to many options and combos. Lots of restaurants go for sparkling wine and their recipe bread. Let the weight and taste decide how you pair the two.
The wine shouldn't weigh down the texture of the bread after dipping and the bread shouldn't overpower the flavor of the wine either.
Restaurants Where You Can Enjoy Dipping Bread In Wine
While many enjoy bread and wine as a snack in the comfort of their home, some might enjoy going to restaurants for something more luxurious and delicious. Restaurants that have bread and wine on the menu ensure it is made with rich and enjoyable ingredients. So, below are notable ones you can go to.
1. The Restaurant At Ponte
The Restaurant At Ponte is quite a popular restaurant in France and you can have amazing cheese, bread or wine to enjoy there. It's an excellent choice if you are after their exquisite wine and tasty bread. Reviews claim it's always filled up which goes to show how excellent their bread and wine dipping is.
2. Italian Kitchen
Might want to pay a visit to this Italian restaurant if you are in Canada, it's considered one of the amazing Italian restaurants located there. The food, atmosphere, and service are considered top-notch. The bread dipping and wine are considered excellent as well. They do have oil dipping options too.
Frequently Asked Questions
Here are frequently asked questions and answers to further understand dipping bread in wine.
Can you use wine in making bread?
Not only can you enjoy dipping bread in wine, but wine can be used when making bread as well. Wine can be used in adding flavor to the bread. Dissolve the yeast in wine and add some water before adding to other dry ingredients. Mix batter as usual.
Do Italians Soak bread in wine?
The method of soaking bread in wine is known as dunking, and it happens to be an Italian tradition. This is usually done to mask the taste of any bad wine hence it is meant 'to toast'.
What kind of bread do the Italians dip in wine?
Dipping bread in wine is quite enjoyable for Italians and their common bread for this is called lard bread or prosciutto bread. This is an old dry bread, and they enjoy dipping it in wine as a snack.
Do Italians dip bread in olive oil and vinegar?
No, dipping bread in olive oil or vinegar is not a tradition for the Italians. Italians rather dip bread in wine, and they believe vinegar can ruin your taste buds before the main meal, so it's not perfect as a filling. Dipping bread in olive oil is more popular in the US.
Final Thoughts
While pairing bread and wine can work whichever way you want, it is best to choose bread that has enough density and flavor to stand up to the wine you have chosen.
Dipping bread in wine is meant to be an appetizer or snack however you can go ahead and make it special by creating your bread recipe. Wine can be included in making bread too.
More Guides On Loving Food:
We are sorry that this post was not useful for you!
Let us improve this post!
Tell us how we can improve this post?