Grilling various types of food has become a common occurrence for many individuals, especially when they know they will be entertaining family and friends. It is always a great opportunity to socialize, chat, and share while making food.
While many individuals are familiar with how to grill, many people are unaware of basic grilling facts, such as the right place to grill, and what kind of grill is safe to use? When grilling, there are some precautions to follow.
No, It is not safe to grill on a covered porch, for starters, it might stain your wall, especially if you are making use of a charcoal grill. Grilling on a covered porch also has a major risk of creating a fire, and this can turn out for the worst because it is an enclosed place. 
A common question asked is the possibility of grilling on covered places, such as a porch, can you grill on a covered porch? Are you interested in knowing this too? Here's what we found out for you.
[NEW] Pitts And Spitts vs Yoder Grills Comparison
Can You Grill On A Covered Porch? Is It Safe?
The porch is a handy spot for many people, and apart from adding to the aesthetic value of the home, it is a good place to enjoy some outside time, it also protects you from rain or strong winds, and it contributes to the magnificence of the home if designed properly.
Grilling on your porch is convenient, and it may appear that no harm will be done, but the contrary is true.
Grilling on your porch is not a good idea. The most common type of grill is the charcoal grill, charcoal tends to have excessive smoke and even if this will not harm you, it can touch your wall, staining it and leaving its smell all over your wall.
There is also the possibility that it can go out of control and can cause a great fire.
It isn't safe to grill on your covered porch.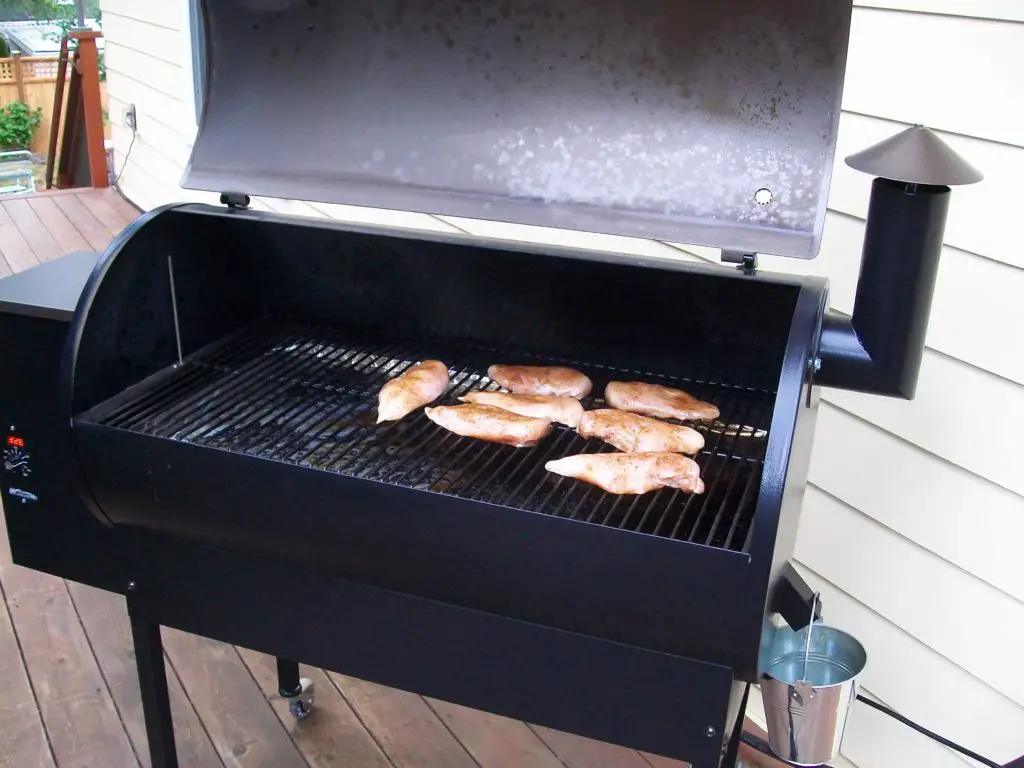 Exceptions To Grilling Under A Covered Porch
Circumstances such as the weather may make only your porch available for grilling, in this case, can you grill on your covered porch? Yes, however, there are safety measures you should take, that will ensure that you are safe, while you grill.
The following are all you need to know to have a safe grilling on your covered porch.
1. Use A Non-Charcoal Grill
The first thing to note is that you shouldn't make use of a charcoal grill, although the charcoal grill is quite popular, there are other types of grill you can purchase that are less hazardous i.e., gas grill, pellet grill. If you have one of these, then you can try grilling on your covered porch.
2. Presence Of A Fire Extinguisher
Keeping a fire extinguisher close by is very paramount. Although if you are making use of a gas grill, you can be assured that they are not likely to cause a fire, however, we recommend that you still keep an extinguisher close by.
3. Adequate Ventilation
Grills produce a lot of smoke, and this is irrespective of the type of grill you are using, which can be dangerous to your health, as well as that of the people around you. If you will be grilling on your covered porch, then you have to ascertain that the area is properly ventilated.
Can I Grill Under A Pergola, Awning, Or Carport? 
Yes, you can grill pergola, awning, or carport, however, there are rules guiding them;
1. Pergola
The only type of grill allowed under a pergola is a gas grill, this is because it is much safer, and with enough ventilation, there will be no issues. We suggest that you do not allow the smoke to completely touch the beam as it can stain them.
2. Carport
You can grill under a carport, as long as it is placed close to an open area, with lots of ventilation. Do not make use of a gas or charcoal grill here, as this can produce harmful gases which can affect your health and that of people around the grill.
3. Awning
It is safe to grill under an awning, however, ensure it is not made of vinyl and that it is installed at a good height. A vinyl-made awning is prone to accidents. Ensure you clean your grill as often as possible.
Grilling On A Covered Porch Concerns
There are factors you really to consider before grilling on a covered porch and here are Faqs and answers to help decide if it's safe or not.
Where can I place my grill?
The right place to place your grill is in a completely open space, this is especially if you are making use of a charcoal grill. Ensure that it is far from the house, probably your backyard or front yard.
Can you put a grill under a roof? 
The majority of manufacturer installation instructions for both mobile and built-in grills stated that the grills should not be placed beneath any vulnerable roof. This means that your grill should not be placed under any roof and should instead be placed in an open area; nevertheless, if you must place it beneath specific roofs, take safety precautions.
Is it safe to grill under a gazebo? 
No, it is not safe to grill under a gazebo, regardless of what type of grill it is. You must adhere to not grilling close to the home, gazebo, or other structures.
How far away from the house does a grill need to be? 
Regardless of what type of grill you are using, it is best kept at least 10 feet away from your home, deck railings, garbage, and other flammable structure. It is also advised that you create space between you and the grill, we suggest you make use of long-handled tools, specially made for cooking on the grill.
Is it safe to grill on a wooden deck? 
Grilling on a wooden deck is not recommended since it can present a fire hazard. Aside from sparks touching the wood decking boards or railing, there may be stray sparks if the area is excessively windy, which might result in an undesired fire.
Where should a grill Be Placed on a patio? 
Always ensure your grill is facing somewhere with full ventilation, this will keep the excess smoke blown away. You should always place your grills on a flat and clean surface, ensure to keep it away from anything that is flammable such as a refuse bin or mulch, and ensure that there are no low-hanging branches around your grill.
Can you grill on the grass? 
It is not safe to grill or makes use of your grill on grass. You should place your grill on a flat, clean, firm, and stable surface.
Is it safe to grill on a deck? 
No, it is not safe to grill on a deck. Grills should not be used or placed under any covering
Final Thoughts 
Grilling can be fun, especially when it is done with family and friends around. However, it is best and wise to make your food, while also taking safety precautions.
Grilling on a covered porch is not just dangerous to you and the people around, but can make your walls go ugly in no time. We suggest that you adhere strictly to keeping your grills in an open space, regardless of the type of grill you use.
We are sorry that this post was not useful for you!
Let us improve this post!
Tell us how we can improve this post?