A sign that your rib meat has been overcooked is that it falls off the bones.
Interestingly, you might believe that this indicates that the ribs have been cooked to perfection. Although it won't fall off the bone by itself, a fully cooked rib will be simpler to take from the bone.
Overcooked meat will be mushy, rough, and dry, in contrast to a perfectly cooked rib.
In barbecue, rib meat is a traditional and mouthwatering dish that may be enjoyed on its own or with other foods. It goes well with salad, coleslaw, bread, fries, and anything else that makes you feel comfortable.
Its exquisite flavor and tenderness can be savored by properly cooking it. You cannot afford to serve your barbecued ribs overcooked or undercooked.
How to Fix Overcooked Ribs?
When your ribs are overcooked, you do not get to enjoy the moist and firm taste a perfectly cooked rib gives.
You can fix an overcooked rib by following these simple tips.
To fix overcooked ribs, you have to cook the meat a little more.   
Add barbecue sauce, apple cider vinegar, and lemon juice to your meat.
Cover the meat with foil and allow to simmer for some time.
Cook the rib meat for an additional 30 minutes to 1 hour. By this point, the meat should have regained its moisture and retained its firm texture.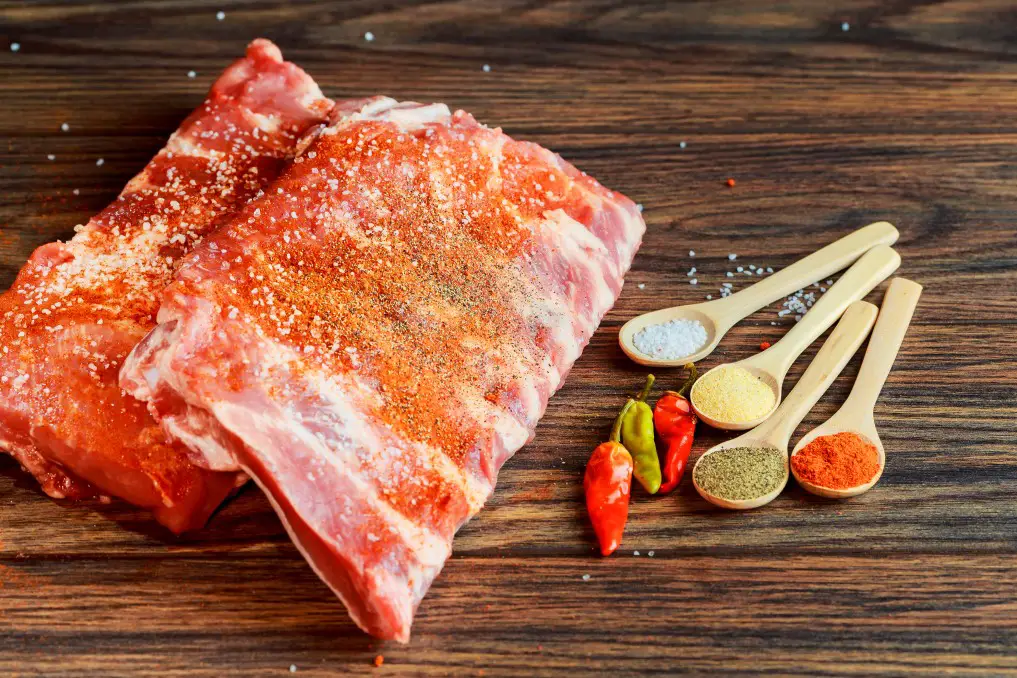 How To Cook Ribs To Perfection?
You can decide to cook your meat in an oven, a grill, or an air fryer. However, the way you decide to cook your meat, getting the right temperature, and the duration of preparing it is important.
To prepare oven-baked rib meat:
Once you are done, wash the ribs thoroughly and pat them dry with a kitchen towel.
Remove the membrane so that the seasoning can penetrate the meat well.
Add all your seasonings to the body of the ribs, and let it sit for about 3-5 minutes, so they can simmer.
You can use your hands to pat the meat so the seasonings can stick to the ribs well.
Preheat the oven to 350°F for 3 hours.
After about 3 hours, add your barbecue sauce and caramelize in the oven for an additional 5 minutes.
You can serve after this.
Mistakes To Avoid When Cooking Ribs
Here are some simple grilling mistakes with ribs you could make so you can avoid them.
Do not put the sauce on the ribs too soon.
Allow the meat to cook for a long time. You can consider pre-cooking.
Always make sure you remove the membrane so the seasonings can sit properly in the meat.
Do not grill your meat on high and direct heat.
Always use a food thermometer when cooking the ribs. It helps to ensure that the meat is perfectly done.
Cooking Ribs Frequently Asked Questions
Can You Overcook Rib Meat?
Yes. You can overcook rib meat. When you allow it to cook beyond the duration needed or above the correct temperature, it can become overdone.
Can I Eat Overcooked Ribs?
Of course. There is nothing bad about eating overcooked ribs. Just prepare to have the meat chewier than it should be, and it might get a little messy when you try to pick it up.
Can I Fix Overcooked Ribs?
Absolutely! You do not have to beat yourself up too much for overcooking the ribs. You can fix overcooked ribs and bring them back to a lovely texture.
How Do You Know If the Rib Meat Has Been Overcooked?
When the bones start to fall off from the meat and the meat is dry and hard, you can tell that the rib meat has been overcooked.
Conclusion
Your rib meat's overcooking is not the end. We have included a few solutions for overdone ribs.
Your meat can be restored to its former glory by simply caramelizing it in barbecue sauce, apple cider vinegar, and lemon juice, wrapping it in foil, and reheating it for a while.
Keep reading; 
We are sorry that this post was not useful for you!
Let us improve this post!
Tell us how we can improve this post?