Can you eat cannabutter on toast? Yes, cannabutter can be eaten on toast. Cannabutter can be used for baking, cooking, frying, and as a spread on your toast. 
There is no end to the number of things you can try out in the area of cookery. Even if a recipe has already been put out, several elements can be changed. Cannabis is an example of this, if you're a fan, you should know that smoking it isn't the only way to enjoy it; you can also use it for cooking.
Cannabutter is a fantastic method to consume cannabis. While some individuals are excited about the idea of cannabutter, many of them are unsure about how to consume it. Can you eat cannabutter on toast? This is an often-asked question, and we have just the right answer for you.
NEW: How Many Peanuts Are In A Jar Of Peanut Butter?
What Is Cannabutter?
The term "cannabutter" refers to a mixture of cannabis and butter.
It's frequently used to manufacture cannabis edibles such as brownies and cookies. Cannabis is made up of two major compounds: cannabidiol (CBD) and tetrahydrocannabinol (THC) and is classified as a mind-altering substance.
In contrast, butter is a dairy product formed from the fat and protein elements of milk or cream. It's used as a spread, melted as a sauce, used for baking, and as other cooking ingredients.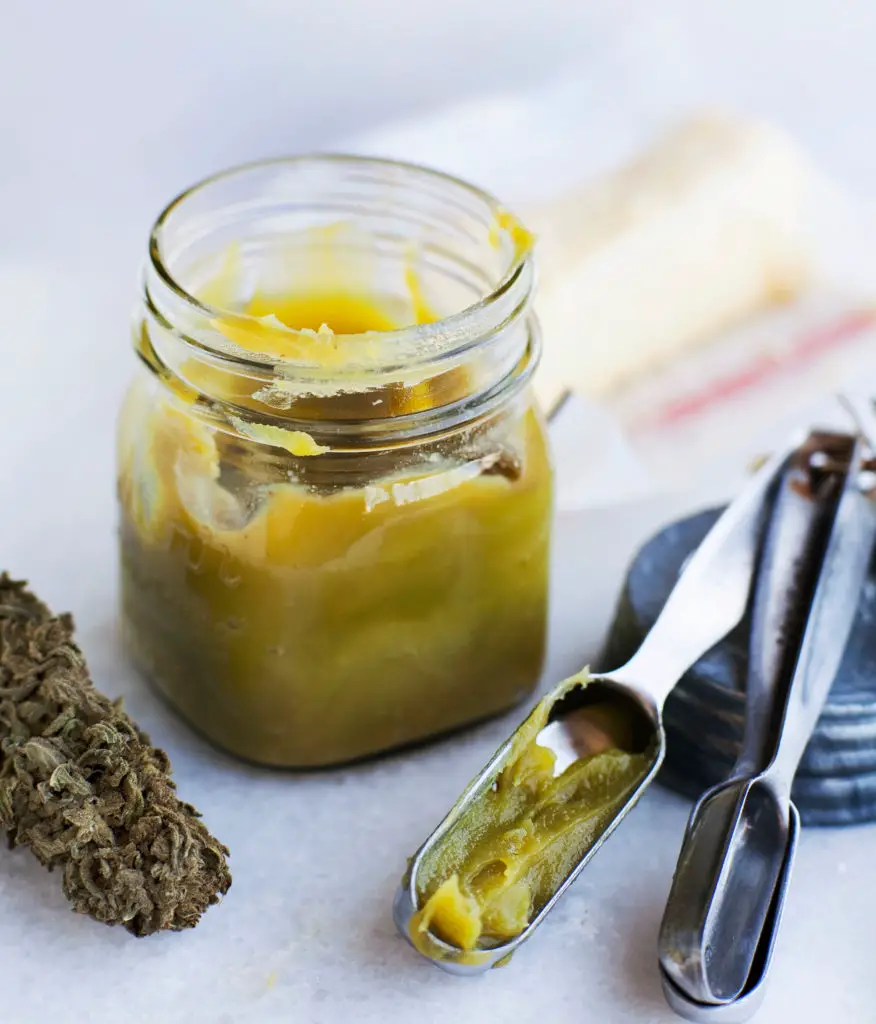 Can You Eat Cannabutter On Toast?
Yes, cannabutter can be eaten on toast. Cannabutter can be used for baking, cooking, frying, and as a spread on your toast. Cannabutter is a substitute for butter for lovers of cannabis. 
Consuming cannabutter has both pros and cons. Regrettably, few people are aware of them. It's vital to recognize and comprehend the benefits and disadvantages of the foods you eat, this will help you decide how to use them appropriately.
The following are some advantages and disadvantages of using cannabutter.
What to Put Cannabutter On?
You will be amazed what other amazing snacks you can put cannabutter on. This can easily replace your regular butter on bread and if you have leftovers, they are lots of cool ways you can include it in your breakfast, lunch, and dinner.
Since cannabutter is pretty much butter full of weed, then here are some of the awesome ways you can enjoy it.
Pasta
Pot Pie
Spread on toast
Frying or searing of meat
Put on double Dutch coffee
Ice cream
Cookies
Popcorn.
Pros Of Eating Cannabutter 
The pros can help you understand why you need a cannabutter in your home. Here are some of its notable benefits.
1. It May Help With Cancer Symptoms
There have been a lot of studies done to uncover natural therapies to help with cancer symptoms. Cannabis has been proven to be an efficient natural treatment for nausea and vomiting, which are two common cancer-related symptoms.
Cannabinoids are a type of molecule present in cannabis that is known to affect a variety of biological functions, including mood, memory, and hunger. It has also been discovered that cannabinoids can assist in reducing nausea and vomiting. Cannabutter is a great method to figure out how potent it is and how to use it.
2. Easy To Make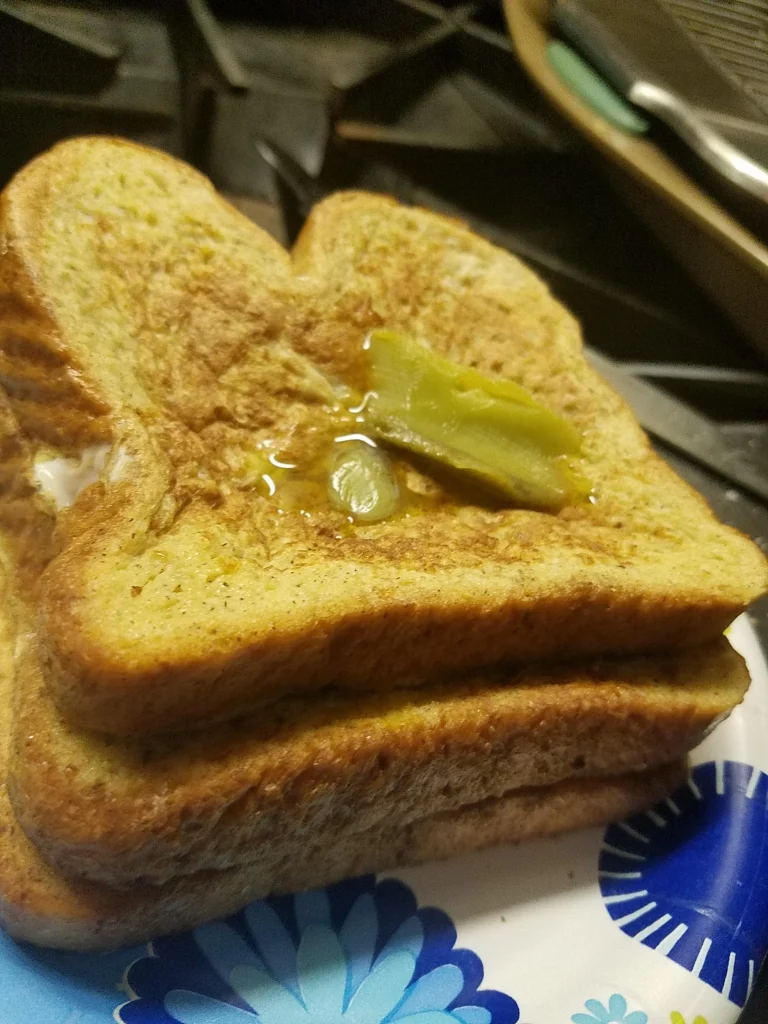 One of the most appealing features of cannabutter is that it can be made at home. Yes, you read that correctly. Only a few ingredients are required, and your cannabutter will be ready in no time. To produce your cannabutter at home, follow the procedures below.
3. Versatile
Cannabutter can be utilized in a variety of cuisines, both sweet and savory. If you make a meal with butter, you can bet you can make it with cannabutter as well.
4. Promotes Restful Sleep
A study found that the chemicals in cannabis impact the body's natural sleep-wake cycle, reducing pain-related sleeplessness. Although more research is needed to completely understand the connection between cannabis and sleep, it has been proven that cannabis can help people sleep better. What better way to take advantage of this benefit than by using cannabutter?
Cons Of Eating Cannabutter
Every advantage comes with some disadvantages too. So, here disadvantages of cannabutter.
1. Non-vegan
Regular cannabutter is not vegan friendly, which means it cannot be consumed by vegetarians due to the use of animal byproducts in its production. However, this does not mean you will miss out on the fun of cooking with cannabutter; you can produce your vegan-friendly cannabutter at home using coconut oil instead of butter.
2. Expensive
While cannabutter is popular, it is extremely costly when compared to conventional butter. This could be a result of buying marijuana.
3. Incorrect Dosage
Unlike smoking, determining the correct amount of edible cannabis can be challenging. Because of how long it takes to take effect, most people continue to drink until they have over the recommended dosage.
Incorrect dosage can also lead to anxiety, disorientation, higher blood pressure, quicker heart rate, nausea, hallucination, delusions, and other side effects that can occur after eating a big amount.
How To Make Cannabutter At Home
Many individuals are trying to create most of the products they consume themselves in the spirit of DIY; the steps below will walk you through making your cannabutter at home.
What You Will Need 
¼ oz cannabis
1 cup of water
1b unsalted butter(if you are vegan, then you should use coconut oil)
Cooking pot and spoon
Jar
Funnel and strainer  
Baking bowl.
Steps To Make Cannabutter
Grind the cannabis in a grinder; ensure that it is not smooth. The consistency of brown sugar is just fine.
Pour some water into the pot and begin to cook at medium heat. Afterward, add the butter, just before the water begins to boil.
Pour in the ground cannabis and reduce the heat. Let it simmer for 2 hours, and stir often, after which you put off the heat.
Put the jar in a bowl, to ensure that nothing drops, and put the funnel in the jar. Hold a strainer over the funnel and gently pour the cannabutter mixture. Strain the butter into the jar and ensure you get all of it.
Keep the cannabutter at room temperature until it is cool enough, cover up and keep in the fridge.
After some hours, take it out and scoop the oil/butter on top, and store it in a food-safe container for a long time.
Can You Eat Cannabutter On Toast FAQs
Want to try cannabutter? We've answered two of your top questions.
Does Cannabutter Make One High?
Yes, you can get high on edibles that are made with cannabutter; however, it may take a longer time for the effect to set in unlike when it is consumed as cannabis.
Are There Benefits Of Consuming Cannabutter?
Yes, there are a few benefits to consuming cannabutter, these benefits include aiding sleep, relieving pain, etc. you can check for the cons of consuming cannabutter above.
Final Thoughts
There are a variety of ways to consume cannabis, and we think that using cannabutter is one of them. Cannabutter is intriguing since it can be used for as many edibles as you like.
Remember that you can use coconut oil instead of butter if you're a vegan. We propose that you set a limit on the number of edibles prepared with cannabutter that you consume because, while it has benefits, it also has drawbacks that manifest when ingested in excess.
More On Loving Food:
We are sorry that this post was not useful for you!
Let us improve this post!
Tell us how we can improve this post?